Introduction

If we were writing this review three years ago, we would most likely be talking about another Marvell based appliance with substandard file performance, lacking a lot of features that we now take for granted with our NAS appliances. If we fast forward just one year, this NAS is now based on an Intel Atom processor and features like HD Station are now in the works. Now if we tap that fast forward button one more time to 2013, this NAS now has an Intel Celeron G550 dual-core processor with 2GB RAM and QTS 4.0.5 - oh, and did I mention SSD caching?
Reading that first paragraph, it quite easy to see how far the NAS market has traveled in just a few short years. The days when NAS appliances were deployed in small/medium business with slim penetration into the consumer market have passed with a high percentage of SOHO and SMB users now seeing the value and security in maintaining their own data.
The short story is rather simple, the next generation of network storage has arrived with the TS-470 Pro from QNAP.
Hardware Specifications and Pricing
Modern NAS servers have moved beyond data storage through a wire network. In order to get the most out of a NAS you need to look at the extra I/O hardware and the mountain of potential software features.

The TS-470 is a NAS appliance with its foundation lying in the Intel H61 chipset. Further, we have a dual-core Intel Celeron G550 processor with a clock speed of 2.6GHz with 2GB of DDR3 complimenting. A single 512MB DOM houses the firmware, while the unit enjoys four drive bays with SATA 6GB/s support.
The rear I/O panel includes four Gigabit ethernet ports with Auto-MDIX capabilities, and optional 10Gbe support by replacing the PCIe adapter. You will also find two USB 2.0 ports, two USB 3.0 and dual eSATA ports. In addition to this, you will find a single HDMI port accompanied by analog audio in and out.
Pricing of the 4-bay QNAP TS-470 at this time is set at $969.99 with a two year warranty, and high market availability.
Software Features
NAS products are equal parts hardware performance and software features. One compliments the other in a balanced product. You need more hardware performance to run more software features at the same time.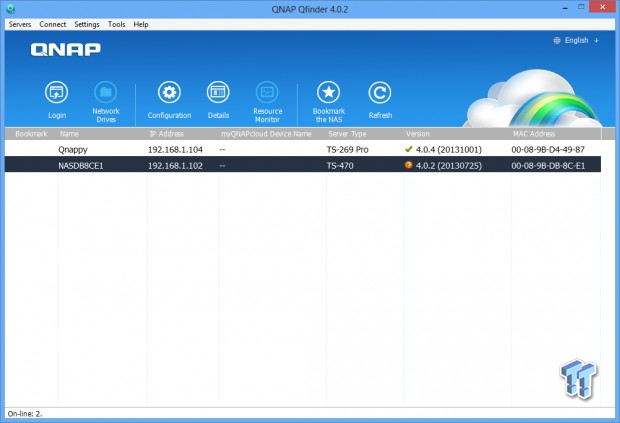 As with most NAS appliances, we too have a finder application with QNAP. QNAP is now using the newly redesigned Qfinder.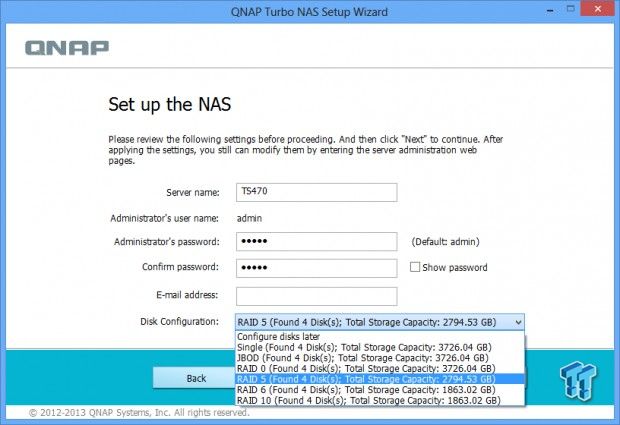 The Qfinder application allows you to quickly setup your NAS appliance for first use.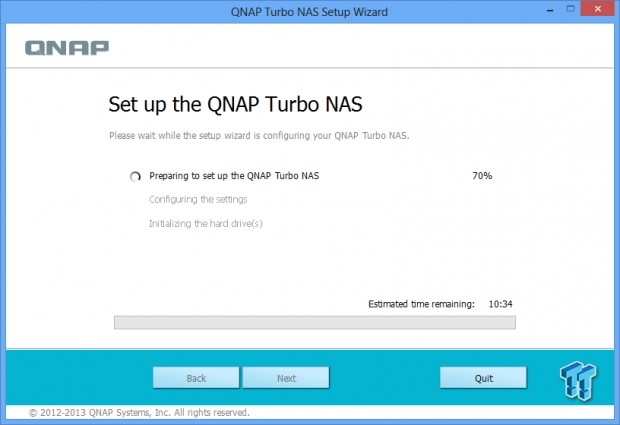 The entire process last only a few short minutes, after which the appliance will beep a few times to denote it's ready.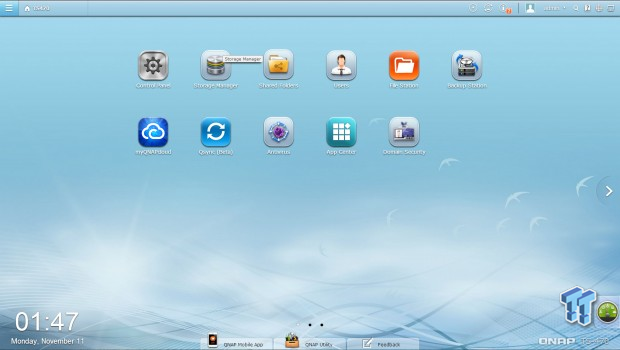 If you are already using QTS with your current QNAP appliance, then moving to version 4.0.5 shouldn't present too many design changes for you. In fact, most of the user interface hasn't changed at all.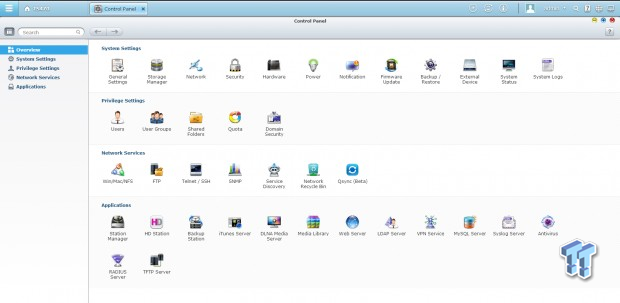 Looking at the Web UI overview, you can see all the standard applications are present.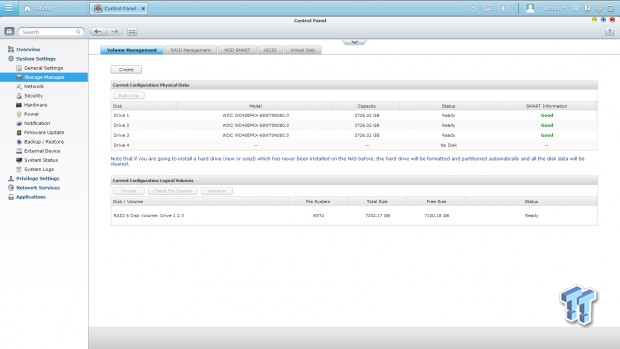 Above we have the storage manager from QTS 4.0.2. While being rather well laid out and a great option for the average consumer, it does lack features that SMB's could take advantage of.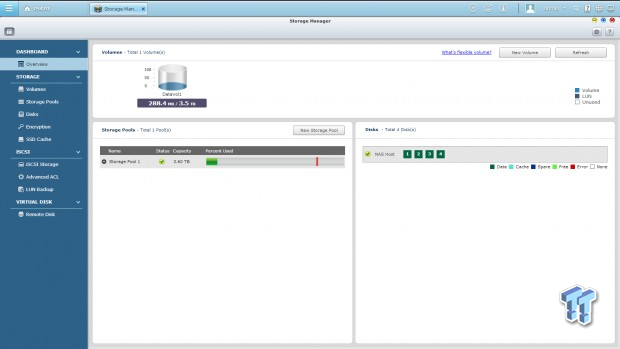 QTS 4.0.5 upgrades the storage manager to the next level, offering enterprise class features. Here we have storage volumes in addition to storage pools that are thin provisioned and expandable. SSD caching also makes its introduction to the NAS appliance.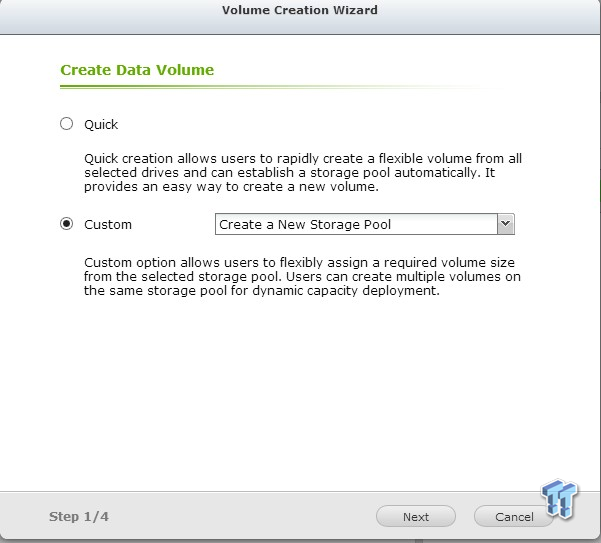 Here we have started building our first storage pool, as you can see there is a quick method, and the custom method we have chosen.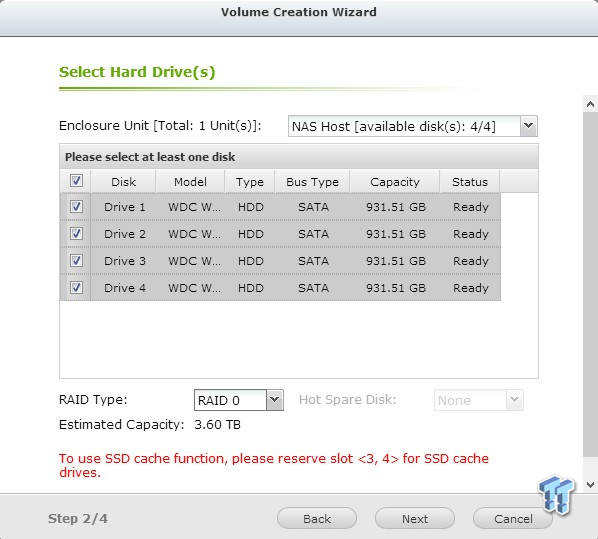 Following the setup menu, we choose the disks we want to utilize and accordingly the type of array we wish to build.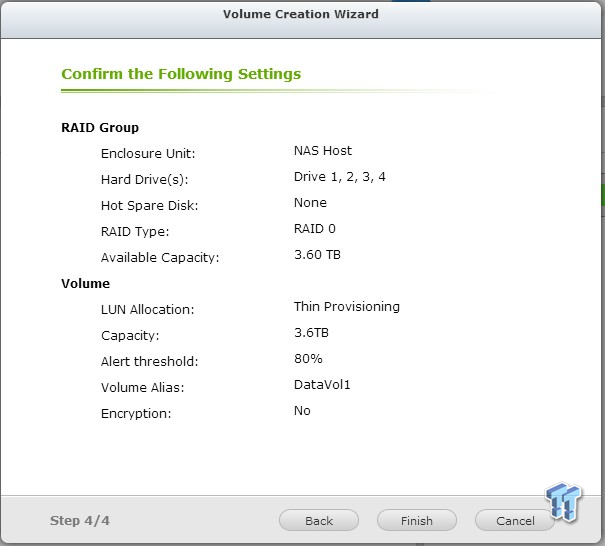 Above, we have built our first storage pool using RAID 0. Enabling thin provisioning we have a total volume capacity of 3.6TB.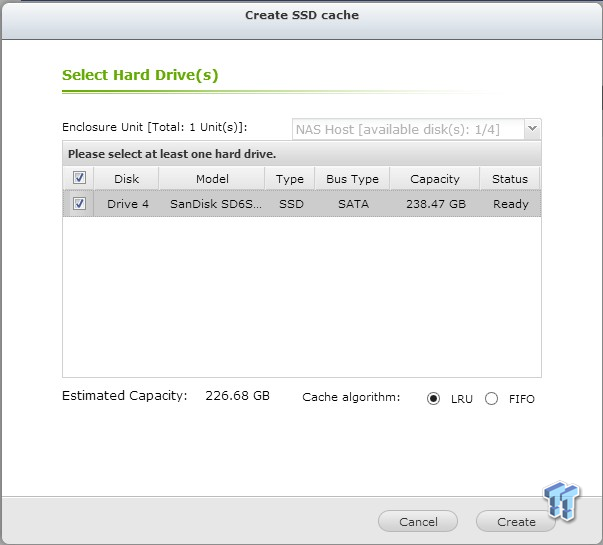 After our initial testing, we returned to the NAS storage manager after removing drive four from its bay. We then installed the SanDisk X110 256GB SSD and enabled LRU caching.
LRU caching simply means Last Recently Used, and works by dumping the data that is used the least after the cache is full. It's similar to how you would clean out your garage and toss the items you haven't used in a very long time first.
Packaging and the TS-470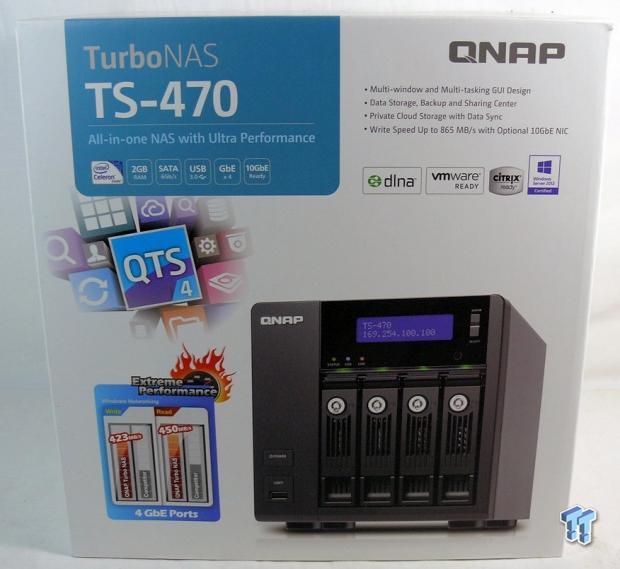 The QNAP TS-470 carries quite an attractive package design. Front and center, we have a picture of the NAS with QTS 4 marketed right next to it. We also have claims of 450 MB/s read and 423 MB/s write using all four Gbe ports.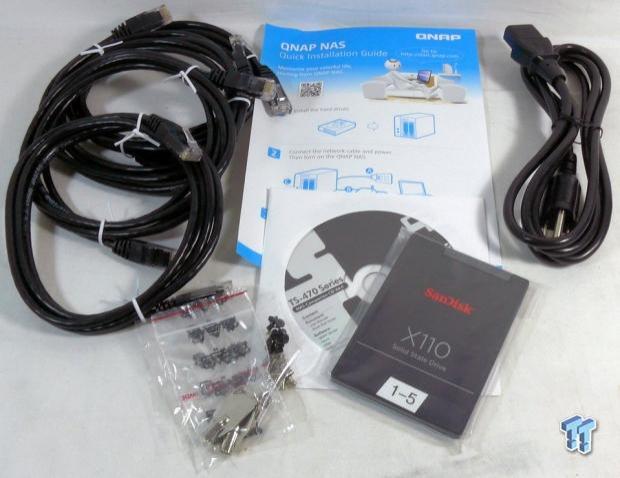 Included with our sample, we found four CAT5e Ethernet cables, power cord, drives screws and keys in addition to the disc to aide setup and SanDisk X110 256GB SSD for caching. The SSD does not come included - it's the drive we are using for testing.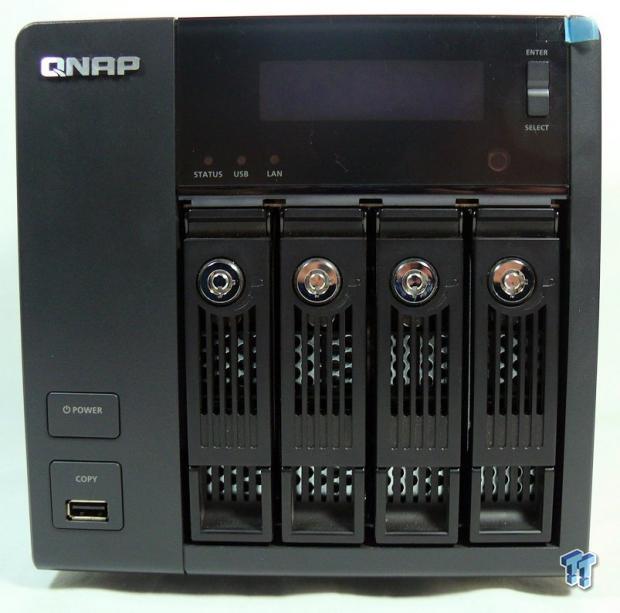 The front of the unit mirrors what we have seen in the past from four bay appliances and QNAP. Up top we have the LCD screen for managing the NAS, the power button and copy buttons to the left.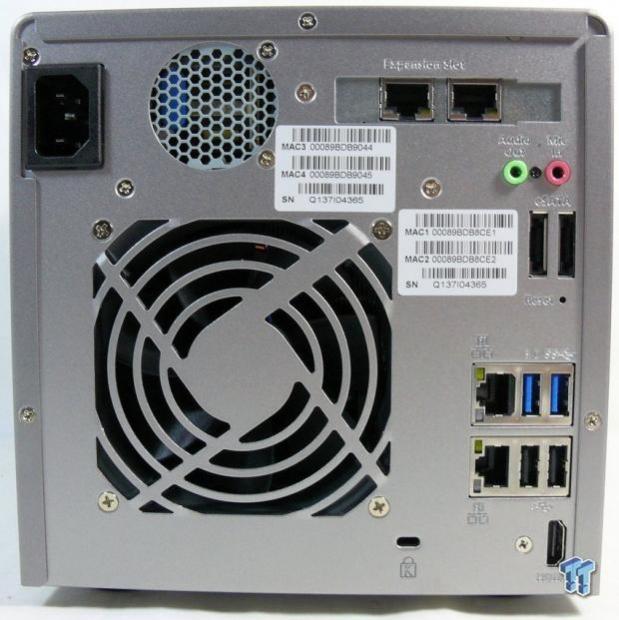 The back of the NAS houses the connectivity. Here we have four gigabit ports, analog audio in and out, with dual eSATA and four USB ports split between the 2.0 and 3.0 standard. At the bottom, we have the HDMI port for enjoying your media on your HDTV.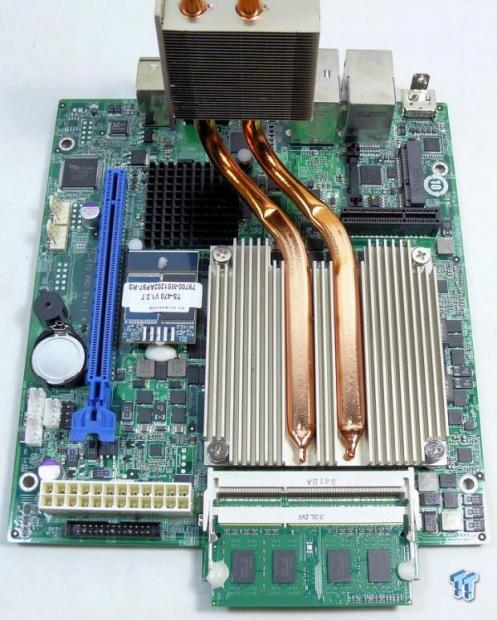 The motherboard of the unit resembles a full Mini-ITX board, with a rather large cooler taking care of the processor. To the left, we have a PCIe slot for the dual port NIC and optional 10Gbe NIC. Next to the cooler we have the 512MB DOM, and DRAM below. If you look closely, there is also a mini-PCIe slot up top for what im assuming would be a wireless NIC.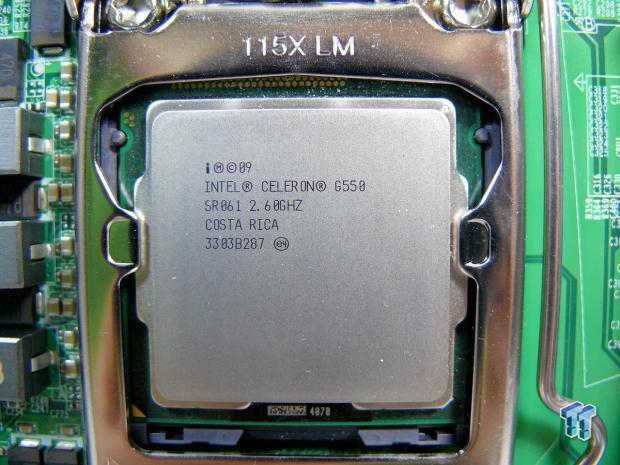 Here we have a good shot of the included Intel Celeron G550 and socket 1155 retainer.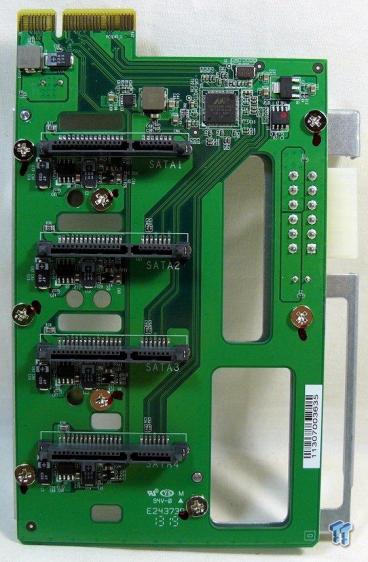 Above, we have the backplane for the four hotswap bays of the TS-470. This unit features the
Marvell 9235 controller.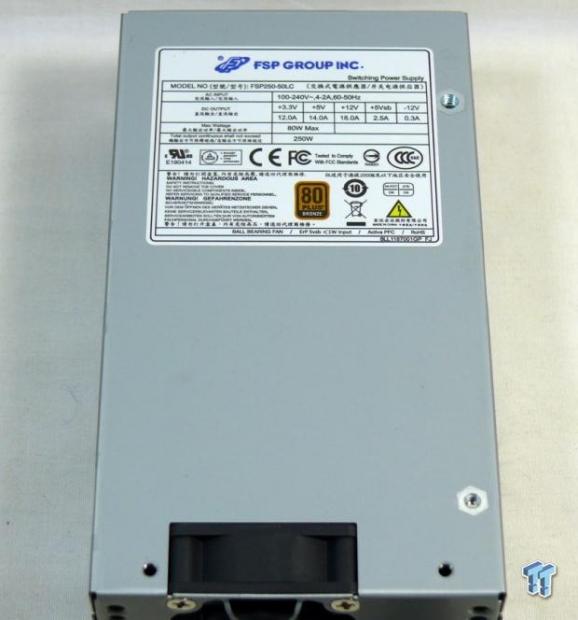 Included internally we found the appliance using a FSP power supply with a total capacity of 250 watts.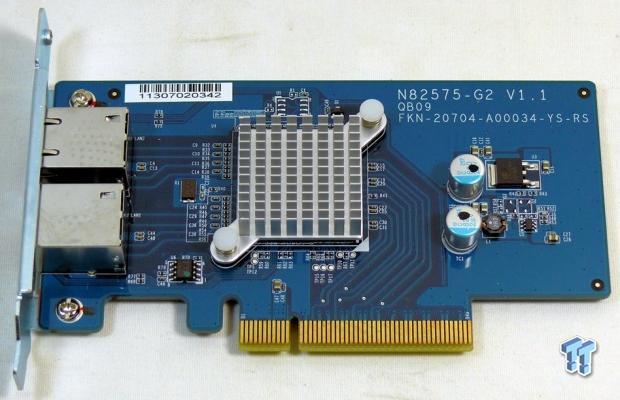 Moving on, we have the PCIe dual port NIC that's included with the TS-470.
Test System Setup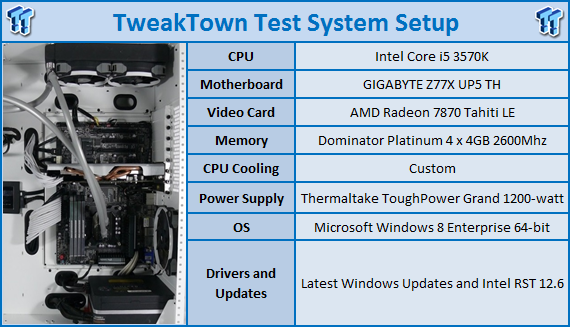 Our Consumer NAS test 'system' is setup similar to what you have at home. Here we have the base of a GIGABYTE Z77X UP5 TH housing an Intel Core i5 3570K with 16GB of RAM supporting. Our Operating System of choice is Windows 8 x64 Enterprise with all available updates and patches installed on a Corsair Neutron 256GB SSD. On the networking side we utilize the Intel PRO1000 PT Server Adapter with a direct connection to each NAS appliance. This eliminates the need for a switch and any bottlenecks that may occur.
This level of testing wouldn't be possible without the help and support from several companies, many of which have little to do with NAS products. We would like to thank Corsair, GIGABYTE and Western Digital for their much-appreciated support.
Intel NASPT
The Intel NAS Performance Toolkit (NASPT) is a file system exerciser and analysis tool designed to enable direct measurement of home network attached storage (NAS) performance. Designed to emulate the behavior of an actual application, NASPT uses a set of real-world workload traces gathered from typical digital home applications. Traces of high definition video playback and recording, office productivity applications, video rendering/content creation and more provide a broad range of different application behaviors.
Western Digital RED - The NAS HDD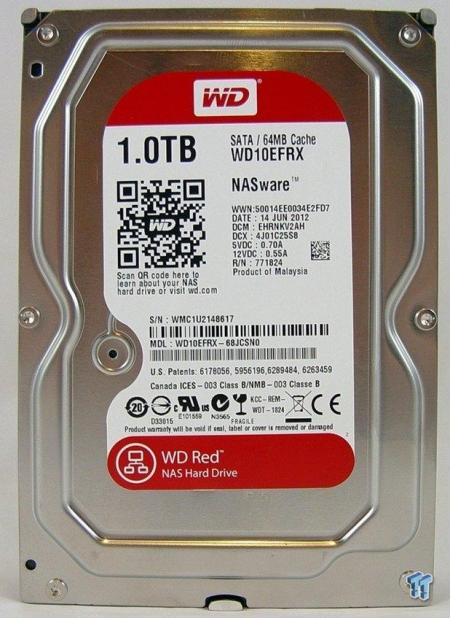 TweakTown uses Western Digital RED 1TB hard drives for all of our NAS tests. You can read our full review of the Western Digital RED 1TB here.
Benchmarks - Single Client Throughput
Workload
HD Video Play - 720p HD stream from Windows Media Player* 256kB reads
2HD Video Play - 2x playback
4HD Video Play - 4x playback
HD Video Record - 720p HD stream, 256kB writes
File Copy From NAS - 4GB file copy, 64kB reads
File Copy To NAS - 64kB writes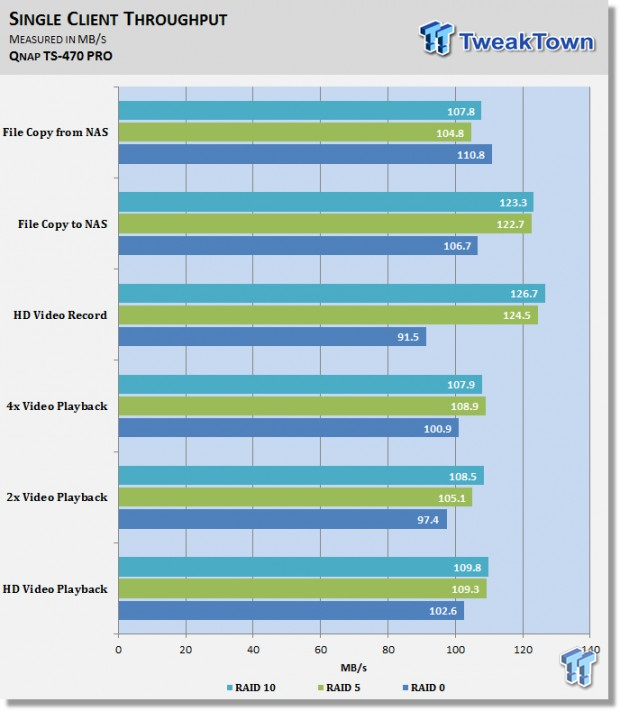 In our single client testing, the TS-470 produced ample performance across all array types. Most notably you can see RAID 5 and 10 were able to maximize our single gigabit connection.
Benchmarks - Random and Sequential Workloads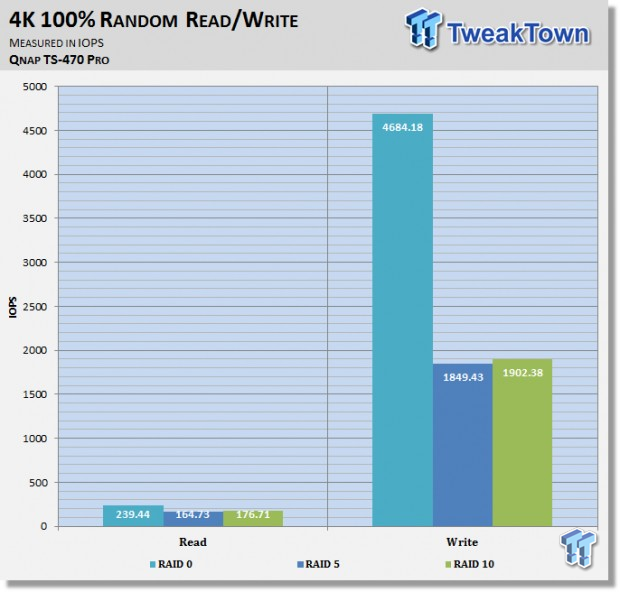 Our 4K Random read/write workload consists of sixteen threads all at QD8, results our measured in IOPS (Input Output Operations per Second).
4K performance was at its peak within RAID 0 topping 4500 write IOPS. RAID 5 and 10 offered similar write performance coming in at 1849 and 1902 IOPs respectively.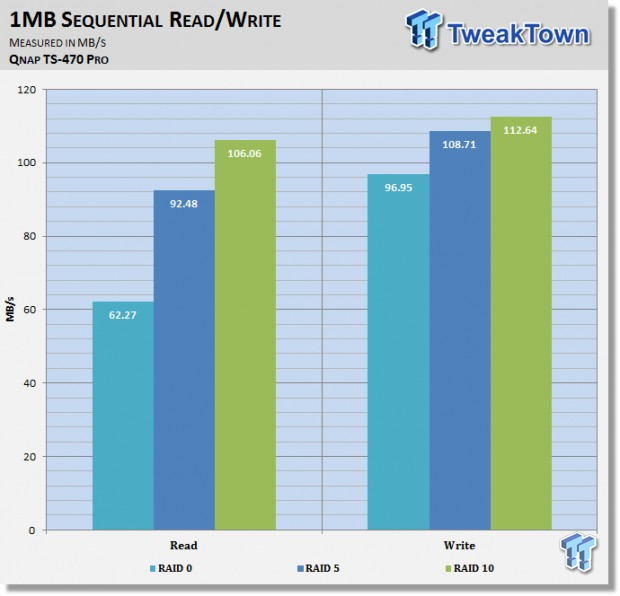 Our Sequential read/write workload is centered on 1MB transfer sizes again with sixteen threads and a Queue depth of 8.
Here we see steady performance in both read and write. RAID 10 offered the most performance at 106 MB/s read and 112 MB/s write.
Benchmarks - iSCSI Enterprise Workloads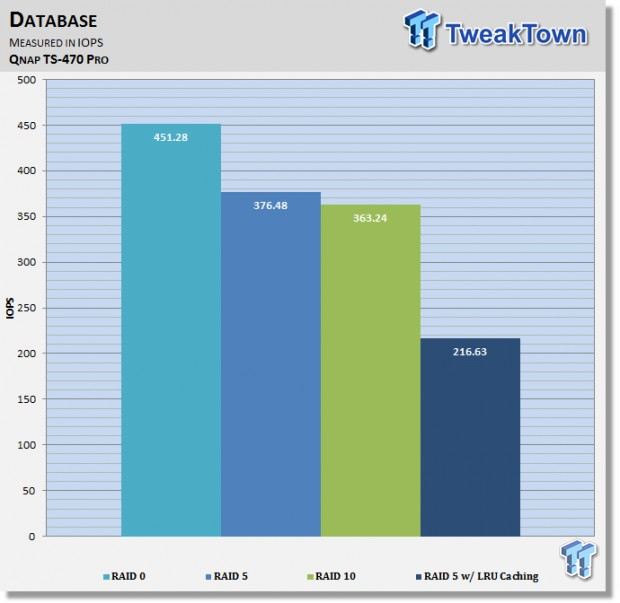 The database workload allowed peak performance within RAID 0 at 451 IOPS, additionally we have 376 IOPs for RAID 5, followed by 363 IOPS for RAID10, while enabling SSD caching results in 216 IOPS.
File Server sees an increase in performance from the SSD cache, herein we received 376 IOPS over the 321 IOPS from a standard RAID 5 array.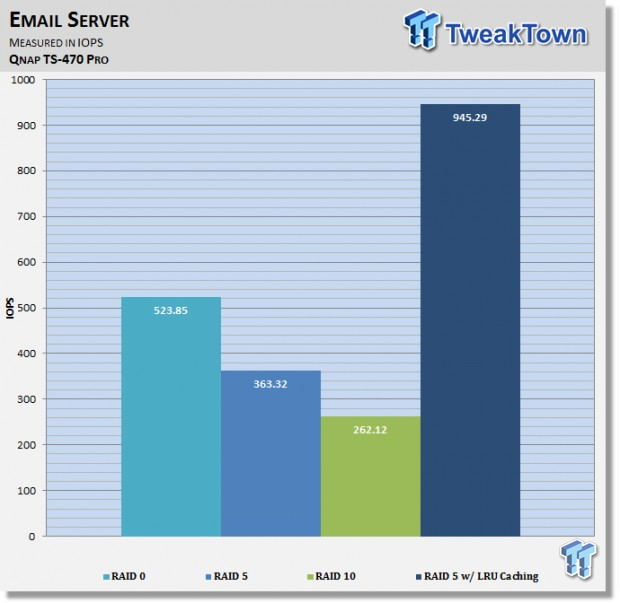 Email Server allowed our RAID 0 array to reach 523 IOPS, followed closely by the RAID 5 at 363 IOPS. Again, SSD Caching increased performance reaching 945 IOPS.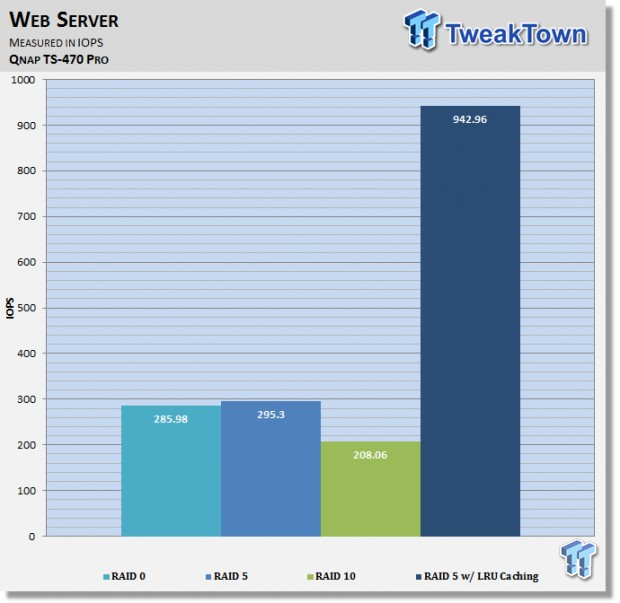 Web Server shared similar results with the SSD cache taking over the charts. Here we have 942 IOPS for RAID 5 with LRU caching.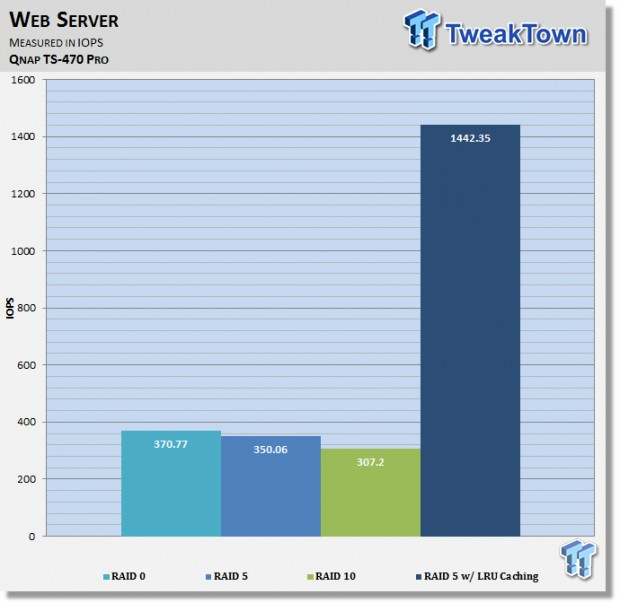 Moving on, we found Web Server receiving the largest performance improvement with caching. Here we have 370 IOPs for RAID 0, 350 IOPS for RAID 5 and 307 IOPS for RAID 10.
Benchmarks - iSCSI Workload Latency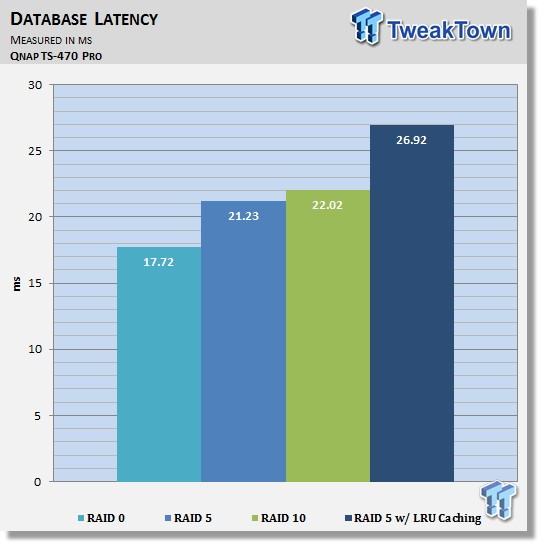 In our database workload, we found latency touching 17ms with RAID 0, within each array type a few ms of latency was added due to the overhead associated. SSD caching increased latency in this particular workload, much like it reduced throughput earlier.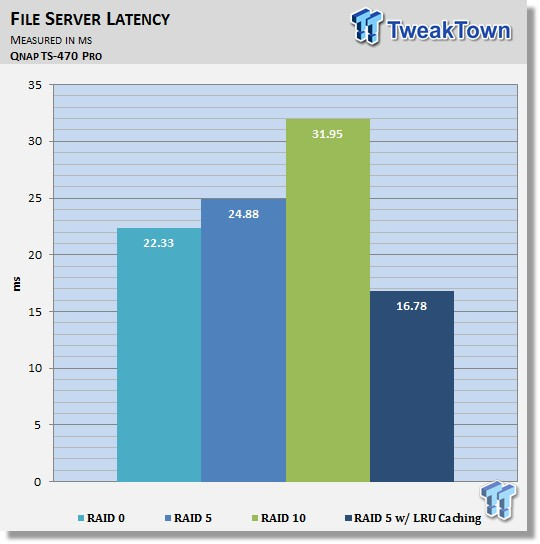 File Server showed a latency result of 22ms in RAID 0, while RAID 5 and 10 offered 24ms and 31ms, respectively. We also noticed the benefit of SSD caching within this workload, lowering the overall latency of RAID 5 from 24ms to 16ms.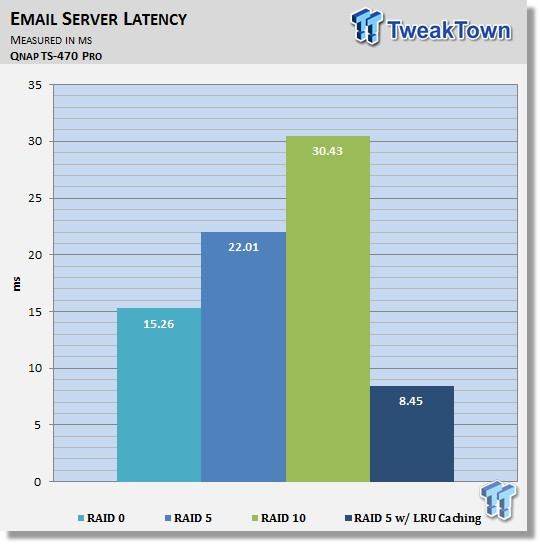 Email Server touched 15ms in RAID 0, with RAID 5 and 10 at 22ms and 30ms, respectively. Caching again improved latency by quite a margin, down to 8ms in this case.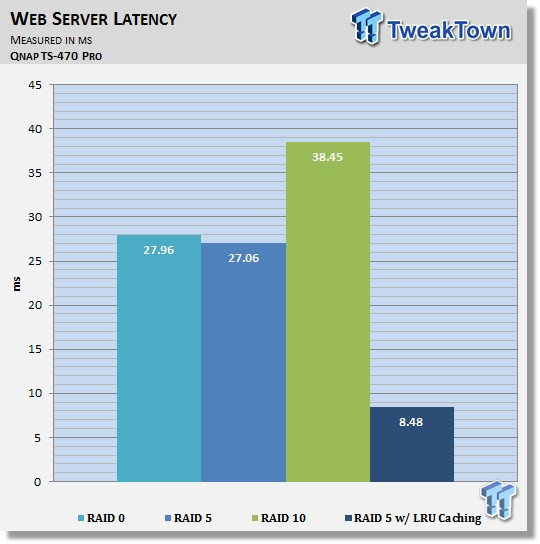 Web Server took a page from Email Server, where we saw SSD caching lowering the latency from 27ms to 8ms in RAID 5. RAID 0 topped at 27ms, while RAID 10 offered 38 ms.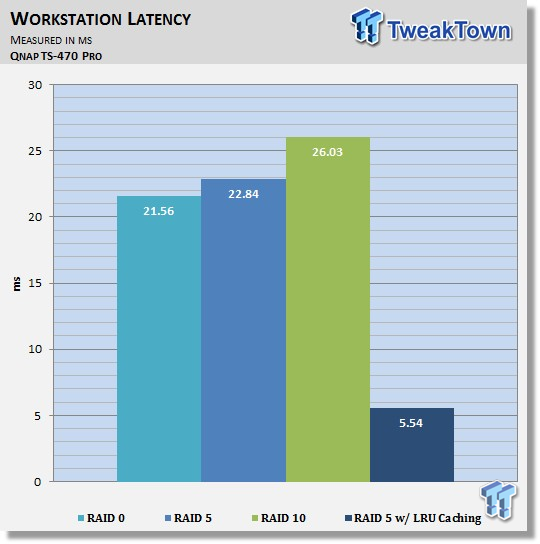 The Workstation workload offered 21ms to RAID 0, followed by 22ms for RAID 5 and 26ms to RAID 10. Latency improved dramatically using SSD caching, dropping to just 5ms.
Benchmarks - Power Consumption and Acoustics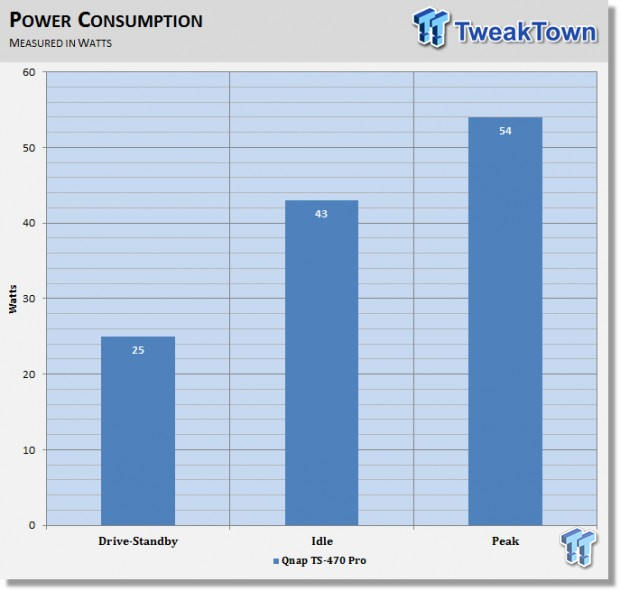 At its peak, we measured the power draw from the TS-470 at 54 watts with an idle of 43 watts. After the drives entered standby, the unit reached 25 watts.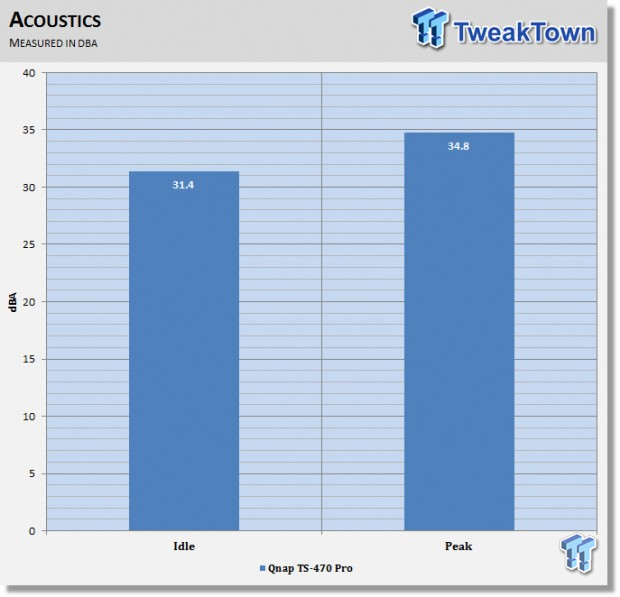 Acoustics came in at 31.4dBa for an idle and after working the unit out, the fan speed increased offering a peak of 34.8dBa.
Final Thoughts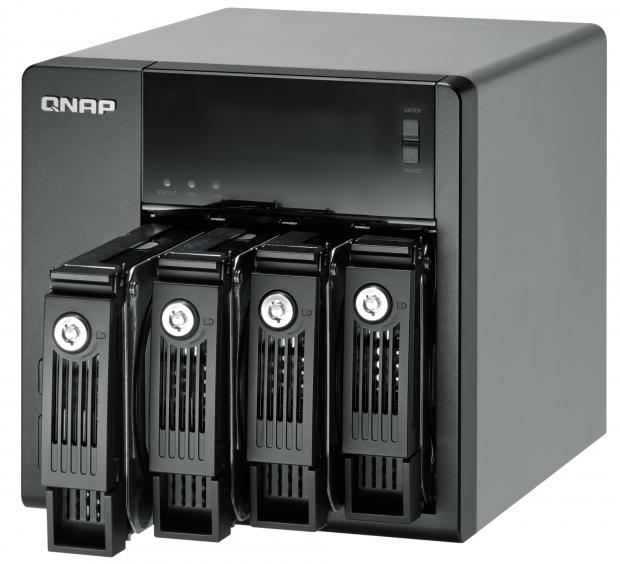 As noted throughout our review, the QNAP TS-470 is certainly one of the most powerful NAS appliances we have tested. It certainly brings another option to the market for SMB users that want a storage solution that offers tremendous options and blazing performance. The QNAP TS-470 offers the traditional four bay design we have seen many times and with that comes the same build quality we have enjoyed from QNAP. The front of the unit offers quick management through its front mounted LCD panel.
With the inclusion of the QTS 4.0.5 OS, SMB users now have more options for their storage in terms of capacity, expandability and of course my favorite part, SSD caching. As SSD caching has trickled down from the enterprise market, we have seen it increasingly used in external storage solutions. With QNAP bringing it to their line-up of x70 NAS appliances, it brings forth yet another option for SMB users to manage their readily available storage arrays, without losing performance, and in many cases offering increased performance and reduced latency for hot data.
With technology such as this, the price tends to reflect the upgrade. With the TS-470, while it does cost slightly more than the previous TS-469 Pro at $819.99, the unit offers an ample hardware upgrade with an additional two ports of gigabit connectivity and socketed Celeron G550 processor.
Another area where users may find comfort is in memory expandability, as the unit ships with 2GB of DDR3 memory. Previous units, such as the TS-469 Pro topped out at 3GB. The TS-470 Pro adds to this, offering large upgrade capabilities of 16GB at its peak.