Introduction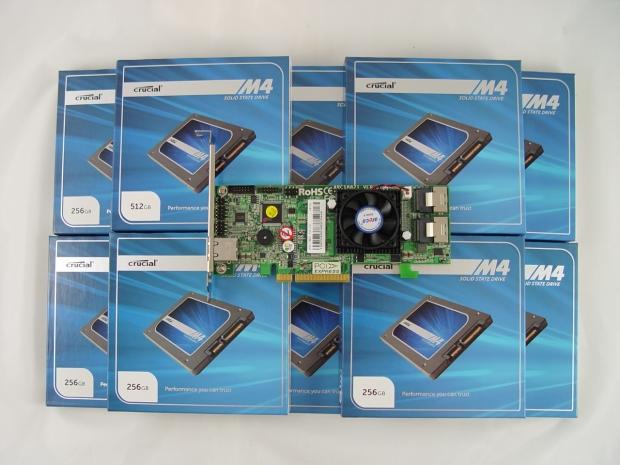 Since its implementation, advances in PCI Express technology were closely associated with gaming products, mainly video cards. The GPU business lead the charge for increasing bandwidth for the PCIe bus, but advances in storage technology, mainly through solid state drives, has turned the tide. Storage, once a fairly boring topic, has become the hot button issue for computer technology in a relatively short period of time. Still the slowest component in computers, any performance increases coming from the storage subsystem has a dramatic effect on the way a computer performs, both in day to day activity in desktops and intensive tasks taken on in enterprise.
After several delays the first PCIe 3.0 video card launched January 9th 2012, AMD's Radeon 7970. Just like the move from PCIe 1.0 to 2.0, the move to 3.0 saw little improvement in the initial products released because the bottlenecks were located elsewhere. The video card market was not ready for a massive increase of bandwidth.
The storage market on the other hand is enjoying their moment under the spotlight. Solid state drives made storage exciting and the technology quickly pushed PCIe 2.0 to its limits. The move to PCIe 3.0 was the logical step to increase performance. LSI was the first out of the gate with a PCIe 3.0 controller, Paul reviewed the new LSI 9207-8i HBA just days ago, but we've yet to see a hardware RAID product from LSI in our lab, although they have been announced.
Areca, a long time favorite among enthusiasts for the ability to tune controllers for low queue depth performance, showed their new Gen 3 products at Computex Taipei this year in June. Today we're looking at the new ARC-1882i that uses the PCIe 3.0 spec LSI controller and pairs it with Areca's custom firmware and PCB design.
The ARC-1882i Gen 3 uses the same PCB as the original ARC-1882 that we reviewed last year in April. With both products sharing the same base name, we expect there to be some confusion, but the new Gen 3 model has a change that makes a big difference. As far as we can tell, the only significant difference is the LSI chip under the heatsink. The old model used PCIe 2.0 and the new Gen 3 model uses PCIe 3.0. The new model can also work in PCIe 2.0 systems.
Specifications, Pricing and Availability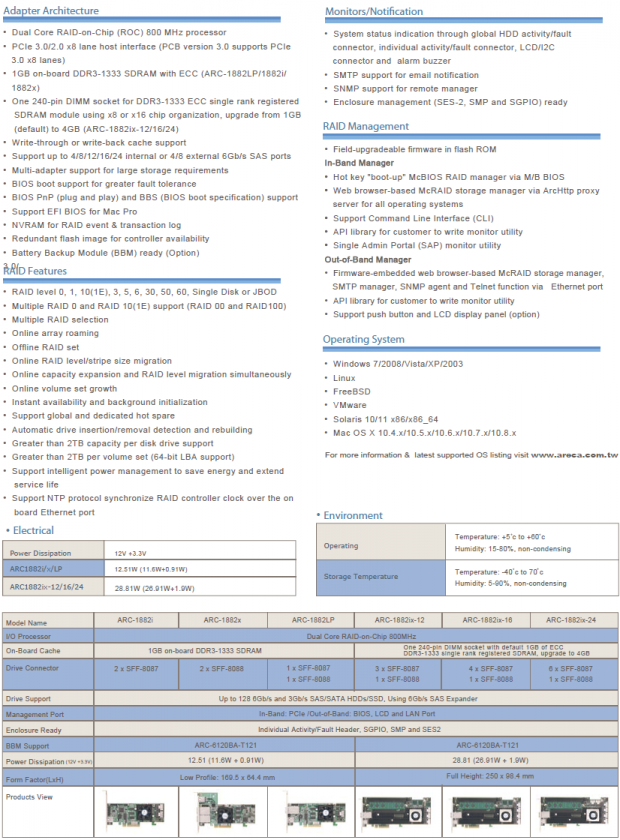 Sorry for the massive image for the specification sheet. Areca didn't have the new Gen 3 list on their website at the time of writing so we weren't able to grab a screenshot of a web friendly specification list. Areca did send us their new Gen 3 product brochure in a PDF and that is where the specs came from.
From the specs we see that the ARC-1882i and the ARC-1882i Version 3 are nearly identical. Both use LSI dual-core RAID-on-Chip (ROC) 800MHz processors and pair them with onboard DDR3-1333 SDRAM with ECC. The main difference between the first generation and this new, dubbed 3rd generation is the processors ability to use PCIe 3.0's increased bandwidth.
Areca has six new models in their Gen 3 line up, just like before and all get the PCIe 3.0 makeover. In this collection we find everything from eight channel internal (like the model we're testing today) to 24 channel internal with four channel external ports (ARC-1882ix-24). The entire product line can be further divided, the three cards at the lower end use onboard SDRAM and the three at the higher end of the scale ship with a removable 1GB DIMM that can be upgraded to 4GB.
While every enthusiast and power user out there is already making plans for a purchase, we need to point out this product is first and foremost an enterprise class RAID controller. RAID levels 0,1,10 (1E), 3, 5, 6, 30, 50, 60 and even JBOD are supported. Today we'll take a look at the ARC-1882i through our standard consumer review glasses and then send this card over to Paul who will then breakdown the true enterprise performance.
Online we managed to find the original ARC-1882i for as low as $600. Newegg has this model for $650, but the new Gen 3 PCIe 3.0 version is not available at the time of writing. At $600 the ARC-1882i PCIe 2.0 is an amazing deal and we hope the Gen 3 model will slide right in at that price point. Realistically we expect to see the new Gen 3 launch closer to $750 and stay there for at least a couple of weeks. At this time we don't have any official statements about the retail price and are just looking at previous product launches as a guide.
Packaging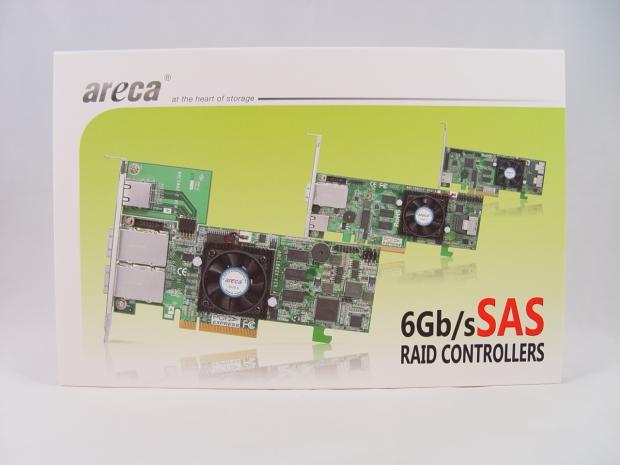 I've been reviewing Areca's products for a very long time now, all the way back to the IDE days and the product packaging hasn't really changed that much over the years.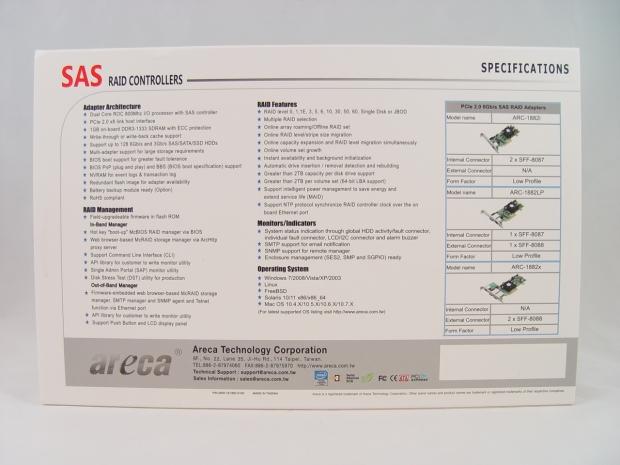 Areca does a really good job of listing the specifications and features on the back of their products. This particular package design is used for the three models at the lower end of the scale with embedded SDRAM.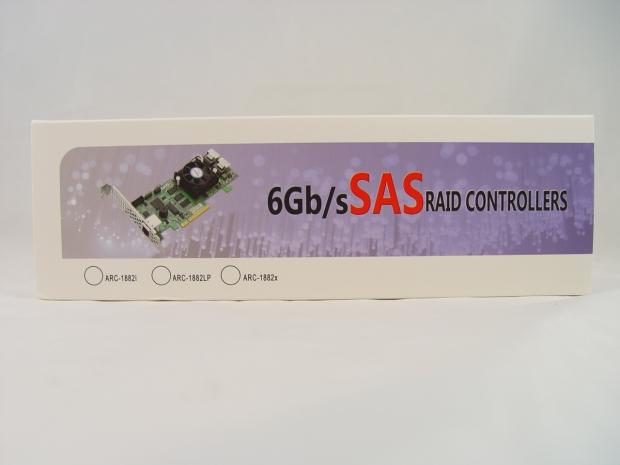 I'm not sure how many brick and mortar retail shops carry Areca products, but in a retail environment, you can see which model is in the package by the circles on the top of the package, one is usually colored in.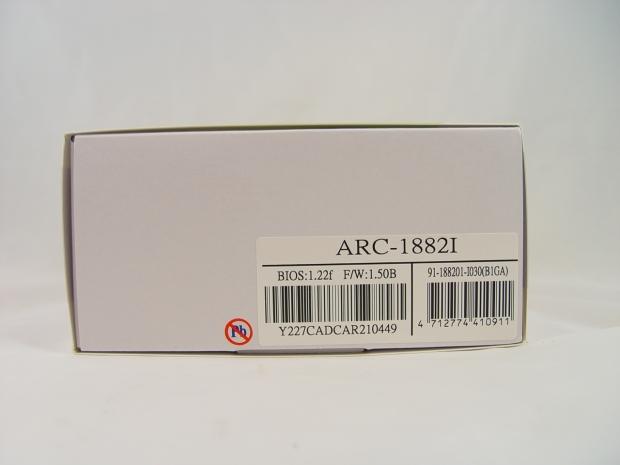 Or you can just look at the other end of the box where a label shows the model number, BIOS of the card in the box and what firmware revision is flashed. Simple enough, I'd say.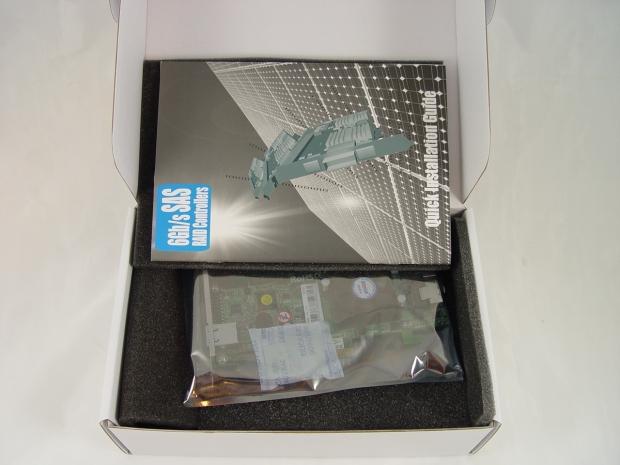 Inside the box everything is packaged well with the main card tucked deep inside open cell foam.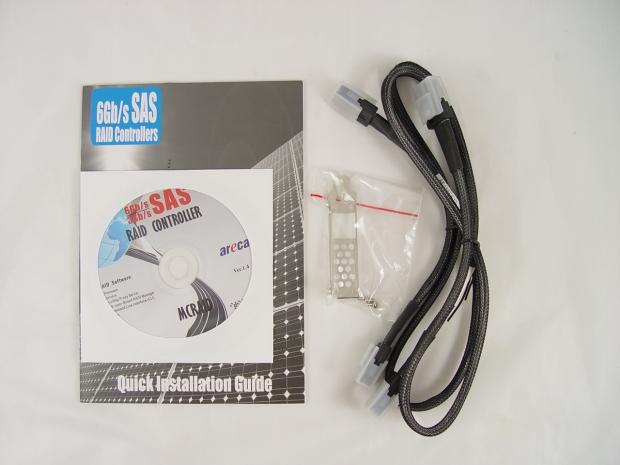 Areca includes a paper manual, driver/software disk, low profile adapter bracket and two SFF-8087 to SF-8087 cables.
Areca calls their manual a "Quick" Installation Guide, but this is one of the best manuals included with any RAID controller. You can sit down and read for an hour or more before just realizing that hands on experience is the way to go. The manual is very good, though.
Areca ARC-1882i Gen 3 PCIe 3.0 RAID Controller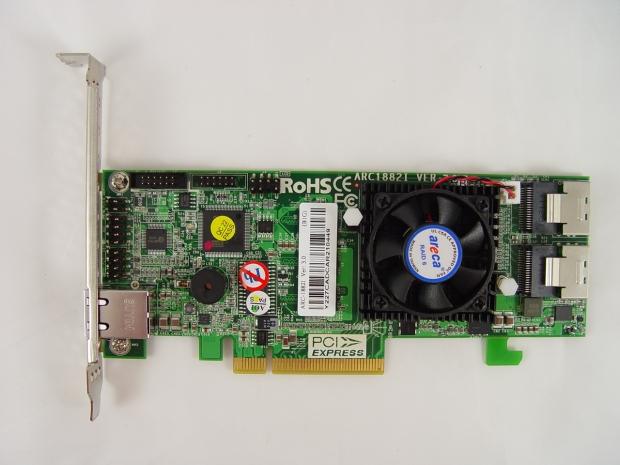 Here we get our first look at the ARC-1882i V3 with PCIe 3.0 connectivity. The card uses an 8-lane PCIe slot, but your 16-lane slot will work fine as well. The card is actively cooled, but the small fan is actually quite quiet in my modestly cooled workstation. I would say that A/V professionals would not run into an issue with noise in their production environment.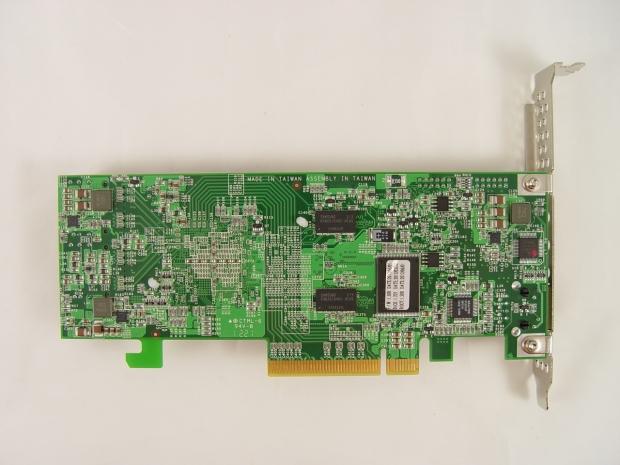 There isn't much to see on this side of the card other than several surface mount components.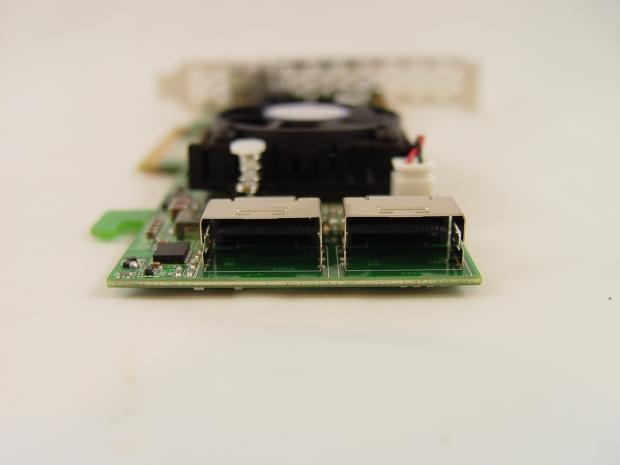 The dual SFF-8087 ports each carry 4-channels and are located on the back of the card. Personally I like the rear mounted ports more than I do when they come off the side of a card. The installation feels more organized this way.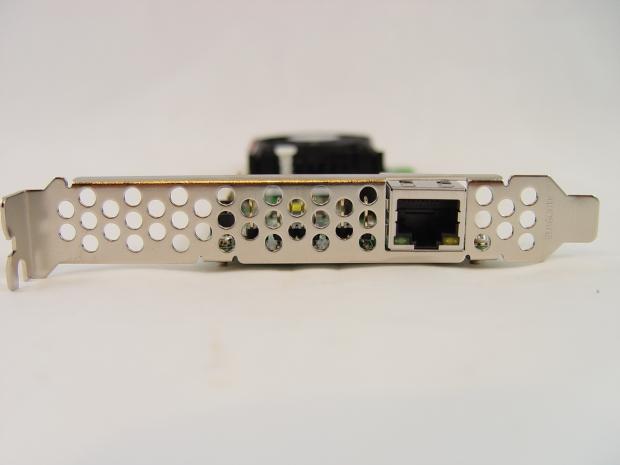 Areca retained the out-of-bandwidth Ethernet port on the face of the ARC-1882i. This Ethernet port allows you to access the card from another machine without going through the operating system.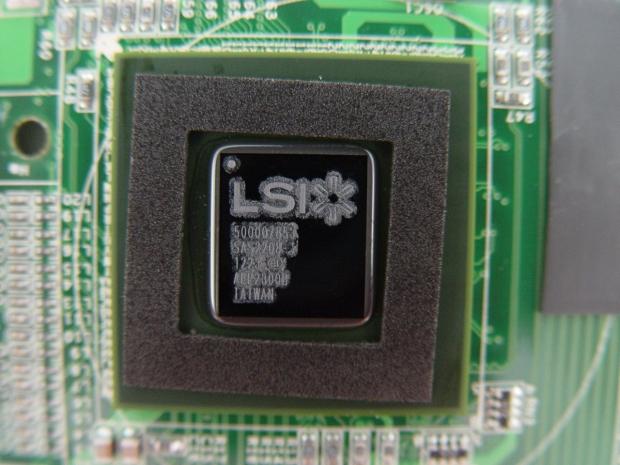 Under the heatsink we found an LSI SAS2208-J controller. This little piece of silicon is responsible for the new PCIe 3.0 spec. Unlike what we see with SSDs running the same flash processor units, the Areca and LSI products are quite a bit different since each use different firmware, software and are tuned a bit different.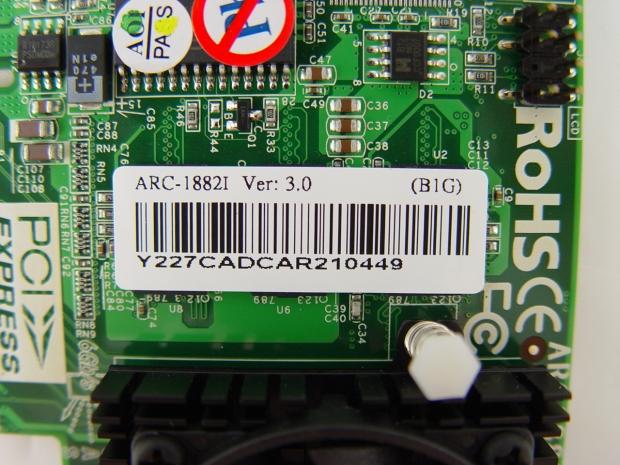 On the card we found a definitive marking that distinguishes the Version 3.0 from the standard 1882i.
Benchmarks - Test System Setup and ATTO Baseline Performance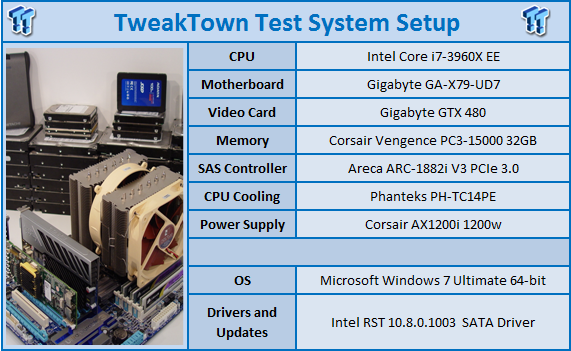 We would like to thank the following companies for supplying and supporting us with our test system hardware and equipment: AVADirect, GIGABYTE, LSI, Corsair and Noctua.
You can read more about TweakTown's Storage Product Testing Workstation and the procedures followed to test products in this article.
For this test we got to break out our X79 test rig with PCIe 3.0! This system isn't used too often since the Intel SATA III ports are not as fast as those found on Z77 systems. This system does have a very good PCIe 3.0 subsystem that allows us to stretch the legs of the Areca ARC-1882i.
Feeding the ARC-1882i were eight Crucial m4 256GB drives with the latest 000F firmware.
ATTO Baseline Performance
Version and / or Patch Used: 2.34
ATTO is used by many disk manufacturers to determine the read and write speeds that will be presented to customers.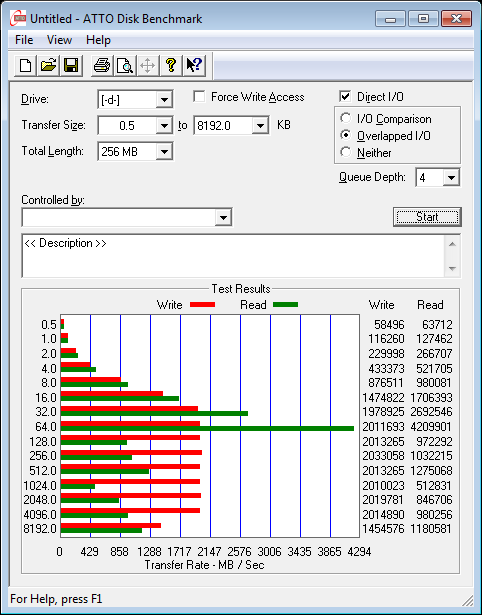 Without explanation you might think we did something wrong or broke the Areca ARC-1882i V3. Well we did break something, but it wasn't the hardware. I will let Paul, our enterprise storage guru explain it, his version is so much better than mine. Here's what he said to me:
"You have quite literally broken ATTO. You went over the amount of speed that ATTO will display. The ATTO benchmark uses 32 bit unsigned integers to store the results, so it cannot display numbers bigger than 4294967295 bytes/sec.
In other words, it isn't going to show you anything over 4.29GB/s. At that point it begins to "wrap around". You simply add the amount that it shows for 64KB to the 4.9GB/s. So if it is over by 1.2GB/s that would mean you are at 5.49GB/s.
Congrats, you are the only other guy on the planet that I know personally who has run into this!"
Well then, I would say it is time for ATTO to fix their broken benchmark software because the Areca ARC-1882i just kicked its ass!
Benchmarks - HD Tune Pro
HD Tune Pro
Version and / or Patch Used: 4.00
Developer Homepage: http://www.efdsoftware.com
Product Homepage: http://www.hdtune.com
HD Tune is a Hard Disk utility which has the following functions:
Benchmark: measures the performance
Info: shows detailed information
Health: checks the health status by using SMART
Error Scan: scans the surface for errors
Temperature display
HD Tune Pro gives us accurate read, write and access time results and for the last couple of years has been gaining popularity amongst reviewers. It is now considered a must have application for storage device testing.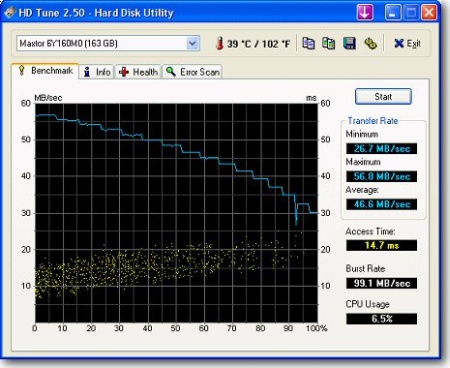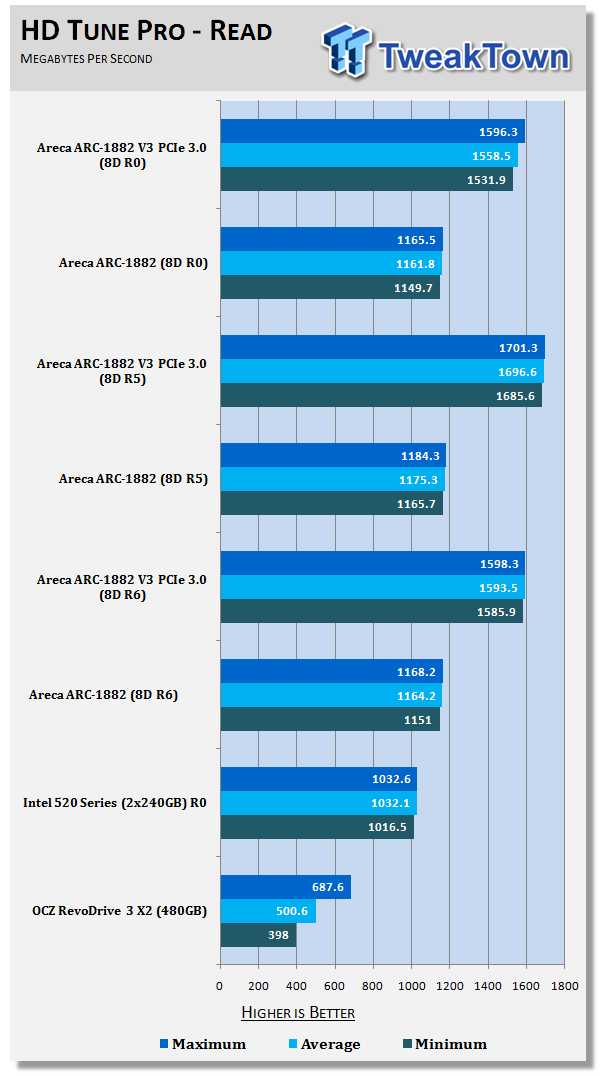 Going down the chart, we can see that the new PCIe 3.0 model is faster than the older PCIe 2.0 model when reading data sequentially across the array. Today we're testing in RAID 0, 5 and 6 with a stripe size in all three of 64, the ARC-1882i Version 3's default stripe size.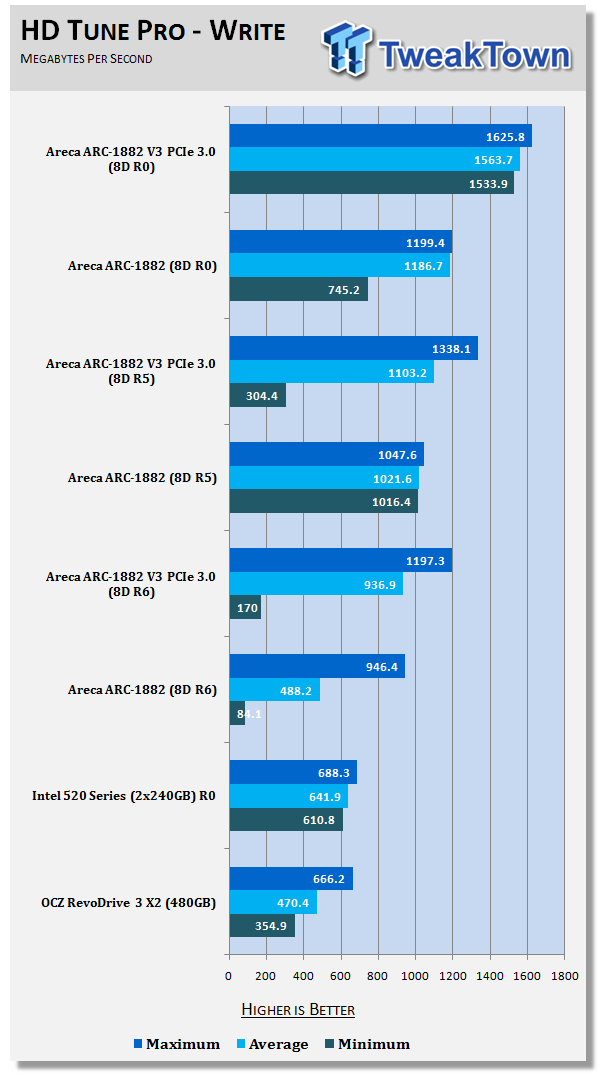 At this point, I should tell you that RAID 5 and RAID 6 are brutal on SSDs, RAID 6 more so than RAID 5. The drives take a beating when writing data and since we do not have TRIM on RAID 5 or 6 yet, you have to rely on background garbage collection to keep the drives running smoothly. While running benchmarks we do not have the privilege of long idle times for background garbage collection to take place and because of that, the arrays get "˜dirty' quickly.
That said, we could still look at the maximum and average write speeds and see that once again the increase in bandwidth to the controller card allows more performance to come from the SSDs. The bandwidth increase is what we are looking for here today and in the three tests we've conducted so far, we see the increase already.
Benchmarks - AIDA64 Random Access Time
AIDA64 Random Access Time
Version and / or Patch Used: 1.60
Developer Homepage: http://www.aida64.com
Product Homepage: http://www.aida64.com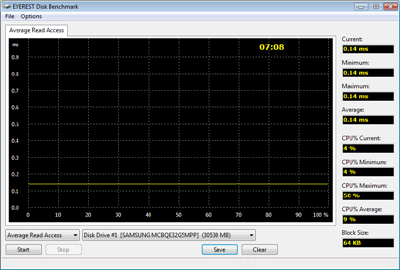 AIDA64 offers several different benchmarks for testing and optimizing your system or network. The Random Access test is one of very few if not only that will measure hard drives random access times in hundredths of milliseconds as oppose to tens of milliseconds.
Drives with only one or two tests displayed in the write test mean that they have failed the test and their Maximum and possibly their Average Scores were very high after the cache fills. This usually happens only with controllers manufactured by JMicron and Toshiba.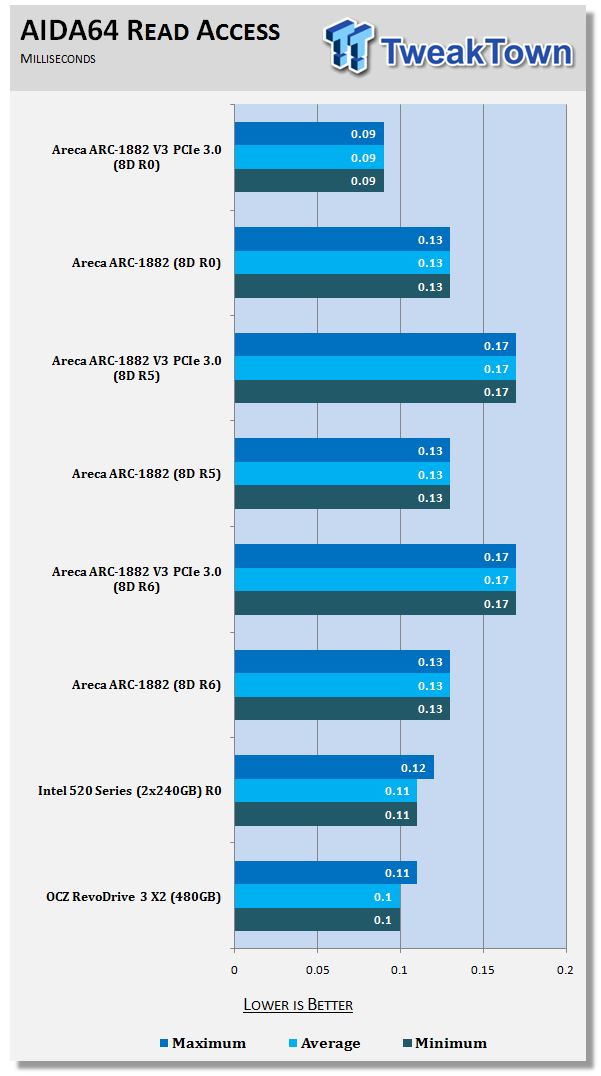 In our read latency test we achieved mixed results. I didn't really think there would be much of a difference, but I was wrong. In RAID 0 the latency went down which is good, but in RAID 5 and 6 it went up just a hair which is not good, but since we are only talking about a small amount, it isn't a big deal.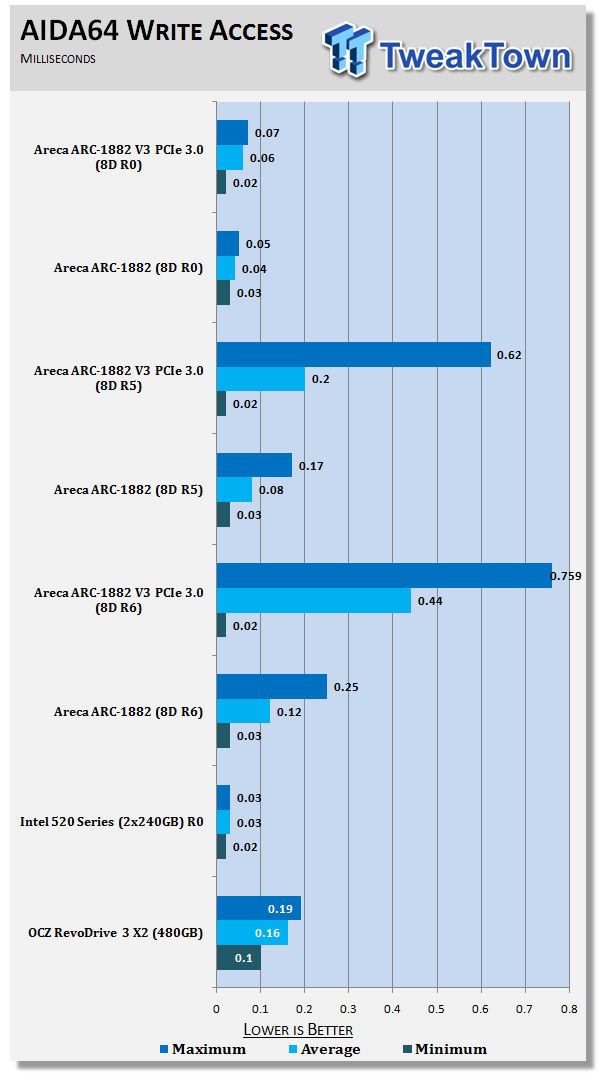 Again, we had larger spikes in RAID 5 and RAID 6 with the new PCIe 3.0 card. This was due to the SSDs and not the controller. I wish there was a way to isolate the controller better, but you need drives to run on the controller card and sometimes the drives act like children in a toy store when told they can't get two toys.
Benchmarks - CrystalDiskMark
CrystalDiskMark
Version and / or Patch Used: 3.0 Technical Preview
Developer Homepage: http://crystalmark.info
Product Homepage: http://crystalmark.info/software/CrystalDiskMark/index-e.html
Download here: http://crystaldew.info/category/software/crystaldiskmark
CrystalDiskMark is a disk benchmark software that allows us to benchmark 4K and 4K queue depths with accuracy.
Key Features:-
* Sequential reads/writes
* Random 4KB/512KB reads/writes
* Text copy
* Change dialog design
* internationalization (i18n)
Note: Crystal Disk Mark 3.0 Technical Preview was used for these tests since it offers the ability to measure native command queuing at 4 and 32.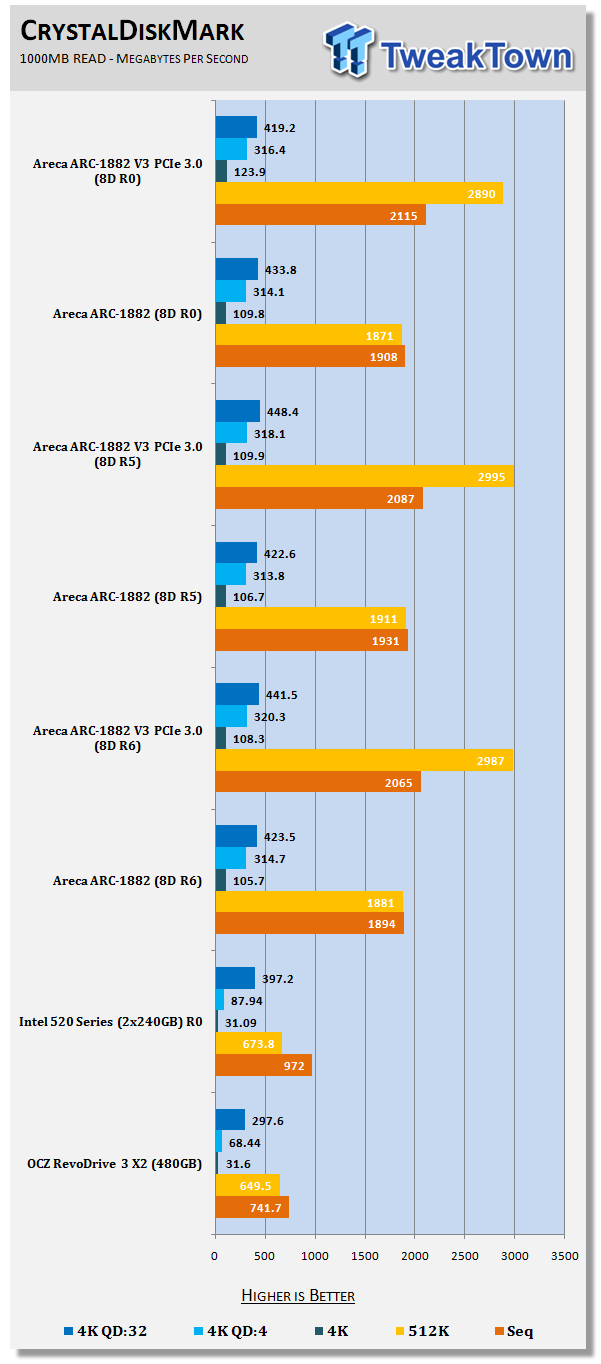 In CDM we again see massive increases to the sequential reads with the new PCIe 3.0 spec ARC-1882. The rest of the categories get a little bit of a bump, but not as much of a percentage as the sequential test.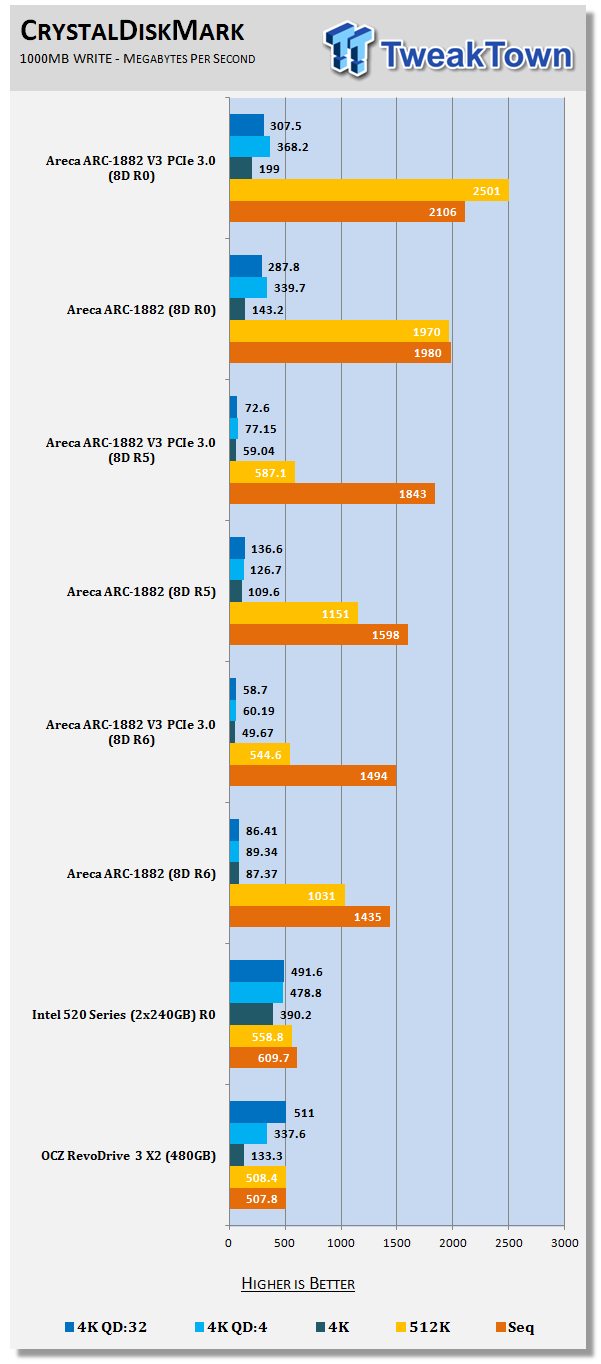 In the write portion of CDM we again saw large in the sequential test and modest 4K gains in the RAID 0 test. RAID 5 and RAID 6 saw 4k dips due to the new firmware on the Crucial m4 and from being abused.
Benchmarks - PCMark Vantage Hard Disk Tests
PCMark Vantage - Hard Disk Tests
Version and / or Patch Used: 1.0.0
Developer Homepage: http://www.futuremark.com
Product Homepage: http://www.futuremark.com/benchmarks/pcmark-vantage/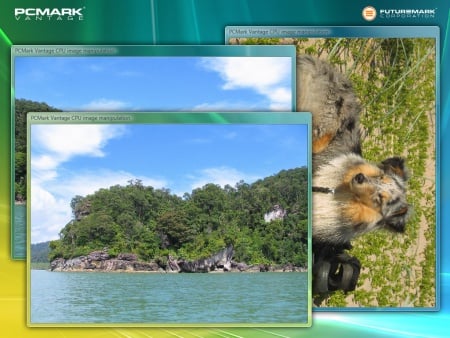 PCMark Vantage is the first objective hardware performance benchmark for PCs running 32 and 64 bit versions of Microsoft Windows Vista. PCMark Vantage is perfectly suited for benchmarking any type of Microsoft Windows Vista PC from multimedia home entertainment systems and laptops to dedicated workstations and high-end gaming rigs. Regardless of whether the benchmarker is an artist or an IT Professional, PCMark Vantage shows the user where their system soars or falls flat, and how to get the most performance possible out of their hardware. PCMark Vantage is easy enough for even the most casual enthusiast to use yet supports in-depth, professional industry grade testing.
FutureMark has developed a good set of hard disk tests for their PCMark Vantage Suite. Windows users can count on Vantage to show them how a drive will perform in normal day to day usage scenarios. For most users these are the tests that matter since many of the old hat ways to measure performance have become ineffective to measure true Windows performance.

HDD1 - Windows Defender
HDD2 - Gaming
HDD3 - Windows Photo Gallery
HDD4 - Vista Startup
HDD5 - Windows Movie Maker
HDD6 - Windows Media Center
HDD7 - Windows Media Player
HDD8 - Application Loading
There are not going to be many people using Areca ARC-1882i Version 3 cards for desktop use, but those of you reading this article, the real enthusiasts and power users, we know what you are doing with them, so we still run these tests.
Just as with the rest of the tests so far, when you need additional sequential performance the new Version 3 card delivers sequential performance in abundance. The small file reads and writes are still impressive even with the drives running in a worn down steady state.
Benchmarks - AS SSD
AS SSD Benchmark
Version and / or Patch Used: 1.2.3577.40358
Developer Homepage: Alex Intelligent Software
Product Homepage: Alex Intelligent Software
Download here: http://www.alex-is.de/PHP/fusion/downloads.php?cat_id=4&download_id=9
AS determines the performance of Solid State Drives (SSD). The tool contains four synthetic as well as three practice tests. The synthetic tests are to determine the sequential and random read and write performance of the SSD. These tests are carried out without the use of the operating system caches.
In all synthetic tests the test file size is 1GB. AS can also determine the access time of the SSD, the access of which the drive is determined to read through the entire capacity of the SSD (Full Stroke). The write access test is only to be met with a 1 GB big test file. At the end of the tests three values for the read and write as well as the overall performance will be issued. In addition to the calculated values which are shown in MB/s, they are also represented in IO per seconds (IOPS).
Note: AS SSD is a great benchmark for many tests, but since Crystal Disk Mark covers a broader range of 4K tests and HD Tune Pro covering sequential speeds, we will only use the Copy Benchmark from AS SSD.
- Copy Benchmark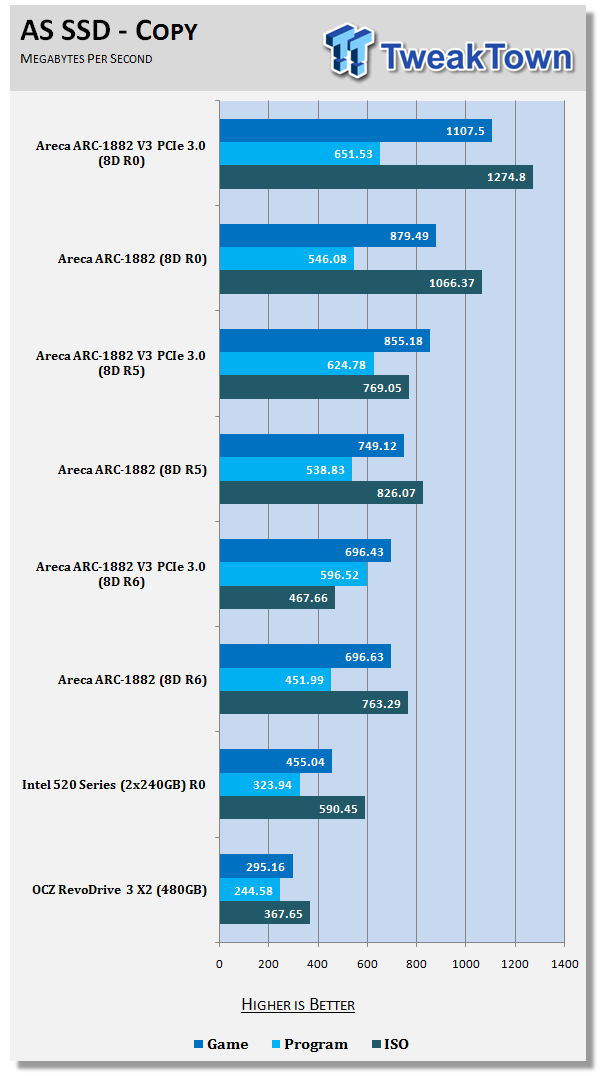 A lot of the file copy performance is also sequential reads and writes so once again we see large increases in the performance.
Benchmarks - Passmark
Passmark Advanced Multi-User Tests
Version and / or Patch Used: 6.1
Developer Homepage: http://www.passmark.com
Test Homepage: http://www.passmark.com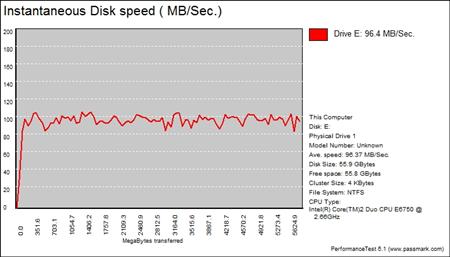 Many users complain that I/O Meter is too complicated of a benchmark to replicate results so my quest to find an alternative was started. Passmark has added several multi-user tests that measure a hard drives ability to operate in a multi-user environment.

The tests use different settings to mimic basic multi-user operations as they would play out on your server. Variances is read / write percentage as well as random / sequential reads are common in certain applications, Web Servers read nearly 100% of the time while Database Servers write a small amount of data.
The Workstation test is the only single user environment and will be similar to how you use your system at home.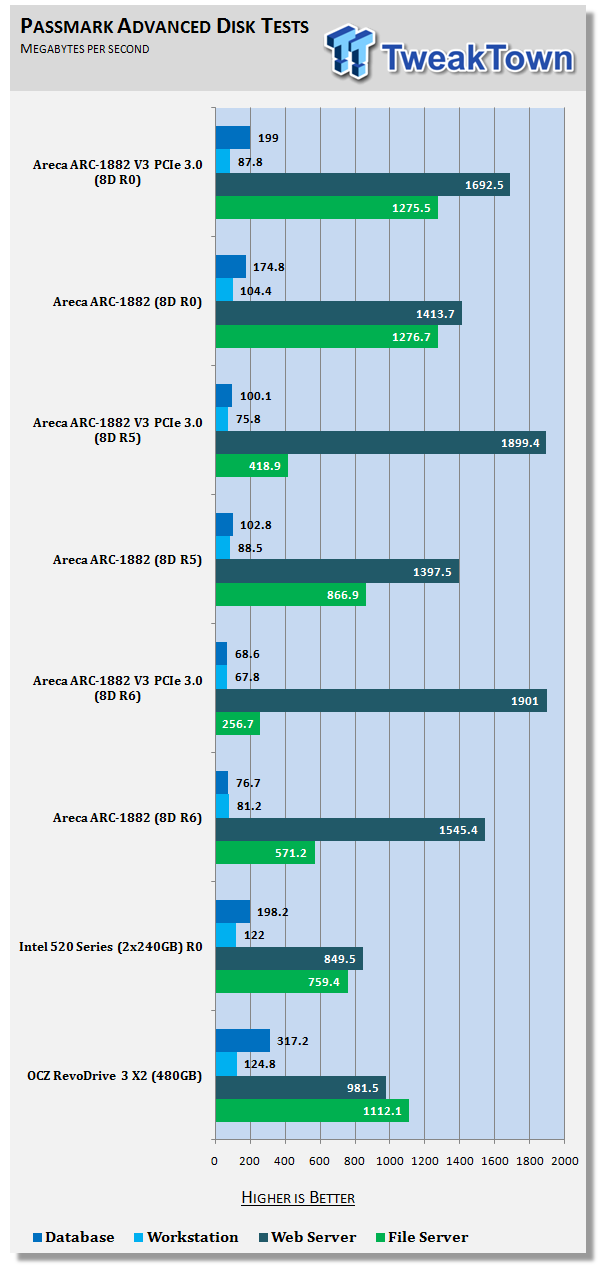 We'll let this serve as a bit of a teaser for Paul's full enterprise article. As we mentioned in the introduction, our ARC-1882i Version 3 PCIe 3.0 card is going to Kansas for its enterprise review. Paul also has the ARC-1882ix, a 12-channel controller with 4GB of removable cache and will give it an enterprise work over as well.
In this final test we see what we've seen this full review, sequential performance takes a massive leap and random data runs about the same as it did on the PCIe 2.0 card.
Final Thoughts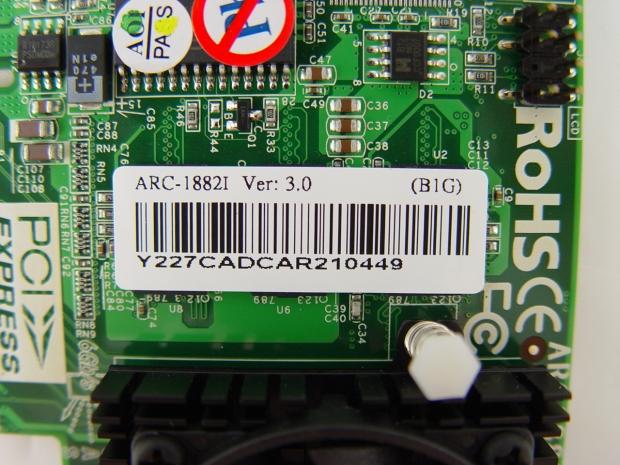 Not long ago we sat down with LSI and talked about the new PCIe 3.0 dual core ROC controller and they laid out the groundwork for the next two years. PCIe 3.0 now and a follow up next year with SAS 12Gbps. With LSI chips in Areca controllers it's safe to say from a hardware side that Areca will follow the same strategy. PCI Express 3.0 delivers big performance when you can take advantage of it and right now that means sequential reads and writes. I think this is really going to benefit Areca and their product more than it does LSI because Areca tunes its products to deliver more performance at lower queue depths out of the box than LSI does. That is the reason why Areca is so popular with the enthusiast and power user market, their products fit really well with the needs of those two user types.
Areca also has a fantastic software layer that makes it easy for users to go in and tune performance for an application. You'll see this more in Paul's enterprise article since he works the configurations for different tests, lowering stripe size for database tests and increases stripe size for sequential performance like web server tests. In my power user type review, we left the stripe size at 64kb since it produces the best all around, general mixed workload numbers.
As far as the performance goes, if you're looking to increase your sequential performance, the PCIe 3.0 model is the way to go. The sequential performance boost is significant while reading and writing data. Breaking ATTO is a nice touch as well. If you are already using a PCIe 2.0 card and work with smaller file sizes and lots of random data, then there really isn't much of a reason to upgrade at this time. Next year when we see 12 Gbps drives to couple with PCIe 3.0 is when the random performance should take a leap forward.
At the time of writing, we didn't have pricing or availability, but we don't think the ARC-1882i Version 3 is going to be a big leap from the PCIe 2.0 version on the market now. I do expect there to be an increase at first, maybe around $100 or so, but that will quickly dissolve as the PCIe 2.0 inventory drops off. Areca products have always been really good value and usually cost less than similar products from LSI and Adaptec.
The Areca ARC-1882i Version 3 is an evolutionary step forward and not a revolutionary leap. Sequential performance gets a large increase, but random performance is stagnant with last year's model. When shopping, go ahead and pick up the new PCIe 3.0 model because extra bandwidth is always nice to have, even if your server is still based on PCIe 2.0 technology, eventually you'll upgrade that as well.