Introduction, Specifications, and Pricing
The Samsung SM961 NVMe SSD was all the rage circa 2017 but the system builder drives have reached end of life, and unsold OEM stock is available at 2019 prices.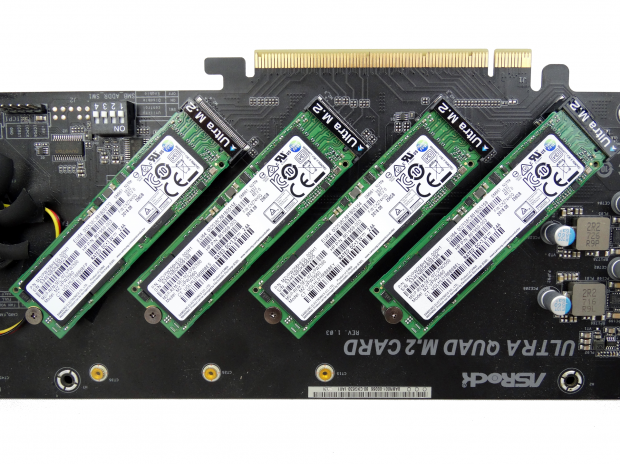 The SM961 is one of the last 2-bit per cell (MLC) SSDs from Samsung's SSI group that sells custom drives to large system builders like Dell, Lenovo, and HP. The series sports impressive performance and was the first consumer SSD I tested to surpass 11,000 random read IOPS at queue depth 1. With that kind of performance, the user experience is excellent, even compared to today's high-performance NVMe standards.
In 2018, Samsung released the PM981 SSD based loosely on the 970 EVO, for system builders. The SM961, based on the older 960 Pro, fell out of favor due to its high cost, older 48-layer V-NAND technology, and slightly higher power consumption.
When I first tested the 1TB SM961 in July 2016, the drive cost north of $500. The same drive today sells for just $169.99 from MyDigital Discount. MyDigital also has the 256GB SM961 in stock on Amazon for just $46.99. All SSD prices have dropped since 2017, but you simply can't find a cheaper MLC SSD today.
Low-cost SM961 NVMe SSDs would be enough for a daily news post, but this is a review of two pieces coming together to make a storage system.
The second portion of the review comes from Intel's VROC or Virtual RAID On-Chip technology. The SM961 is one of the few non-Intel branded SSDs on the official support list. The list consists of nineteen Intel NVMe SSDs (four being Optane-based), and twelve non-Intel SSDs with six from Samsung. Intel and Samsung SSDs appear, at the time of writing, to be the only vendors with modern models recently added.
Samsung's consumer-branded drives, like the 950, 960, and 970 Series lack support in VROC, only the OEM drives from Samsung SSI, 951, 961, and 983 (note the current Samsung PM981 is not supported). Support for newer products from other vendors is lacking. For instance, the Toshiba XG3 is a supported model but not the newer XG5 or XG6. The Micron 9100 and 9200 Series show support but not the new 9300 Series.
Many of the supported drives fall under the datacenter category. Buying multiple drives adds up quickly with these models. Newer Datacenter SSDs often lack an SLC buffer but make up for the loss in burst performance by using expensive (and hot) controllers utilizing up to 16 channels. If your goal is to build a cost-effective workstation, datacenter SSDs are often out of reach for many shoppers. This is what makes the Samsung SM961 at its current price the ultimate VROC SSD for budget-minded shoppers today.
Specifications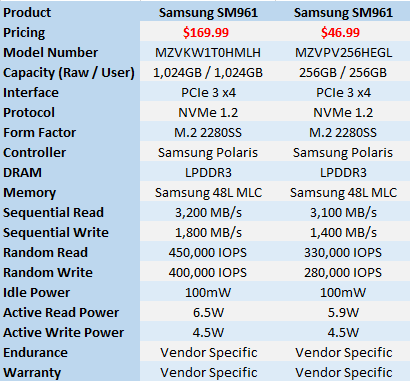 On paper, the Samsung SM961 doesn't share the same high peak performance numbers as modern SSDs using 3-bit per cell flash. Paper is a funny thing, though. When it comes to performance, paper is virtually useless unless it shows real workload performance charts taken over time. Peak performance is useful in a consumer workload but not for long sustained tasks that can take several hours to complete.
Pricing, Warranty, and Endurance
MyDigital Discount has two SM961 capacities, 1TB and 256GB. The 1TB drive sells on both Amazon and the MyDigital Discount website for $169.99. The 256GB model sells on Amazon for $46.99 but $59.99 on the MyDigital Discount website.
Like other OEM drives from Samsung, the warranty goes back to the OEM or seller, in this case, MyDigital Discount. The company covers the SM961 SSDs with a full 5-year warranty that is limited by the endurance. The endurance count comes from the WMI indicator. Samsung never published endurance data for the SM961, not even in the multipage datasheet given to system builders. The 1TB 960 Pro held an 800 TBW endurance rating. Samsung never released a 960 Pro in 256GB.
Accessories and Software
Samsung's Magician and Data Migration software doesn't work with the SSI drives. Free third-party tools will give you just as much information and allow you to clone your existing data with ease. The 960 Pro and other MLC SSDs from Samsung never supported the DRAM cache feature to accelerate desktop workloads with system memory, so you don't lose any features.
Updating the SM961's firmware is a different story. The drives from MyDigital Discount all use H1 at the end of the model name. This indicates they are from HP. HP and Lenovo both published several firmware upgrades for the SM961, and it's possible to update these drives to the latest firmware in Linux. Updating the drives in Windows is more difficult. Some of the firmware update tools are specific to OEM systems, and the software looks for hardware IDs outside of the actual SSD you want to update. A quick search will lead you to workarounds online if you absolutely must run a firmware update. We found the drives from MyDigital Discount worked just fine as is.
A Closer Look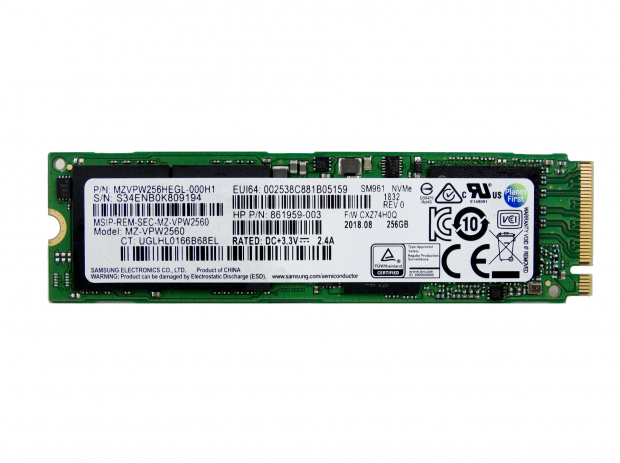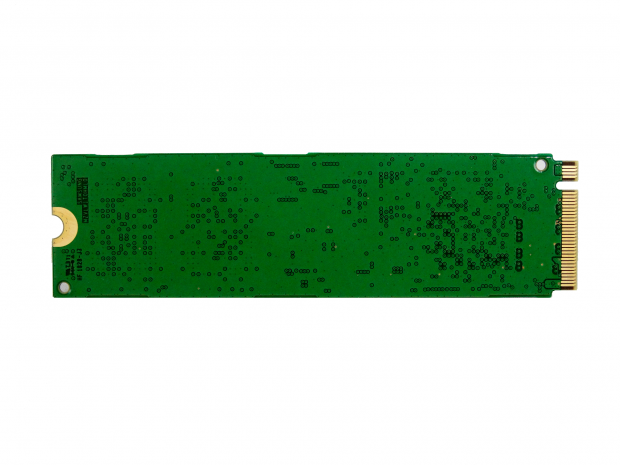 The SM961 hasn't changed since we first spotted the drive in mid-2016 (with mass availability in early 2017 for gray market sellers). All capacities use a single-sided design that most system builders demand. This makes it easy for shoppers to know if this will fit their slim notebook. The M.2 2280 single-sided design is the most used by system builders and the thinnest available.
Synthetic Performance Testing
Test Notes
We used an ASRock Fatal1ty X299 Professional Gaming i9 XE motherboard paired with an Intel Core i7-9800X processor for this review. This is a different system than we use for our consumer SSD reviews. The X299 platform supports VROC, and our Z270 systems do not.
We also used an ASRock Ultra Quad M.2 add-in card ($199.99, Amazon) to get all four drives in a single PCIe 3.0 x16 slot. Several companies built carrier cards for VROC and prices range between manufacturers. Recently we found the ASUS Hyper M.2 x16 NVMe card available for less than $50 at Amazon. The same card currently sells for $109.99 at Newegg. The manufacturers didn't add proprietary hardware to lock out other manufacturers carrier cards so you can save a little by shopping around.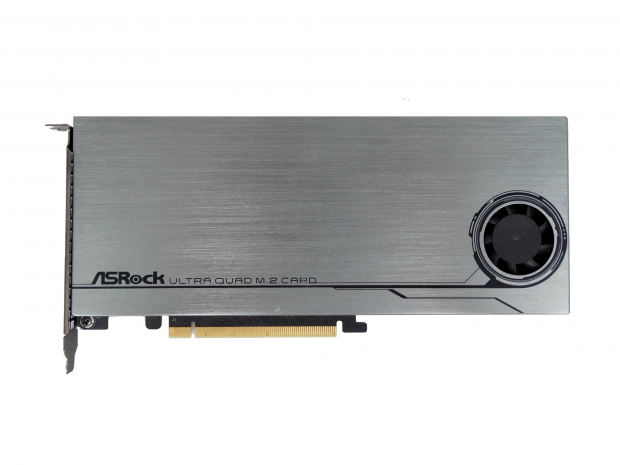 The add-in cards are not blocking meaning they allow the full bandwidth of each NVMe SSD to pass thru to the motherboard. With four drives that is 128Gbps (32Gbps x4) but it does use all 16 PCIe lanes so you have to install the card in a full-length slot and configure the BIOS for bifurcation (setting the data lanes to x4, x4, x4, x4 instead of a single x16). Your motherboard manual will walk you through the settings since each board is different.
We tested both the 1TB and 256GB SM961 SSDs. We used two configurations. The first is in VROC with the array set to RAID 0. Most use this traditional VROC configuration with this hardware. We also tested an "optimized" configuration with each drive set to JBOD (as a single drive with a drive letter assigned to each in Windows). The optimized configuration runs a separate workload on each SSD. Some users may choose to configure the system like this when reading from one or two drives and writing to other drives. This configuration would be ideal for video editors reading several clips from different drives and writing the data back to another drive.
For comparison, we included a single Intel DC P4510 2TB SSD in the charts.
Sequential Read Performance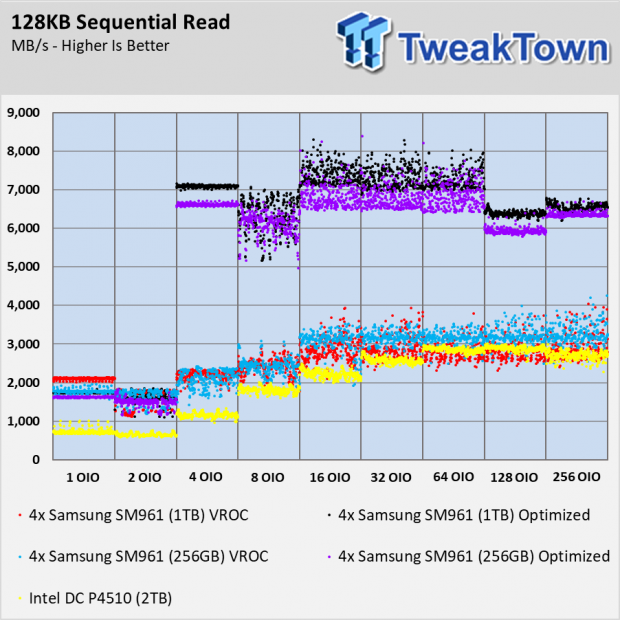 Intel's VROC does a good job of accelerating some workloads but not all. Flash is fast because it reads and writes across several chips at one time. This is like a RAID array inside each SSD. Low queue depths read and write to less chips at one time, but performance increases at the drive level as we increase the workload through queue depths.
Adding drives in a RAID array decrease the reads and writes to individual SSDs because the data spreads across drives. In an array, it can take longer to ramp up performance over a single drive due to this and increased data path latency from the VROC arrangement. You do get higher peak numbers, often found at higher queue depths, using RAID. These general assumptions are workload specific though.
The VROC arrays do a very good job accelerating large block size sequential workloads. The optimized configurations can provide even more performance but require a very specialized workload.
Sequential Write Performance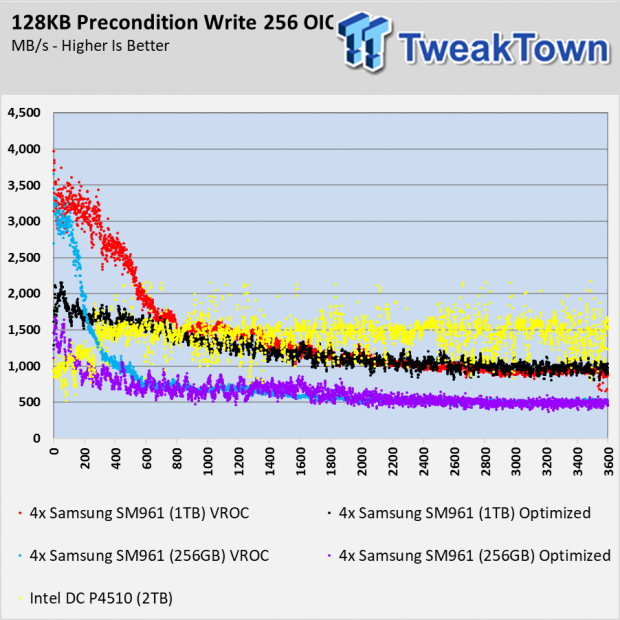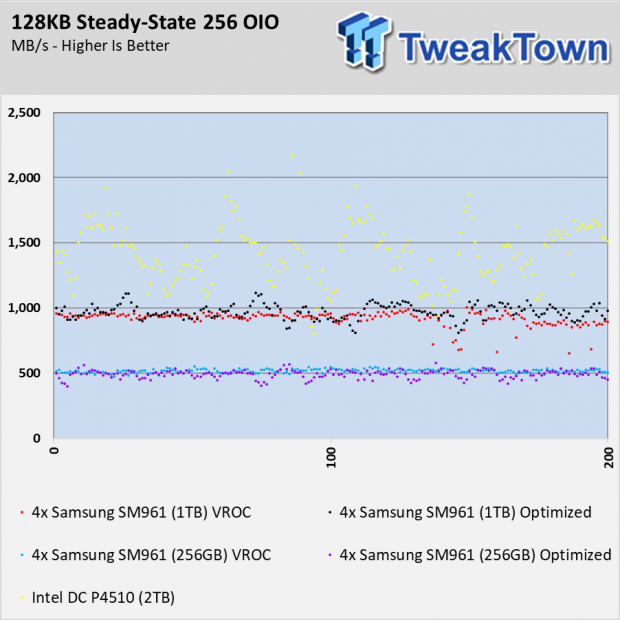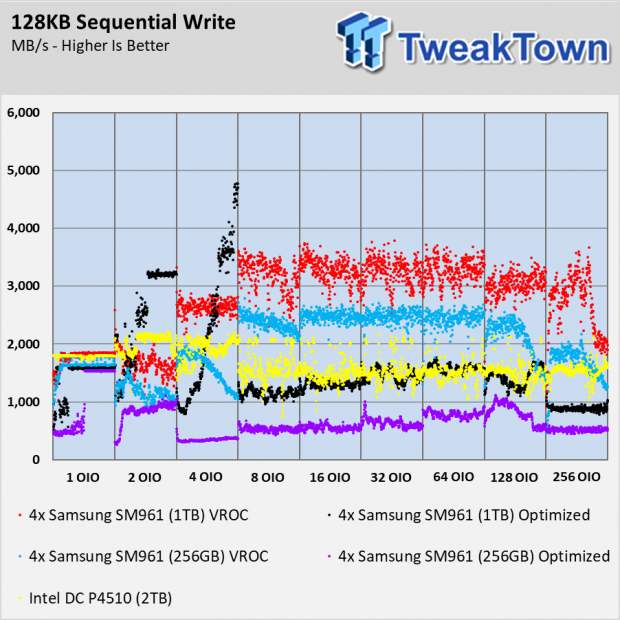 The Samsung SM961 SSDs uses predictive TRIM, and that causes some issues when looking for consistent performance. This doesn't change the low-end of performance. It does change the peak write performance and make it more difficult to get the drives in a steady-state condition.
Sequential Mixed Workload Performance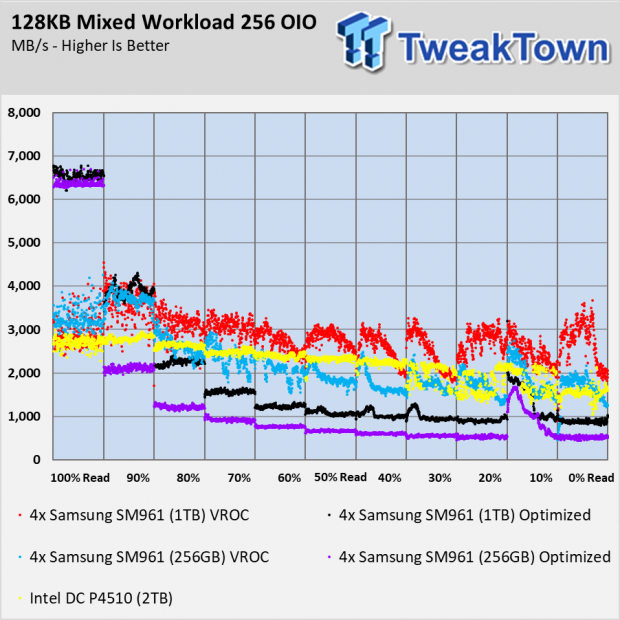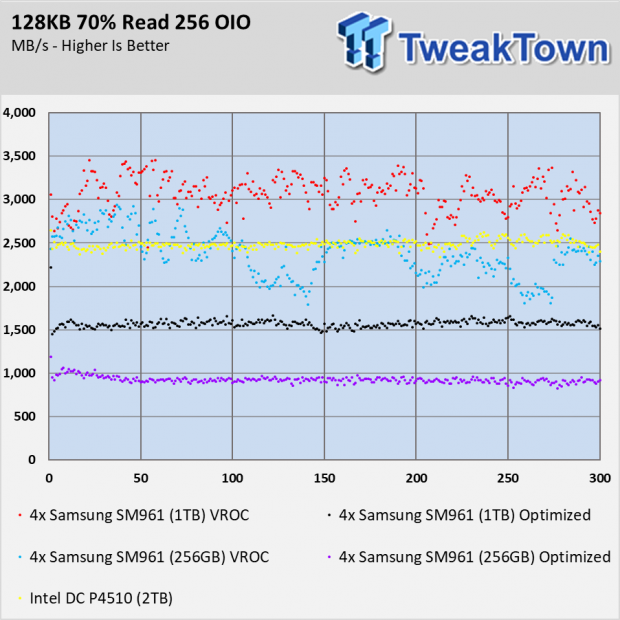 You can see the variability on the first mixed workload chart in the 40%, and 30% read tests. The performance starts very high but slowly drops off at the end of each workload. The drives will fight aggressively to stay out of steady-state, and that can increase performance, especially when running burst workloads or smaller write periods.
Random Read Performance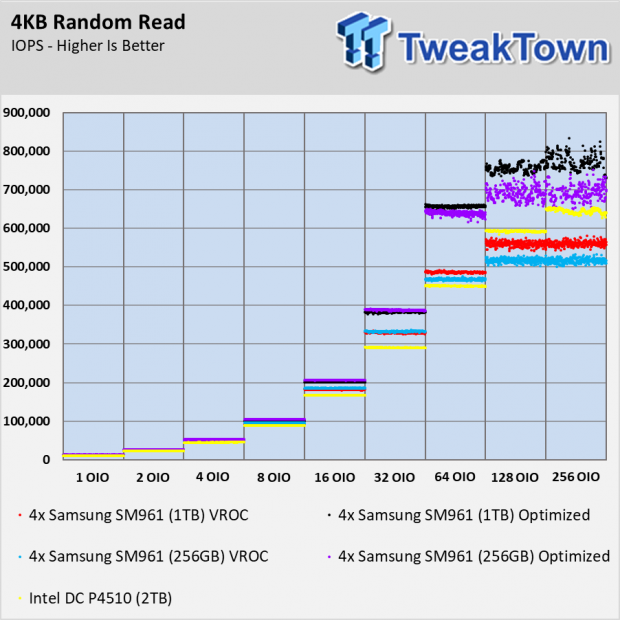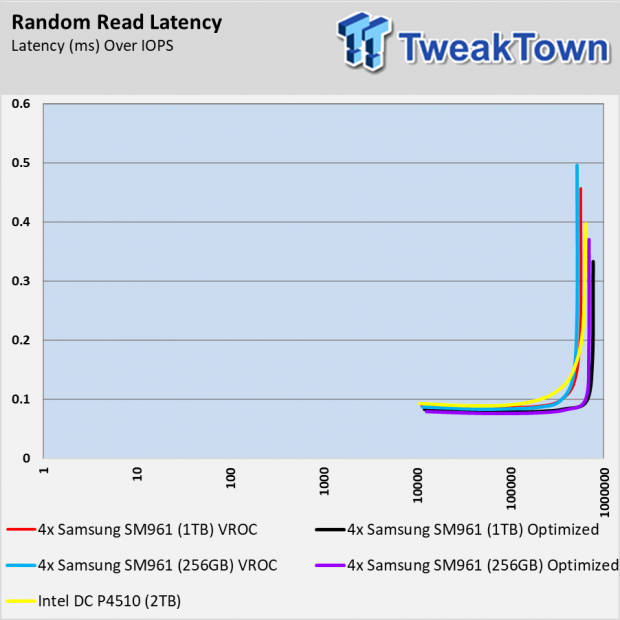 VROC adds some measurable latency, and that's clear in the random read tests at low queue depths. The Intel DC P4510 doesn't deliver comparable random read low-queue depth performance as the SM961 since it's designed for enterprise workloads. In VROC, the SM961 still manages to outperform the single DC P4510, but we would see a much larger performance decrease compared to a single SM961 due to the VROC latency at QD1.
Random Write Performance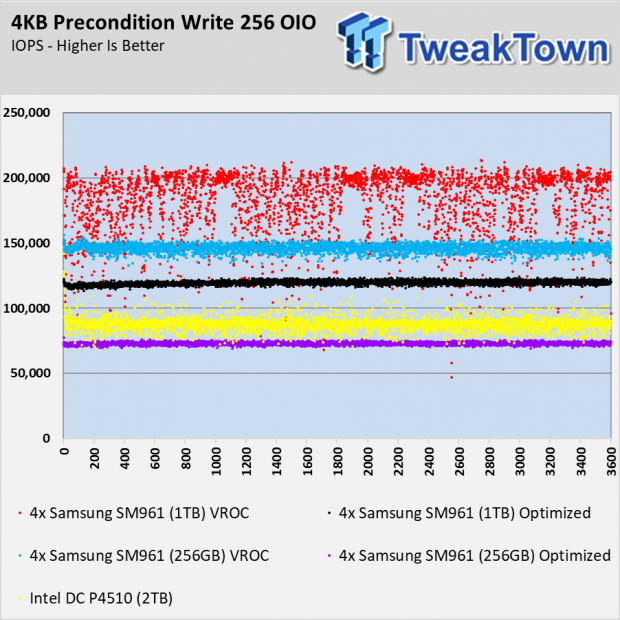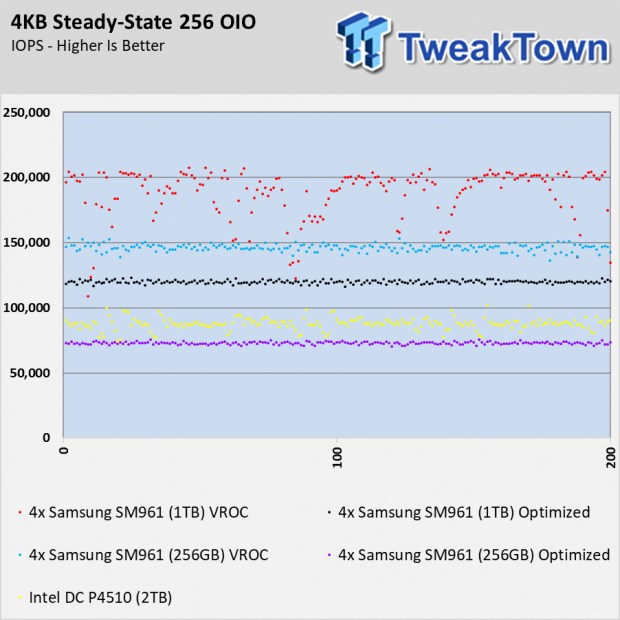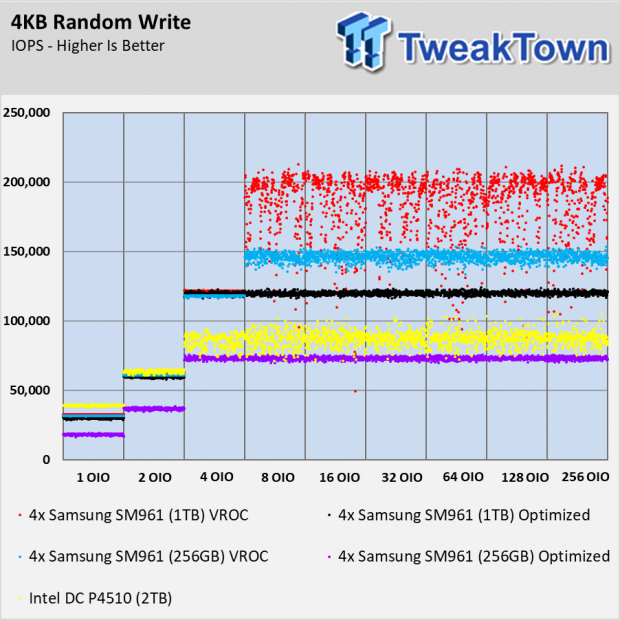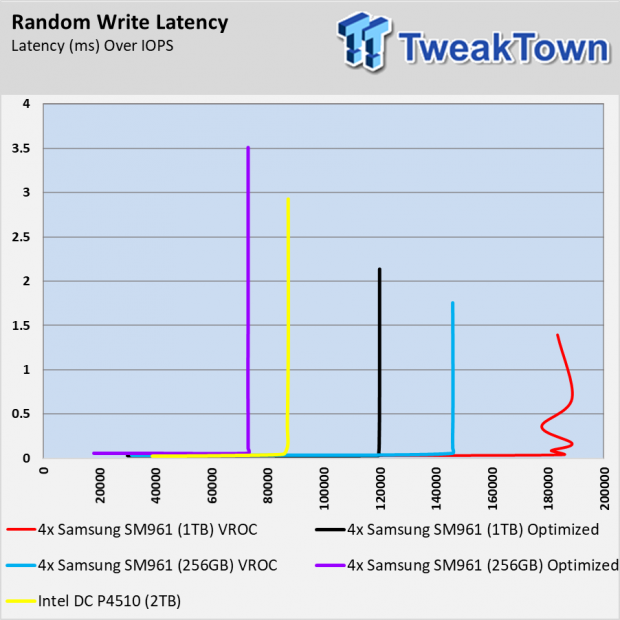 The 1TB SM961 is faster than the 256GB model due to the parallelism of flash, reading, and writing to more flash at the same time. The differences magnify as you add more drives to an array. The one thing that stood out in our 4KB random write test is now much more consistent the 256GB VROC results compared to the same configuration with the 1TB models at eight OIO and above.
Random Mixed Workload Performance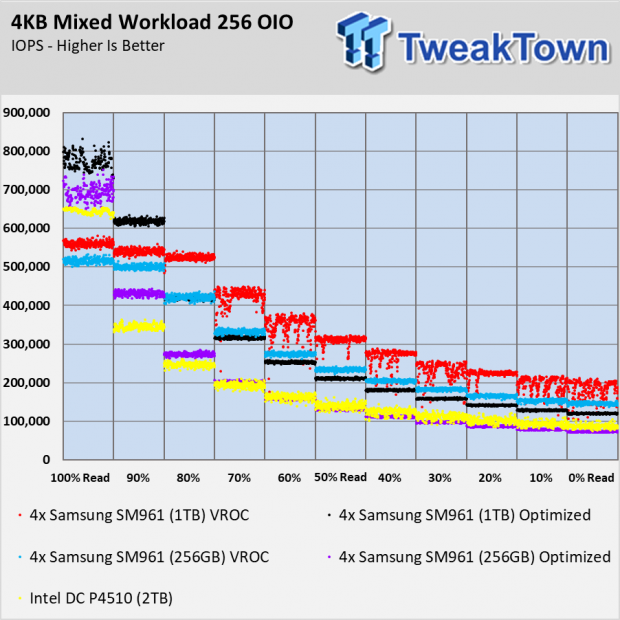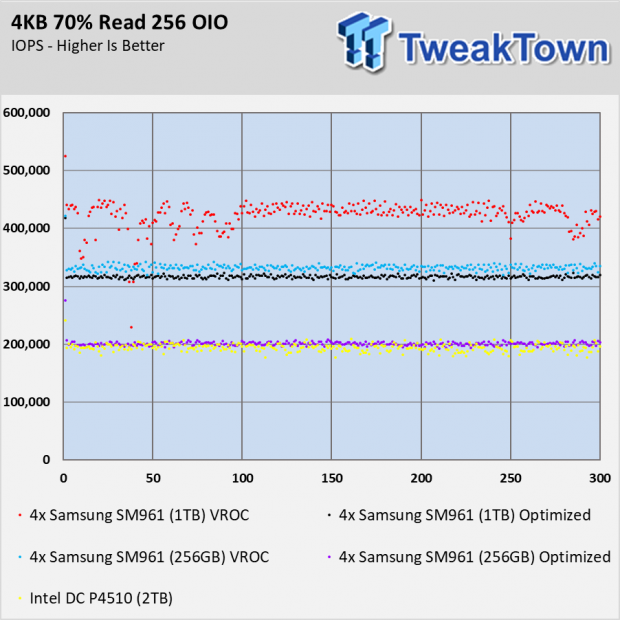 The mixed random test shows beautiful performance out of both SM961 capacity VROC configurations. This really shows that VROC is capable of delivering better performance over JBOD configurations even with an optimized workload.
Workload Performance Testing
Moving over to the server workload tests, we will see many of the same traits carry over from the pure synthetic workloads. The difference is tests that are more relevant and a better comparison to the control drive (2TB Intel DC P4510).
Database Workload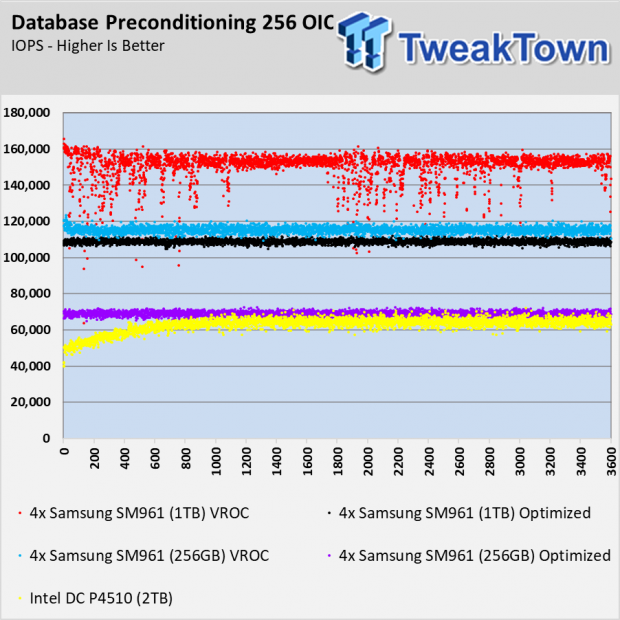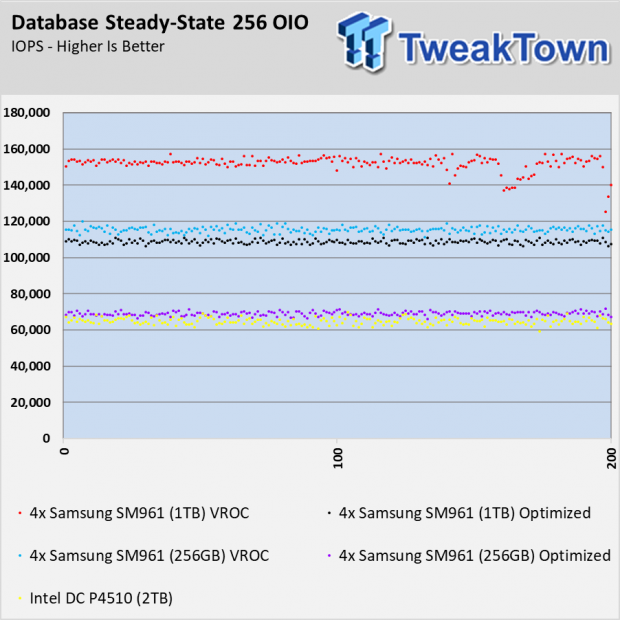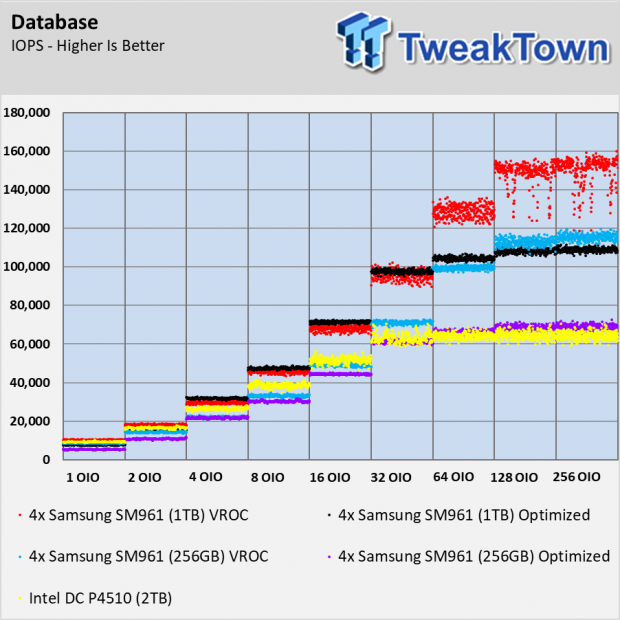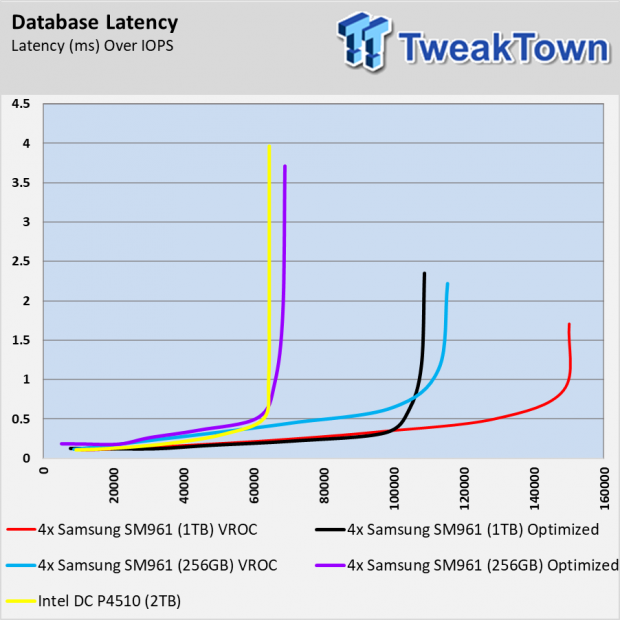 The 1TB SM961 in VROC puts on a dominant performance in the database test at high queue depths. Two of the other configurations level off around 70,000 IOPS in this workload. The 256GB VROC configurations also scores well as does the 1TB drive in the optimized configuration.
OLTP Workload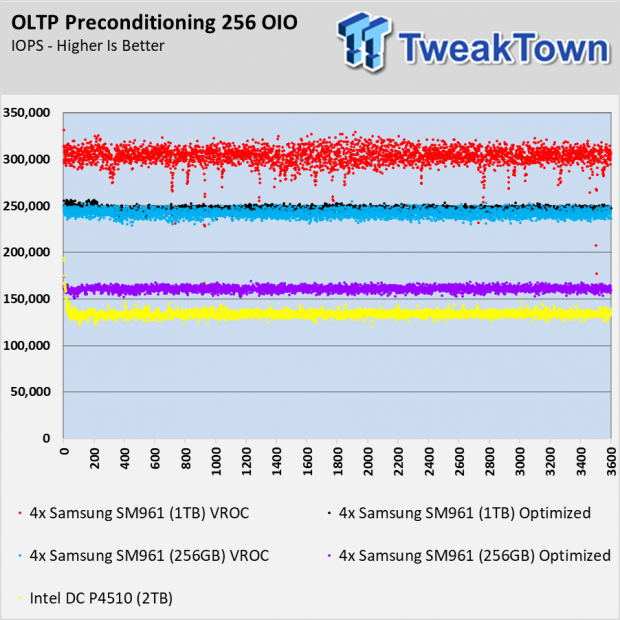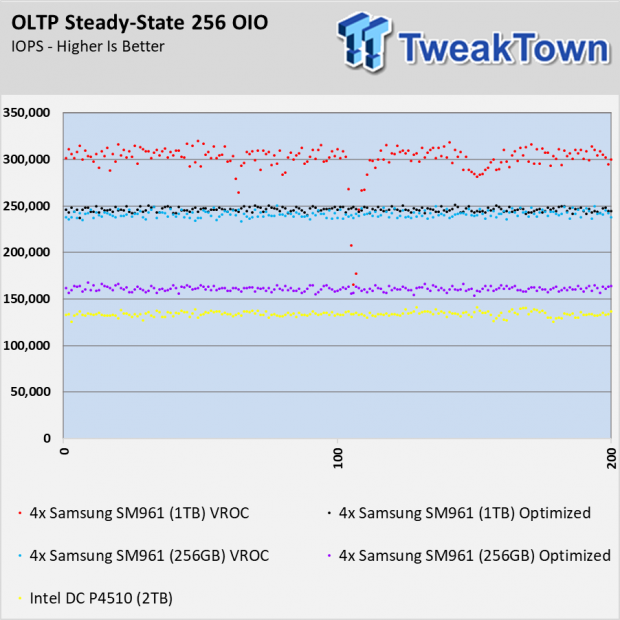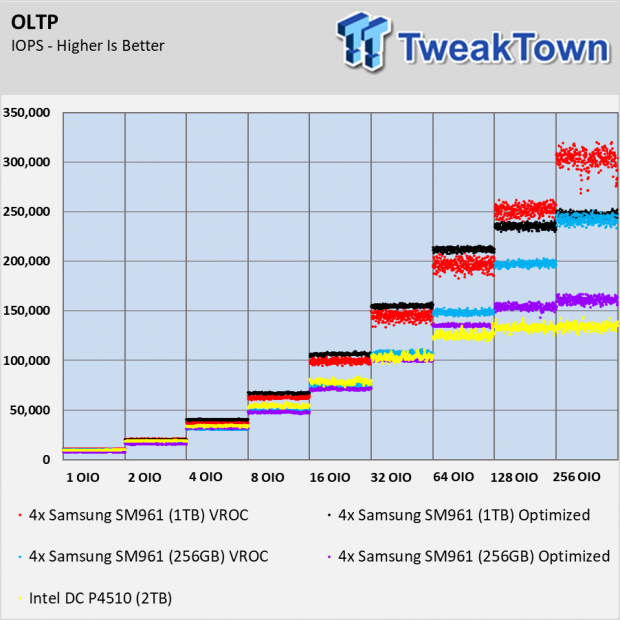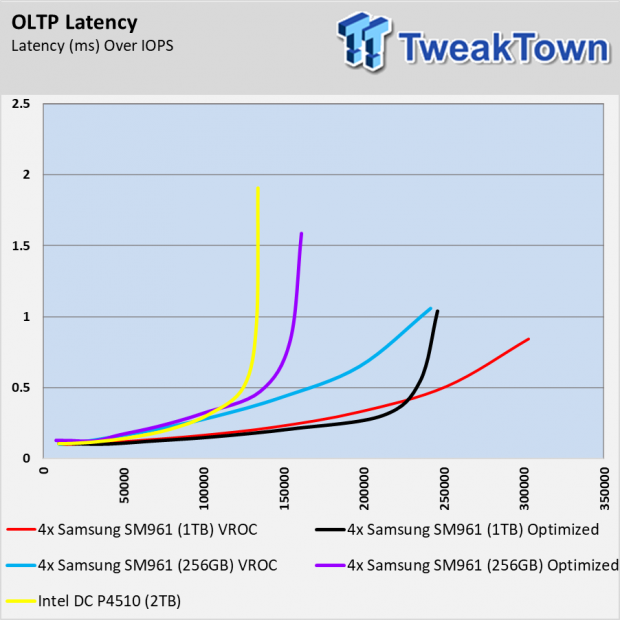 We see similar performance in the OLTP test, one that is similar to the database test just with larger block sizes. The one thing that we can take away here is that the 256GB VROC configuration still delivers more consistent performance than the 1TB VROC configuration.
Email Workload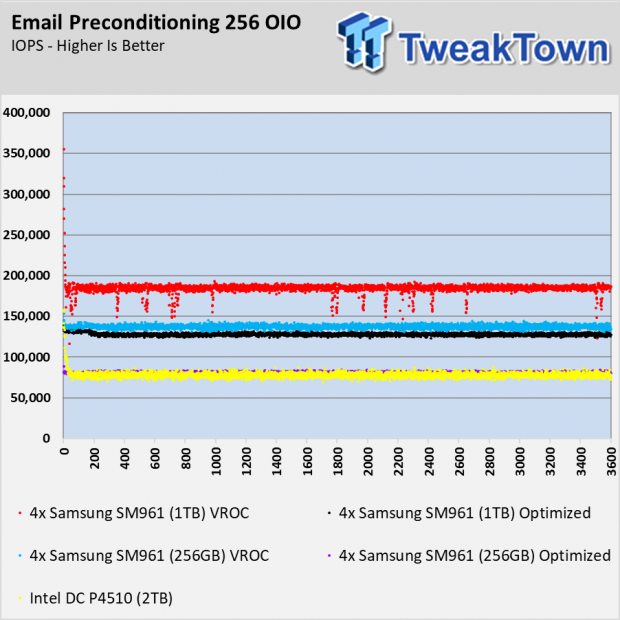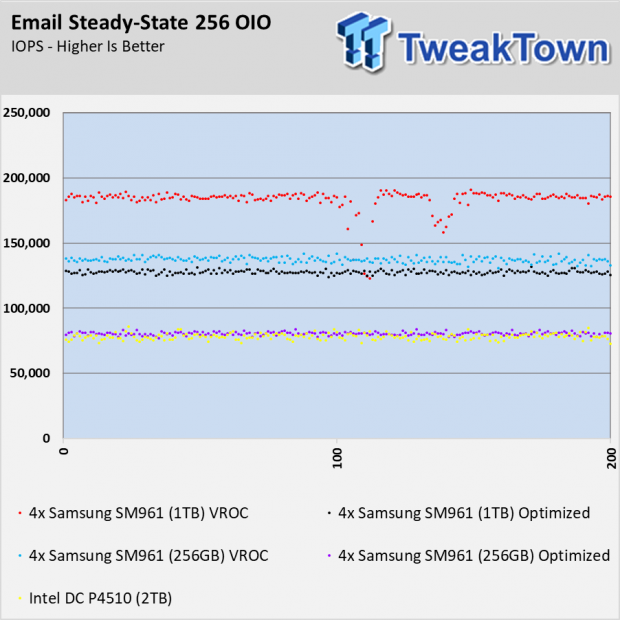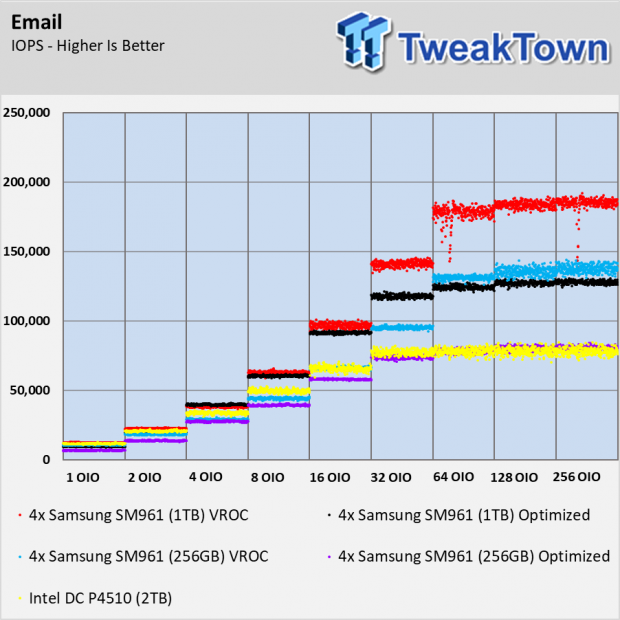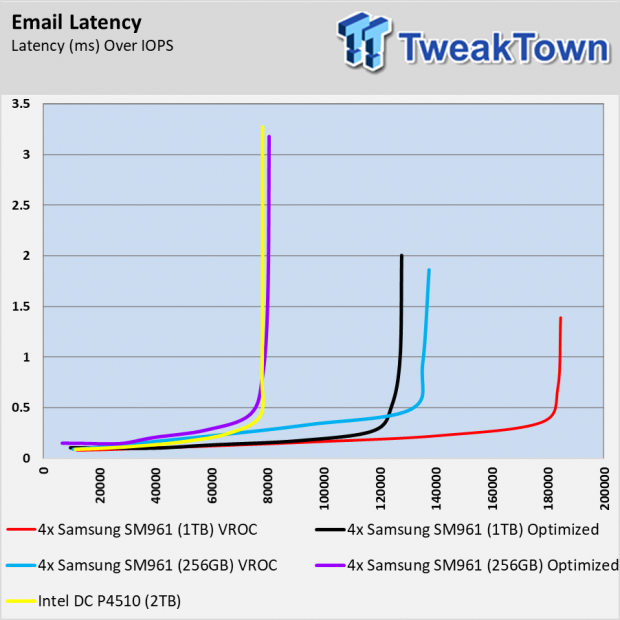 The email workload really just shows more of the same. The VROC configurations show strong performance that the JBOD configurations simply can't match. In addition, the 1TB SM961 array is faster than the 256GB drive array.
Archive Workload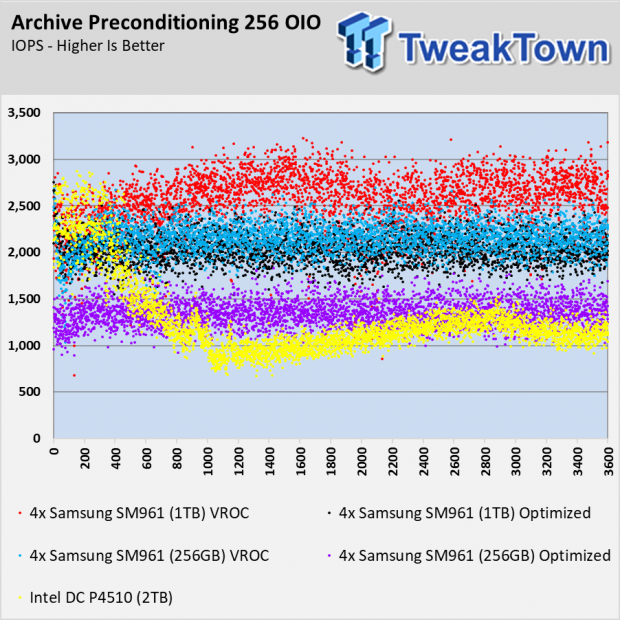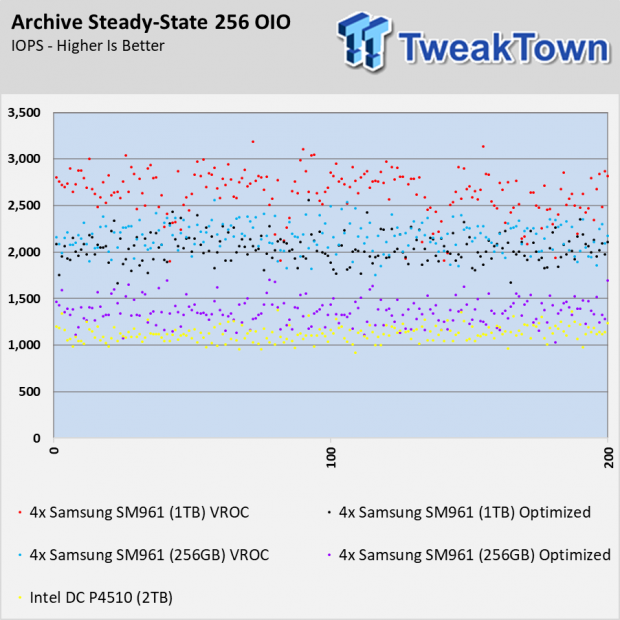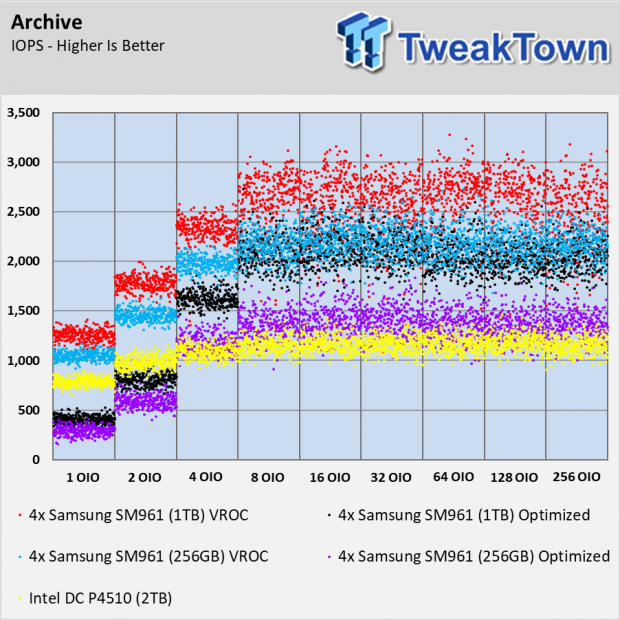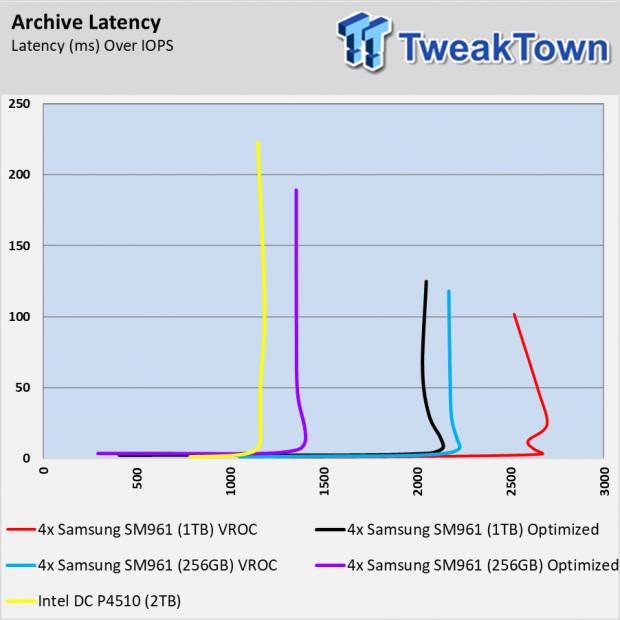 The archive test comes from Dell's performance laboratory and is one of my personal favorites. The test users a wide range of block sizes as well as mixed random, sequential, reads, and writes. The archive test best represents my storage server's workload. If I didn't run a NAS, that data would go to internal storage.
All of the tests run today show more consistent performance than the network storage we test. Again, we found the same performance order with the 1TB SM961 VROC configuration outperforming the others. The 256GB SM961 VROC configuration trails slightly but still outperforms the 1TB SM961 JBOD optimized configuration.
Final Thoughts
The Samsung SM961 is one of the best consumer SSDs ever released. This series is one generation behind Samsung's current MLC NVMe SSD (970 Pro), but it now sells for less than half of the latest series.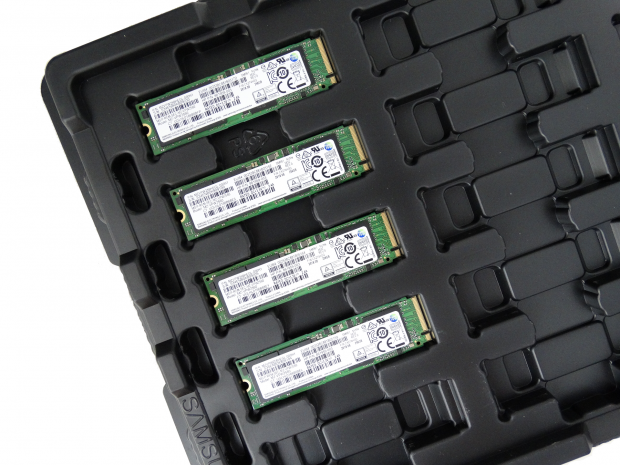 Today we tested two SM961 capacities in a specialized RAID environment that was previously beyond the budget for many shoppers. It's true that SSD prices have decreased across the board, but Samsung's flagship 2-bit per cell (MLC) SSDs still carry a premium compared to the pure consumer TLC and QLC products selling for lunch money today.
For most end users, the TLC and QLC products offer strong performance at very affordable prices. If you write a lot of data, MLC is still a better option. These drives don't rely on a buffer to simulate high write speeds that only lasts for a brief moment in most cases, or a few seconds under ideal conditions.
MLC will sustain high write speeds for long periods of time and for many gigabytes of data. MLC is rare these days, and there is only one current generation prosumer SSD still using the technology, the Samsung 970 Pro. The older 960 Pro, and the model we tested today, the Samsung SM961, are not as fast as the 970 Pro but still offer very strong performance that under sustained workloads are more capable than modern drives using more dense flash technologies.
Until MyDigital Discount acquired a vast treasure trove of SM961 SSDs, we figured this series was gone for good. Just like exotic cars that often tip up after being stored in a bubble for many decades, small stashes of older SSDs come up for sale but rarely in any serious volume. The MyDigital Discount SM961 find isn't a small allocation, but it's still a finite supply that will move quickly at the current prices. I won't say this is your last chance to own an MLC SSD, but it might be your best chance to get one (or an array) cheap.