Areca ARC-1882i RAID Controller Review
Hot off the heels of our LSI MegaRAID review, Chris is back with a look at the Areca 1882i RAID controller.
Published
10 minute read time
Introduction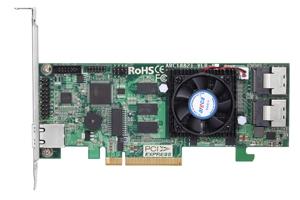 The enterprise market isn't always fun to write about. There are several different users of enterprise products. In one corner you have the serious, true enterprise suits that talk about IOPS per watt, cost analysis with spread sheets and presentations.
Then you have the next tier down with people and companies who need large storage capacities for data files and inner office documentation. Finally you have people like me, the data junkie who just wants access to everything quickly...including Battlefield 3.
Now you might think enterprise product testing has to be a blast, but that isn't always the case either. Some companies do everything they can to keep their serious, expensive products separate from 'those gamer people'. When was the last time you saw an AMD Opteron talked about or reviewed on a general computing review site? AMD is one of those companies that keep their enterprise products well away from us gamer people. AMD isn't the only ones and the RAID controller companies can be just as anal about their products as well.
Areca on the other hand embraces everyone who uses their products. It doesn't matter if you are an IT administrator running a multi-server cluster or just some guy with a handful of SSDs, Areca is there for you regardless of which camp you are from. It is because of this Areca has gained a solid reputation with enthusiasts.
Today we check out the Areca ARC-1882i RAID controller, let's see how it performs.
Specifications, Pricing and Availability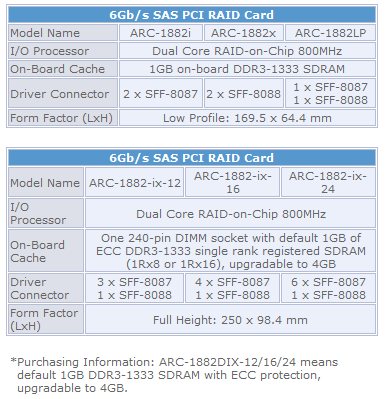 Areca's ARC-1882 series of products can be divided into two separate groups. The first group has 1GB of DDR3 1333MHz embedded on the cards and only 8 channels in a half height space. The second group uses a DIMM socket with 1GB of DDR3 that is upgradable to 4GB via an optional upgrade DIMM and is full height only. The larger second group also ship with 12, 16 and 24 channels. At the heart of all six models is a dual core 800MHz RAID-on-Chip (ROC) processor from LSI. This is the same LSI ROC found on the LSI 8265-8i we reviewed a few weeks ago.

Areca has long used controllers built by other manufactures, but has been able to tune these parts to better serve a large group of users. Areca builds their custom firmware that rides under their software suite that is easy to navigate and configure.
One area that has attracted many enthusiasts and power users to the Areca brand is Areca's compatibility with many motherboards and platforms. This has been a big issue with some controllers (from other manufactures) over the last couple of years, but Areca has been fairly immune from compatibility issues. Even though our ARC-1882 sample shares the same LSI controller with the LSI 9265, the Areca card worked perfectly in systems that the LSI controller wouldn't.
We found the ARC-1882i online at several e-tails. The lowest prices depend on your shipping distance, but expect to pay between $610 and $650.
Packaging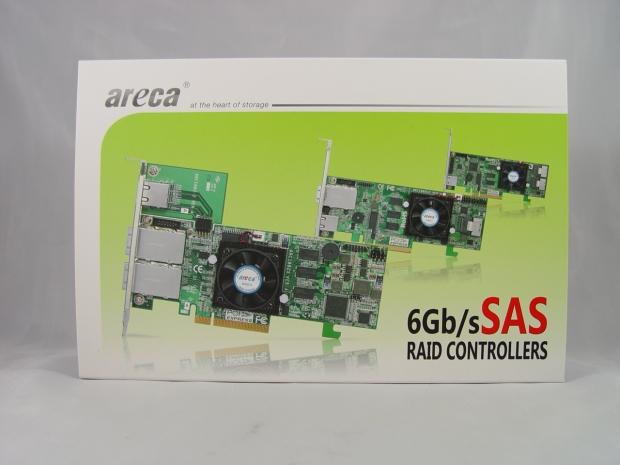 Areca's packaging hasn't changed much over the years. I've reviewed around 10 of their controllers and they have all used the same package design with a handful of small changes.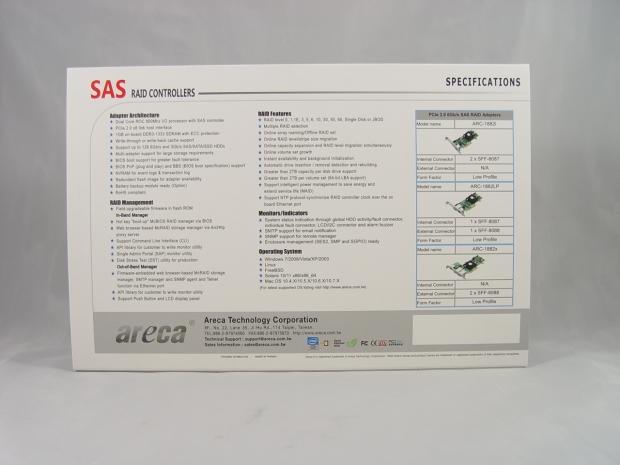 The back of the package lists several of the features about the adapter, RAID management and fine details.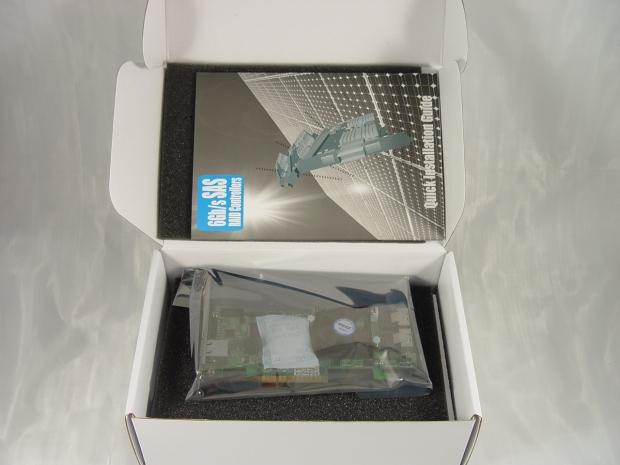 Everything is packaged fairly tight inside the box. The controller is sandwiched in the middle of a few foam pieces.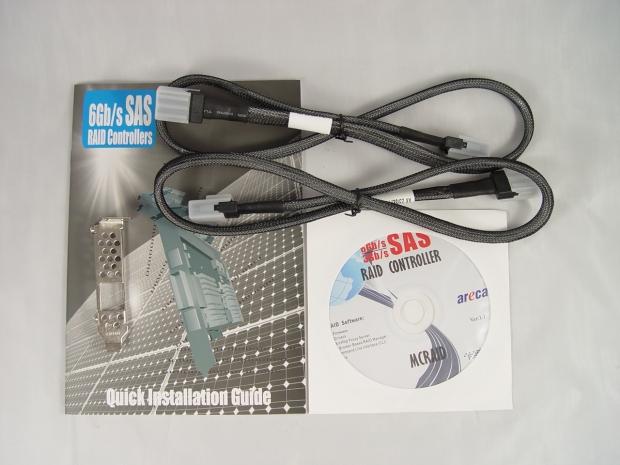 The included accessories include the software disk, two SFF-8087 to SFF-8087 cables, a half-height bracket and a dense user manual.
Areca ARC-1882i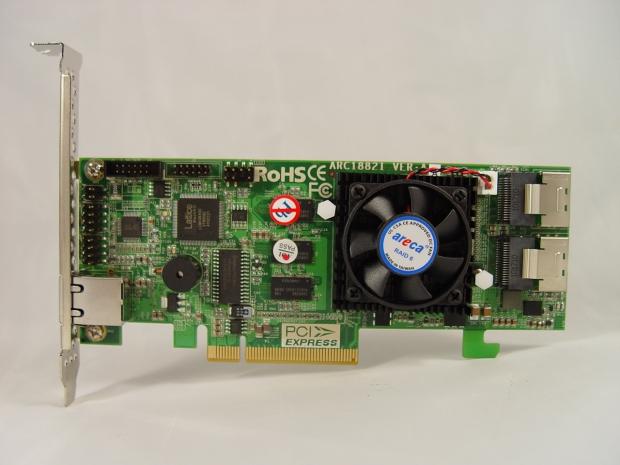 Here we get our first look at the actual card. Areca cools the dual-core ROC with a thin heatsink and fan that is much quieter than you'd expect from a small fan. The two SFF-8087 ports, each using four channels are located at the back of the controller.
Connectivity is through a PCIe 2.0 eight lane connector that can be used in an eight lane or sixteen lane port.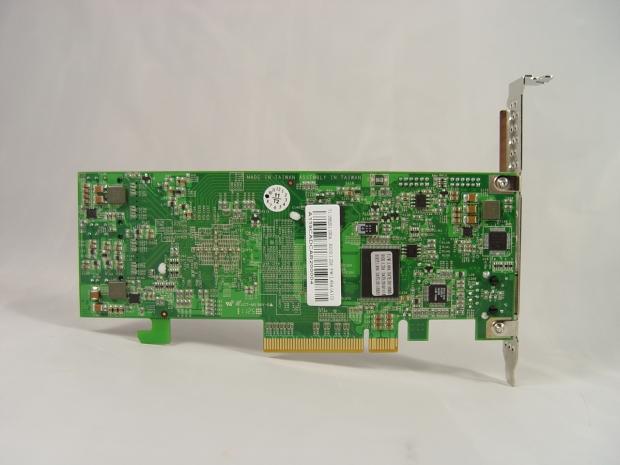 There's not much going on other than several surface mount components on this side.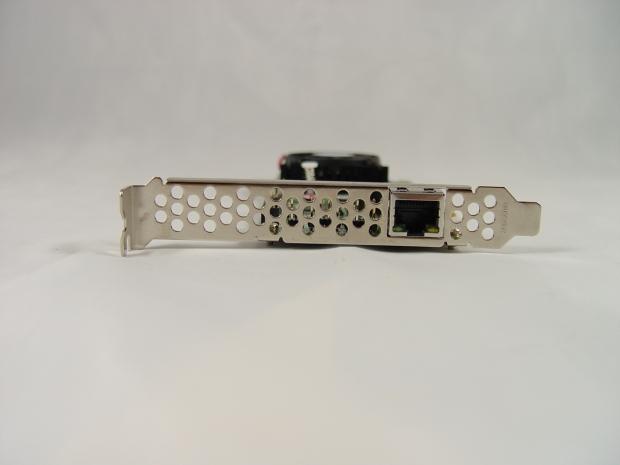 No, the ARC-1882i does not double as an Ethernet controller, but you can manage your arrays through this out-of-bandwidth port.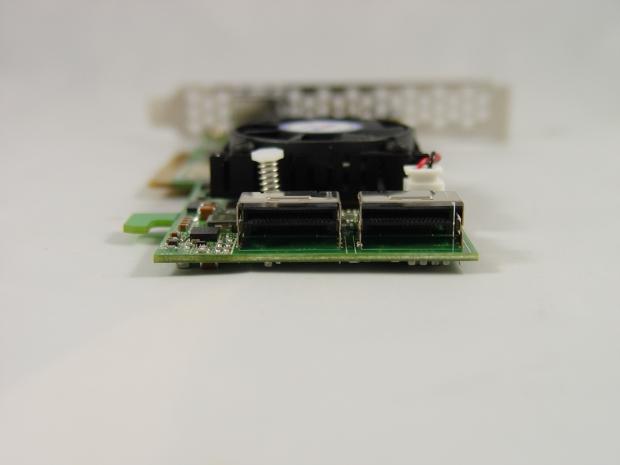 Being a half-height card the ARC-1882i is quite thin. Here we see the back where the connectors are located.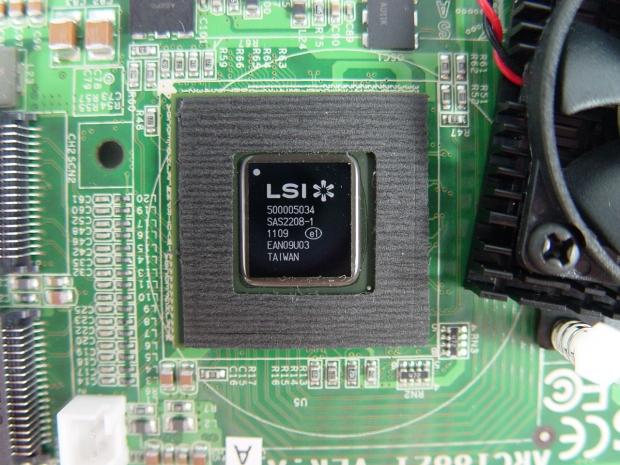 Under the heatsink we found the LSI SAS 2208 dual core SAS controller.
Benchmarks - Test System Setup and ATTO Baseline Performance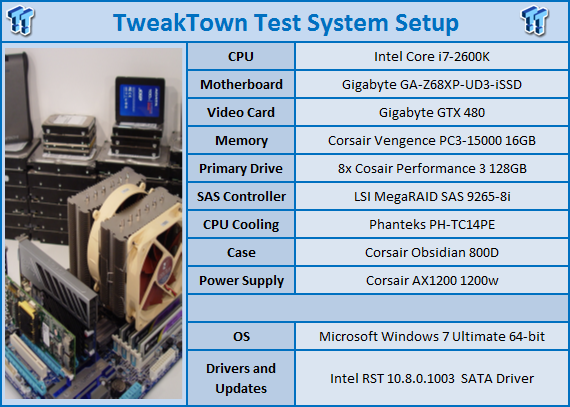 We would like to thank the following companies for supplying and supporting us with our test system hardware and equipment: AVADirect, GIGABYTE, Cooler Master, LSI, Corsair. and Noctua.
You can read more about TweakTown's Storage Product Testing Workstation and the procedures followed to test products in this article.
In this review we paired the Areca ARC-1882i with eight Crucial C300 256GB drives. For comparison we chose the LSI 9265-8i controller, based on the same LSI controller used in the 1882i and using the same eight Crucial C300 256GB drives.
ATTO Baseline Performance
Version and / or Patch Used: 2.34
ATTO is used by many disk manufacturers to determine the read and write speeds that will be presented to customers.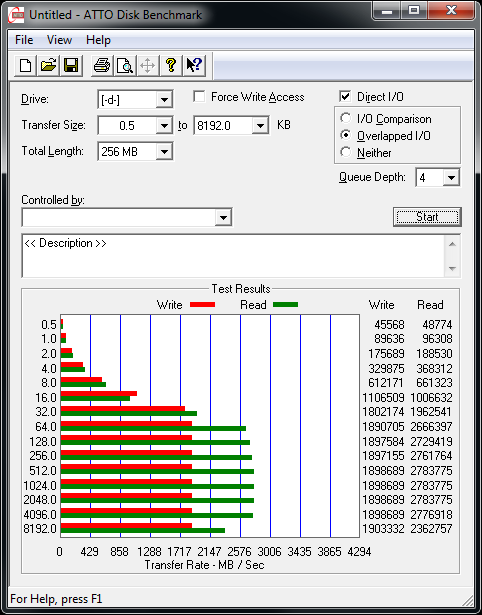 RAID 0 isn't used very often out of enthusiast circles, but it does let us produce some truly amazing numbers as shown here in ATTO.
Our recorded read speed reached nearly 2800MB/s. The write speed in this baseline test with the ARC-1882i was nearly 2000MB/s. The performance is quite amazing, but RAID 0 is impartibly for most applications. RAID 5 and RAID 6 retain the same high read speeds, but the write speeds are reduced.
Benchmarks - HD Tune Pro
HD Tune Pro
Version and / or Patch Used: 4.00
Developer Homepage: http://www.efdsoftware.com
Product Homepage: http://www.hdtune.com
HD Tune is a Hard Disk utility which has the following functions:
Benchmark: measures the performance
Info: shows detailed information
Health: checks the health status by using SMART
Error Scan: scans the surface for errors
Temperature display
HD Tune Pro gives us accurate read, write and access time results and for the last couple of years has been gaining popularity amongst reviewers. It is now considered a must have application for storage device testing.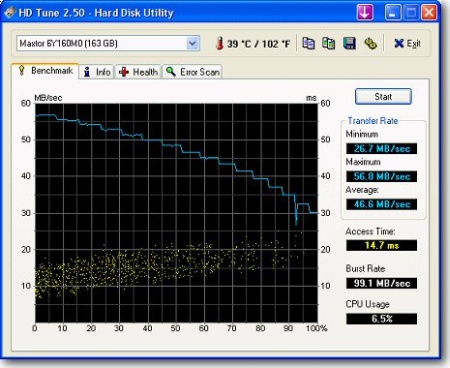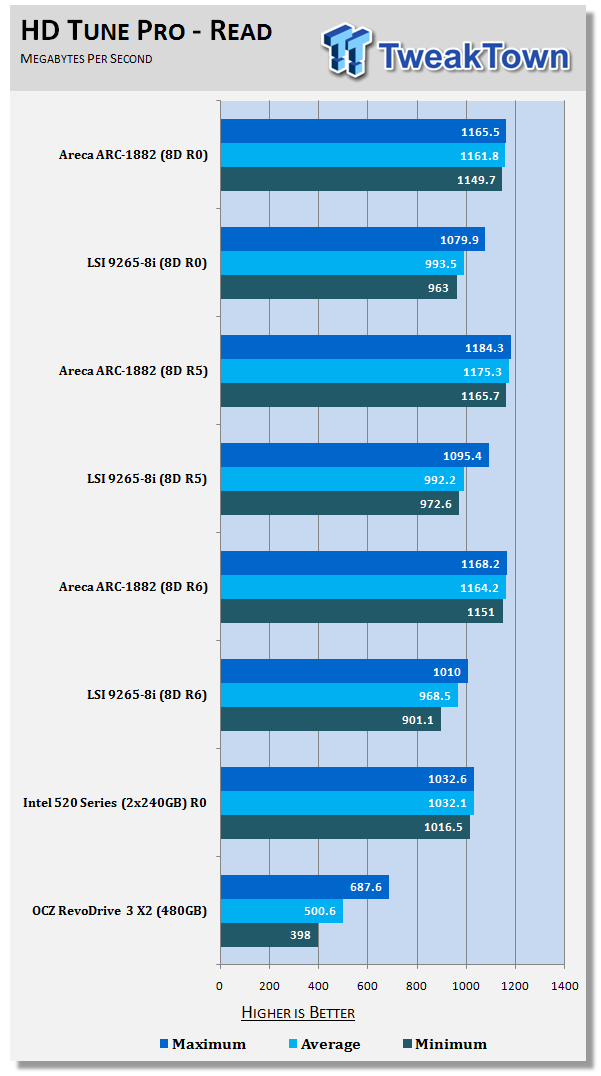 We're running three sets of numbers today (RAID 6, RAID 5 and RAID 0), Areca controllers are very diverse though and by changing the block size you can tune your array to work better with random or sequential data. For our testing today we used the default block size for both the LSI and Areca controllers.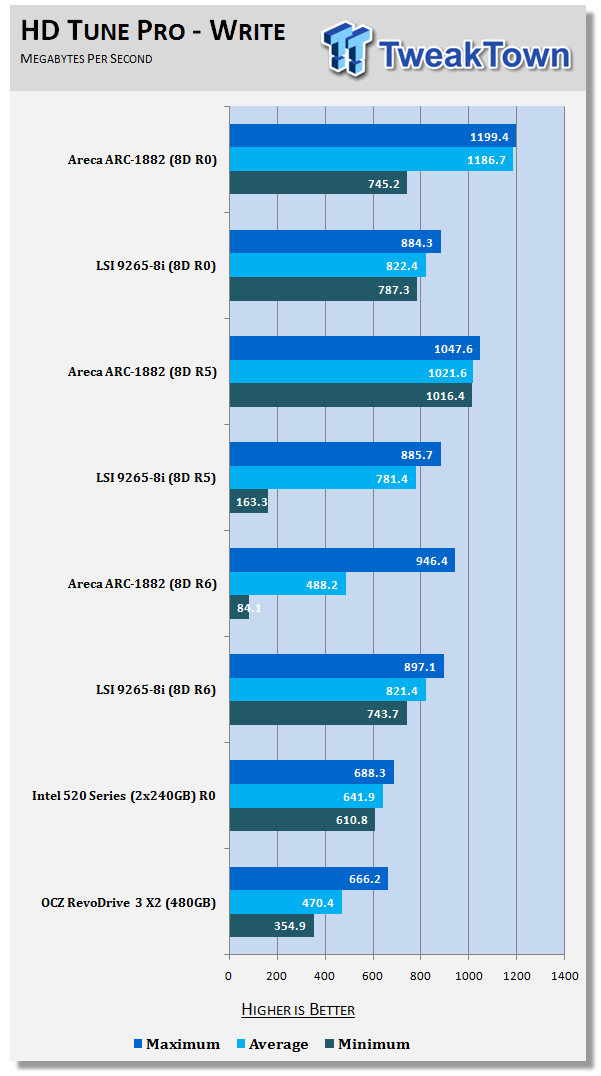 Across the board in both reads and writes in HD Tune the Areca ARC-1882i outperformed the LSI 9265-8i in it default mode. The LSI does have an add-on package called FastPath. With FP enabled both cards are nearly identical in these tests, but since it is an add-on that you have to pay for, we're showing the LSI controller without it enabled to be fair.
Benchmarks - AIDA64 Random Access Time
AIDA64 Random Access Time
Version and / or Patch Used: 1.60
Developer Homepage: http://www.aida64.com
Product Homepage: http://www.aida64.com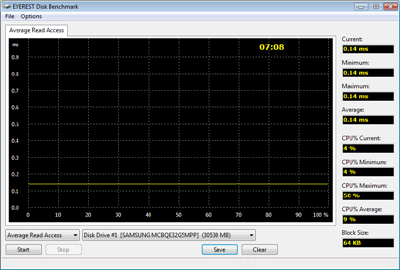 AIDA64 offers several different benchmarks for testing and optimizing your system or network. The Random Access test is one of very few if not only that will measure hard drives random access times in hundredths of milliseconds as oppose to tens of milliseconds.
Drives with only one or two tests displayed in the write test mean that they have failed the test and their Maximum and possibly their Average Scores were very high after the cached fills. This usually happens only with controllers manufactured by JMicron and Toshiba.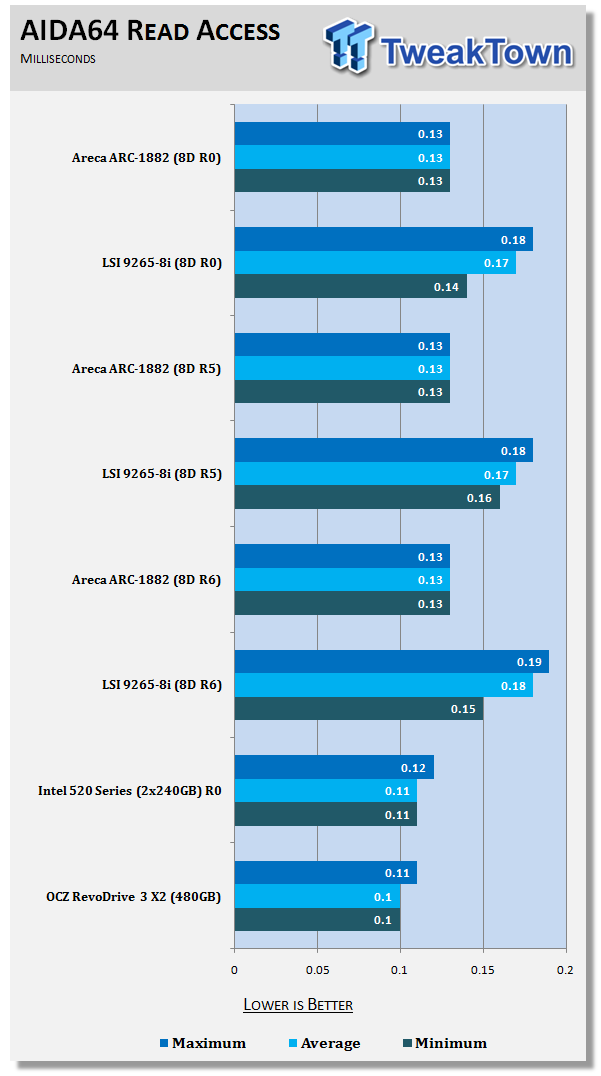 Access time is very important when it comes to your RAID arrays. With mechanical drives the latency tends to increase as you add more drives to the array, but with SSDs the numbers are steadier. In all three of our arrays on the ARC-1882i we recorded a read latency of just .13ms.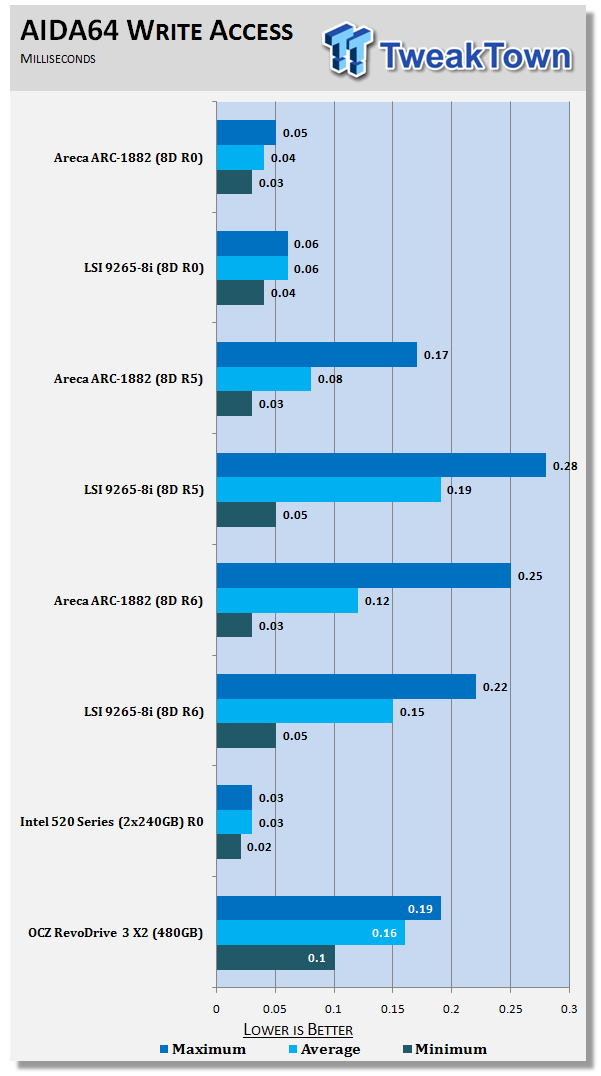 The write latencies increased on the Areca as the complexity of the RAID increased. Still, the latency was very low and lower than the LSI.
Benchmarks - CrystalDiskMark
CrystalDiskMark
Version and / or Patch Used: 3.0 Technical Preview
Developer Homepage: http://crystalmark.info
Product Homepage: http://crystalmark.info/software/CrystalDiskMark/index-e.html
Download here: http://crystaldew.info/category/software/crystaldiskmark
CrystalDiskMark is a disk benchmark software that allows us to benchmark 4K and 4K queue depths with accuracy.
Key Features:-
* Sequential reads/writes
* Random 4KB/512KB reads/writes
* Text copy
* Change dialog design
* internationalization (i18n)
Note: Crystal Disk Mark 3.0 Technical Preview was used for these tests since it offers the ability to measure native command queuing at 4 and 32.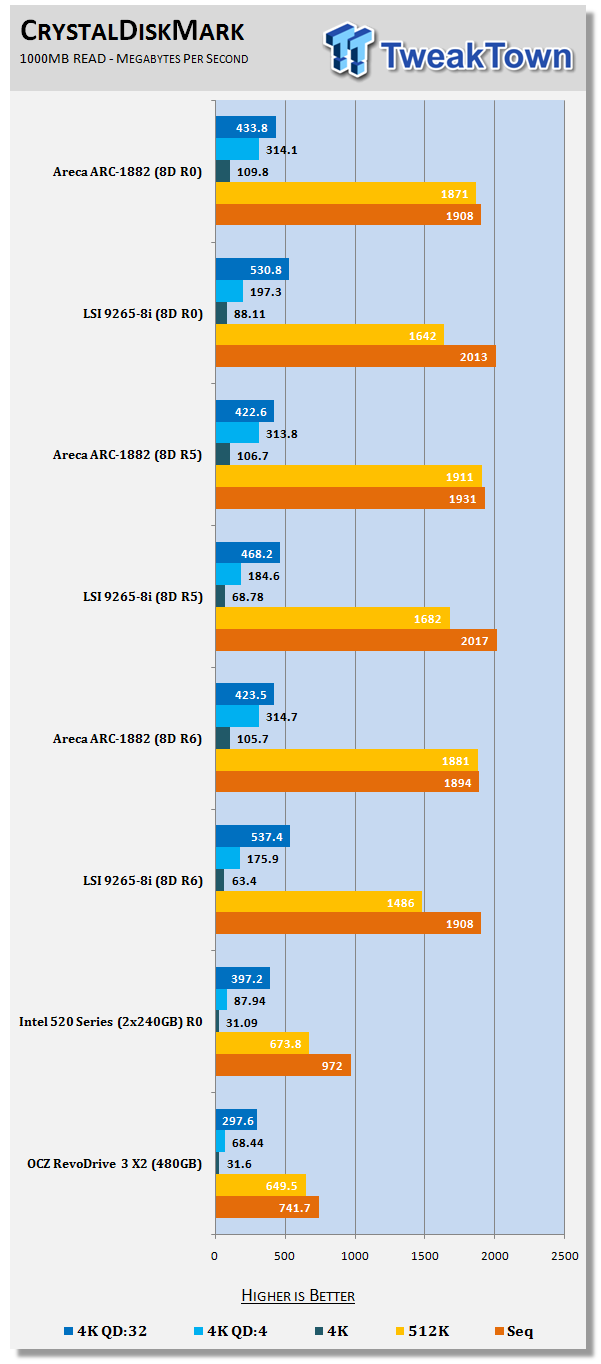 In CDM we are looking at 4K and NCQ performance. This is another area that can be tuned by changing the stripe size of your array and a few of the numerous settings on the controller. With our default settings we see the Areca ARC-1882i outperform the 9265-8i in every low queue depth (1 and 4), but with a queue depth of 32, the LSI controller is a little faster.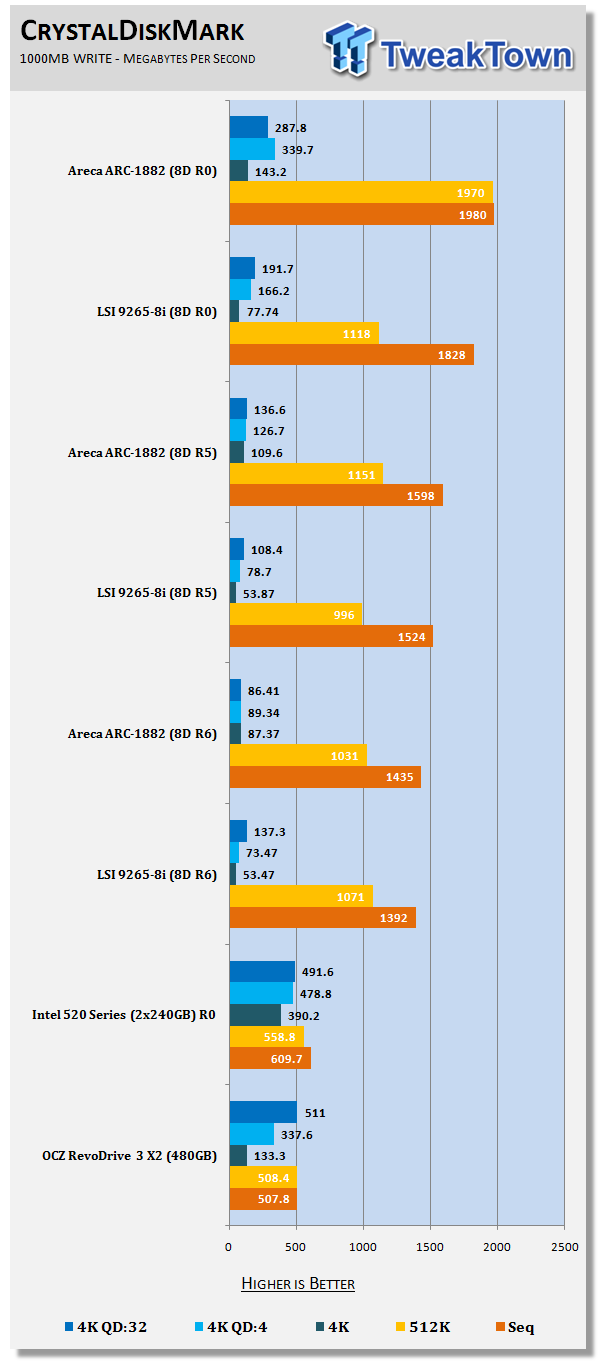 Things ran a bit differently in the write test, both controllers went back and forth depending on the type of RAID used.
Benchmarks - PCMark Vantage Hard Disk Tests
PCMark Vantage - Hard Disk Tests
Version and / or Patch Used: 1.0.0
Developer Homepage: http://www.futuremark.com
Product Homepage: http://www.futuremark.com/benchmarks/pcmark-vantage/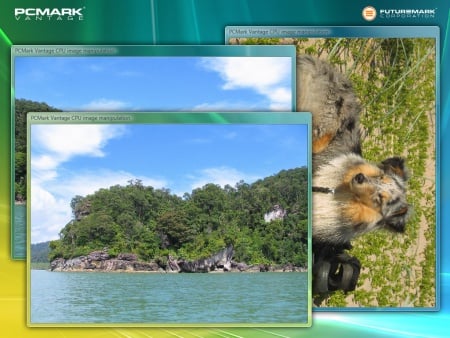 PCMark Vantage is the first objective hardware performance benchmark for PCs running 32 and 64 bit versions of Microsoft Windows Vista. PCMark Vantage is perfectly suited for benchmarking any type of Microsoft Windows Vista PC from multimedia home entertainment systems and laptops to dedicated workstations and high-end gaming rigs. Regardless of whether the benchmarker is an artist or an IT Professional, PCMark Vantage shows the user where their system soars or falls flat, and how to get the most performance possible out of their hardware. PCMark Vantage is easy enough for even the most casual enthusiast to use yet supports in-depth, professional industry grade testing.
FutureMark has developed a good set of hard disk tests for their PCMark Vantage Suite. Windows users can count on Vantage to show them how a drive will perform in normal day to day usage scenarios. For most users these are the tests that matter since many of the old hat ways to measure performance have become ineffective to measure true Windows performance.

HDD1 - Windows Defender
HDD2 - Gaming
HDD3 - Windows Photo Gallery
HDD4 - Vista Startup
HDD5 - Windows Movie Maker
HDD6 - Windows Media Center
HDD7 - Windows Media Player
HDD8 - Application Loading
Most users are not going to build arrays like this for their general use computers, but it's always fun to see what happens in these tests.
Benchmarks - AS SSD
AS SSD Benchmark
Version and / or Patch Used: 1.2.3577.40358
Developer Homepage: Alex Intelligent Software
Product Homepage: Alex Intelligent Software
Download here: http://www.alex-is.de/PHP/fusion/downloads.php?cat_id=4&download_id=9
AS determines the performance of Solid State Drives (SSD). The tool contains four synthetic as well as three practice tests. The synthetic tests are to determine the sequential and random read and write performance of the SSD. These tests are carried out without the use of the operating system caches.
In all synthetic tests the test file size is 1GB. AS can also determine the access time of the SSD, the access of which the drive is determined to read through the entire capacity of the SSD (Full Stroke). The write access test is only to be met with a 1 GB big test file. At the end of the tests three values for the read and write as well as the overall performance will be issued. In addition to the calculated values which are shown in MB/s, they are also represented in IO per seconds (IOPS).
Note: AS SSD is a great benchmark for many tests, but since Crystal Disk Mark covers a broader range of 4K tests and HD Tune Pro covering sequential speeds, we will only use the Copy Benchmark from AS SSD.
- Copy Benchmark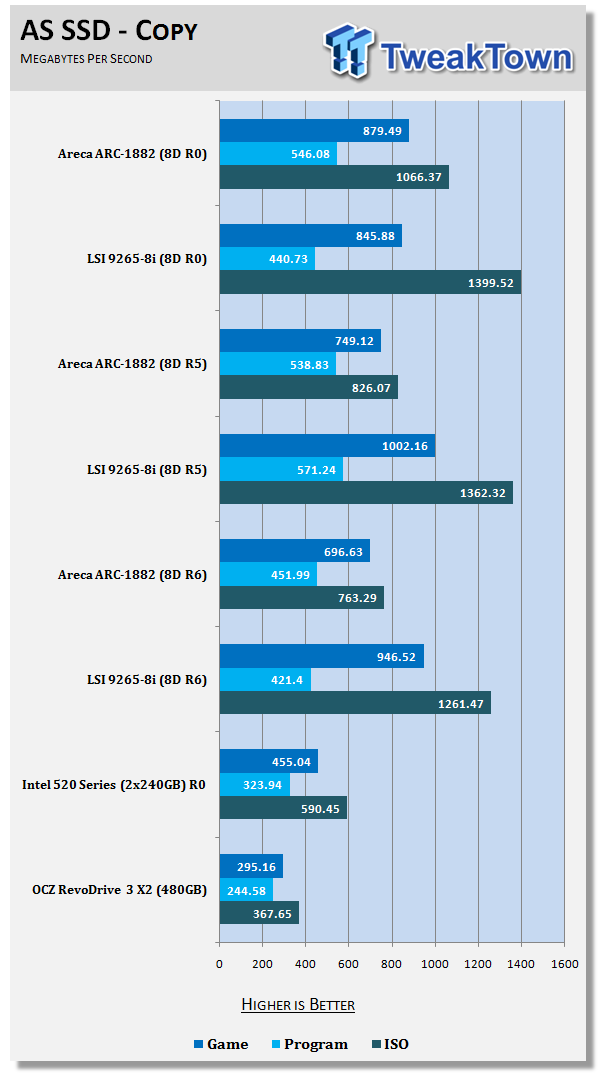 Once again we observed a good back and forth between these two controllers depending on the array type used.
Benchmarks - Passmark
Passmark Advanced Multi-User Tests
Version and / or Patch Used: 6.1
Developer Homepage: http://www.passmark.com
Test Homepage: http://www.passmark.com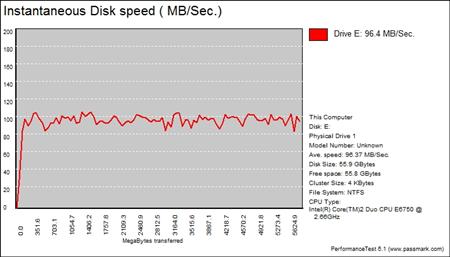 Many users complain that I/O Meter is too complicated of a benchmark to replicate results so my quest to find an alternative was started. Passmark has added several multi-user tests that measure a hard drives ability to operate in a multi-user environment.

The tests use different settings to mimic basic multi-user operations as they would play out on your server. Variances is read / write percentage as well as random / sequential reads are common in certain applications, Web Servers read nearly 100% of the time while Database Servers write a small amount of data.
The Workstation test is the only single user environment and will be similar to how you use your system at home.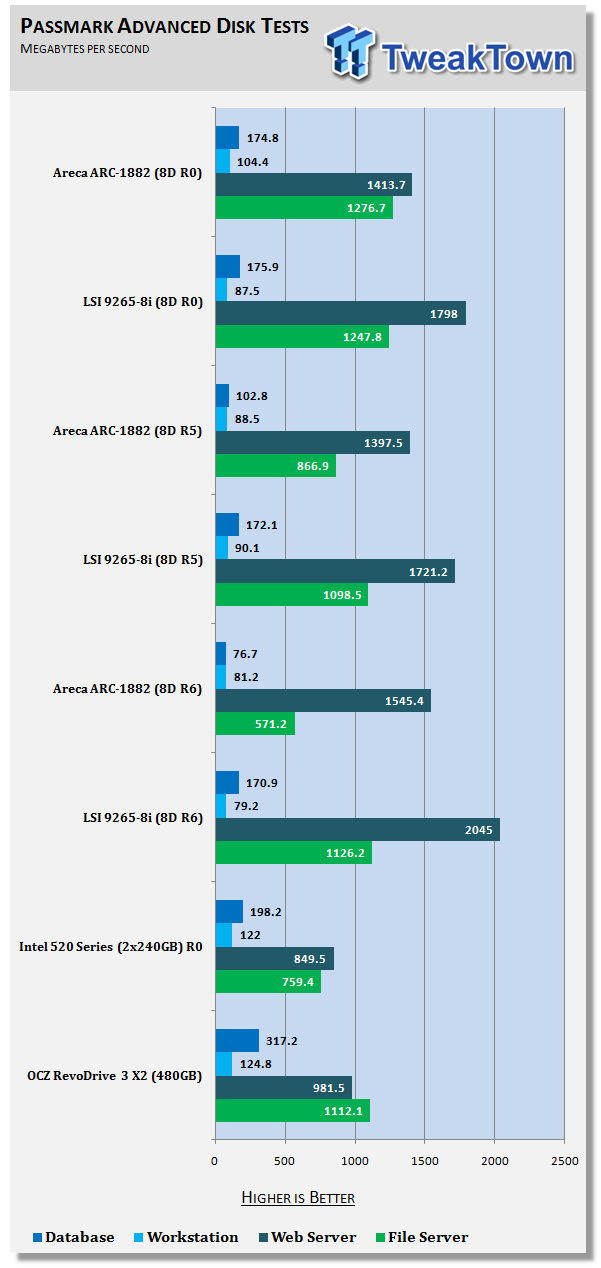 For the most part the Areca ARC-1882i is designed for enterprise tasks like the ones we show here. RAID 5 and RAID 6 for larger arrays are used most of the time. The 1882i is competitive with the 9265-8i especially when it comes to database and workstation activity. The LSI is a bit faster when it comes to the web and file server tests.
Final Thoughts

Areca hit the scene in 1999, right around the time I started playing with an ABIT BP6 system with dual Intel Celeron processors. At the time Highpoint had their Ultra DMA 66 on several motherboards, but Areca was making a name for themselves right out of the gate with superior add-in card products. By the time ATA 100 hit Areca was the first to market with the first 8-port card and it seemed like every storage enthusiast had one of those cards with a massive full tower case that rivals the largest cases on the market today. This is when I first started using Areca products and I've been using them off and on since then.
Areca's latest line of controllers that include the ARC-1882i we tested today are based on a LSI dual-core ROC. This is the same ROC that is used in the LSI 9265-8i, also shown in the benchmark graphs today. What is interesting is that Areca, with their tuning and drivers managed to outperform the LSI model in several of our tests. This goes to show just how talented the crew at Areca really is. Of course none of this is really new or news for enthusiasts who've embraced Areca for years now.
When it comes to the 1882i, Areca covered a lot of bases on the hardware. With a PCIe 2.0 x8 lane host interface you have a lot of bandwidth back to the system. The 1GB on-board DDR3-1333 SDRAM (with ECC) has enough capacity to keep your high-level RAID running smoothly and the compatibility is a wide range of motherboards is class leading.
The only real downside is the price; Newegg lists the ARC-1882i at $650. The price isn't high or low for this market; it's right in the middle and comparable with similar products from LSI and Adaptec. There is an upside though; you don't need to pay extra for higher performance when using SSDs.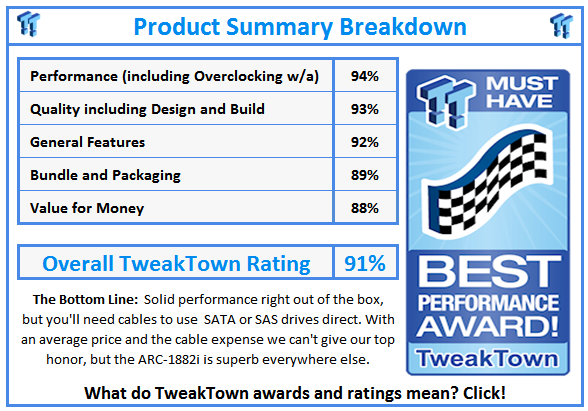 PRICING: You can find products similar to this one for sale below.

United States: Find other tech and computer products like this over at Amazon.com

United Kingdom: Find other tech and computer products like this over at Amazon.co.uk

Australia: Find other tech and computer products like this over at Amazon.com.au

Canada: Find other tech and computer products like this over at Amazon.ca

Deutschland: Finde andere Technik- und Computerprodukte wie dieses auf Amazon.de
We openly invite the companies who provide us with review samples / who are mentioned or discussed to express their opinion. If any company representative wishes to respond, we will publish the response here. Please contact us if you wish to respond.