Introduction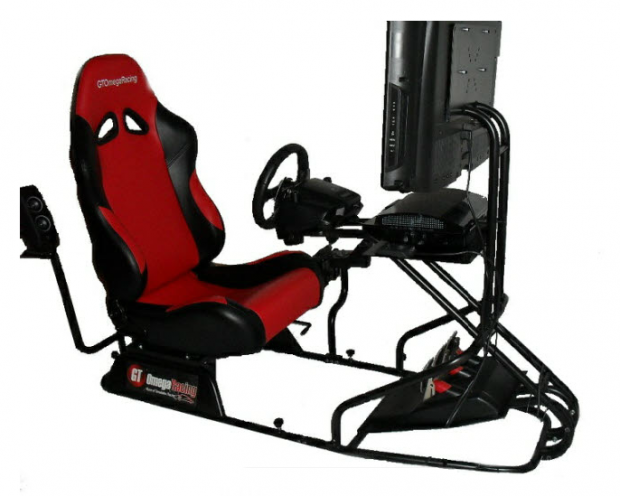 I think everyone reading this already has a passion for motorsports. We all have interesting stories about adventures on and off the track and dreams that most likely will never be fulfilled. I spent a large part of my childhood at dirt tracks in the Midwest; places like Kokomo Speedway and Eldora. The highlight each year, though, was the Indy 500. Now that I'm paying my own bills and have a family, I live about 20 minutes from the famed 2.5 mile track that captured my imagination as a child. Each year we have a gathering at my house to celebrate the event with family and friends.
Last December we moved into a new house that offered us room to grow our family. The new place has a massive unfinished basement and offered me the opportunity to build the ultimate secret bunker office space, but after realizing I didn't need an office that was bigger than my first apartment, it was time to divide the area into two rooms. Of course, in order to effectively churn out some of the best SSD reviews on the web, I needed a large office to hold all of the test machines and supplemental hardware, but the space that was left over is slowly turning into a game theater room.
A game theater room is basically a home theater designed for those who play more video games than they watch movies. You still have the giant screen and obsessive audio system, but the room is designed to house your gaming HTPC as well as gaming consoles. You can still watch movies in a game theater room and entertain guests, but enhancing the gaming experience is the number one goal.
Speaking of enhancing your gaming experience, today we're taking a look at the ultimate way to enhance your racing simulation experience. For years wannabe race drivers and even professional drivers have spent a large sum of money on wheels, pedals and even gear shifters in order to raise the bar of realism. What everyone soon found was that even though you have a properly shaped steering wheel, your everyday office chair still felt like you were at home playing a game instead of being on the track in a Formula 1 car.
GT Omega Racing has the solution for the office chair racer and you can put one in your home for less money than you think.
Specifications, Pricing and Availability
GT Omega Racing is based in the UK, a place where they know a thing or two about racing. The company has only one main product, the GT Omega Racing Simulator, but they also offer accessories for their product or you can buy a total all-inclusive package for a little more. For years we've shown you products like the GT Omega Racing Simulator at trade shows and talked about how cool they'd be if the cost wasn't so damned high. For most, the cost has always been the limiting factor, so let's knock that out first.
The basic GT Omega Racing Simulator costs 454 USD. Yes, less than 500 Dollars gets you a proper race car seating position that can be broken down into two separate pieces for easy storage. The Pro package with shifter, keyboard tray and monitor support costs an additional 113 USD.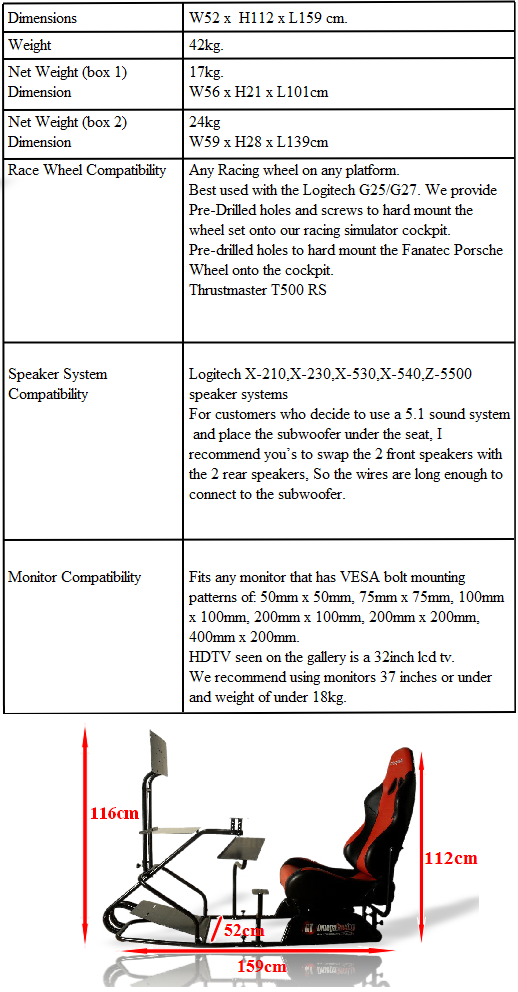 The specifications list above covers quite a few areas of interest. As you can see, the GT Omega Simulator is designed to work with several components and is quite flexible. By no means are you limited by the components listed; your options are limited only by your imagination.
At the bottom of the list we see an image of the Pro model with all of the included accessories.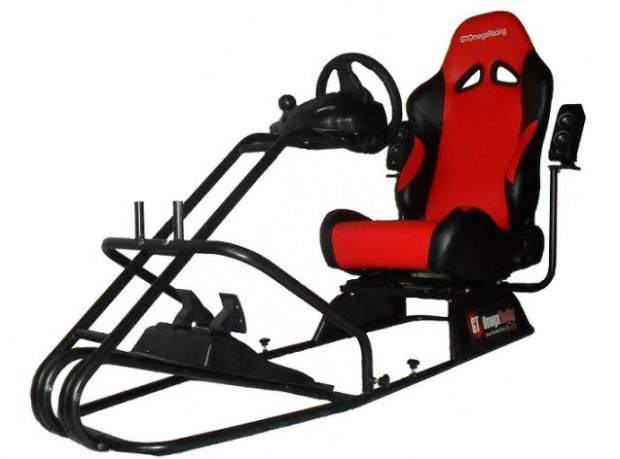 Here we see a stock image of the basic package (wheel, pedals and speakers not included). The basic package gets you in the game quickly and allows you to set the chair up in front of your existing TV or monitor. Unfortunately you do not get the shifter mount accessory that is so popular with the Logitech G25/G27.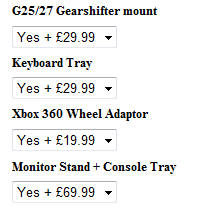 All of the accessories can be purchased separately, so it's possible to buy the basic package and then add on the shifter, but given the individual accessory prices, you're better off getting everything all at once. The other thing to consider is your future needs. GT Omega Racing has thought of everything and you may find that mounting a dedicated monitor that sits closer to your eyes is better than a larger monitor further away. We'll get into that later in this article.
It should be noted that the Xbox 360 wheel adapter has to be purchased on its own and is not included in the basic or pro package.
Features and Accessories
Normally I'd do a massive pictorial and discuss each feature on my own, but GT Omega Racing has done a remarkable job on their website detailing each component. We'll use their descriptions and then give our take in the middle of this article.

The Packaging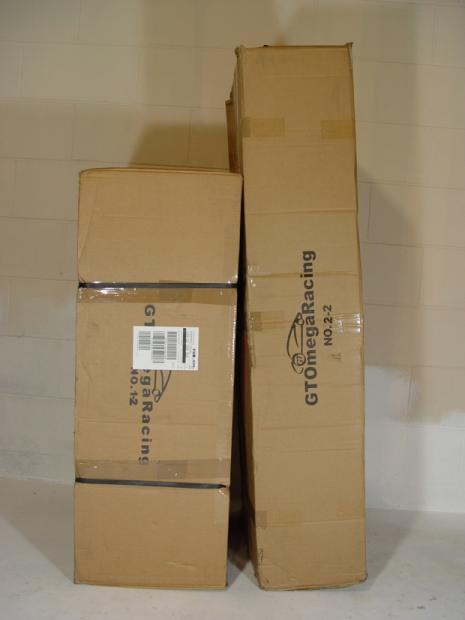 Our sample arrived in two large packages that were delivered in the USA by DHL. Shipping costs depend on your location and at this time it costs around 250 USD to ship the full package to the USA. GT Omega Racing doesn't have a US distributer at this time, but I happen to know they are working on it. We'll update this article if anything materializes.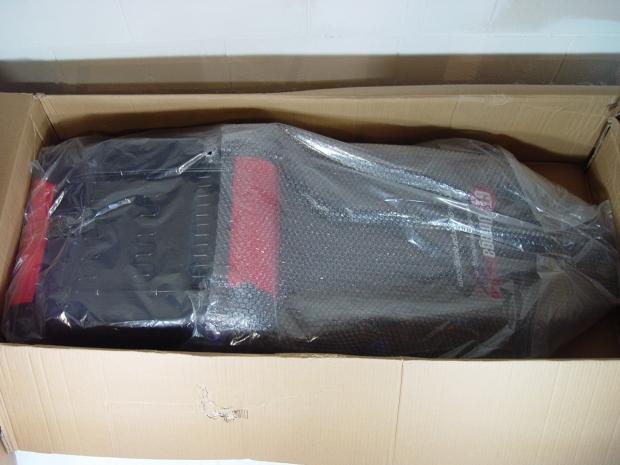 The first package holds the GT Omega chair. Here we see that the chair is wrapped, but there isn't a lot of protection in the box. The good thing is that the chair has curved edges so there isn't a chair corner in the corner of the box. The corners are where most shipping incidents happen.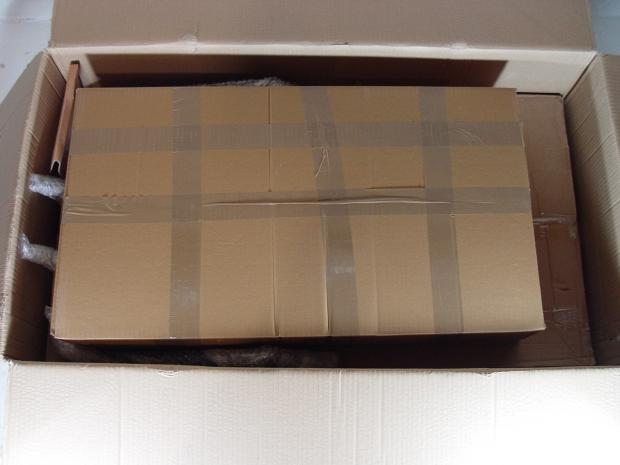 The other package holds the accessories and the steel frame that makes up the structure of the GT Omega Racing Simulator. Here we see that everything is double boxed.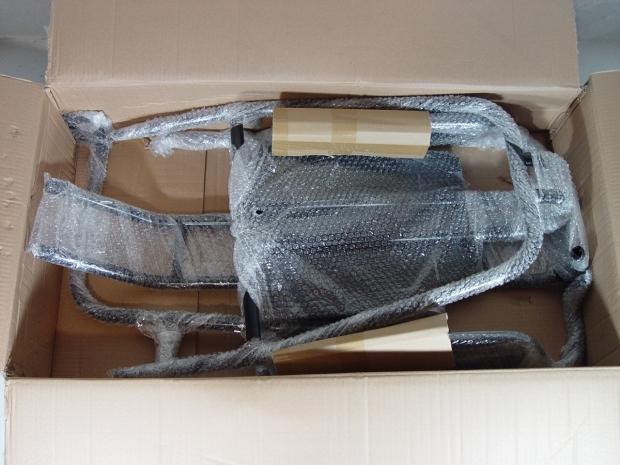 Each component is wrapped and placed in the package in a way that keeps the parts from rubbing against one another.
The GT Omega Racing Simulator
The plan was to have my game theater room completed before the GT Omega Racing Simulator arrived. I've never worked in construction or built a room before and can now tell you that it doesn't happen overnight when working on your own. I now know that all of those HGTV shows are leaving a few things out!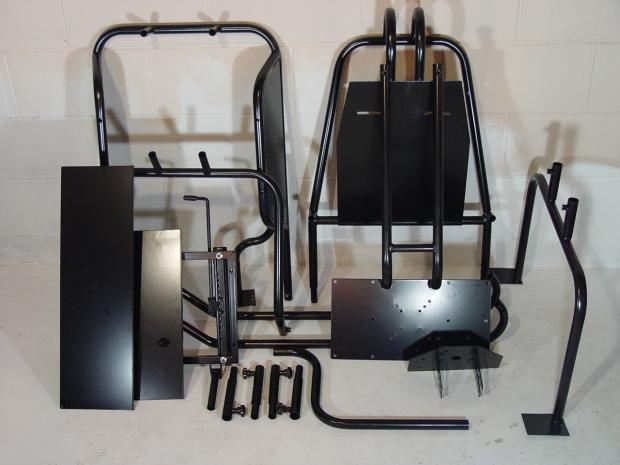 After you spend a considerable amount of time unwrapping each component, you are left with a lot of parts. It actually takes longer to unwrap everything than it does to put the Simulator together.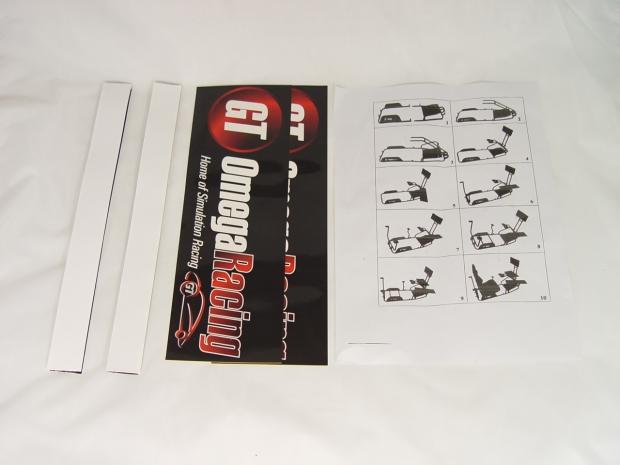 All of the components are easily recognizable, so putting the package together is quite easy. This is a very good thing because the instructions come via 10 pictures on a black and white piece of paper.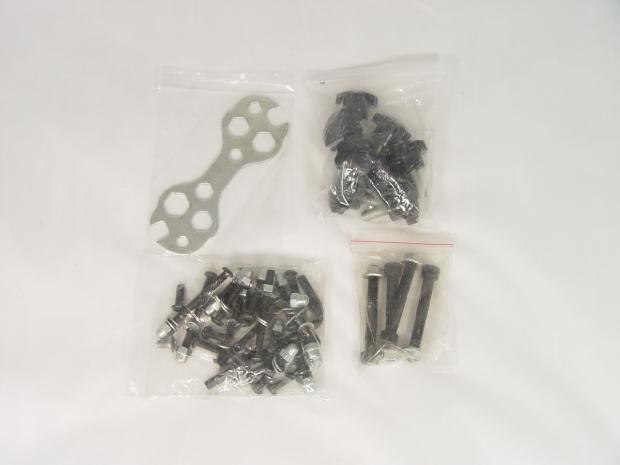 Included in the kit are three bags of screws and a tool that lets you put it all together. The tool works fine for the task, but you might want to grab some basic metric wrenches to speed along the process if you have them.
When putting the kit together, I found enough bolts to build the system and install my Logitech G25 wheel, pedals and shifter. I can't believe how much better the G25 is when actually bolted down compared to using the Logitech mounting system. We'll get into those details in a bit.
In less than an hour I had the basic setup put together and the Logitech G25 installed. After a couple of quick tweaks the shifter was where I like it, as was the wheel. In being able to do this, I ran out to my car a few times to get the perfect position fresh in my mind. The GT Omega Racing Simulator was versatile enough to mimic the same seating position I use in my Mercedes C320 Sport. The only thing it doesn't do is move my seat back and retract the wheel when I turn off the key.
The Detailed Look
So far just about everything we've shown you can be found on GT Omega Racing's website. Here we're going to show you details; the good, the bad, the ugly and the outstanding.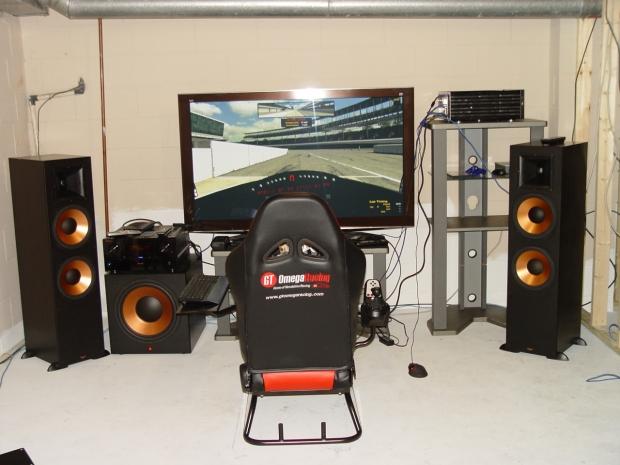 I may not have my game theater room complete, but that doesn't mean all this equipment is going to sit around collecting dust. It's not the 9.1 system that's going in, but the 5.1 setup was more than enough to start testing the GT Omega Racing Simulator in a home theater like environment.
In this setup you're not going to need the rear speaker or front display mount. By using your existing living room or home theater, this is a really good way to have your cake and eat it too, as long as you don't mind working at it a bit.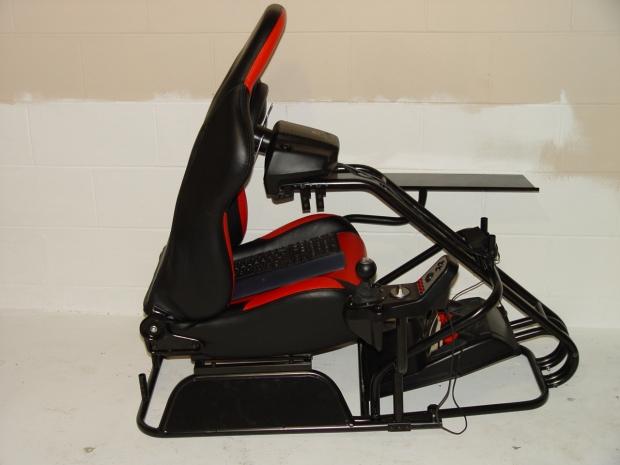 I'd love to say the GT Omega Racing Simulator breaks down into a small package that fits easily in a small closet, but this is about the best you're going to get. Essentially the Simulator is two pieces; the chair side and the wheel side. You can disconnect the two and move the chair forward to get an almost compact package.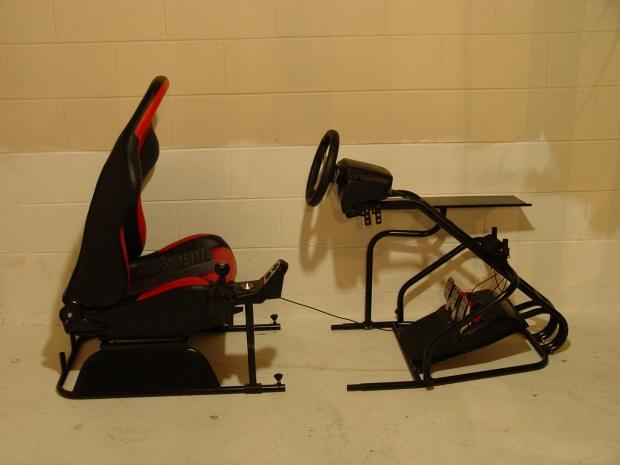 You may be wondering why you can't just split the two apart and store them where ever you want. Well, it is easy to split the two, but if you have a shifter you can't get them too far away from each other. The problem comes with screwing the shifter to the seat side of the Simulator. You can't get to the underside of the wheel to disconnect the shifter either if you screwed the wheel down.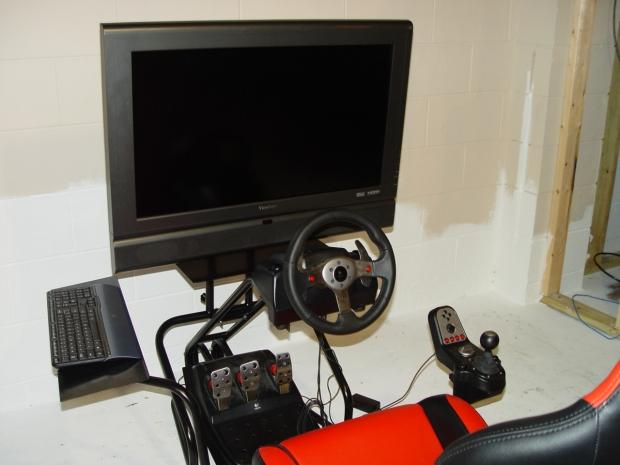 The other option is to use a significantly smaller screen with the display mount. Here I tested the GT Omega Racing Simulator with the mount installed and a 32 inch LCD display. What I found was a bit of a surprise; using a small screen closer to your eyes actually made the gaming experience more enjoyable. Included with the display mount is a shelf for your game console, but if you are using a larger screen then the shelf doesn't have room for the console.
The Gaming Experience
I don't know about you, but most of the pedals I've used don't feel right. I'm not talking about an authentic feel when you press on them; I just mean the simple task of making them comfortable. My Logitech G25 when used in an office chair is about as uncomfortable as you can get and it actually hurts my left ankle after 20 minutes or so. Obviously that puts a strain on my office chair gaming experience; it is pretty bad even though I'm using one of the most popular steering combinations available.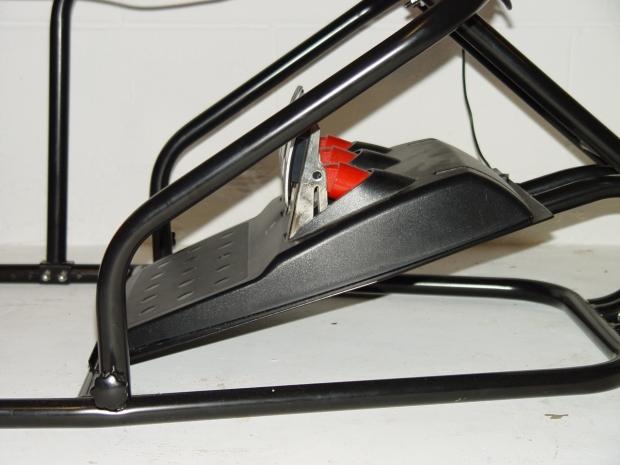 The GT Omega Racing Simulator puts your pedals at an angle and this gives you a more natural, more real pedal feel. It also took care of my left foot ankle pain. If that wasn't enough, you bolt the pedals onto the plate so no matter what you do, you're not going to move the pedals back when slamming on the brakes.
Another feature I really liked with the GT Omega Racing Simulator pedal plate was the ability to position the pedals where you want side to side. You have around three inches of adjustability here and it comes in handy if you use two feet for your gas and brake.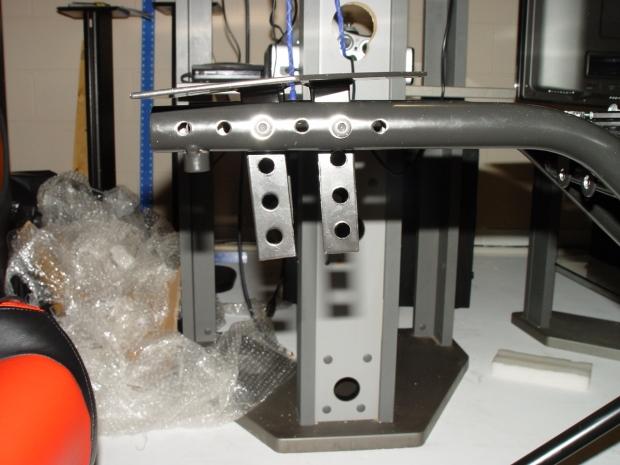 When gaming on your computer desk, you are pretty much stuck to a single wheel angle. Just imagine buying a car where you can't move the steering wheel up or down, in or out. The GT Omega Racing has you covered here too. The wheel plate has a lot of adjustability. In, out, up or down and you can even change the angle since the thru holes are oversized.
All of that adjustability does have a downside. If you like your wheel low like I do, you have to be careful getting in and out of the seat. The lower extension brackets are somewhat sharp and it's possible to scratch your legs on the 90 degree corners. I'm not sure why these weren't made with rounded edges, but they weren't. All it takes is one good scratch and you remember to avoid the sharp edges.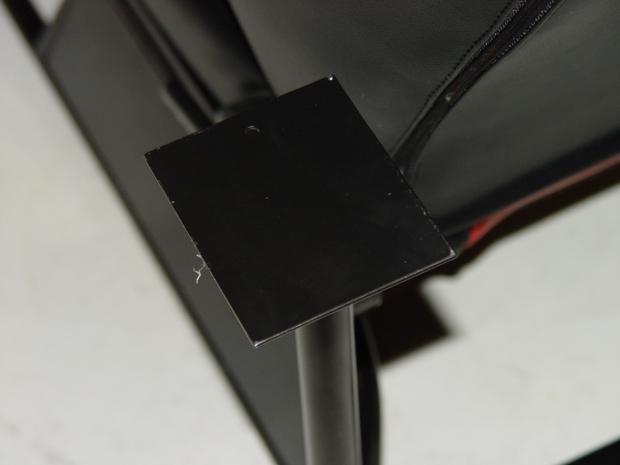 Speaking of sharp edges, the speaker mounts also have 90 degree edges that can cause you to dish out a few four letter words if you're not careful. With the speakers mounted it isn't an issue and if you're not using speakers you can take the speaker mount off.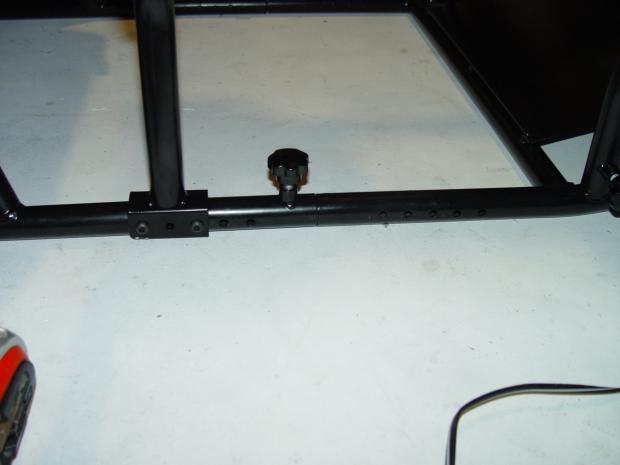 On the seat and in the game the GT Omega Racing Simulator feels great and increases your immersion. There is one thing that didn't feel right and the culprit is right here.
When you are racing and the force feedback is on, the two halves can flex. This was amplified by a bend in the wheel side, bottom chassis that makes contact with the ground. After spending some time with it, I finally started looking for a way to shim the wheel side of the Simulator. By placing two magazines at the furthest point of the chair, the chassis flex was eliminated. This might be a little more difficult if you're using the system on carpet. No matter how tight I screwed the included fasteners, the flex was there and only eliminated after I propped the front end of the Simulator up a quarter inch.
Final Thoughts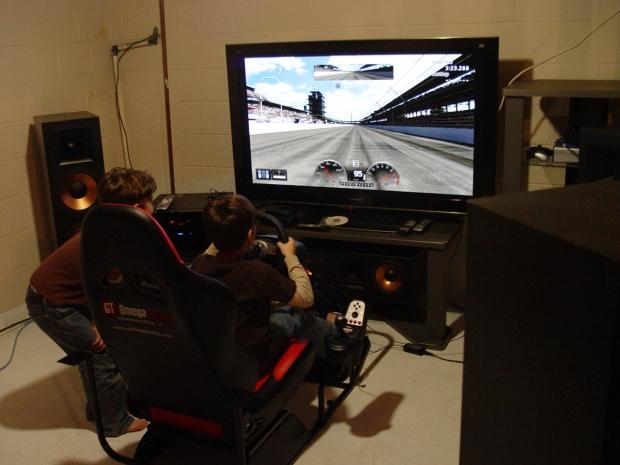 The GT Omega Racing Simulator is great fun not only for you, but for others as well. We entertain a lot of guests and everyone whose spent time in the Simulator has walked away with a smile on their face. Getting people out of the cockpit is a lot harder than it is to get them in and you may just want to just hide it because our guests stay a lot longer after getting some seat time.
The Simulator has a lot of great features that work together to increase your immersion. The first is giving you a proper seating position to enjoy your gaming / simulation experience. Nothing makes you feel more like you're sitting in an office chair pretending to be driving than an office chair. It doesn't matter how comfortable your office chair is, it's still an office chair! There's just no way to get around the fact that your butt is planted in something designed to keep you comfortable while typing.
The next excellent feature is having your wheel setup mounted someplace other than your workstation desk where you work or do your homework. I'll admit there were times when I wanted to jump into some iRacing or Gran Turismo, but didn't want to spend the 20 minutes to setup my wheel. Being able to just walk over and fire up a game gives me a lot more seat time.
The accessory package offered gives you a lot of flexibility when choosing your setup. It doesn't matter if you use an existing TV in your living room or if you're mounting a monitor to the Simulator; the choice is yours. The same goes for the shifter and keyboard mount options. If you mainly play Gran Turismo on the PS3, then you won't need to mount a keyboard to the Simulator, but the tray makes for a nice remote holder while in game.
As long as you are not scraping together pennies to get the basic system, opt for the Pro package and get all of the accessories. You might not need the accessories now, but at some point I guarantee they will come in handy. It's a lot cheaper to get everything at one time than it is to piece together additional parts later.
Speaking of price, this is where the GT Omega Racing Simulator shines. As you know, I review the storage products here at TweakTown and will get one shot at reviewing a product like this. Management was told that I would be reviewing a wheel and pedal
storage
product. I spent a lot of time researching these products and there are several available on the market. You can easily spend more than 1,000 USD on a comparable product and just as easily you can spend the same amount of money on a race seat that doesn't have the same build quality or accessory package.
The GT Omega Racing Simulator Pro really stood out during my research. The basic package
costs 454.21 USD and the Pro package costs 567.65
. You get a lot for your money and have a product that you'll be able to enjoy for many years.