Arctic Sound E461 Earphones Review
Arctic Sound is back again, this time with an all new earphone solution boasting a slightly edgier look and some chrome to top it off. Let's take a look!
Published Mon, May 30 2011 9:21 AM CDT
|
Updated Tue, Nov 3 2020 7:02 PM CST
It seems a time ago now when we took our first look at a set of earphones from Arctic Sound. And back then we were very pleased with them and also with the second set they sent out that was finished in wood, which we thought to be a nice touch.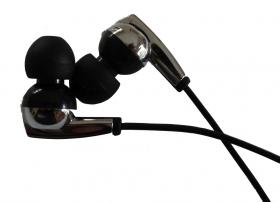 Back to present day, though, and we have an all new pair of earphones from Arctic Sound; the E461. These have taken on quite a shiny and angular appearance since the last set we tested. And while the looks are more radical, they say the performance is, too. They even go as far this time as to provide a frequency response curve chart for us to ogle at. So it's quite clear they mean business with the E461 and that certainly sounds good to us.
Main Features
:
- Neodymium magnet drivers - ensures rich transient response for precise details
- Six Interchangeable silicone caps - provide snug fit to every ear and seal out noise
- Single button in-line remote - for music playback and voice control
- Cable clip - keeps the cable from tangling or fluttering in the wind
- Gold-plated stereo plug - delivers uncompromised signal transmission
The Specifications
:
- Frequency Response : 17hz - 26khz
- Impedance : 12 Ohm
- Sensitivity : 96 dB/mW
- Cable : 1.3 m with 3.5 mm plug ( for earphone and Mic )
- Weight : 14 g

Of real concern here is the frequency response curve plotted on the graph seen above. Now, generally this sort of thing is reserved for studio monitors or high end Hi-Fi equipment, but usually not PC based audio equipment mainly because of the target audience involved - it's just not really a concern.
Now just briefly, this sort of graph has two plains; the horizontal and the vertical. The former plots frequency range and the latter is volume measured on the decibel scale. Now, in theory a perfect speaker (or earphone) will be able to produce all of those frequencies on the horizontal plain at an equal volume from 10Hz through 30,000 cycles per second without severely deviating upward and downward in what appears as a 'saw-tooth' on the graph. And thus, what equates to uneven frequency reproduction to our ears.
Generally a speaker (or earphone) will have its own characteristics in the way that it accentuates certain frequency bands and not others. This can be called
coloring the sound
and is the first thing that a studio engineer will look to avoid when choosing a monitor to mix on. But often Hi-Fi speakers can add their own 'flair' to the sound through coloring and can even become famous for having a certain sound about them.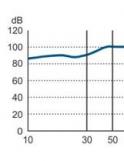 As for the E461's graph seen above, you can see that at between 10-50Hz there is a drop off of about 10dB. And once 50Hz is reached things are flat right through to just about 10KHz when a steep roll off down to 60dB takes place by the time 30KHz is reached. For more perspective, remember that our audible range is between 20Hz -20KHz.
In correlation to this graph, Arctic Sound has given us a frequency response for the E461 as being 17Hz - 26KHz. And if you look closely, you can see these points in the graph above and notice that the engineers have chosen the first point just where the line picks up before the 30Hz point and the second just before dropping for a final time to rest at 60dB. Effectively, this gives us what appears in graph form as a pretty flat looking response curve which should equate to some great sounding music!
Given all of this added tech talk, we should be in for something really special today with the E461's. We know that Arctic Sound is talking them up and now we have the numbers to back up the PR talk. All that's left is to find out for ourselves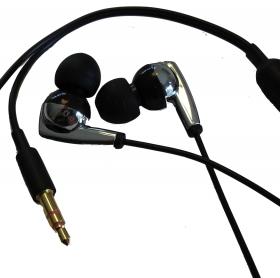 - High End
The high end of the E461's sounded crisp and open during our whole period of testing, which ranged from general iPod work through to connecting the earphones to a home theatre receiver to further test how different forms of amplification sounded.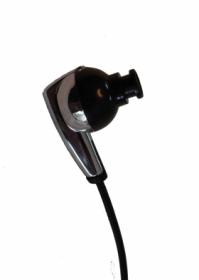 No matter what form the high end took, vocals and instruments sounded great and did not tax our ears even after long periods which can be a concern with the high end of some earphones. The smooth transition between lower and upper high frequencies can also be felt when listening to folk and more gentle types of music, but even more busy forms of music still do not phase the E461's.
- Mid Range
Those all important mid range frequencies are dealt with well when listening to the E461's. Percussion instruments sound great with the smooth characteristics experienced, with the high end being carried through nicely.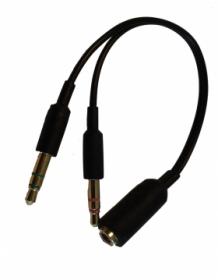 It must also be mentioned that the channel separation is really excellent, also creating a lovely stereo image in the centre of the users head. We also noticed how vocals really sounded incredibly open and full during listening. It's looking like these are going to be really well suited to enjoying high quality music on a daily basis.
- Low End
In the past we have loved how the Arctic Sound earphones produced low frequencies managing to fill your world with rich deep bass that frankly we do not know how they manage to squeeze out of a pair of earphones.
Today the E461's are no exception, with the low end sounding even more fortified than it was before. Most everything we tested had an amazing low end that really astounded us with its power - especially when running through our JVC receiver; the low end could be pushed to the point of extremes without distortion.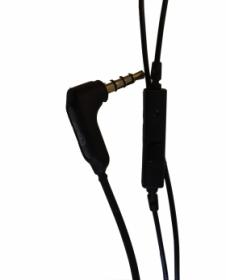 Arctic Sound keep throwing out earphones we love, and can only hope they keep doing long into the future. The E461's take the best elements of the previous models and improve on them to make what is a great pair of earphones overall.
Also take into consideration the provided frequency response graph given to us by Arctic Sound when making the decision on whether to buy these earphones over the other options out there. It's quite common that a company may not be so kind as to provide this information to the buyer.
Add in some different sized spare rubber ear buds along with a single button in-line remote for music playback and voice control and you get a great package with the sort of value you can expect from an 'Arctic' branded product.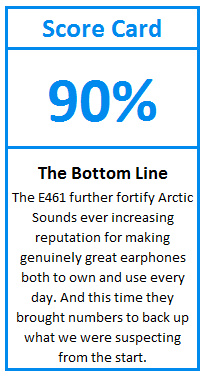 PRICING: You can find products similar to this one for sale below.

United States: Find other tech and computer products like this over at Amazon.com

United Kingdom: Find other tech and computer products like this over at Amazon.co.uk

Australia: Find other tech and computer products like this over at Amazon.com.au

Canada: Find other tech and computer products like this over at Amazon.ca

Deutschland: Finde andere Technik- und Computerprodukte wie dieses auf Amazon.de