Quick Review: PhotoFast iPADock
With people owning multiple Apple products these days, charging can be a bit of a pain. No more, though, says PhotoFast!
Published Mon, Jan 17 2011 8:41 AM CST
|
Updated Tue, Nov 3 2020 7:02 PM CST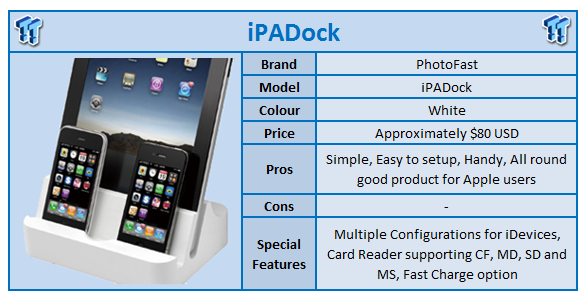 I didn't think I would ever consider myself an Apple fan, but the bottom line is that the devices I have in the house would say I'm a huge fan boy. Between two of us there's a 27" iMac, two new 11" Macbook Airs, two iPhone 4s and two iPads.
It doesn't take long, though, before you're clawing for power points and USB ports to get your devices charged and sync'd; and to be honest, that's only half the problem. Having all those devices laying over a counter or desk takes up a massive amount of room and leaves quite a large foot print, especially with something like the iPad.
Now, I don't want to take anything away from PhotoFast, but the iPADock we're looking at today seems like such a simple product; a simple but wonderful product we say.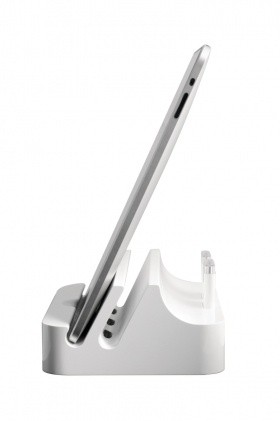 The iPADock as the name suggests supports the iPad, but apart from that it also supports pretty much any other Apple devices that use the propriety power cable. With a small foot print the iPADock gives you the ability to charge a number of Apple devices in a few configurations. Depending on the device depends on how many products you can charge.
From the looks of it the device is as we said, quite simple. Inside the package you've got a power connector, bunch of USB cables and the main device itself to round out the main items. What you do is feed the USB cables into the dock depending on what you want to charge.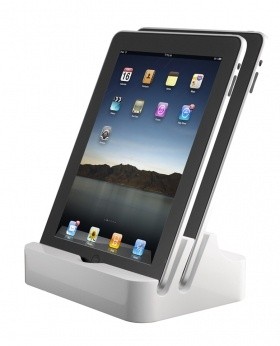 For example, in the above picture you can see two iPads; so what you would do is place two cables in the centre of the dock. Below that we've got an iPad and two iPhones. In this instance you would place one cable in the middle and then use two cables to go left and right on the bottom bit.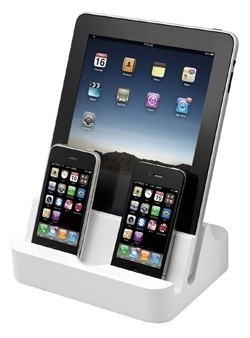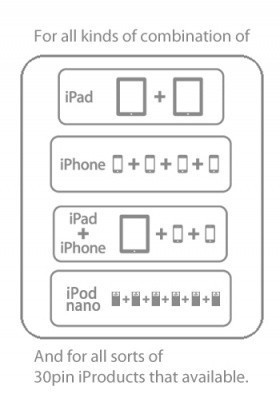 There are a ton of configurations and on the PhotoFast website it gives us a prime example of some of the main setups. As you can see from the previous image, with the iPADock you could charge two iPads, four iPhones, one iPad and two iPhones or six iPod Nanos.
Of course, that's only some of the devices; the iPhones could be iPod Touches and you could charge an iPad, iPhone and iPod Touch. You could charge three Nanos and two iPhones. The list goes on and on to the different type of configurations possible.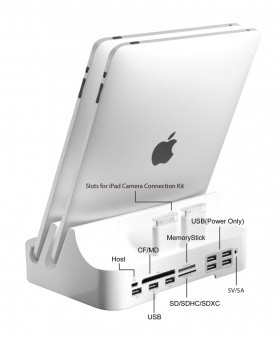 The iPADock isn't just a piece of plastic that can charge some Apple devices, though. Turning it around, you've got a built in card reader that covers CF, MD, SD and MemoryStick. There's also four USB ports that can be used like in the picture below. Of course, it could be any device, though, not just Apple ones in this instance, as long as it has a USB connector.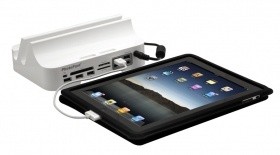 The far left has a host port; this goes from the iPADock to your PC. Below that are three USB ports that are used to connect your devices up with the included cables. Above all this are two slots for the iPad Camera connection kit and across the other side a little power port which offers fast charge for the four powered USB ports.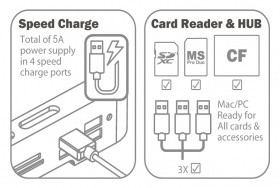 Really, there's two ways to use the iPADock; the first is that you have it hooked up to your PC, use the host cable and along with charging your iDevices you can sync them, copy your music, update apps and all that fun stuff.
The other option is you could have the device in the kitchen or wherever you change your iPhones, use the power cable and fast charge them. The smaller foot print is going to be appreciated instead of having a bunch of phones and iPads scattered all over the place.
The iPADock is quite a simple product; there's not heaps to it, but we're surprised it took someone so long to create it. It's perfect for people who have a lot of Apple products.
Because of the simplicity there are really no cons to the product. Priced at around the $80 US mark, it's a small price to pay for some organization. The overall quality is good and if you're hooking it up with your PC to sync your devices, you've got the added bonus of the card reader which is a nice little extra.
PhotoFast show us that you don't need to have this product with a huge amount of flair to have a great product. The iPADock does exactly what you would expect and that's perfect for people. You know what you're getting and you're getting something that some people are going to find extremely handy.
PRICING: You can find products similar to this one for sale below.

United States: Find other tech and computer products like this over at Amazon.com

United Kingdom: Find other tech and computer products like this over at Amazon.co.uk

Australia: Find other tech and computer products like this over at Amazon.com.au

Canada: Find other tech and computer products like this over at Amazon.ca

Deutschland: Finde andere Technik- und Computerprodukte wie dieses auf Amazon.de