Kingmax Hercules PC3-17600 (2200MHz) 4GB Kit Review #2
We see another Hercules kit from Kingmax that's a little different to kits we've looked at in the past. #2.
Published Oct 12, 2010 4:47 AM CDT
|
Updated Tue, Nov 3 2020 7:02 PM CST
7 minute read time
Introduction, Packaging and Modules
Introduction

A while back we saw Kingmax launch the new Hercules series of memory. It seemed to be a step forward in bringing the Kingmax name into the mouths of overclockers again. While the kit didn't perform bad at all, the memory market is extremely competitive and it seemed like the kit never really got any legs.
Today Kingmax intend to throw another kit at us carrying the same Hercules name. The kit carries with it also the same speed; 2200MHz DDR, which while not the highest we've seen, is sitting at the top of the pile and ready to take a whizz through our test regime today.
Kingmax are also touting this whole "invisible heatsink" thing. We'll have a look at what exactly that means and if it's something we really care about.
The Package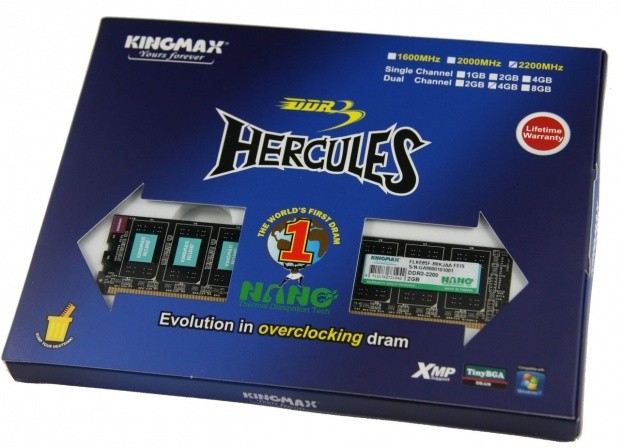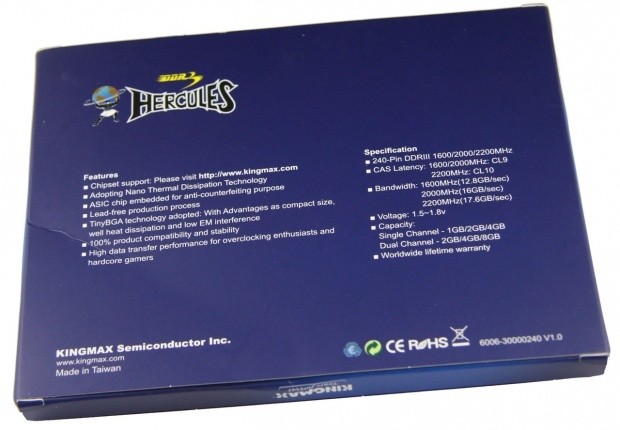 Looking at the package, we've got a full retail setup going on here. We can see the memory, and the speed is also clearly marked at the top as well as the amount of memory and the fact that it's in a Dual Channel configuration. We've also got some of the main features of the kit along with the specifications.
The Modules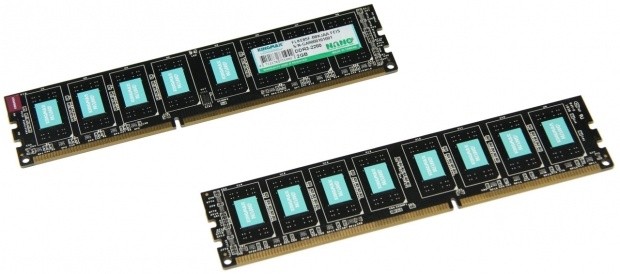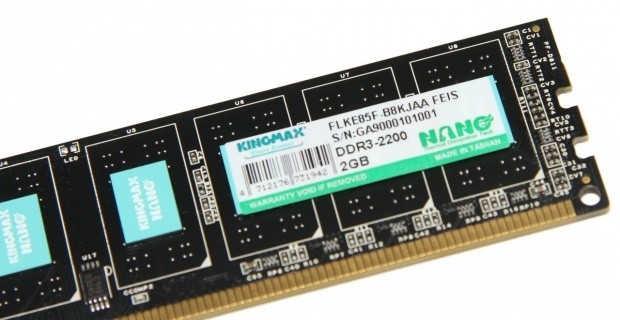 The modules themselves are bringing flashbacks of the days of TinyBGA memory from Kingmax with the colored ICs. I've got to be honest, though, and say the lack of a heatsink seems to cheapen the whole kit. Instead of feeling like we're looking at a 2200MHz DDR one, we we feel like we're looking at some 1066MHz DDR modules that we're going to throw into our grandparents machine.
What Kingmax says is that they're using this new technology called Nano Thermal Dissipation Technology (or NTDT). With nano-size silicone over the modules we see better heat dissipation than a traditional heatsink setup which carries with it a thermal compound between the module and heatsink. What you ultimately end up with is an "invisible heatsink." - So they say.
Overclocking
As we mentioned, the kit is a PC3-17600 one, or 2200MHz DDR. This isn't the first time we've seen Kingmax release a 2200MHz DDR kit with the original Hercules kit that carried with it a more traditional heatsink running the same speeds. It also carried with it the same timings which were a very relaxed 10-10-10-30-2T.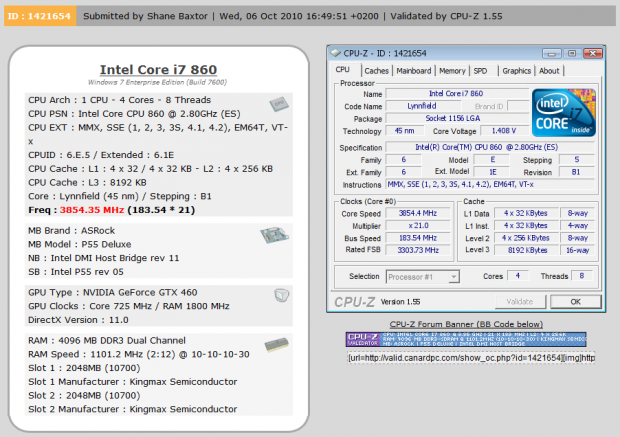 You can see the validation
here
.
Getting to the default clock speeds on the kit was an absolute breeze, and while Kingmax say the kit supports up to 1.8v, we managed to achieve these speeds at only 1.65v which is what we see from most companies.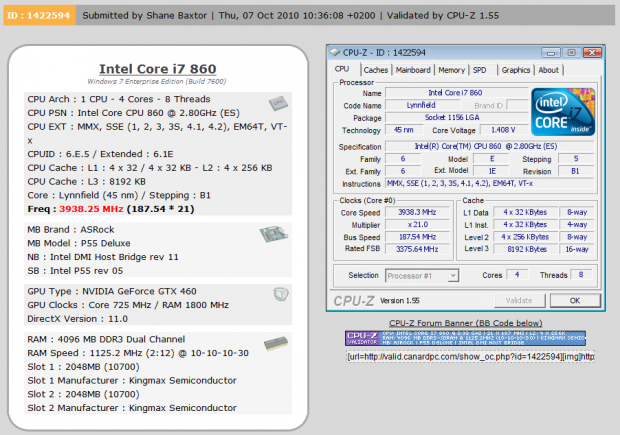 You can see the validation
here
.
Overclocking was easy. Although we didn't see much extra performance, at the same timings we ended up with 2250MHz DDR at 1.65v. We tried 1.8v like Kingmax support, but it didn't warrant any extra performance. We did manage to get into Windows as high as 2292MHz DDR, but the system was very unstable.
Important Editor Note: Our maximum overclocking result is the best result we managed in our limited time of testing the memory. Due to time constraints we weren't able to tweak the motherboard to the absolute maximum and find the highest possible FSB, as this could take days to find properly. We do however spend at least a few hours overclocking every motherboard to try and find the highest possible overclock in that time frame. You may or may not be able to overclock higher if you spend more time tweaking, or as new BIOS updates are released.
Test System Setup and PCMark Vantage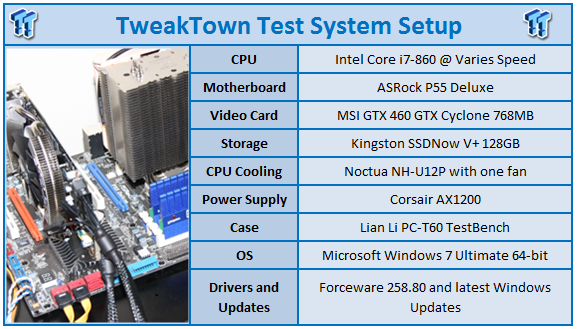 We would like to thank the following companies for supplying and supporting us with our test system hardware and equipment:
Intel
,
ASRock
,
MSI
,
Kingston
,
Noctua
,
Mittoni
and
Corsair
.
When it comes to comparing the Kingmax Hercules kit today, we'll see how it goes against itself in both stock and overclocked form while also seeing how it goes against the recently looked at G.Skill Ripjaws kit at 1800MHz DDR.
Let's get started!
Important Note: When modules are overclocked we adjust the BCLK which not only lets us fine tune the MHz out of a module, but in turn increases the overall CPU clock speed. While we always make the effort to include the BCLK and CPU Speed in our graphs, please just make sure that you make note of these when looking at the results. In some tests that don't purely test the memory speed the extra MHz on offer from the CPU can increase the result. Of course, it's worth noting that having faster memory gives you the ability to run your CPU at a higher speed.
PCMark VantageVersion and / or Patch Used:
1.0.1
Developer Homepage:
http://www.futuremark.com
Product Homepage:
http://www.futuremark.com/benchmarks/pcmarkvantage/introduction
Buy It Here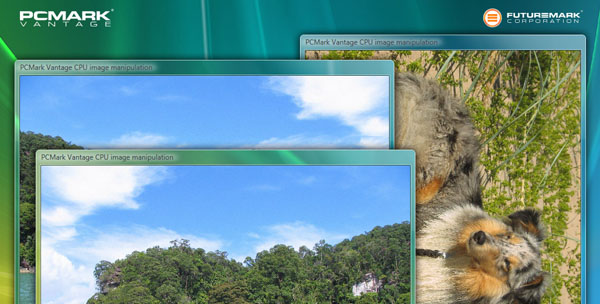 PCMark Vantage is a PC benchmark suite designed for Windows Vista offering one-click simplicity for casual users and detailed, professional grade testing for industry, press and enthusiasts.
A PCMark score is a measure of your computer's performance across a variety of common tasks such as viewing and editing photos, video, music and other media, gaming, communications, productivity and security.
From desktops and laptops to workstations and gaming rigs, by comparing your PCMark Vantage score with other similar systems you can find the hardware and software bottlenecks that stop you getting more from your PC.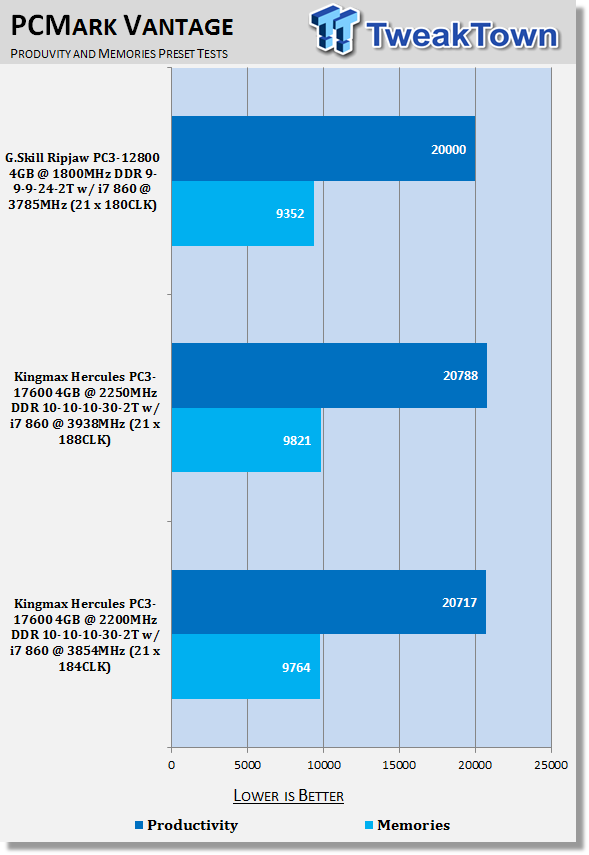 Under PCMark Vantage we can clearly see that the memory performance on the Kingmax kit is up. This is exactly what we would expect with such a high clock speed on them compared to the G.Skill.
Benchmarks - wPrime
wPrimeVersion and / or Patch Used:
1.62
Developer Homepage:
http://www.wprime.net/
Product Homepage:
http://www.wprime.net/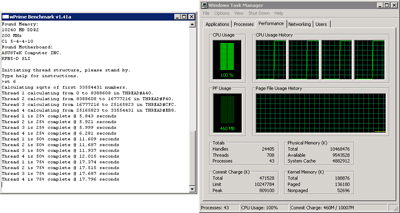 wPrime uses a recursive call of Newton's method for estimating functions, with f(x)=x2-k, where k is the number we're sqrting, until Sgn(f(x)/f'(x)) does not equal that of the previous iteration, starting with an estimation of k/2. It then uses an iterative calling of the estimation method a set amount of times to increase the accuracy of the results. It then confirms that n(k)2=k to ensure the calculation was correct. It repeats this for all numbers from 1 to the requested maximum.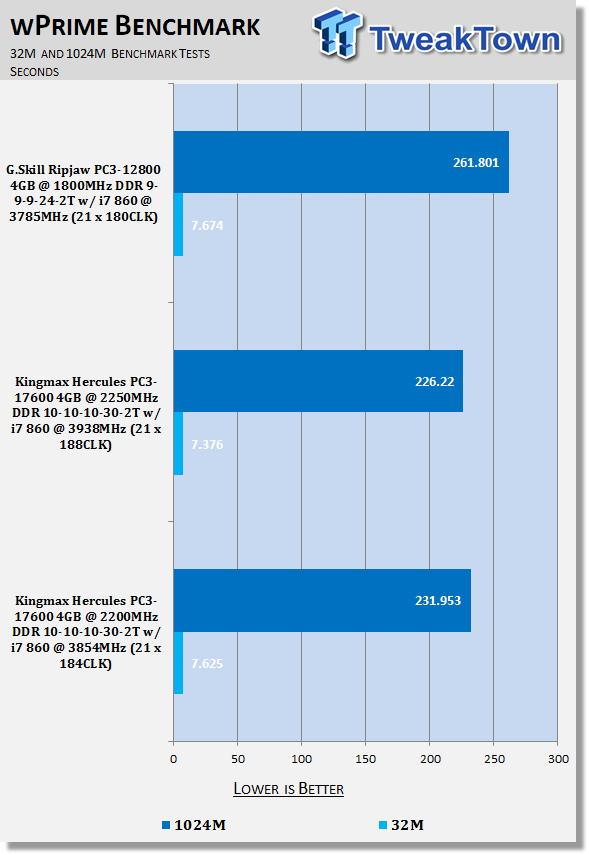 Under wPrime we can see performance is best when our CPU is clocked to almost 4GHz. At less than 4GHz we see the Kingmax kit beat out the G.Skill. Here it carries a slightly higher clock speed again, though, which is what wPrime really benefits from.
Benchmarks - Everest Ultimate Edition
EverestVersion and / or Patch Used:
Ultimate Edition
Developer Homepage:
http://www.lavalys.com/
Product Homepage:
http://www.lavalys.com/products/overview.php?pid=3&ps=UE&lang=en
Buy It Here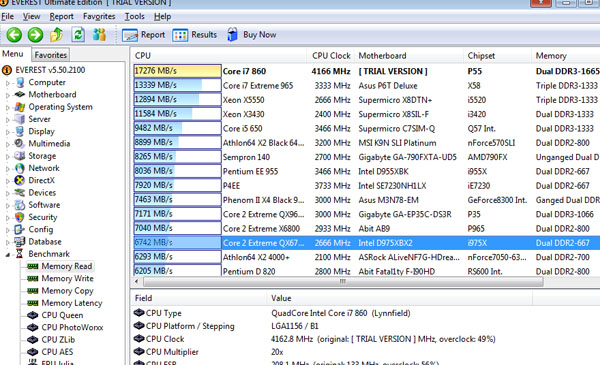 Everest Ultimate Edition is an industry leading system diagnostics and benchmarking solution for enthusiasts PC users, based on the award-winning EVEREST Technology. During system optimizations and tweaking it provides essential system and overclock information, advanced hardware monitoring and diagnostics capabilities to check the effects of the applied settings. CPU, FPU and memory benchmarks are available to measure the actual system performance and compare it to previous states or other systems. Furthermore, complete software, operating system and security information makes EVEREST Ultimate Edition a comprehensive system diagnostics tool that offers a total of 100 pages of information about your PC.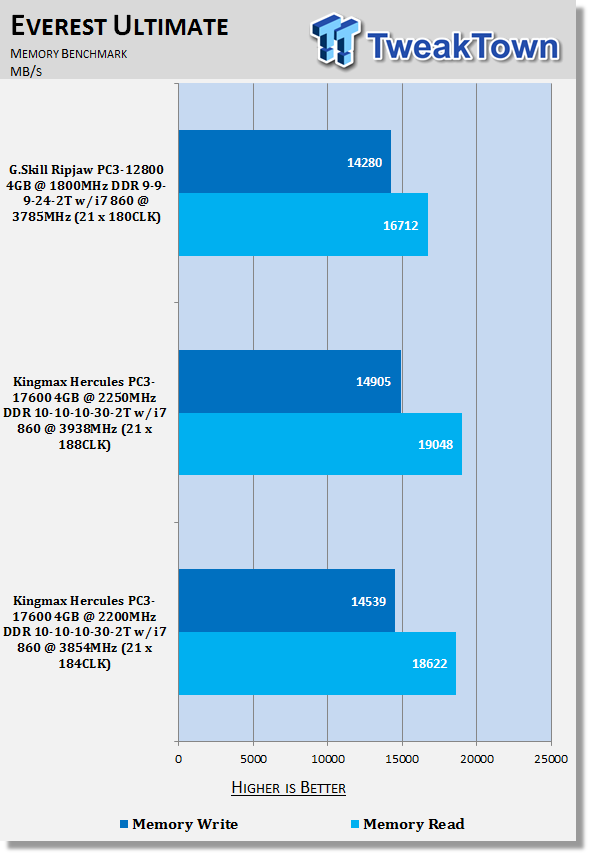 Under Everest we just concentrate on the memory performance and you can see its performance is really quite strong here with it having no problems outperforming the G.Skill at 1800MHz DDR. We can also see at 2250MHz DDR we again get a little bit more performance.
Benchmarks - SiSoft Sandra
SiSoft SandraVersion and / or Patch Used:
Professional Home
Developer Homepage:
http://www.sisoftware.co.uk
Product Homepage:
http://sisoftware.jaggedonline.com/index.php?location=home&a=TTA&lang=en
Buy It Here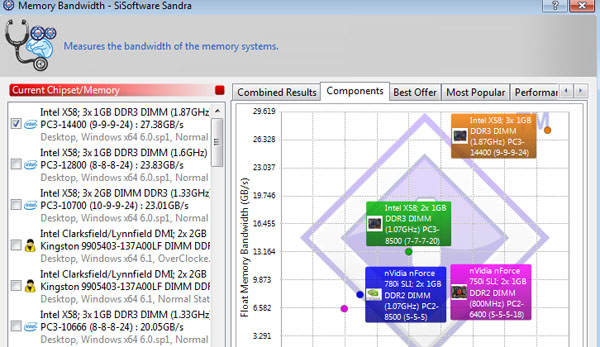 SiSoft Sandra (
S
ystem
AN
alyser,
D
iagnostic and
R
eporting
A
ssistant) is a synthetic Windows benchmark that features different tests used to evaluate different PC subsystems.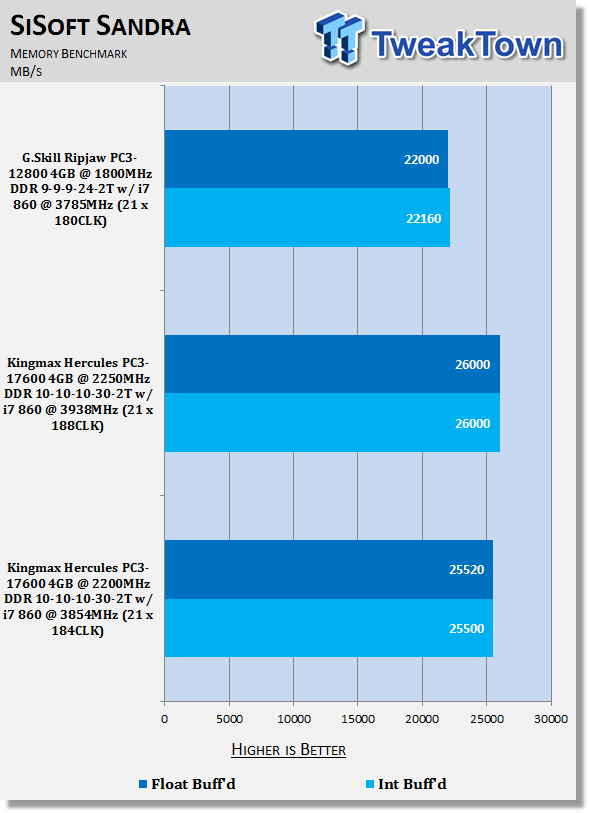 Sandra paints the same picture as Everest and we again see some good performance from the kit here at its stock speed and also when overclocked.
Benchmarks - Super PI
Super PI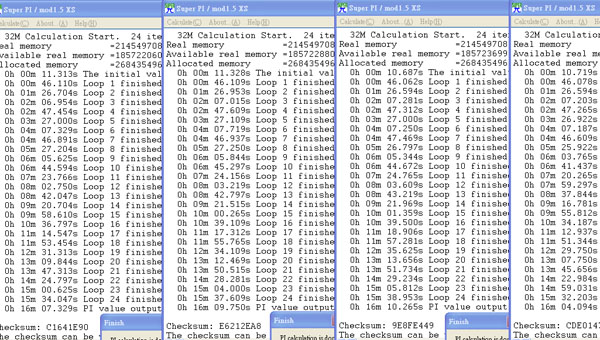 Super PI is a computer program that calculates pi to a specified number of digits after the decimal point - up to a maximum of 32 million. It uses Gauss-Legendre algorithm and is a Windows port of the program used by Yasumasa Kanada in 1995 to compute Pi to 232 digits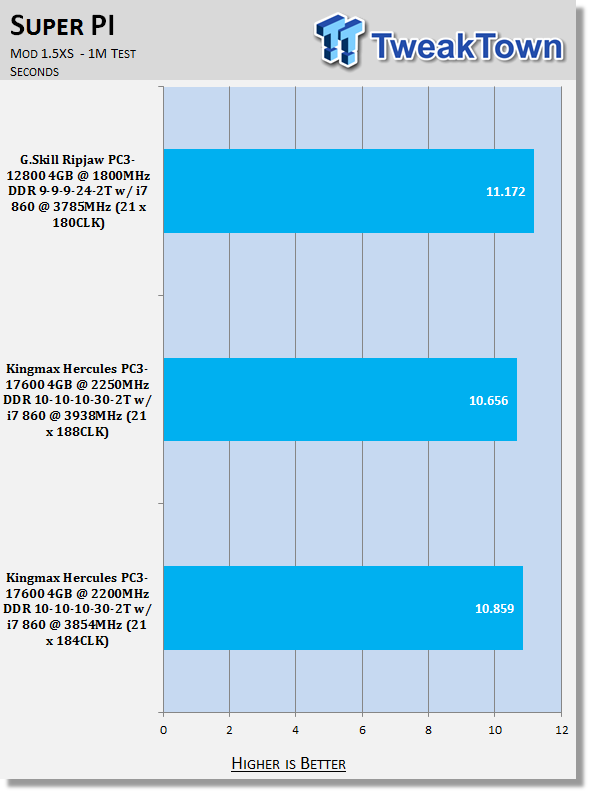 We can see as we move higher in memory speed and CPU speed our Super PI number becomes better.
Benchmarks - 3DMark Vantage
3DMark VantageVersion and / or Patch Used:
1.0.1
Developer Homepage:
http://www.futuremark.com
Product Homepage:
http://www.futuremark.com/products/3dmarkvantage/
Buy It Here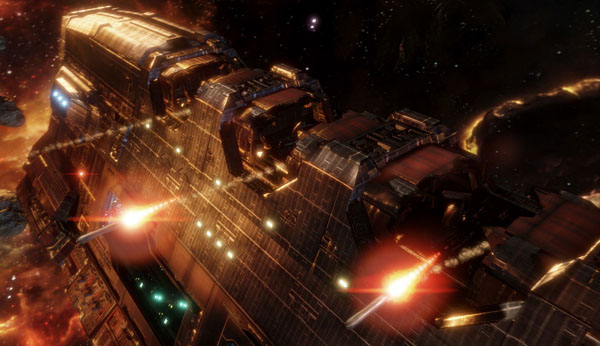 3DMark Vantage is the new industry standard PC gaming performance benchmark from Futuremark, newly designed for Windows Vista and DirectX10. It includes two new graphics tests, two new CPU tests, several new feature tests, and support for the latest hardware.
3DMark Vantage is based on a completely new rendering engine, developed specifically to take full advantage of DirectX10, the new graphics API from Microsoft.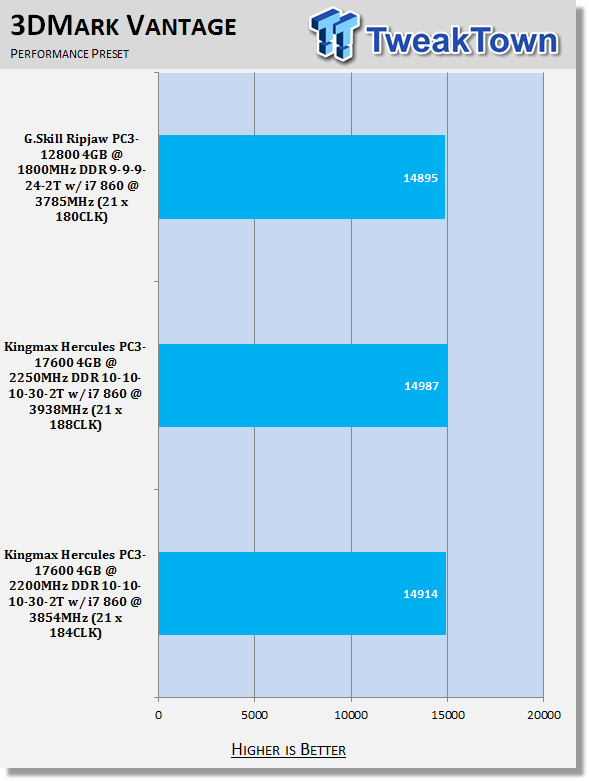 Under Vantage you can see across the board there's very little difference between all the setups.
Total Performance Rating (TPR) & Final Thoughts
Total Performance Rating
The TPR graph is a combination of all our benchmarks in which we test our memory modules with.
The TPR number is a combination of:-
PCMark Vantage, Everest Ultimate, SiSoft Sandra, and 3DMark Vantage.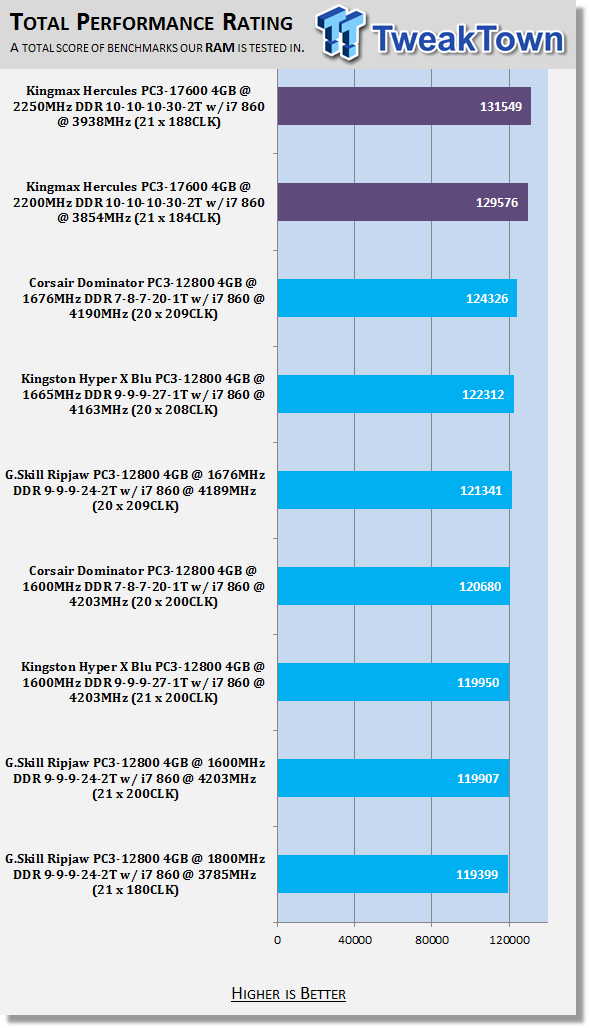 Overall it comes as no surprise that the Kingmax kit takes out the top spot for our TPR graphs on the upgraded testbed, as it's the highest MHz kit we've tested on it since we've made the changes.
Final Thoughts
The Kingmax kit is no doubt a capable one, but I'm a little skeptical about this whole NTDT marketing talk. It's great that Kingmax have been able to achieve these speeds without the need for a traditional heatsink, but having a heatsink really does add a higher quality feel to the module.
Next to other kits, even lower clocked ones that carry with it a heatsink, the Kingmax one just doesn't have the flair, nor the presence. Sure, most people will let the performance do the talking and while it's strong in that regard, at a stage where we've seen companies offer 2400MHz DDR kits Kingmax are giving us only 2200MHz DDR with a very relaxed CL10 setup.
While overall the Kingmax Hercules kit we're looking at today is a nice one, it doesn't really stand out; not for the right reasons anyway. The term "Invisible Heatsink" seems nothing more than code for "Heatsink Free."
The kit doesn't have a problem performing, but we first saw 2200MHz DDR kits in December of 2009 and they came with a 7-10-10-28 setup and managed to achieve 2282MHz DDR with the same timings. The people who want to buy high speed memory want to see more speed or lower latencies; neither of them seem to be delivered here.
This is a nice kit of memory and the ability to achieve 2200MHz DDR without a heatsink is nice, but the heatsink isn't something we want to get rid of. It looks cool and makes us feel like we're getting a bit more for our money.
PRICING: You can find products similar to this one for sale below.

United States: Find other tech and computer products like this over at Amazon.com

United Kingdom: Find other tech and computer products like this over at Amazon.co.uk

Australia: Find other tech and computer products like this over at Amazon.com.au

Canada: Find other tech and computer products like this over at Amazon.ca

Deutschland: Finde andere Technik- und Computerprodukte wie dieses auf Amazon.de