Corsair Nova Series V128 128GB Solid State Disk
SandForce and Marvell may be taking the headlines but Indilinx is where the true value is these days. Corsair has a low cost SSD on offer dubbed Nova.
Published Fri, Mar 26 2010 1:16 AM CDT
|
Updated Tue, Nov 3 2020 7:02 PM CST
Introduction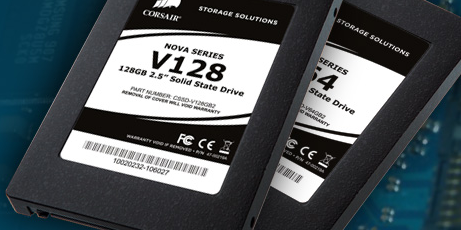 Since CES Marvell and SandForce has been making big headlines and getting a lot of attention, but their controller introductions have brought an old favorite into a new price category. For the last year we have been singing the praises of the Indilinx Barefoot controller for its perfect mix of high performance, data capacity and low cost. Even though it is highly debatable, when given the choice between an Intel X25-M 80GB and an Indilinx Barefoot 128GB drive, we would choose the Barefoot each time.
Indilinx has made things easy for SSD manufacturers to produce lower cost drives. Their latest version of the Barefoot called ECO was introduced several months ago and we first took a look at one when we
reviewed the G.Skill Falcon II
. The ECO allows manufacturers to use NAND flash from the joint Intel Micron group that costs less than most other flash on the market. The lower cost trickles down to the consumer and we are already able to buy
the 128GB Corsair Nova for 339.99 USD
. This is quite a bit less than other standard Barefoot drives that still sell for 400+ USD.
Today we are taking a look at the Corsair Nova Series 128GB Indilinx Barefoot ECO controlled solid state drive. We will be testing the drive against several other SSDs including the new Corsair Force, Crucial C300 and many other Indilinx Barefoot drives. First, let's have a look at the specifications.
Specifications, Pricing and Availability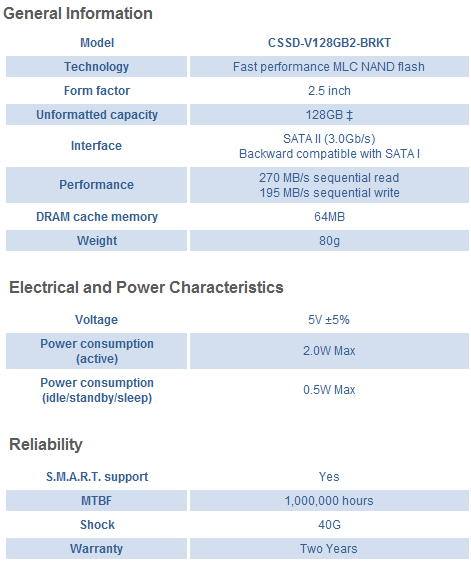 The official name for the Corsair Nova 128GB drive is CSSD-V128GB2-BRKT. The ECO controller is just like the standard Barefoot except that it allows for more flexibility with the flash memory used. The Nova has a 64 MB cache module and also the SATA II interface.
Corsair claims a read speed of 270MB/s and a write speed of 195MB/s. As per the normal these days, the Nova supports TRIM in Windows 7 and unlike other manufacturers low cost drives based on the JMicron controller, supports NCQ.
Corsair is issuing a 2 year warranty with the Nova Series, but the drive should last you much longer than that. Modern MLC flash is capable of many more write commands than drives a few years ago, but I have yet to hear about a failure due to even the most extreme usage.
As mentioned previously, the Nova brings with it a new price for this class of drive. With the Force taking up the 400+ USD category, the Indilinx Barefoot drives have fallen to the 330-380 range; good news for those looking to get their first taste of solid state goodness. Newegg currently has
the 128GB Corsair Nova for 339.99 USD
and the
64GB drive for 189.99 USD
. At these prices it will be difficult for the enthusiast community to hold out on SSD technology, but we will let you decide on that one for yourself.
Let's take a look at everything that is included with the Corsair Nova package and then get to the benchmarks.
The Packaging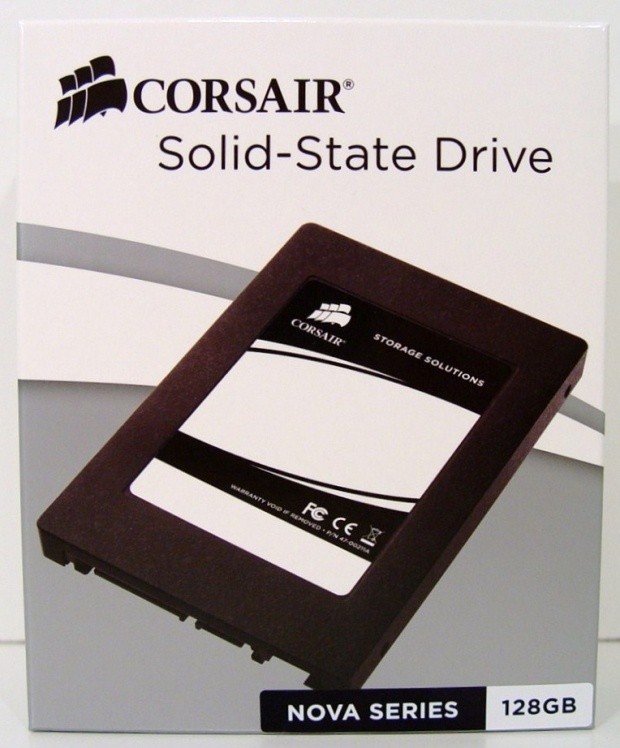 We have seen this package before, but the labels are not stickers. Corsair is printing the boxes. Here we see the Nova Series and capacity information at the bottom right.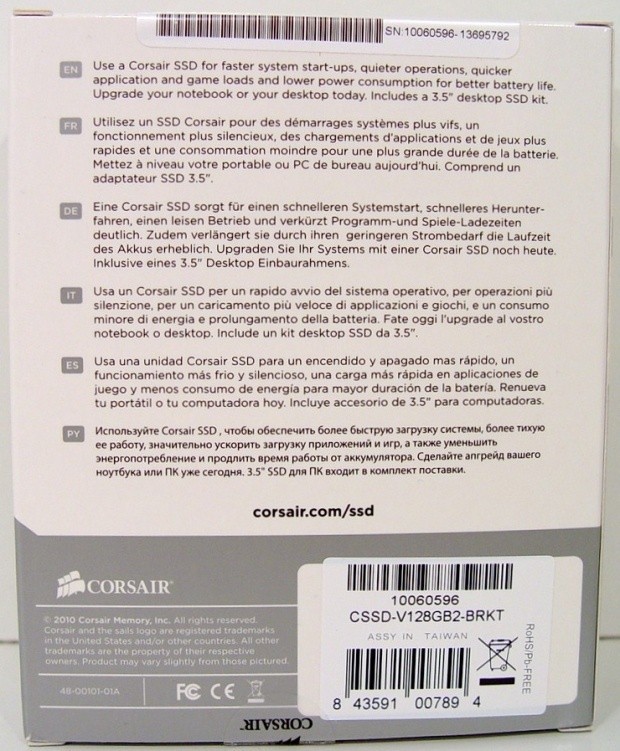 The back of the package has some general information about the drive and the included 3.5" adapter plate for use in a desktop. At the bottom right Corsair has the actual model number located on the UPC sticker.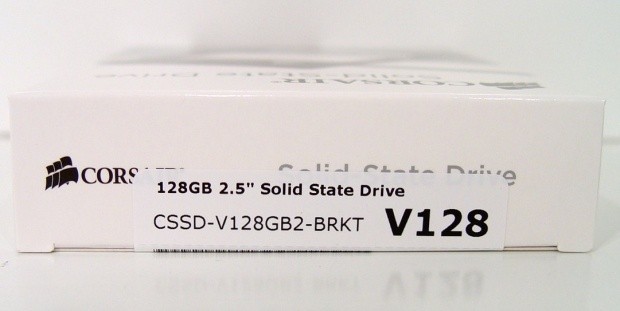 The top of the box also has the model number and capacity listed. The drives are actually designated with a V; I would assume at some point these were going to be the Value Series, but Corsair found Nova more appealing.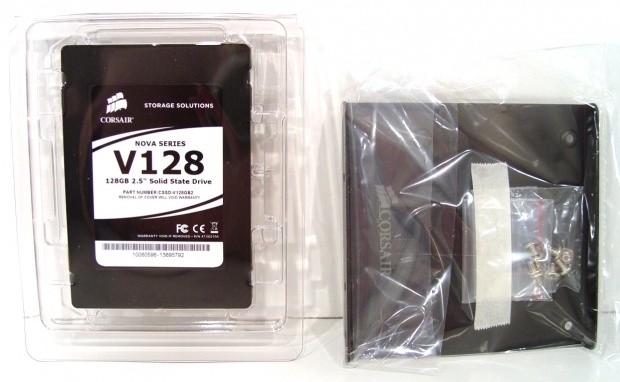 The inside of the package is divided into two sections. The first side is where the drive rests inside of its plastic protective container. The other side holds the 3.5" adapter so you can install the drive in your desktop with ease.
The Corsair Nova 128GB SSD
The Corsair Nova 128GB SSD SSD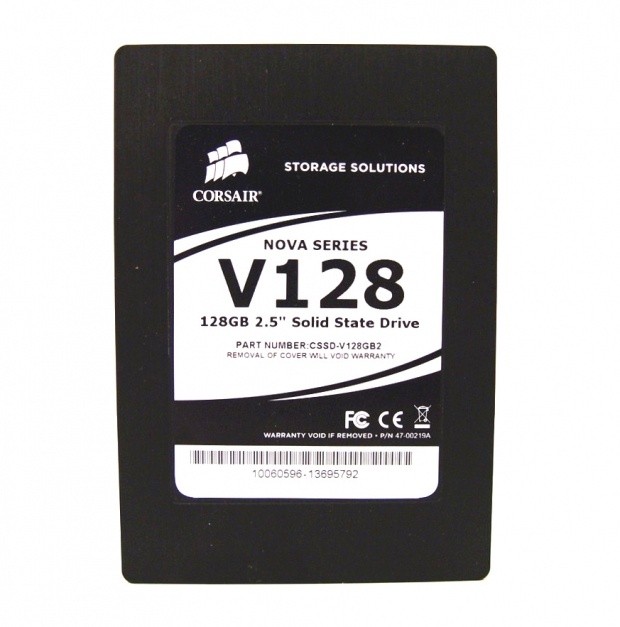 Here we get our first look at the Corsair Nova. All of the information is located on the top sticker.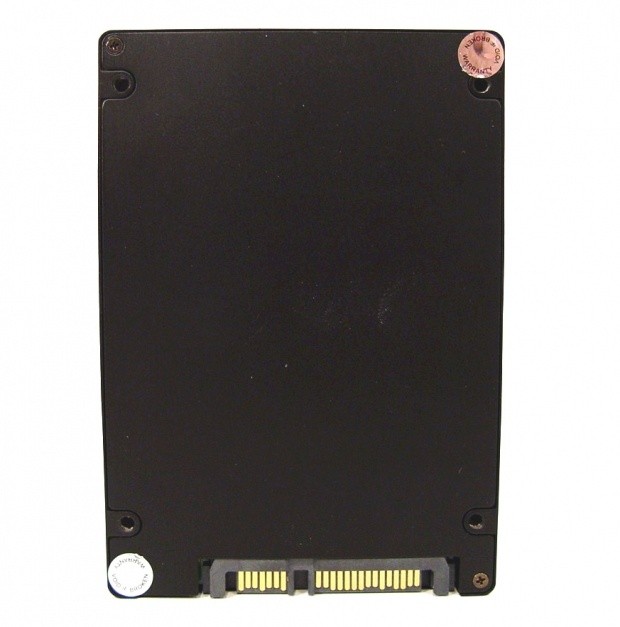 The back of the drive has the standard mounting locations that are used in many notebooks today.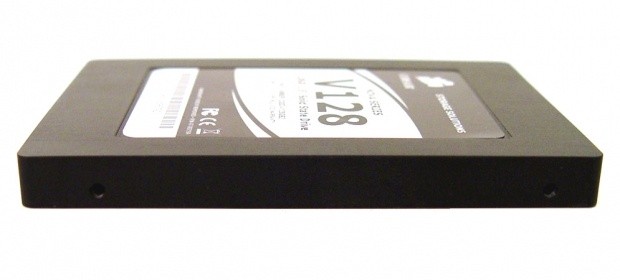 The side of the drive has the standard mounting locations for use in desktop adapters.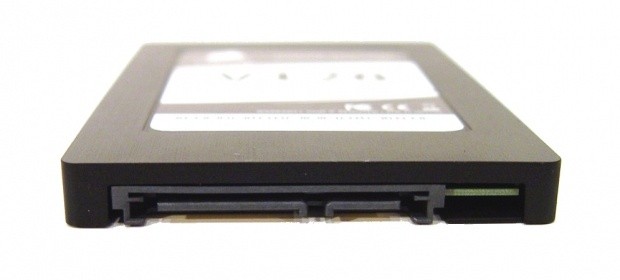 On the back we see standard data and power connectors. The Nova does not have any jumpers or USB connectors here.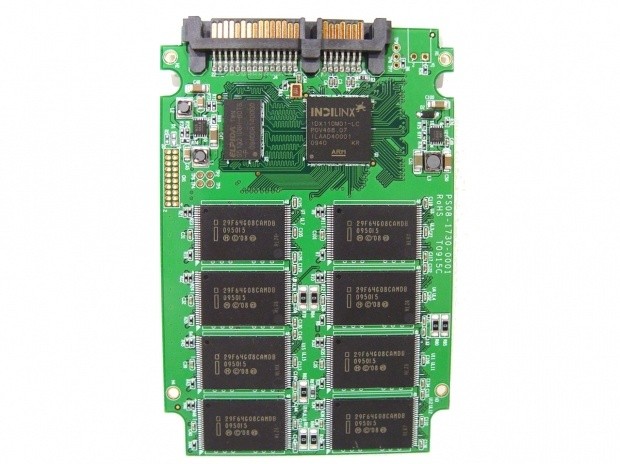 On the inside we see the Indilinx Barefoot with the M01-LC code that tells us it is the new ECO model. 16 Intel flash chips are used as well as the Elpida 64MB cache module.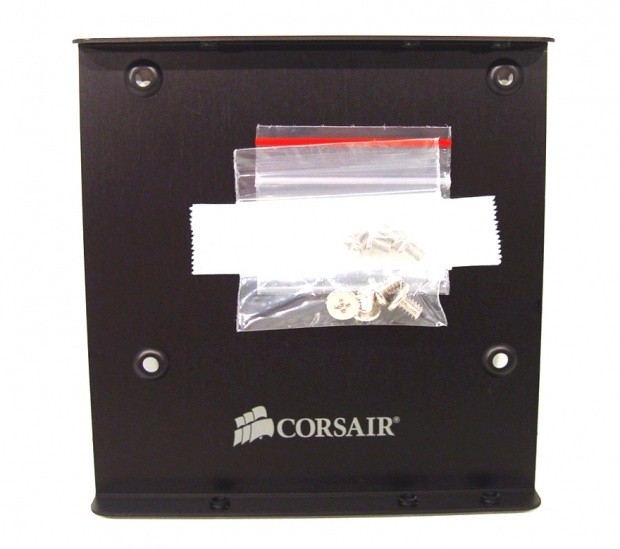 The desktop 3.5" drive adapter also comes with the screws you will need to install the drive and adapter in your desktop.
Test System Setup and ATTO Baseline Performance
Test System
Motherboard
: ASUS P6T7 WS SuperComputer (Supplied by
ASUS
)
Processors
: Intel 975 EE (Supplied by
AVADirect
)
Memory
: Corsair Dominator 1600 MHz Triple Channel Kit
Graphics Card
: Leadtek Quadro FX1700 (Supplied by
Leadtek
)
Enclosure
: Lian Li V2000
Cooling
: Noctua NH-U12P SE2 (Supplied by
Noctua
)
SAS Controller
: LSI MegaRAID SAS 9260-8i (Supplied by
LSI
)
Operating System
: Microsoft Windows 7 Ultimate X64
You can read more about TweakTown's Storage Product Testing Workstation and the procedures followed to test products
in this article
.
Today we are looking at the Corsair Nova 128GB SSD. The Nova uses older technology when compared to the latest and greatest from SandForce and Marvell, but tried and true goes a long way, especially when the price is this good. Let's see how the Nova compares to previous Indilinx Barefoot drives and the new next-gen products on the scene.
ATTO Baseline Performance
Version and / or Patch Used:
2.34
ATTO is used by many disk manufacturers to determine the read and write speeds that will be presented to customers.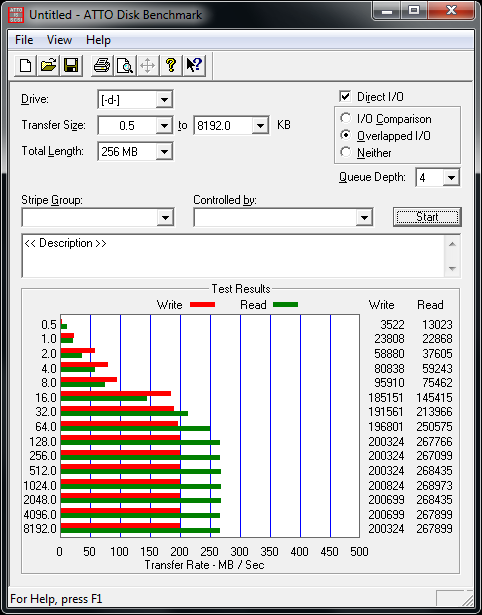 From the first test we are off to a good start. Here we see that the Corsair Nova performs better than what Corsair claims in their promotional material.
Benchmarks - HD Tune Pro
HD Tune ProVersion and / or Patch Used:
4.00
Developer Homepage:
http://www.efdsoftware.com
Product Homepage:
http://www.hdtune.com
HD Tune is a Hard Disk utility which has the following functions:
- Benchmark: measures the performance
- Info: shows detailed information
- Health: checks the health status by using SMART
- Error Scan: scans the surface for errors
- Temperature display
HD Tune Pro gives us accurate read, write and access time results and for the last couple of years has been gaining popularity amongst reviewers. It is now considered a must have application for storage device testing.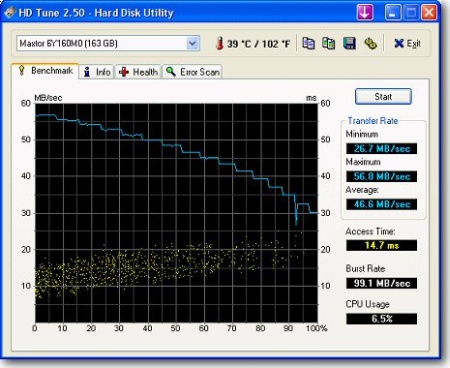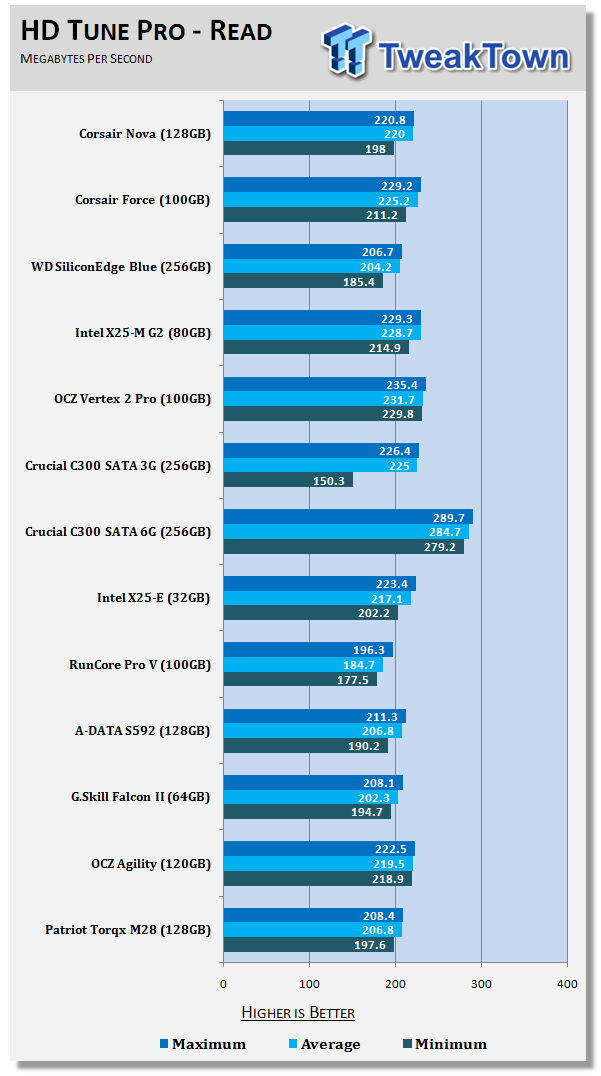 Here we see very respectable read numbers from across the drive. There isn't much room left on the SATA II interface to squeeze much more out of the Barefoot controller.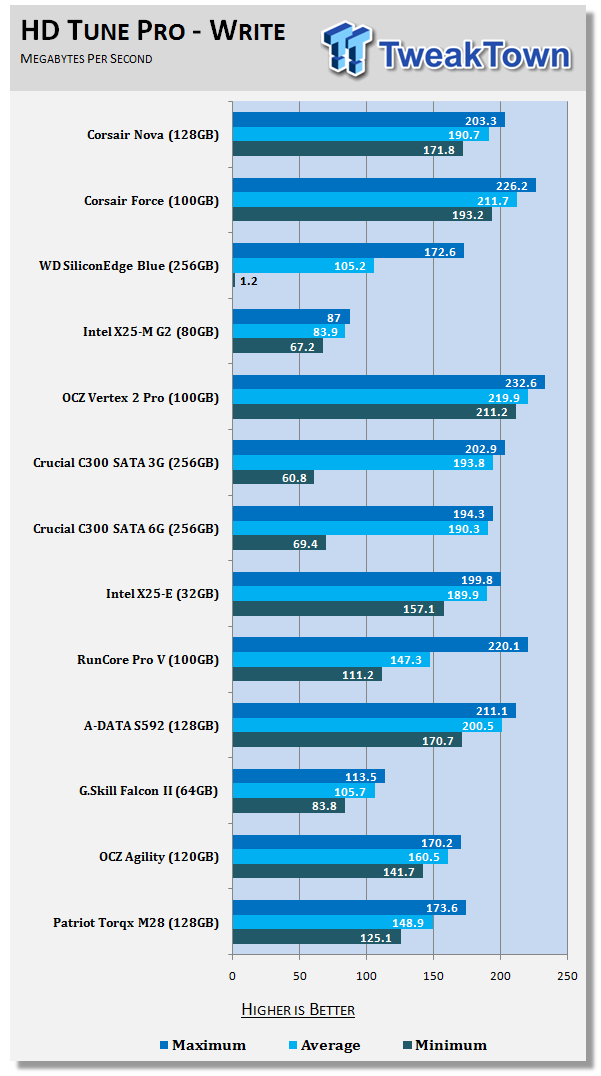 The write speed tests show that the Indilinx Barefoot controller is starting to show its age, but it isn't too far off in raw transfer performance from the new flagship SandForce and Marvell controllers when running on SATA II.
Benchmarks - Everest Random Access Time
Everest Random Access TimeVersion and / or Patch Used:
4.60
Developer Homepage:
http://www.lavalys.com
Product Homepage:
http://www.lavalys.com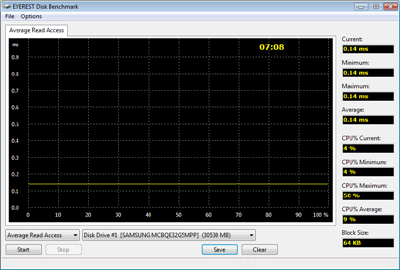 Everest Ultimate and Corporate Edition offer several different benchmarks for testing and optimizing your system or network. The Random Access test is one of very few if not only that will measure hard drives random access times in hundredths of milliseconds as oppose to tens of milliseconds.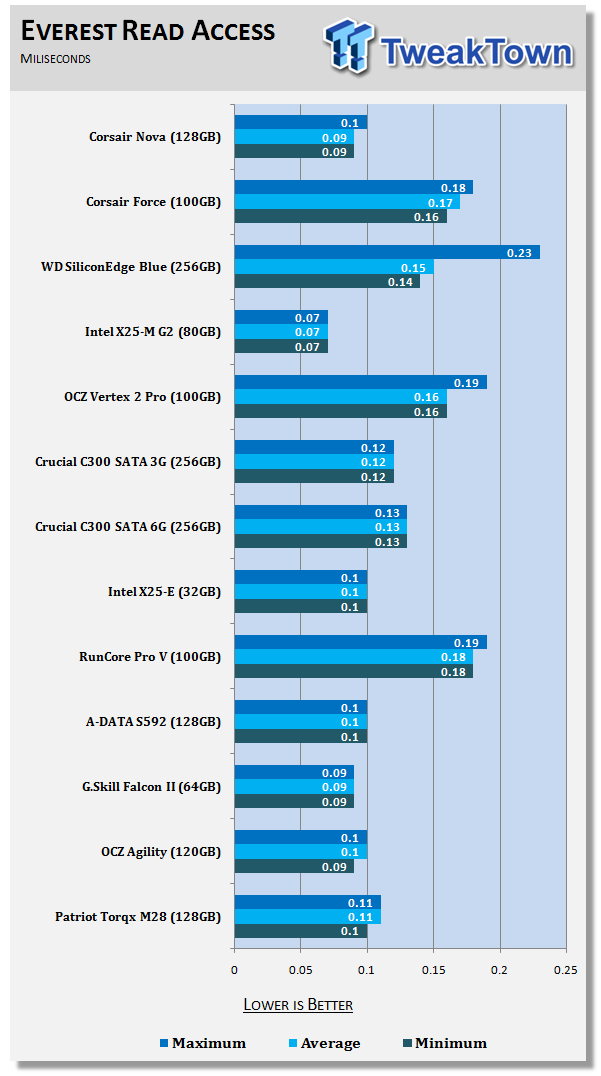 Indilinx has always had a very low access time, even lower than the new SandForce and Marvell controllers. Here we see typical Barefoot read access times.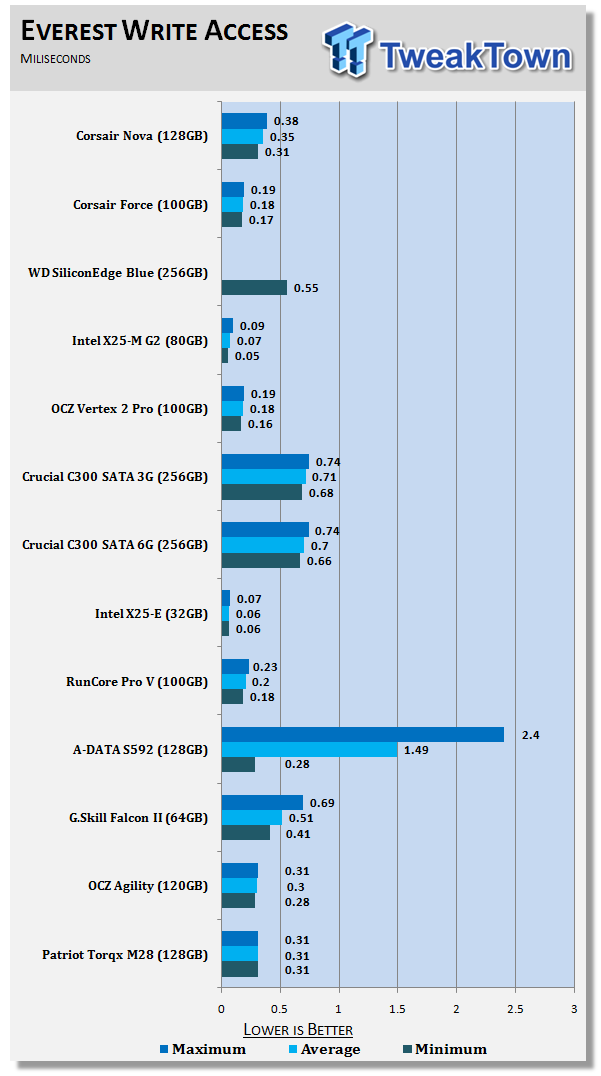 Here we see that Indilinx has managed to get their ECO controller's write access time tamed again. When we first looked at the ECO in the Falcon II, the write access times were getting a little high for our liking, but we see now that the latest firmware has reeled that back into normal Barefoot levels.
Benchmarks - Crystal Disk Mark
CrystalDiskMarkVersion and / or Patch Used:
3.0 Technical Preview
Developer Homepage:
http://crystalmark.info
Product Homepage:
http://crystalmark.info/software/CrystalDiskMark/index-e.html
Download here:
http://crystaldew.info/category/software/crystaldiskmark
CrystalDiskMark is a disk benchmark software.
Key Features:-
* Sequential reads/writes
* Random 4KB/512KB reads/writes
* Text copy
* Change dialog design
* internationalization (i18n)
Note:
Crystal Disk Mark 3.0 is not available to the public yet, but the Technical Preview does allow us to test 4K performance at queue depths of 4 and 32 in addition to 1. The current release Crystal Disk Mark only shows us QD 1.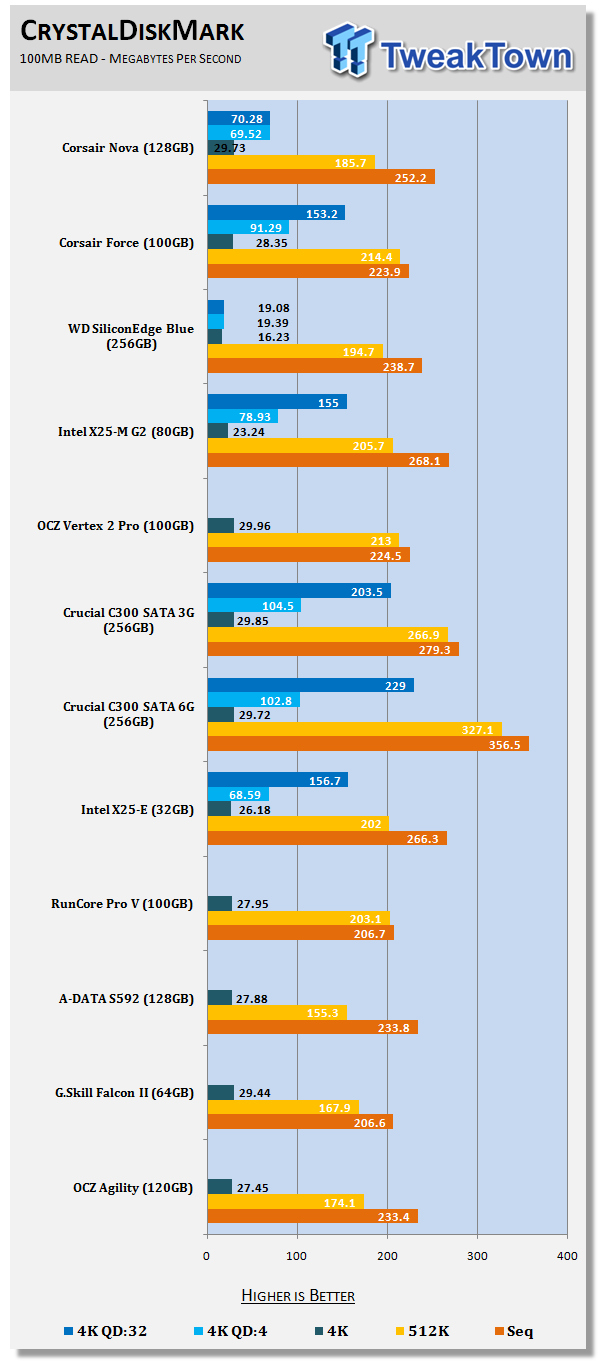 Crystal Disk Mark shows where the new "next gen" drives are targeting their performance area, in the 4K and 4K high queue depth areas. Still, the Corsair Nova puts up numbers that are far ahead of even the fastest 15K RPM platter and JMicron SSD drives like the Western Digital SiliconEdge Blue.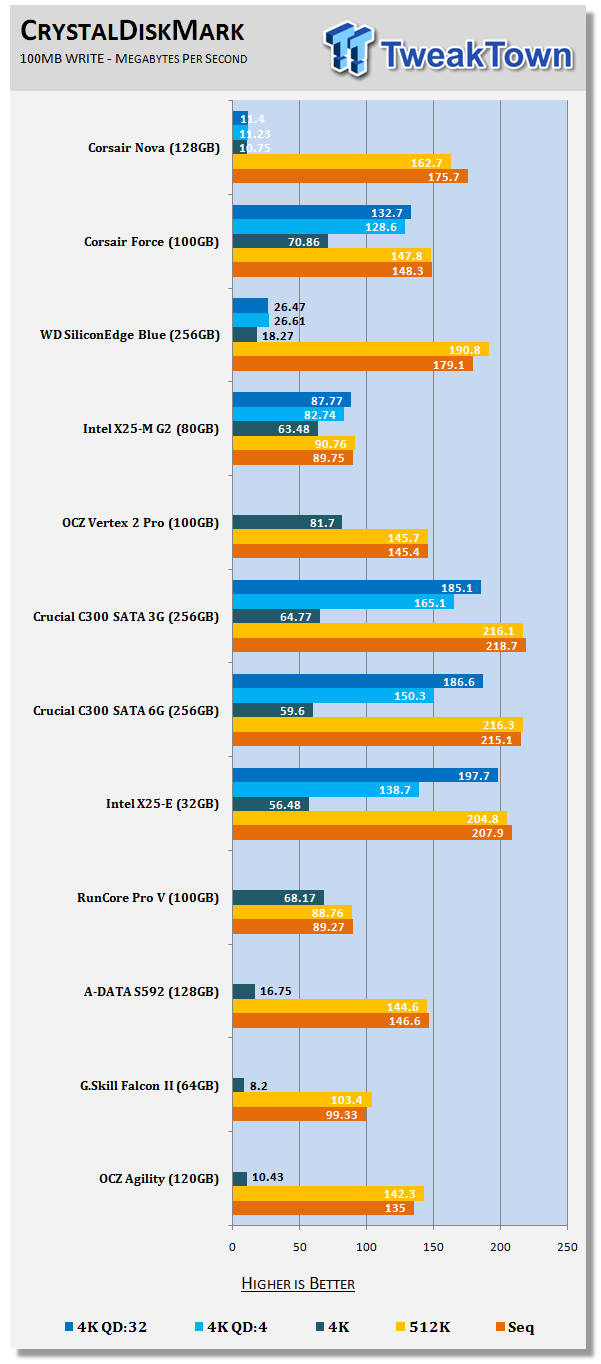 When testing the previous Indilinx Barefoot drives, we were not using the latest TP1 edition of CDM that has the advanced 4K queue depth tests. Here we see that the Corsair Nova doesn't scale as well as the next gen SandForce and Marvell controlled drives, but it does hold solid performance in these areas.
Benchmarks - PCMark Vantage Hard Disk Tests
PCMark Vantage - Hard Disk TestsVersion and / or Patch Used:
1.0.0
Developer Homepage:
http://www.futuremark.com
Product Homepage:
http://www.futuremark.com/benchmarks/pcmark-vantage/
Buy It Here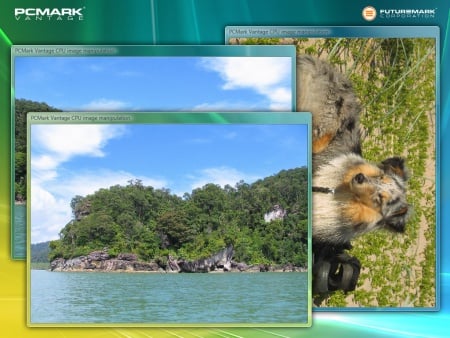 PCMark Vantage is the first objective hardware performance benchmark for PCs running 32 and 64 bit versions of Microsoft Windows Vista. PCMark Vantage is perfectly suited for benchmarking any type of Microsoft Windows Vista PC from multimedia home entertainment systems and laptops to dedicated workstations and high-end gaming rigs. Regardless of whether the benchmarker is an artist or an IT Professional, PCMark Vantage shows the user where their system soars or falls flat, and how to get the most performance possible out of their hardware. PCMark Vantage is easy enough for even the most casual enthusiast to use yet supports in-depth, professional industry grade testing.
FutureMark has developed a good set of hard disk tests for their PCMark Vantage Suite. These tests are based on real world applications that many of us use daily.

HDD1 - Windows Defender
HDD2 - Gaming
HDD3 - Windows Photo Gallery
HDD4 - Vista Startup
HDD5 - Windows Movie Maker
HDD6 - Windows Media Center
HDD7 - Windows Media Player
HDD8 - Application Loading
Windows users can count on Vantage to show them how a drive will perform in normal day to day usage scenarios. Here we see very respectable numbers coming from the Nova. Over the last year Indilinx was able to pull more performance out of their controllers with each new firmware release. If compared to a standard 2.5 inch platter drive designed for notebooks, the numbers would hardly even register on the charts since SSDs perform so much better in Windows tests.
Benchmarks - AS SSD
AS SSD BenchmarkVersion and / or Patch Used:
1.2.3577.40358
Developer Homepage:
Alex Intelligent Software
Product Homepage:
Alex Intelligent Software
Download here:
http://www.alex-is.de/PHP/fusion/downloads.php?cat_id=4&download_id=9
AS determines the performance of Solid State Drives (SSD). The tool contains four synthetic as well as three practice tests. The synthetic tests are to determine the sequential and random read and write performance of the SSD. These tests are carried out without the use of the operating system caches.
In all synthetic tests the test file size is 1GB. AS can also determine the access time of the SSD, the access of which the drive is determined to read through the entire capacity of the SSD (Full Stroke). The write access test is only to be met with a 1 GB big test file. At the end of the tests three values for the read and write as well as the overall performance will be issued. In addition to the calculated values which are shown in MB/s, they are also represented in IO per seconds (IOPS).
Note:
AS SSD is a great benchmark for many tests, but since Crystal Disk Mark covers a broader range of 4K tests and HD Tune Pro covering sequential speeds, we will only use the Copy Benchmark from AS SSD.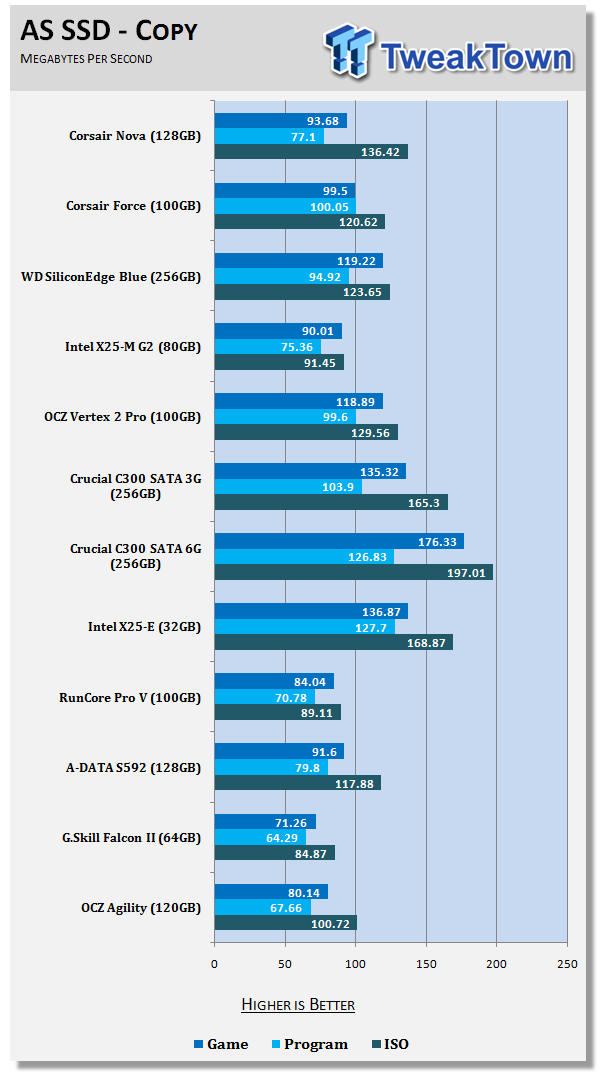 The copy and paste performance of the Corsair Nova is very high when transferring the ISO, one large file at a time. In this test it is actually even faster than the Corsair Force that uses the SandForce SF-1200 consumer controller. Once we start getting into the smaller file sizes the 4K performance of the Force takes over and is able to read and write those files a little more efficiently.
Benchmarks - Passmark
Passmark Advanced Multi-User TestsVersion and / or Patch Used:
6.1
Developer Homepage:
http://www.passmark.com
Test Homepage:
http://www.passmark.com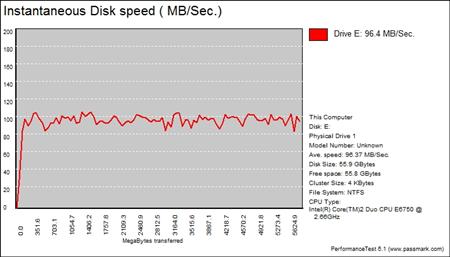 Many users complain that I/O Meter is too complicated of a benchmark to replicate results so my quest to find an alternative was started. Passmark has added several multi-user tests that measure a hard drives ability to operate in a multi-user environment.

The tests use different settings to mimic basic multi-user operations as they would play out on your server. Variances is read / write percentage as well as random / sequential reads are common in certain applications, Web Servers read nearly 100% of the time while Database Servers write a small amount of data.
The Workstation test is the only single user environment and will be similar to how you use your system at home.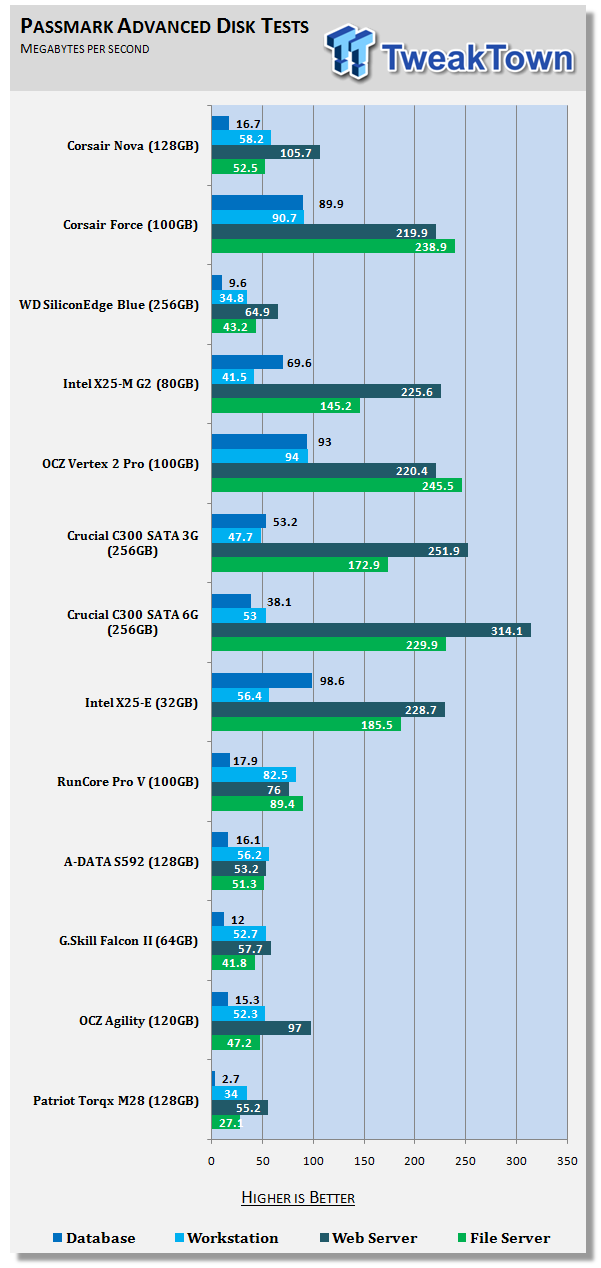 The server tests show that Indilinx has managed to pull even more performance out of the newest firmware revision. Here we see the Corsair Nova falling behind the newer drives in these tests, but is still able to run circles around platter drives, even those designed for such tasks.
Final Thoughts
We have already known that the Indilinx Barefoot controller is where the value, performance and capacity can be found at a great price and now we are starting to see these products coming in at an even better value. At less than 350 USD for a 128GB drive I still feel this is true and even more so with the new price adjustment. This is not Corsair's first run with an Indilinx product either; just last year Corsair launched their Extreme Series of drives that used an earlier revision of the controller. With the Force Series taking over the flagship status it wouldn't make sense for Corsair to keep the same Extreme name plate for their Indilinx product and technically the Nova is different since it uses the new ECO controller. Still, the Nova provides 2009's Extreme performance, but now at a new lower cost.
Looking back at other enthusiast class storage products that fell into the 300 - 350 USD range, I found quite a few. At one point 1TB and 2GB drives were in this range and who could forget all of those Western Digital Raptor products that were launched at 299.99 USD? For many enthusiasts who have been sitting on the bench when it comes to solid state technology, the price per gigabyte has been an issue. With Windows Vista and 7 taking up considerably more room than say, Windows XP, a 32 and 64GB drive really would not due now that we have massive operating systems and games shipping on multiple DVDs. I think 128GB capacity for 300 USD is going to be a number that will make swallowing the SSD pill a little easier.
Most of these users have yet to actually test an SSD; if this sounds like you then it is time to get off the bench and see what all the fuss is about. It is one thing for me or your buddies to talk about boot times, megabytes per second or tell you that an SSD upgrade is the most cost efficient way to improve your computers performance. But this is something that you really have to see for yourself. It is not like I can go house to house and show you. Maybe if you take your current machine and install Windows on an old Maxtor 200GB HDD and try to use it for a week you will know, because that is what it is like going from an Indilinx SSD back to a Western Digital VelociRaptor.
Yes, I guess I am ringing the SSD bells here for all to hear, but tonight I had to work on a friends computer that I built for him just one year ago. He is a professional motorcycle racer and spared no expense to put together a flight simulator system, but he just couldn't justify the money for an array of SSDs for the amount of storage he needed for Microsoft Flight Simulator. Even with a VelociRaptor array the system had me wondering just how the heck anyone could use this machine without pulling hair out. Even with his wife's Facebook viruses removed, the system just didn't perform as well as my three year old notebook with a Barefoot controlled drive in it.
After spending a few minutes on my notebook, guess who is ready to order a few solid state drives? The time just seems to be right for those holding off for a lower cost per GB to get in the action.
PRICING: You can find products similar to this one for sale below.

United States: Find other tech and computer products like this over at Amazon.com

United Kingdom: Find other tech and computer products like this over at Amazon.co.uk

Australia: Find other tech and computer products like this over at Amazon.com.au

Canada: Find other tech and computer products like this over at Amazon.ca

Deutschland: Finde andere Technik- und Computerprodukte wie dieses auf Amazon.de
We openly invite the companies who provide us with review samples / who are mentioned or discussed to express their opinion. If any company representative wishes to respond, we will publish the response here. Please contact us if you wish to respond.