G.Skill Falcon II 64GB 2.5-inch Solid State Disk
G.Skill has just announced a new family of its Falcon series SSDs. Chris has his hands on a sample & takes the time to see where the improvements are.
Published Wed, Nov 25 2009 10:28 PM CST
|
Updated Tue, Nov 3 2020 7:03 PM CST
Introduction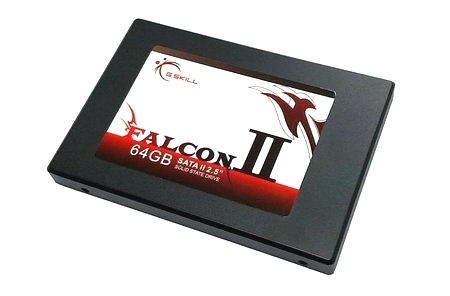 I always get excited when G.Skill announces a new solid state drive. Every SSD we have reviewed from the company was priced aggressively and the cost of ownership was usually around 20 to 30 USD cheaper than similar drives from G.Skill's competitors. G.Skill also has an amazing track record when it comes to releasing the latest solid state technology. The original Falcon was the first Indilinx Barefoot SSD we received in our testing lab and today the Falcon II is the first Barefoot ECO we have received as well.
Even with all of the good things G.Skill has managed to achieve with their solid state line, there was still one issue that we came across. The issue has been availability and if you can't buy the drive then it might as well cost 30 Dollars more than the competition. You can see the catch 22 in what is going on. G.Skill sells a great product that costs less than others; because of this popular e-tailers like Newegg have a problem keeping them in stock. What we would really like to see is G.Skill ramp up production to get the supply of drives in check for everyone who wants the drive with the best cost to performance ratio to be able to get it.
The Falcon II uses Indilinx's newest version of the Barefoot controller called the ECO. The ECO is a mildly reworked controller that allows new memory types to be used in conjunction with the controller, namely new 34nm parts from Intel. Intel and Micron have been cooking up new 34nm NAND Flash memory that is cheaper to manufacture, thus cheaper for companies to implement into their new reworked products. Eventually we should start to see the Falcon II selling for less than the Falcon I thanks to the new 34nm flash.
We have a lot to cover today, so let's move on and take a look at the specifications and pricing.
Specifications, Availability and Pricing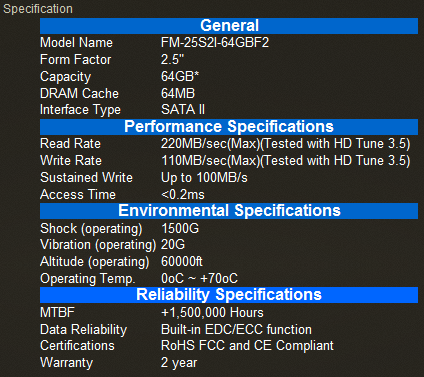 You may notice right from the start that the new ECO based drive has lower read / write specs than the Falcon we looked at a few months ago. This is because the latest firmware from Indilinx, the 1819 is slower than the 1571. 1819 does allow the Falcon II to work in conjunction with Windows 7's TRIM command right out of the box. Falcon 1 owners will generally want to update the firmware of their drives if running Windows 7 and this will also lower the performance, but in the long run firmware 1819 will be more beneficial to the end user since it will restore most of the performance lost due to multi-level cell NAND flash's shortcomings.
Our 64GB Falcon II also has another shortcoming when compared to 128 and 256GB drives. The larger capacity drives offer faster write speeds. In the case of the Falcon II you gain around 40MB/s write speed going with the 128 and 256GB drives. This is common with SSDs and not something that G.Skill has control over, so no fault to G.Skill on this but it is something that we feel the consumer should be aware of when purchasing a solid state drive.
Like the Falcon, we are having trouble finding the Falcon II on e-tail sites. But to be fair, the drive was just announced thirteen days ago. We did manage to find both the Falcon and Falcon II in 64GB from the same online shop, NCIX.com. NICX is Canada's answer to Newegg and they show the Falcon II as being in stock, selling for 209.99 CAD. For comparison, the Falcon 64GB is also available, but for 239.99 CAD, so even though the Falcon II is newer and uses smaller NAND flash that runs cooler, we already see a 30 CAD price difference.
When comparing other Indilinx Barefoot drives at NICX.com we found that they have the Corsair Performance Series drive in 64GB for 209.99 CAD as well, which was quite surprising since we really expected to see the Falcon II already dominating the price per gigabyte category. Since the Falcon II has only been available at NCIX for a few days, we will have to wait and see what happens once the prices level out since most e-tailers tend to raise the costs a percentage for the first few weeks of their arrival.
The Packaging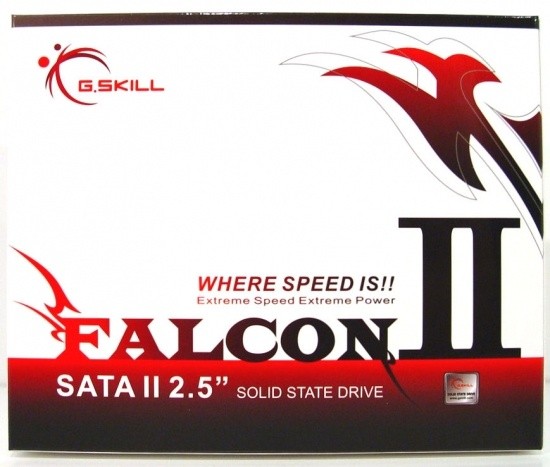 The Falcon II uses the same package shape as the other G.Skill drives we have reviewed and found sufficient for retail shelves. On the front of the box G.Skill shows the Falcon II name clearly, unlike some of the other manufacturers that make you search for a small sticker to get the information.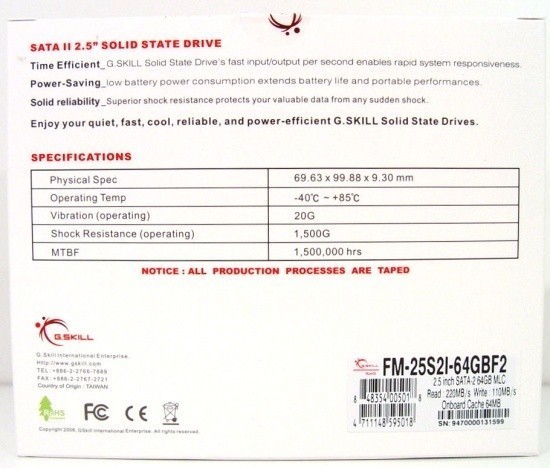 The specifications are all listed on the back of the package and at the bottom right some performance numbers are given. This too is also something we like to see, but so few companies are publishing performance data on their packages.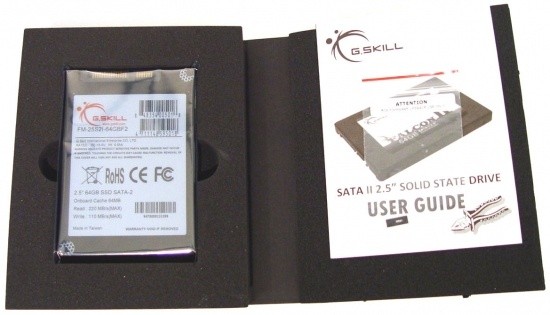 The inner packaging for the Falcon II wraps close cell foam around the drive to protect it during shipping. It seems that G.Skill is pushing all of the right buttons for shipping their products securely.
The G.Skill Falcon II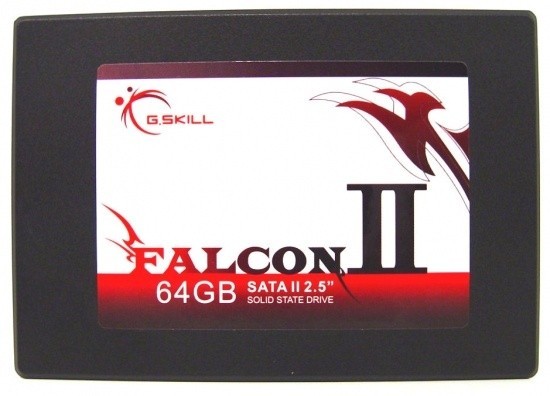 Not much has changed on the outside for the Falcon Series; the Falcon II looks nearly identical to the first Falcon we reviewed months ago.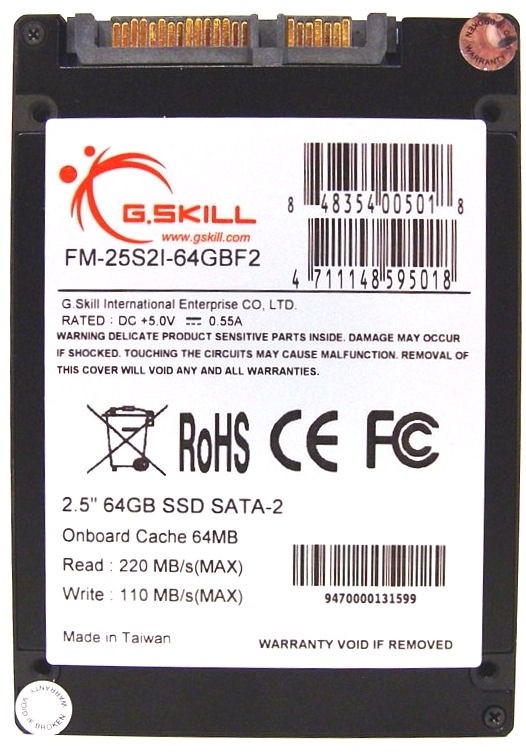 The back of the drive has all of the model and serial number information as well as some performance numbers.

The side of the drive has all of the standard mounting locations that we are accustomed to seeing.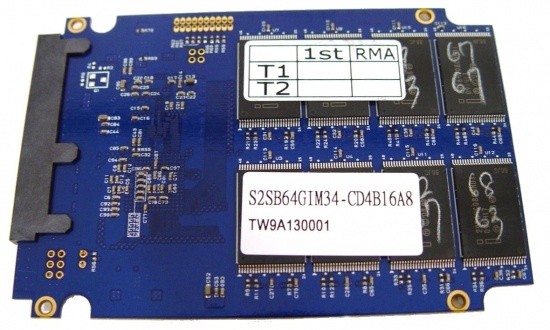 Let's move on to the inside of the drive.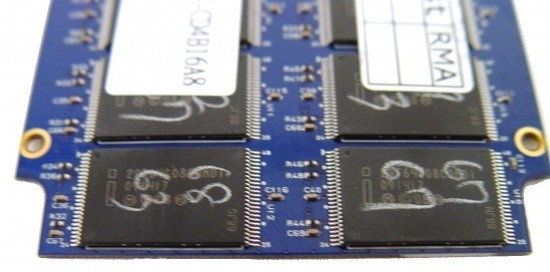 Here we get a good look at the Intel 34nm flash memory used in the Falcon II. The 64GB drive uses only a single stack of flash.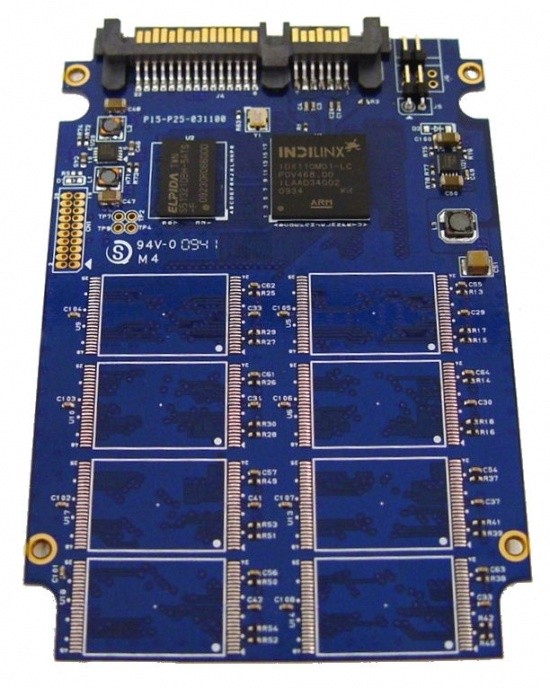 Being only a 64GB drive, only half of the board is used to hold memory. The 128GB drive populates both sides and the 256GB drive populates both sides with double stacked flash.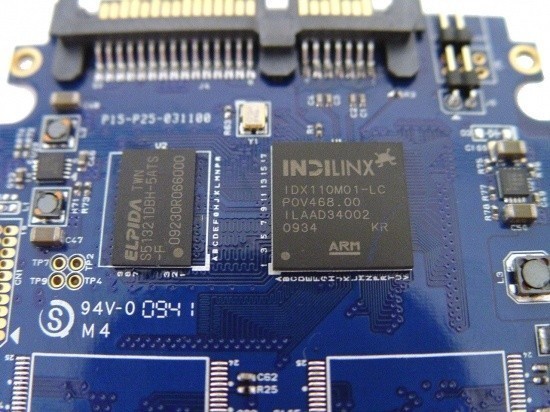 Here we see the new ECO variant of the Barefoot controller with the 64MB cache module. At the top right you can also see the jumper pins that are sometimes used to flash the firmware of the drive.
Test System Setup and ATTO Baseline
Test System
Motherboard
: ASUS P6T7 WS SuperCoputer (Supplied by
ASUS
)
Processors
: Intel 975 EE (Supplied by
AVADirect
)
Memory
: Corsair Dominator 1600 MHz Triple Channel Kit
Graphics Card
: Leadtek Quadro FX1700 (Supplied by
Leadtek
)
Enclosure
: Lian Li V2000
Cooling
: Noctua NH-U12P SE2 (Supplied by
Noctua
)
SAS Controller
: LSI MegaRAID SAS 9260-8i (Supplied by
LSI
)
Operating System
: Microsoft Windows 7 Ultimate X64
You can read more about TweakTown's Storage Product Testing Workstation and the procedures followed to test products
in this article
.
ATTO Baseline Performance
Version and / or Patch Used:
2.34
ATTO is used by many disk manufacturers to determine the read and write speeds that will be presented to customers.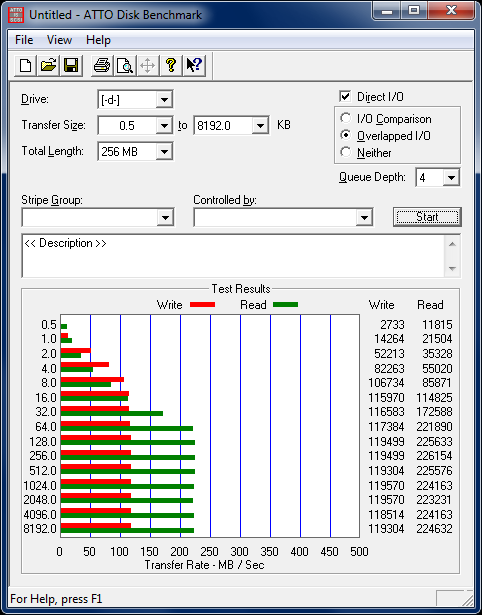 ATTO shows us the full potential of the Falcon II and here we see that the drive performs better than even what G.Skill claimed in their documentation. To be fair, G.Skill used HD Tune 3.5 for their numbers, but most drive manufacturers use ATTO to get their base numbers. Hopefully more manufacturers adapt HD Tune since it gives us performance data that is closer to what we see in real world conditions.
Benchmarks - HD Tune Pro
HD Tune ProVersion and / or Patch Used:
3.00
Developer Homepage:
http://www.efdsoftware.com
Product Homepage:
http://www.hdtune.com
HD Tune is a Hard Disk utility which has the following functions:
- Benchmark: measures the performance
- Info: shows detailed information
- Health: checks the health status by using SMART
- Error Scan: scans the surface for errors
- Temperature display
HD Tune Pro gives us accurate read, write and access time results and for the last couple of years has been gaining popularity amongst reviewers. It is now considered a must have application for storage device testing.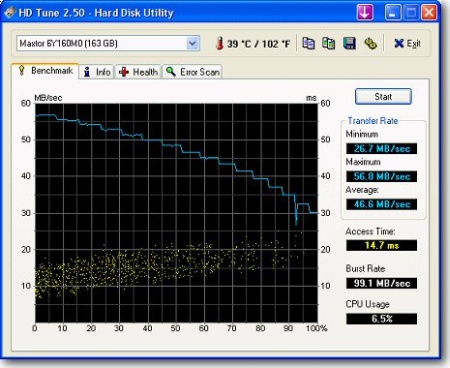 Read Tests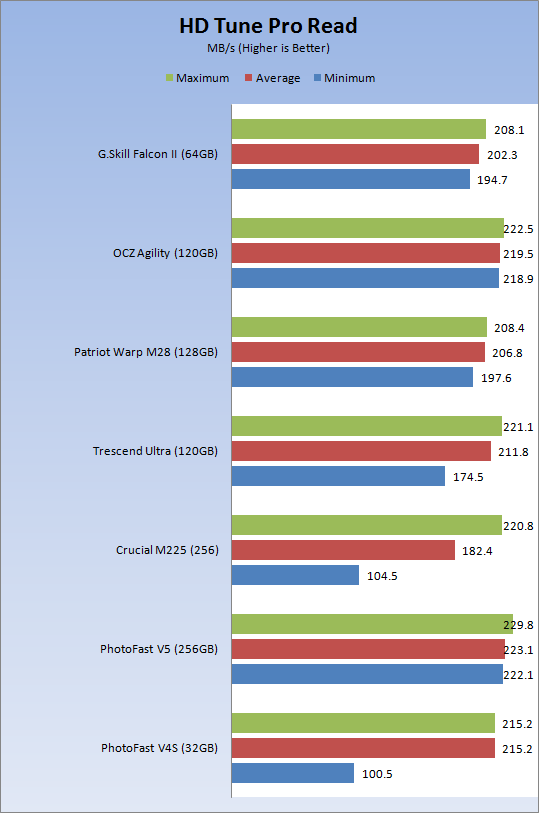 Here we see the HD Tune performance numbers and how the 64GB Falcon II compares to other manufacturers drives. Here we can see how the new firmware affects the Falcon II when compared to the OCZ Agility. The amount of flash, 64GB of the Falcon II also comes into play here.
Write Tests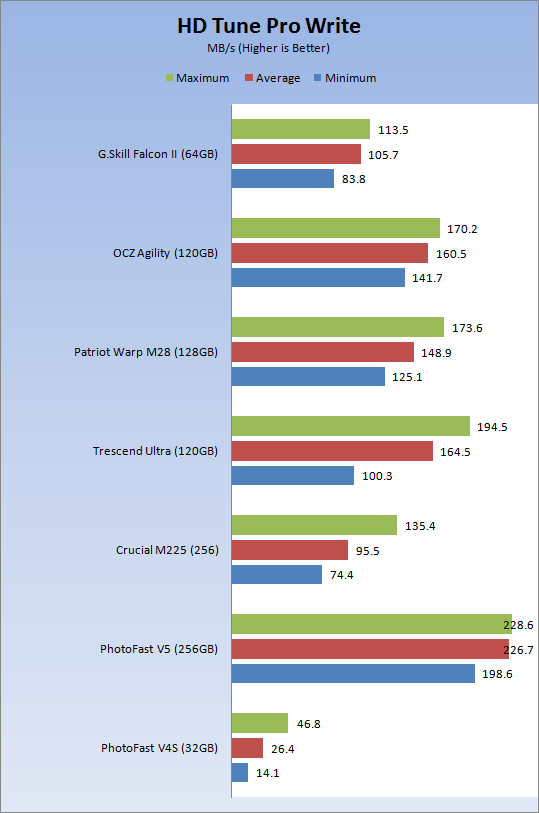 The 64GB Falcon II shows a larger deficit in write performance due to the size of the drive in the HD Tune write test. Still, synthetic numbers mean little when inside of a Windows environment. Let's move along.
Benchmarks - Everest Random Access Time
Everest Random Access TimeVersion and / or Patch Used:
4.60
Developer Homepage:
http://www.lavalys.com
Product Homepage:
http://www.lavalys.com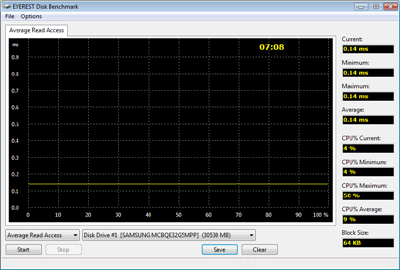 Everest Ultimate and Corporate Edition offer several different benchmarks for testing and optimizing your system or network. The Random Access test is one of very few if not only that will measure hard drives random access times in hundredths of millisECOnds as oppose to tens of millisECOnds.
Read Tests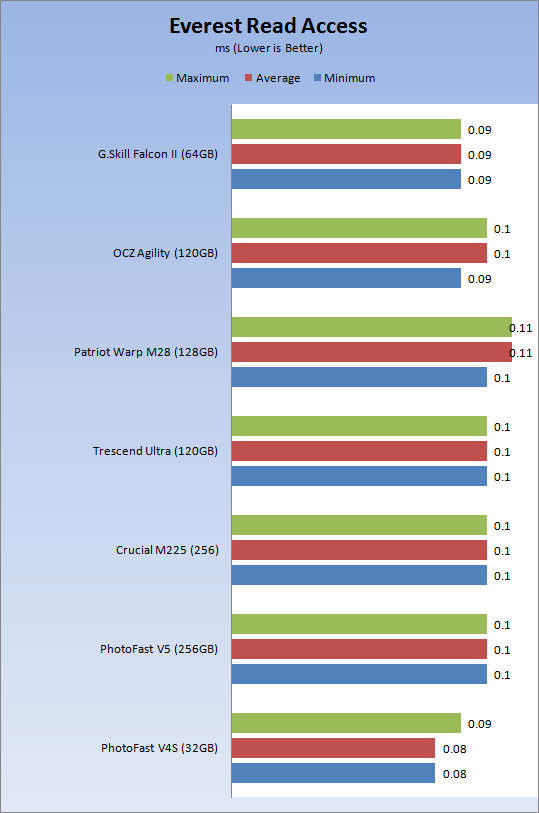 The read access times seem to be a little quicker with the latest Barefoot ECO. This may be a result of the new controller, but I would suspect it has more to do with the firmware.
Write Tests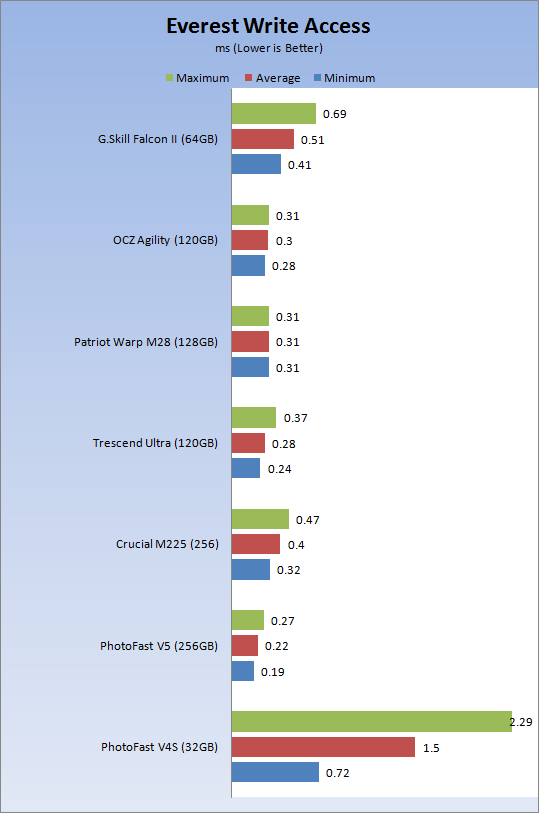 The write access times have done the opposite. Here we see the write access time increasing by a small margin compared to the OCZ Agility.
Let's see how all of these synthetic benchmarks relate to real world applications.
Benchmarks - PCMark Vantage Hard Disk Tests
PCMark Vantage - Hard Disk TestsVersion and / or Patch Used:
1.0.0
Developer Homepage:
http://www.futuremark.com
Product Homepage:
http://www.futuremark.com/benchmarks/pcmark-vantage/
Buy It Here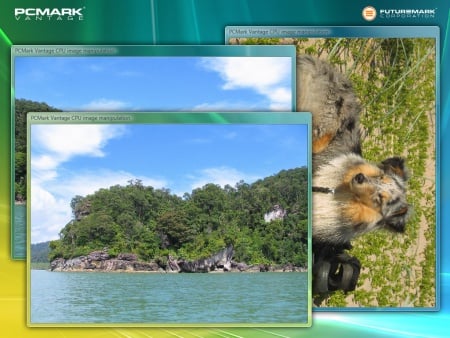 PCMark Vantage is the first objective hardware performance benchmark for PCs running 32 and 64 bit versions of Microsoft Windows Vista. PCMark Vantage is perfectly suited for benchmarking any type of Microsoft Windows Vista PC from multimedia home entertainment systems and laptops to dedicated workstations and high-end gaming rigs. Regardless of whether the benchmarker is an artist or an IT Professional, PCMark Vantage shows the user where their system soars or falls flat, and how to get the most performance possible out of their hardware. PCMark Vantage is easy enough for even the most casual enthusiast to use yet supports in-depth, professional industry grade testing.
FutureMark has developed a good set of hard disk tests for their PCMark Vantage Suite. These tests are based on real world applications that many of us use daily.

HDD1 - Windows Defender
HDD2 - Gaming
HDD3 - Windows Photo Gallery
HDD4 - Vista Startup
HDD5 - Windows Movie Maker
HDD6 - Windows Media Center
HDD7 - Windows Media Player
HDD8 - Application Loading
Well, it appears that the latest firmware paired with the latest hardware spin adds a little more than just TRIM and new NAND. Here we see a 64GB Barefoot ECO outperforming a 120GB OCZ Vertex with a Barefoot on several tests. On paper this shouldn't happen, but then again, the Barefoot ECO story has yet to be written and we are breaking new ground here.
Benchmarks - Passmark
Passmark Advanced Multi-User TestsVersion and / or Patch Used:
6.1
Developer Homepage:
http://www.passmark.com
Test Homepage:
http://www.passmark.com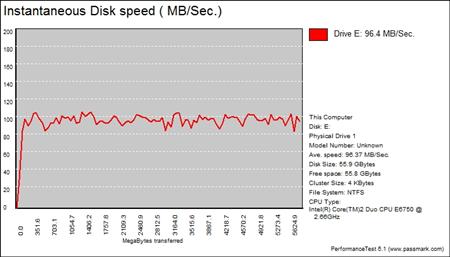 Many users complain that I/O Meter is too complicated of a benchmark to replicate results so my quest to find an alternative was started. Passmark has added several multi-user tests that measure a hard drives ability to operate in a multi-user environment.

The tests use different settings to mimic basic multi-user operations as they would play out on your server. Variances is read / write percentage as well as random / sequential reads are common in certain applications, Web Servers read nearly 100% of the time while Database Servers write a small amount of data.
The Workstation test is the only single user environment and will be similar to how you use your system at home.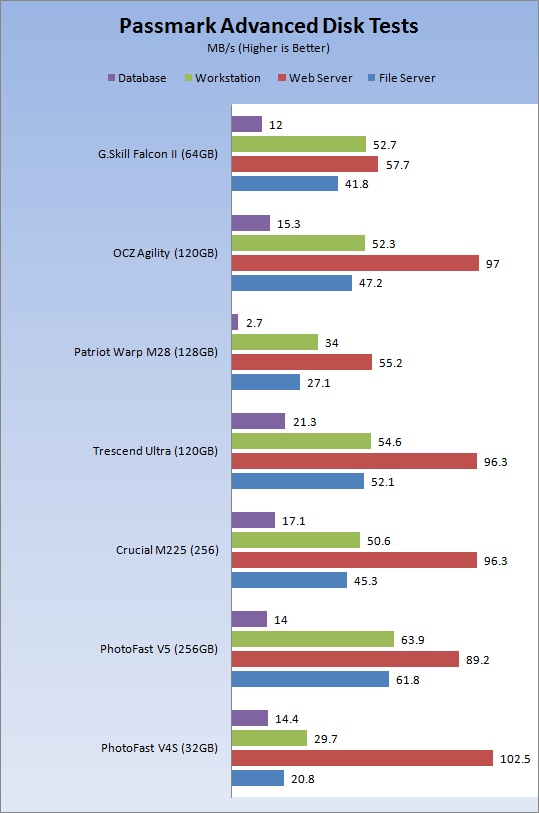 Here we see that the surprises just keep on coming, but this time in the opposite direction. The latest 1819 firmware appears to have slowed the Web Server Test down by almost half. This may have more to do with us testing the 64GB model of the Falcon II than anything else, but it is difficult to tell since we rarely test 64GB SSDs. Other than the Web Server Test, the Falcon II performs better than I expected for a 64GB drive.
Final Thoughts
G.Skill managed to be the first out of the gate with Indilinx's latest controller and it should be another success in their growing solid state line-up. The new ECO controller should allow G.Skill to manufacture the Falcon II for less and pass the cost saving on to the consumer. Already we are seeing a 30 CAD cost reduction when compared to the Falcon with 64GB of NAND Flash. When we compared the 128GB Falcon to the 128GB Falcon II we found a 50 CAD price difference, so it looks like the G.Skill was able to make significant strides on a series of drives that were already some of the lowest priced to begin with.
When it comes to performance it appears there are some tradeoffs that come with the 1819 firmware, but in the long run Windows 7 users should find TRIM more appealing than an initial performance boost that will degrade over time. TRIM will allow your Falcon II to reclaim lost performance and stay within 90% of what you observed when the drive was new.
I believe availability is still going to be an issue with the G.Skill Falcon II and even more so than the Falcon. I am basing this on the cost of the Falcon II and how many people will be willing to make the SSD plunge now that we are seeing a 50 CAD cost savings at the 128GB level. I can only hope that you will be able to purchase a G.Skill Falcon II not just next week, but a month, two months and longer from a reputable e-tailer and not just find OUT OF STOCK notices on the sellers pages.
PRICING: You can find products similar to this one for sale below.

United States: Find other tech and computer products like this over at Amazon.com

United Kingdom: Find other tech and computer products like this over at Amazon.co.uk

Australia: Find other tech and computer products like this over at Amazon.com.au

Canada: Find other tech and computer products like this over at Amazon.ca

Deutschland: Finde andere Technik- und Computerprodukte wie dieses auf Amazon.de
We openly invite the companies who provide us with review samples / who are mentioned or discussed to express their opinion. If any company representative wishes to respond, we will publish the response here. Please contact us if you wish to respond.
Related Tags