LSI MegaRAID 9280-8E SAS 6G PCIe 2.0 RAID Controller
LSI is the first to hit the market with SAS 6G RAID controllers. Let's see how the new MegaRAID compares to an old favorite.
Published Mon, Jan 18 2010 12:03 AM CST
|
Updated Tue, Nov 3 2020 7:02 PM CST
Rating:

92%
Manufacturer: LSI
Introduction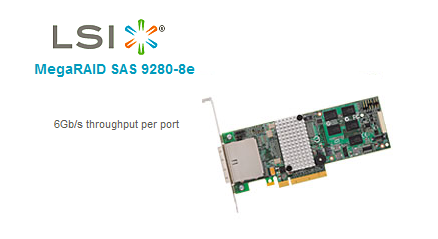 Seagate and LSI teamed up to bring SAS 2.0, 6Gb/s technology to enterprise and prosumer users in late 2009. The Seagate 15K.7 3.5 inch form factor and 15K.2 2.5" drives both showed performance improvements with the new 6G interface. We have already tested both drives on the internal version of the card we are reviewing today, the LSI 9260-8i, and saw large single drive performance increases just by moving to SAS 2.0.
At this time I was unable to find an external drive enclosure that was able to take advantage of new 6G technology. It is going to take the market a couple of months to get these products ready, with availability likely towards the end of Q1 2010.
External SAS enclosures are categorized as Direct Access Storage (DAS) and the technology has now trickled down from enterprise and is a popular way of adding very large disk arrays to professional Audio / Video users. Small companies with a small number of users have found that DAS offers the same disk redundancy features of NAS servers, but offers higher data transfer speeds and in many cases lower costs.
Let's have a look at the specifications of the LSI MegaRAID 9280-8E SAS 2.0 RAID controller.
Specifications, Availability and Pricing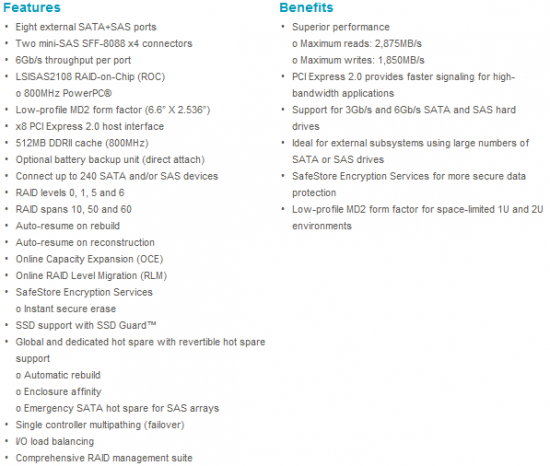 The LSI 9200 Series of products brought two big improvements to the table that until this point we had not seen before in this product class. The first is SAS 2.0, the latest 6Gb/s interface that doubles the amount of available bandwidth per connection to each drive or lane connected to a SAS expander. The second technology leap comes from the way the controller interfaces with the motherboard. For the first time PCIe 2.0 technology was used and it doubles the bandwidth from the controller to the system.
For the last couple of years we have been able to saturate the PCIe 1.0 interface with eight hard drives. With the introduction of solid state and very high performance 15K drives, we were able to reach the limits of PCIe 1.0 with as few as four drives. By moving to PCIe 2.0 technology LSI was able to double the bandwidth to the host system and still keep the 8x lane connector.
The 9280-8E uses two SFF-8088 miniSAS ports on the back of the card that connect to external enclosures via a miniSAS cable. Each SFF-8088 port passes 4 lanes that can then be expanded with SAS expanders or port multipliers. The 9280-8E is able to expand to 240 drives total. Since SAS 2.0 doubles the available bandwidth per lane, it is possible to see significant performance increases when SAS 2.0 expanders are also used.
To further increase the speed of the storage system, the 9280-8E has 512 MB of 800 MHz DDR2 SDRAM built into the card.
LSI includes software to configure the controller and the amount of control given to the user is staggering. LSI also offers drivers for just about every operating system including Linux and Apple.
When it comes to availability, we found several e-tailers carrying the new 9200 Series products. The MSRP for the 9280-8E was set at 859 USD, but we were able to find it as low as 700 USD and
Newegg currently has retail stock at 744.99
.
The Packaging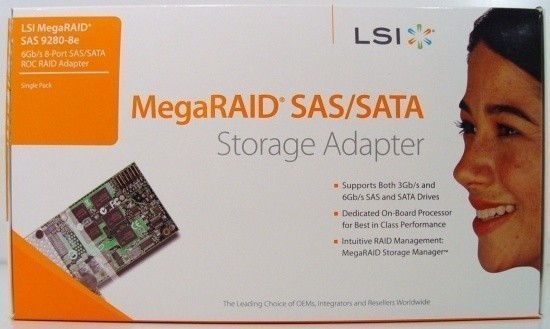 Our sample LSI 9280-8E arrived in full retail trim. On the front of the package we found the model number in the top left corner and some of the controller's features.

On the side of the package we found some of the unique specifications and a list of features.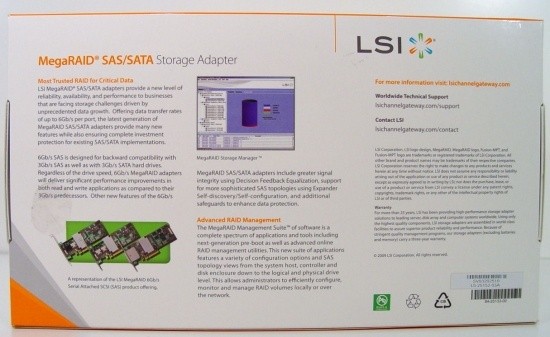 The back of the package goes into detail about the unique features of the 9200 Series.

The other side of the package finishes the specifications list.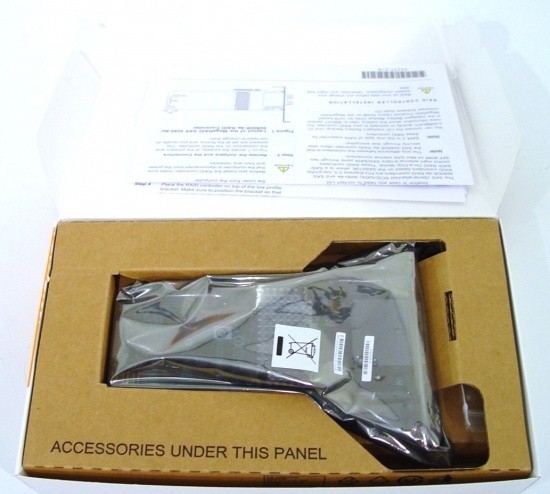 We found the controller securely packaged and have little worry of it being damaged during shipping.
The LSI MegaRAID 9280-8E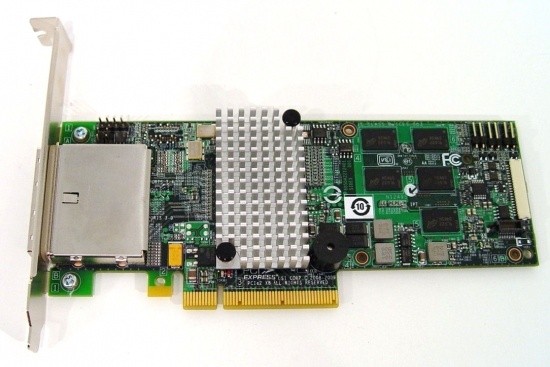 On the top of the card we can see the LSI controller covered by a passive heatsink. On the right we also found the DDR II 800 MHz memory.

The two SFF-8088 miniSAS ports are located on the back and allow the cable to plug into the card. Each port carries 4 lanes and together allows for up to 240 SAS or SATA HDDs.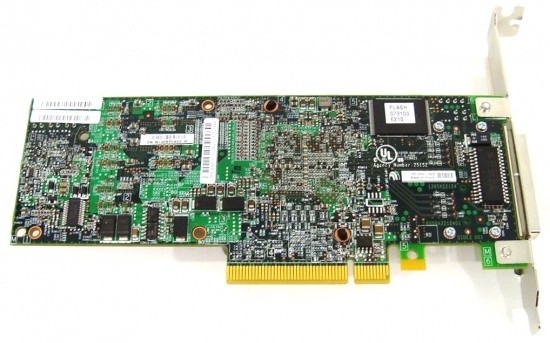 The back of the card is fairly uneventful.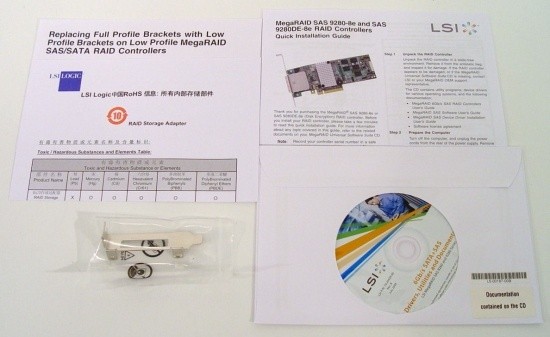 LSI includes a quick start guide, a low profile bracket and instructions for changing the brackets. Also included is a pair of software disks that have the drivers, software and detailed manuals.
Test System Setup
Test System
Motherboard
: ASUS P6T7 WS SuperCoputer (Supplied by
ASUS
)
Processors
: Intel 975 EE (Supplied by
AVADirect
)
Memory
: Corsair Dominator 1600 MHz Triple Channel Kit
Graphics Card
: Leadtek Quadro FX1700 (Supplied by
Leadtek
)
Enclosure
: Lian Li V2000
Cooling
: Noctua NH-U12P SE2 (Supplied by
Noctua
)
SAS Controller
: LSI MegaRAID SAS 9280-8E (Supplied by
LSI
)
SAS Controller
: Areca ARC-1680X (Supplied by
Areca Technology
)
Operating System
: Microsoft Windows 7 Ultimate X64
You can read more about TweakTown's Storage Product Testing Workstation and the procedures followed to test products
in this article
.
For testing we used the iStoragePro iT8SAE 8-bay SAS expander with eight Seagate 15K.7 drives. The iT8SAE is built very well and
it received a very high score in our review
, but the built in expander was only able to run at SAS 1.0 speeds. Because of this we were never able to get the most out of the LSI 9280-8E, but expanders with SAS 2.0 technology are on the horizon.
For comparison
we used an Areca ARC-1680X
controller that runs on a PCIe 1.0 bus and uses SAS 1.0 technology. The ARC-1680 Series of products is very popular with enthusiasts because of its high speed and low cost.
It is important to keep in mind that we are not able to test the LSI 9280-8E to its full potential. To do that we would require two SAS expanders that were capable or running SAS 2.0 speeds. When you dig in and add everything up, we are really only running the controller at a quarter of its potential when going from the drives to the controller. One SAS expander means we are only using half of the available SAS lanes and by running the four lanes at SAS 1.0 speeds, this is only half of the available bandwidth of SAS 2.0.
We are uncomfortable with testing the LSI 9280-8E under these conditions, but they are the current standard for A/V professionals and the highest level of companion hardware on the market today.
Benchmarks - HD Tune Pro
HD Tune ProVersion and / or Patch Used:
3.00
Developer Homepage:
http://www.efdsoftware.com
Product Homepage:
http://www.hdtune.com
HD Tune is a Hard Disk utility which has the following functions:
- Benchmark: measures the performance
- Info: shows detailed information
- Health: checks the health status by using SMART
- Error Scan: scans the surface for errors
- Temperature display
HD Tune Pro gives us accurate read, write and access time results and for the last couple of years has been gaining popularity amongst reviewers. It is now considered a must have application for storage device testing.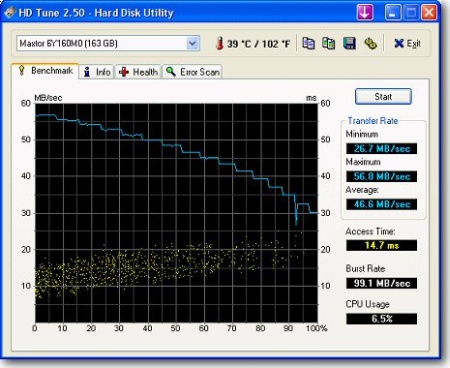 Read Tests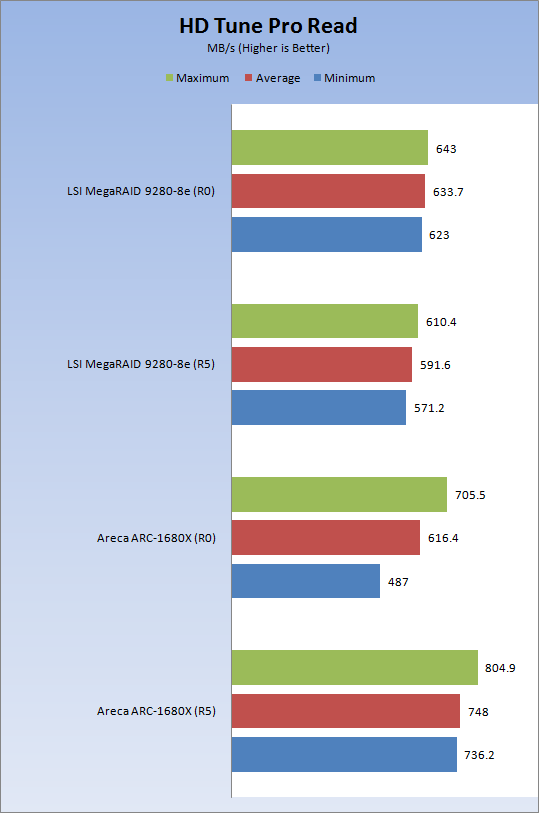 The LSI 9280-8E gave us solid numbers in both RAID 0 and RAID 5 tests. As you can see, there wasn't a large variation in the minimum and maximum transfer speeds.
Write Tests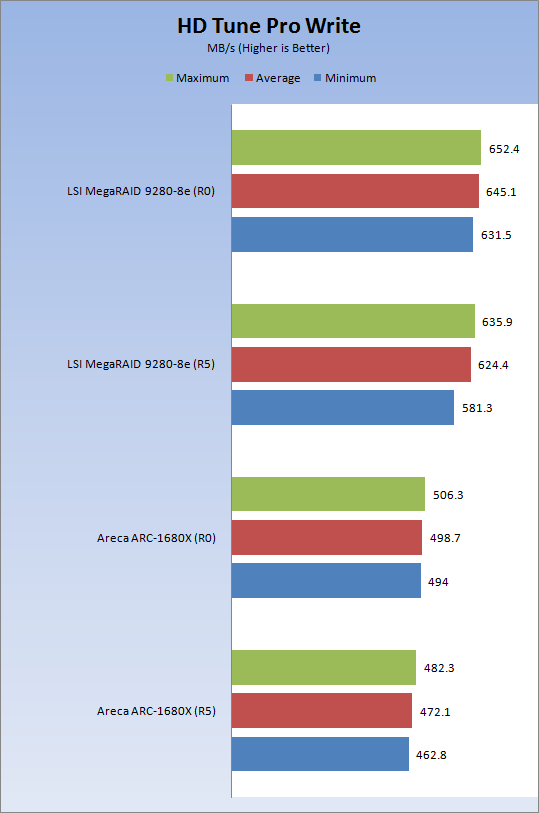 The write performance across the LSI controller and array of 15K.7 drives was very impressive. As you can see, the write speed of the 9280-8E is quite a bit faster than the ARC-1680X in both RAID 0 and RAID 5.
Benchmarks - Everest Random Access Time
Everest Random Access TimeVersion and / or Patch Used:
4.60
Developer Homepage:
http://www.lavalys.com
Product Homepage:
http://www.lavalys.com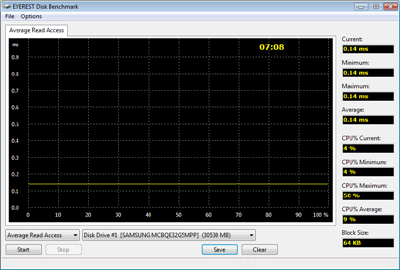 Everest Ultimate and Corporate Edition offer several different benchmarks for testing and optimizing your system or network. The Random Access test is one of very few if not only that will measure hard drives random access times in hundredths of millisECOnds as oppose to tens of millisECOnds.
Read Tests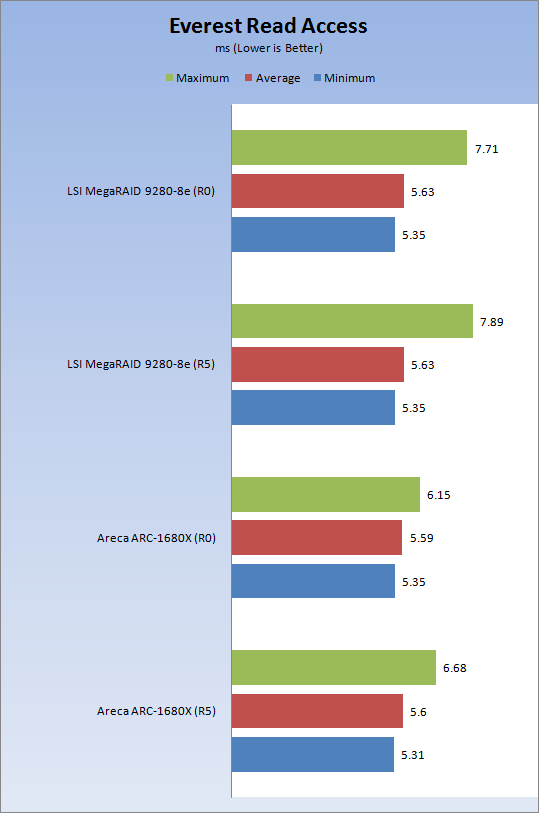 The average read access time for both controllers is about the same, but the 9280-8E has a tendency to spike a little higher than the Areca.
Write Tests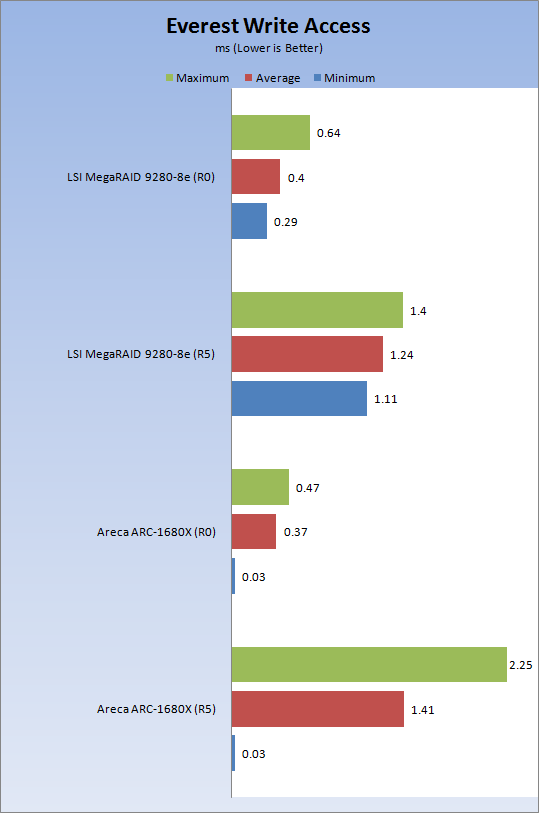 The write access times were also impressive on the 9280-8E and we saw little variation across the arrays.
Let's see how all of these synthetic benchmarks relate to real world applications.
Benchmarks - PCMark Vantage Hard Disk Tests
PCMark Vantage - Hard Disk TestsVersion and / or Patch Used:
1.0.0
Developer Homepage:
http://www.futuremark.com
Product Homepage:
http://www.futuremark.com/benchmarks/pcmark-vantage/
Buy It Here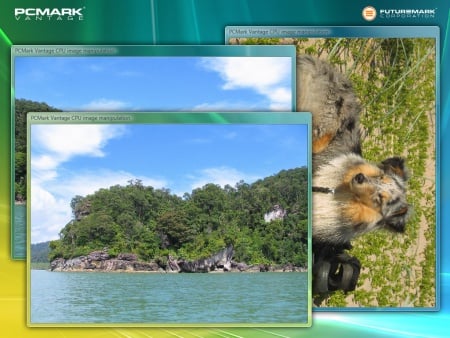 PCMark Vantage is the first objective hardware performance benchmark for PCs running 32 and 64 bit versions of Microsoft Windows Vista. PCMark Vantage is perfectly suited for benchmarking any type of Microsoft Windows Vista PC from multimedia home entertainment systems and laptops to dedicated workstations and high-end gaming rigs. Regardless of whether the benchmarker is an artist or an IT Professional, PCMark Vantage shows the user where their system soars or falls flat, and how to get the most performance possible out of their hardware. PCMark Vantage is easy enough for even the most casual enthusiast to use yet supports in-depth, professional industry grade testing.
FutureMark has developed a good set of hard disk tests for their PCMark Vantage Suite. These tests are based on real world applications that many of us use daily.

HDD1 - Windows Defender
HDD2 - Gaming
HDD3 - Windows Photo Gallery
HDD4 - Vista Startup
HDD5 - Windows Movie Maker
HDD6 - Windows Media Center
HDD7 - Windows Media Player
HDD8 - Application Loading
In all of the Windows tests we observed the LSI 9280-8E outperforming the Areca ARC-1680X.
Benchmarks - Passmark
Passmark Advanced Multi-User TestsVersion and / or Patch Used:
6.1
Developer Homepage:
http://www.passmark.com
Test Homepage:
http://www.passmark.com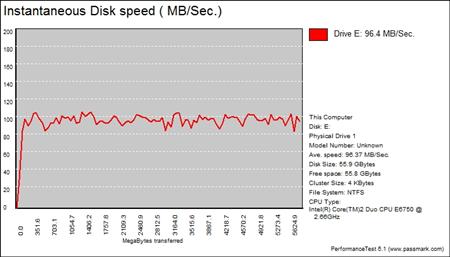 Many users complain that I/O Meter is too complicated of a benchmark to replicate results so my quest to find an alternative was started. Passmark has added several multi-user tests that measure a hard drives ability to operate in a multi-user environment.

The tests use different settings to mimic basic multi-user operations as they would play out on your server. Variances is read / write percentage as well as random / sequential reads are common in certain applications, Web Servers read nearly 100% of the time while Database Servers write a small amount of data.
The Workstation test is the only single user environment and will be similar to how you use your system at home.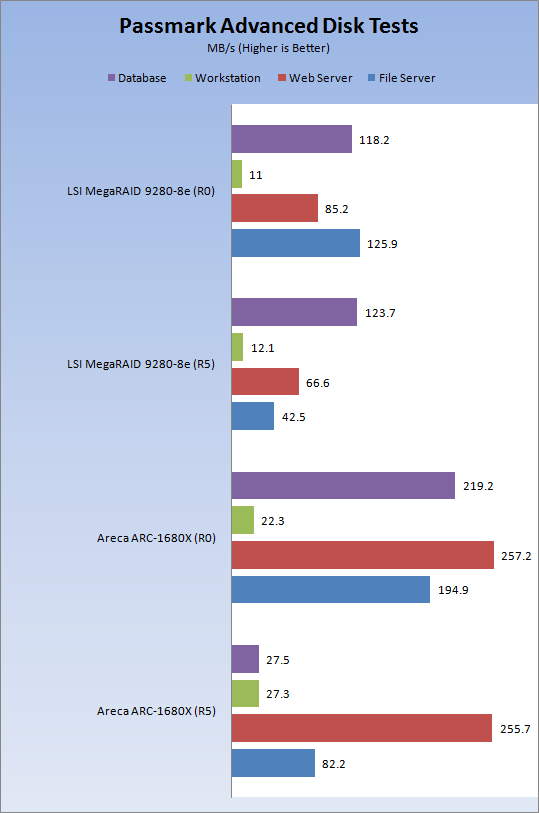 The server and workstation tests didn't fair too well for the 9280-8E. We later learned that the LSI 9200 Series makes changes to the cache algorithm system based on how the controller is used. The observation time is longer than what the Passmark test takes to complete and makes the built-in self optimization nearly impossible for such short bursts simulating unique scenarios like the database test.
In the real world no one is going to run a database for only 180 seconds and the controller is able to optimize the cache for database files and run at a much higher speed. Hopefully we will soon be able to simulate these tests more accurately in the future.
Benchmarks - AS SSD Copy Benchmark
AS SSD Copy BenchmarkVersion and / or Patch Used:
1.2.3577.40358
Developer Homepage:
Alex Intelligent Software
Product Homepage:
Alex Intelligent Software
Download here:
http://www.alex-is.de/PHP/fusion/downloads.php?cat_id=4&download_id=9
AS determines the performance of Solid State Drives (SSD). The tool contains four synthetic as well as three practice tests. The synthetic tests are to determine the sequential and random read and write performance of the SSD. These tests are carried out without the use of the operating system caches.
In all synthetic tests the test file size is 1GB. AS can also determine the access time of the SSD, the access of which the drive is determined to read through the entire capacity of the SSD (Full Stroke). The write access test is only to be met with a 1 GB big test file. At the end of the tests three values for the read and write as well as the overall performance will be issued. In addition to the calculated values which are shown in MB/s, they are also represented in IO per seconds (IOPS).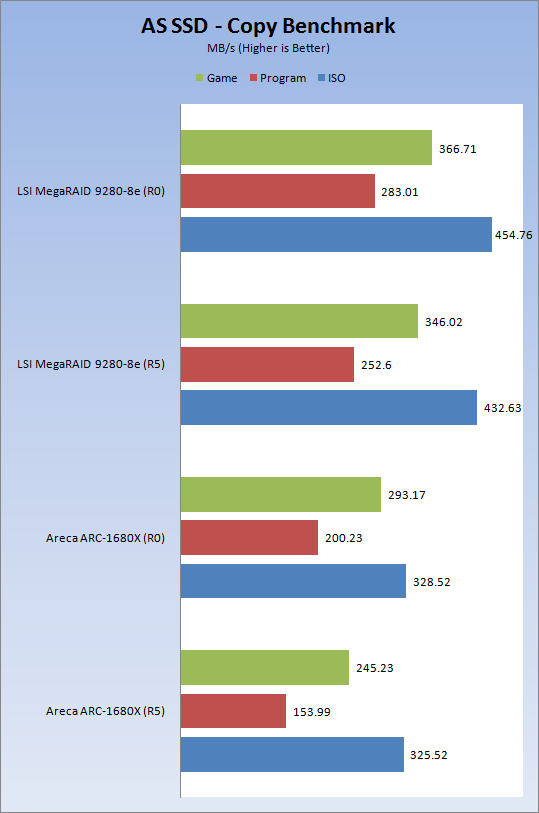 The AS SSD Copy Test is one of my new favorites. Here we see the LSI 9280-8E's ability to transfer data at a much higher rate than the Areca ARC-1680X.
Final Thoughts
When used in conjunction with existing products, the LSI 9280-8E gave us higher performance than the previous generation's class leader in many of our tests. What really has us excited is the performance that will be possible when expander products catch up and allow the 9280-8E to run at full SAS 2.0 speeds. In theory the performance should double in many of the tests that we ran today. In time SAS 2.0 expanders will be released and we will be able to retest the 9280-8E and see just how much performance can be gained.
The LSI 9280-8E hasn't just outpaced the other products that are needed to make it run at full speed. The adaptive cache system is also ahead of the simulation tests we use to show performance under Web Server, Workstation and Database scenarios. Further optimizations are also built into the controller and are user selectable in the configuration software. One of the most intriguing is geared for solid state drive arrays and we are hoping to gather enough SSDs to build an appropriate array.
As always, new technology costs more than existing technology. The LSI 9280-8E is new to the market and the price is higher than the Areca ARC-1680X that we compared it to. At this time the 1680X can be had for around 500 USD, while the 9280-8E is currently at 700+ USD. When compared to high end SCSI and SAS controllers of just a few years ago, 700 is quite reasonable. I remember reviewing the first SAS controllers and at the time we were quoting prices in the 1000 to 1200 Dollar range.
PRICING: You can find products similar to this one for sale below.

United States: Find other tech and computer products like this over at Amazon.com

United Kingdom: Find other tech and computer products like this over at Amazon.co.uk

Australia: Find other tech and computer products like this over at Amazon.com.au

Canada: Find other tech and computer products like this over at Amazon.ca

Deutschland: Finde andere Technik- und Computerprodukte wie dieses auf Amazon.de
We openly invite the companies who provide us with review samples / who are mentioned or discussed to express their opinion. If any company representative wishes to respond, we will publish the response here. Please contact us if you wish to respond.