Introduction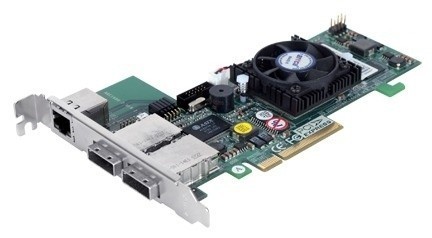 For years enthusiasts looking to add a high performance RAID controller to their system have flocked to Areca Technology. Areca's reputation was built on their ability to design and sell controller cards that were able to perform very well, especially in RAID 0, an array type that is mainly used by computer enthusiasts since it is the fastest array possible. Areca is in a sense the underdog of the HBA industry; LSI and Adaptec both have a majority of their sales going to system integrators and Areca HBAs are mostly found in DIY computer systems.
A few weeks ago I started testing
the iStorage Pro iT8SAE
, a SAS enclosure that uses an Areca ARC-8020 SAS expander. This was my first run in with a SATA/SAS expander or for that matter any external SAS product. Most enthusiasts tend to use internal RAID controllers and I have done the same ever since SATA Ultra Wide.
The prosumer market is a different animal all together. Most of the A/V guys have drunk the Kool-Aid and are now addicted to their Mac Pros. The high end Macs don't offer a great deal of room for internal hard drives and even though
products are on the market
that allow more expansion, sometimes just using eight SATA HDDs doesn't cut it. This has lead to a many Mac inspired external drive systems to hit the market and many use components commonly found in PCs enterprise products.
Today we are looking at the Areca ARC-1680X, a SATA/SAS controller that has two SFF-8088 external miniSAS connectors. The 1680X is a first generation SAS controller that still uses PCIe 1.0 8x to interface with your PC (or Mac).
Specifications, Availability and Pricing

The Areca ARC-1680X comes from Areca's line of low profile SATA/SAS controllers and uses the Intel IOP348 controller running at 1200MHz. The card interfaces with your system by PCIe 1.0 and uses 8 lanes. Cache is handled by 512MB of onboard DDR2 and it is not upgradable like Areca's flagship models. As mentioned previously, there are two SFF-8088 ports on the back of the controller and it will allow you to connect external SATA/SAS products to your system.
Not mentioned in the specifications above is the out of band Ethernet port that will allow you to manage your controller from another system.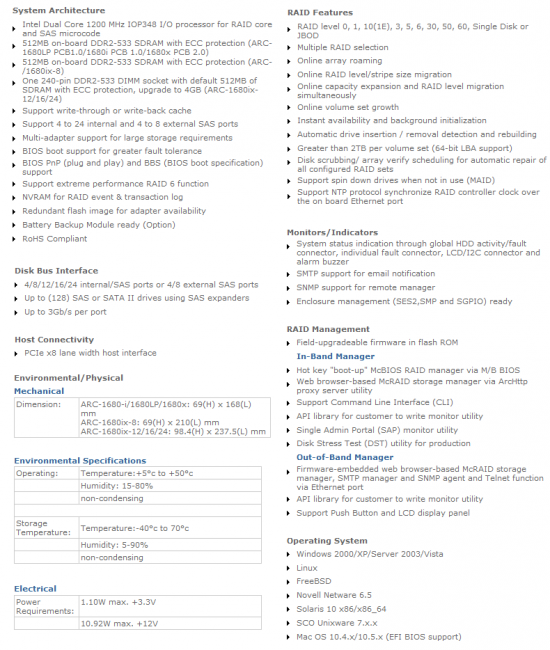 I was able to put together the above list of additional specifications and features for the ARC-1680X. For the most part the 1680X isn't that much different from Areca's award winning line of internal controllers. As you can see, several array options are present and all of the basics are covered.
Areca has enjoyed solid success in the aftermarket and you can currently find their controllers in several e-tail outlets. The lowest price I was able to find for the ARC-1680X came from Provantage and they
have it listed for 549.57
. In our review today we will be using the new LSI 9280-8E to compare to the 1680X and its lowest price online at this time is
688 Dollars from Buy.com
, so the ARC-1680X costs quite a bit less as long as you don't require the next generation features that the LSI has to offer.
The Packaging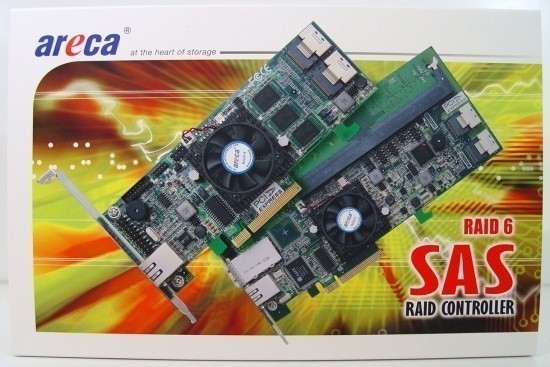 Areca has been using the same basic packaging for the last couple of years. We are pretty used to getting the same product pics on the front of the box.

On the side you can see where a sticker would be placed over the box to indicate which product is in the package.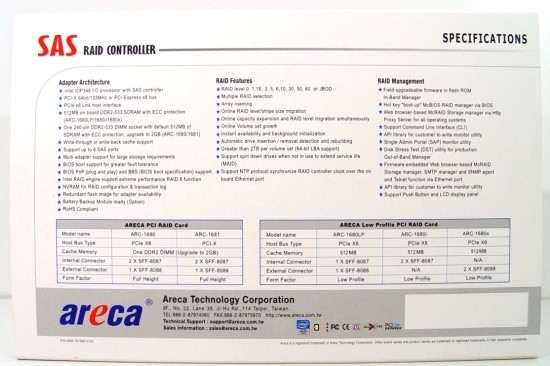 The back of the box lists specifications for each of the controllers offered.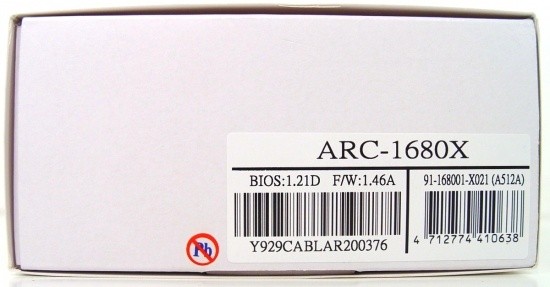 The side of the package is labelled with the product inside as well as the shipping firmware.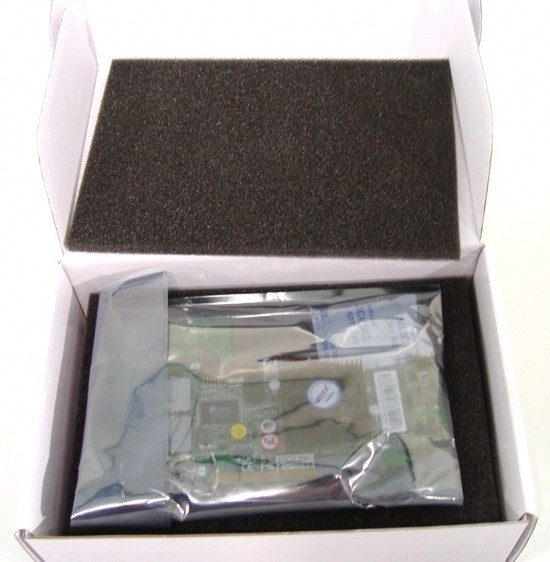 The internal packaging is pretty straight forward. Areca sandwiches the card between two pieces of open cell foam. The accessories and manuals are below in a separate section.
The Areca ARC-1680X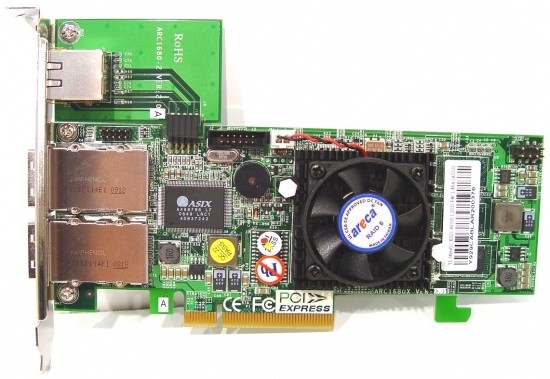 Here is our first look at the Areca ARC-1680X. The card is able to use a battery backup unit and the connector for it is on the top right side. The out of bandwidth management port is located on a daughter card at the top. If you are using the card in a low profile system with the included low profile bracket you will lose the ability to manage the card over the network with the daughter card.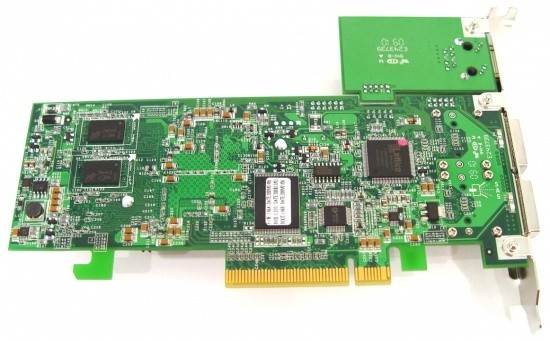 The back of the card is void of connectors or other user related features.

Here we see the SFF-8088 miniSAS data ports and the out of bandwidth management system.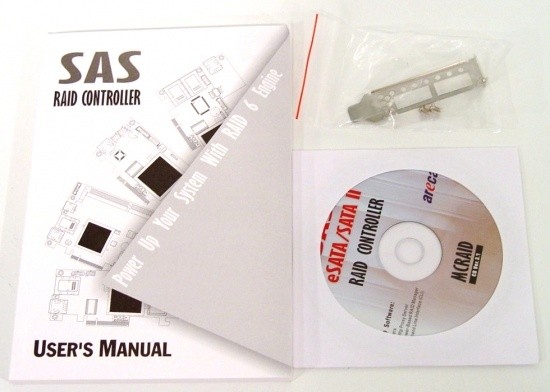 Areca includes an extensive manual, drive/software disk and a low profile bracket with the ARC-1680X.
Test System Setup
Test System
Motherboard
: ASUS P6T7 WS SuperCoputer (Supplied by
ASUS
)
Processors
: Intel 975 EE (Supplied by
AVADirect
)
Memory
: Corsair Dominator 1600 MHz Triple Channel Kit
Graphics Card
: Leadtek Quadro FX1700 (Supplied by
Leadtek
)
Enclosure
: Lian Li V2000
Cooling
: Noctua NH-U12P SE2 (Supplied by
Noctua
)
SAS Controller
: LSI MegaRAID SAS 9280-8E (Supplied by
LSI
)
SAS Controller
: Areca ARC-1680X (Supplied by
Areca Technology
)
Operating System
: Microsoft Windows 7 Ultimate X64
You can read more about TweakTown's Storage Product Testing Workstation and the procedures followed to test products
in this article
.
Our original plan was to
test the iStorage Pro iT8SAE
with the new LSI MegaRAID 9280-8E SATA/SAS controller, but ran into an issue where the iT8SAE would not link with the controller. Since the 9280-8E is a new controller that runs native SAS 6 Gbps we thought it was a compatibility issue. After talking to both LSI, iStorage Pro and Areca we learned that this combination had yet to be tested and approved. Areca quickly volunteered one of their ARC-1680X controllers, a model that has been validated in the iStorage Pro and Areca's own test lab.
With the Areca controller in hand two days later, it was time to get back to work and get this system up and running in our lab. It became clear that the problem had little to do with the controller and we rushed out to get a new cable hoping that the main unit wasn't defective. The cable provided to us by iStorage Pro ended up being defective.
With the Areca ARC-1680X card on hand and the benchmarks already ran, we moved to the next step and started to review it.
Data storage was left up to the Seagate 15K.7; the fastest platter based hard drive on the planet at this time. Seagate graciously provided us with 8 drives to fill the system with. You can read a full review of the Seagate 15K.7
in this article
that was published just a few weeks ago.
Benchmarks - HD Tune Pro
HD Tune ProVersion and / or Patch Used:
3.00
Developer Homepage:
http://www.efdsoftware.com
Product Homepage:
http://www.hdtune.com
HD Tune is a Hard Disk utility which has the following functions:
- Benchmark: measures the performance
- Info: shows detailed information
- Health: checks the health status by using SMART
- Error Scan: scans the surface for errors
- Temperature display
HD Tune Pro gives us accurate read, write and access time results and for the last couple of years has been gaining popularity amongst reviewers. It is now considered a must have application for storage device testing.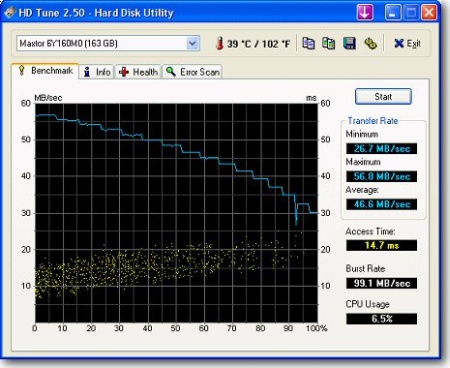 Read Tests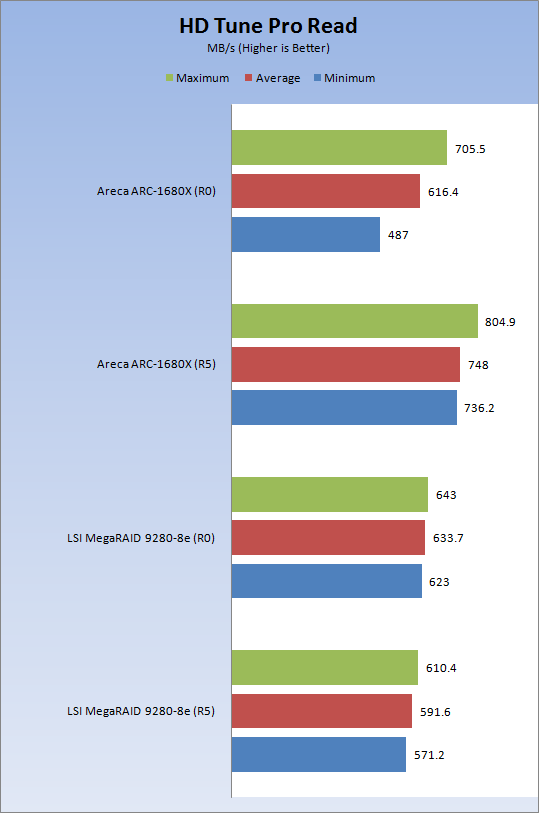 I have always enjoyed comparing two products to see where their strengths and weaknesses are. Controllers are designed to excel at specific tasks. Here we see the Areca ARC-1680X performing better in RAID 5 than in RAID 0.
Write Tests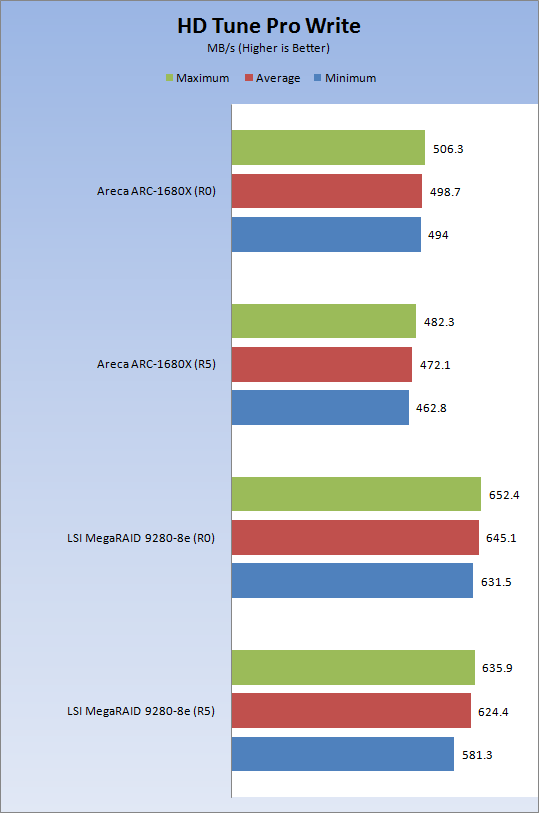 The write speeds between RAID 5 and 0 are very close. Also, it appears that the LSI 9280-8E is able to write much faster than the 1680X.
Benchmarks - Everest Random Access Time
Everest Random Access TimeVersion and / or Patch Used:
4.60
Developer Homepage:
http://www.lavalys.com
Product Homepage:
http://www.lavalys.com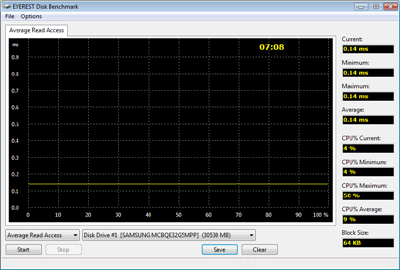 Everest Ultimate and Corporate Edition offer several different benchmarks for testing and optimizing your system or network. The Random Access test is one of very few if not only that will measure hard drives random access times in hundredths of millisECOnds as oppose to tens of millisECOnds.
Read Tests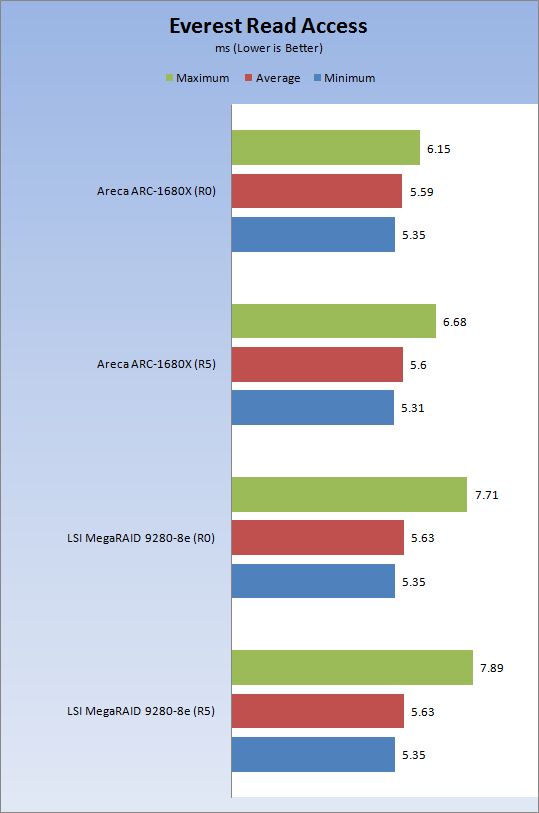 Our Seagate 15K RPM 15K.7 drives really do a good job of keeping the latency low with both controllers.
Write Tests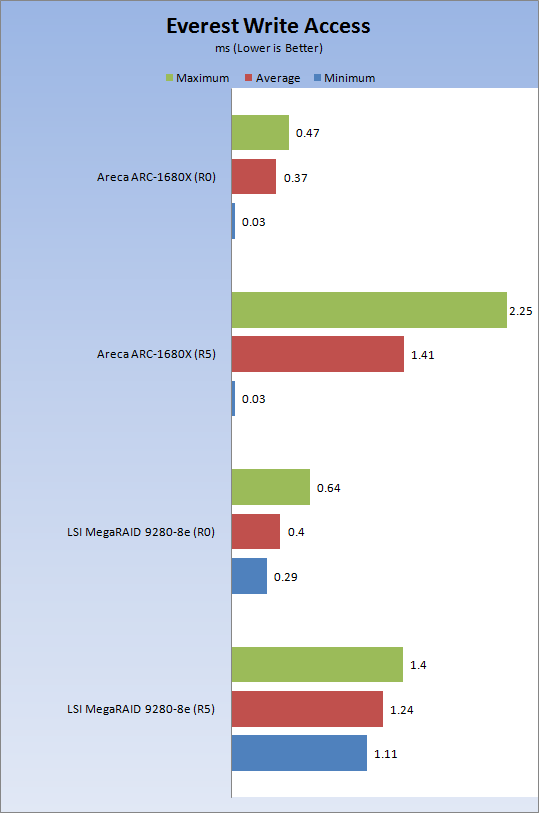 In RAID 5 the 1680X had a couple of small blips on the graph and it really hurt its average score.
Let's see how all of these synthetic benchmarks relate to real world applications.
Benchmarks - PCMark Vantage Hard Disk Tests
PCMark Vantage - Hard Disk TestsVersion and / or Patch Used:
1.0.0
Developer Homepage:
http://www.futuremark.com
Product Homepage:
http://www.futuremark.com/benchmarks/pcmark-vantage/
Buy It Here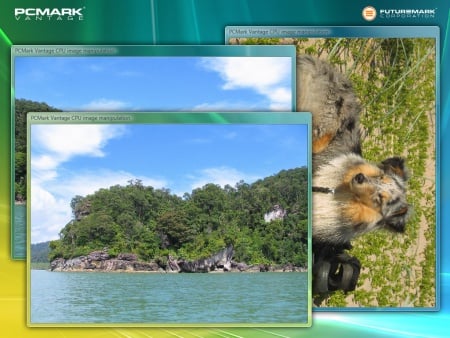 PCMark Vantage is the first objective hardware performance benchmark for PCs running 32 and 64 bit versions of Microsoft Windows Vista. PCMark Vantage is perfectly suited for benchmarking any type of Microsoft Windows Vista PC from multimedia home entertainment systems and laptops to dedicated workstations and high-end gaming rigs. Regardless of whether the benchmarker is an artist or an IT Professional, PCMark Vantage shows the user where their system soars or falls flat, and how to get the most performance possible out of their hardware. PCMark Vantage is easy enough for even the most casual enthusiast to use yet supports in-depth, professional industry grade testing.
FutureMark has developed a good set of hard disk tests for their PCMark Vantage Suite. These tests are based on real world applications that many of us use daily.

HDD1 - Windows Defender
HDD2 - Gaming
HDD3 - Windows Photo Gallery
HDD4 - Vista Startup
HDD5 - Windows Movie Maker
HDD6 - Windows Media Center
HDD7 - Windows Media Player
HDD8 - Application Loading
In all tests the LSI controller was able to outperform the 1680X, but do the results justify the price difference for you? All of the results were very close.
Benchmarks - Passmark
Passmark Advanced Multi-User TestsVersion and / or Patch Used:
6.1
Developer Homepage:
http://www.passmark.com
Test Homepage:
http://www.passmark.com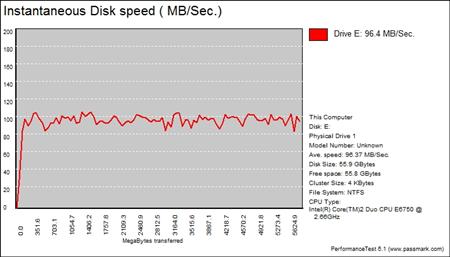 Many users complain that I/O Meter is too complicated of a benchmark to replicate results so my quest to find an alternative was started. Passmark has added several multi-user tests that measure a hard drives ability to operate in a multi-user environment.

The tests use different settings to mimic basic multi-user operations as they would play out on your server. Variances is read / write percentage as well as random / sequential reads are common in certain applications, Web Servers read nearly 100% of the time while Database Servers write a small amount of data.
The Workstation test is the only single user environment and will be similar to how you use your system at home.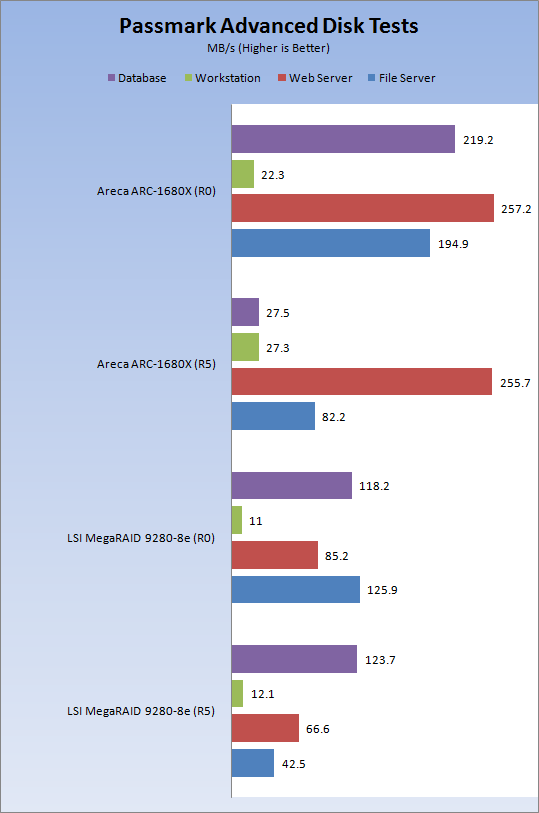 Passmark shows us how your choice in controller can affect your real world performance. Here we see that certain configurations are better suited for different needs. The Areca ARC-1680X was able to outperform the LSI controller in many tests by a 2 to 1 margin.
Benchmarks - AS SSD Copy-Benchmark
AS SSD Copy-BenchmarkVersion and / or Patch Used:
1.2.3577.40358
Developer Homepage:
Alex Intelligent Software
Product Homepage:
Alex Intelligent Software
Download here:
http://www.alex-is.de/PHP/fusion/downloads.php?cat_id=4&download_id=9
AS determines the performance of Solid State Drives (SSD). The tool contains four synthetic as well as three practice tests. The synthetic tests are to determine the sequential and random read and write performance of the SSD. These tests are carried out without the use of the operating system caches.
In all synthetic tests the test file size is 1GB. AS can also determine the access time of the SSD, the access of which the drive is determined to read through the entire capacity of the SSD (Full Stroke). The write access test is only to be met with a 1 GB big test file. At the end of the tests three values for the read and write as well as the overall performance will be issued. In addition to the calculated values which are shown in MB/s, they are also represented in IO per seconds (IOPS).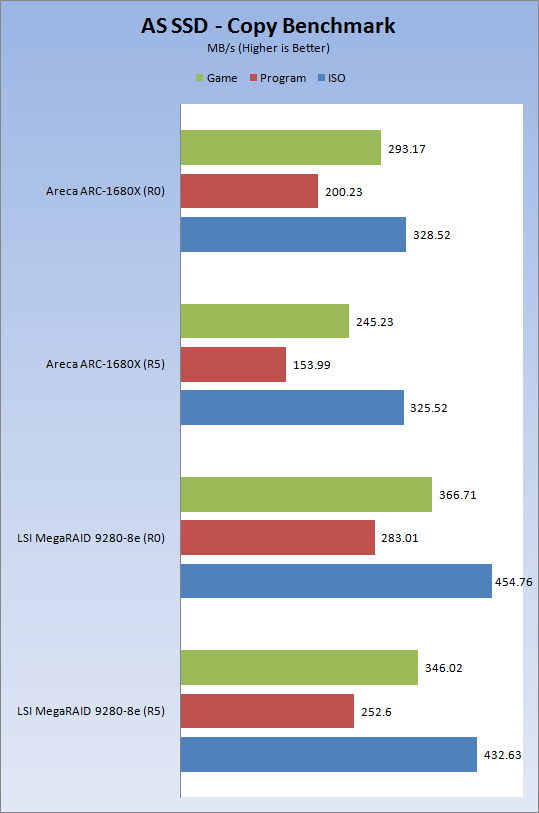 In the direct copy tests we see that the LSI controller is able to outperform the Areca ARC-1680X.
Final Thoughts
Areca has always produced great RAID controllers and the ARC-1680X is not an exception. One thing that has really stuck out in this review is how the controller performs in server specific tests compared to the consumer friendly tests. When it comes to the server tests the ARC-1680 really excels and even outperforms the LSI 9280-8E under identical conditions. We only tested both cards with one port since only one external expander system was available, but this is how most users will use the cards so we were comfortable with releasing this article.
The Areca ARC-1680X has a healthy cost advantage over the LSI 9280-8E, but the controller is now considered "old" in computer time. The newest release SAS controllers will all feature PCIe 2.0 connectivity and support SAS 2.0. It is because of this that we may be able to find some great bargains on the 1680 Series of controllers. Areca has yet to announce their next generation product line-up, but when they do the 1680 generation should see massive price drops. That savings matched with previous generation SAS drives like the Seagate 15K.6 will make it possible to build a very high performance enterprise class storage system for thousands less than it would have cost just a year prior.
There will always be those who demand the latest and greatest, but when it comes to the price vs. performance it is difficult to turn a blind eye to great technology that only has an imperfection with the date code.