TweakTown's Rating: 88%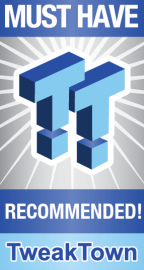 The Bottom Line
Razer's BlackWidow V4 Pro adds a lot of features and functionality, which is impressive. The Command Dial, in particular, is a great productivity tool, which makes this less of a gaming keyboard than something for work and creativity.
Pros
+

Lots of functionality and customization on offer

+

Command Dial is a great little tool with excellent default presets

+

Dedicated macro keys

+

Some of the best RGB lighting on a keyboard

+

Razer Yellow Linear switches are smooth and quiet
Cons
-

Razer Synapse isn't the best software suite out there, and it is required here

-

Cheaper ABS keycaps, as opposed to PBT

-

You can barely see the icons on the media buttons

-

It's pricey
Should you buy it?
Avoid
Consider
Shortlist
Buy
Introduction & Specification Details and Close-up
Razer describes the latest addition to its popular BlackWidow keyboard range as a "full-blown battle station," which is apt when you consider that a battle station is all about having lots of buttons, dials, and things to press. At least, that's what watching Star Wars has taught me.
And with dedicated media controls that include four buttons and a dial, five programmable Macro keys on the left side of the keyboard that you can set up to do practically anything, and three more buttons on the side that, by default, offers up quick access to Window screen capture tools and the Xbox Game Bar. A separate Command Dial that can, well, do a lot (more on this in a bit); yeah, there's a lot here.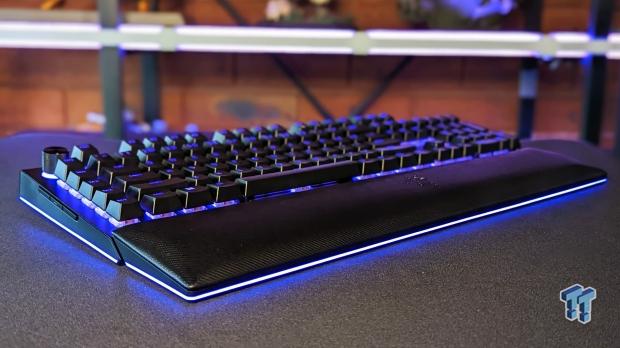 And with all that, the Razer BlackWidow V4 Pro differs significantly from the Razer BlackWidow V3 Pro, even though it uses the same custom Razer-designed clicky Green or linear Yellow mechanical switches. For one, the V4 Pro is wired versus the wireless functionality of the V3 Pro, and yet it's launching with the same MSRP of USD 229. If you've bought a wired mechanical keyboard or two in the past, you'll probably have figured by now that the Razer BlackWidow V4 Pro is an expensive proposition for a button and key-stacked keyboard.
But when it comes to that sort of stuff, the Razer BlackWidow V4 Pro is undoubtedly impressive. And even though Razer, like all of its products, is marketing this as the ultimate keyboard for gamers - it's probably more formidable regarding productivity, content creation, and those sorts of activities. Having quick access to something as simple as Windows 10 and 11's intuitive screenshot capture tool is fantastic, as is the ability to have a string of the most popular apps that you use assigned to dedicated Macro keys underneath the 'Command Dial' set to Application Switch mode.
Specifications & Close Up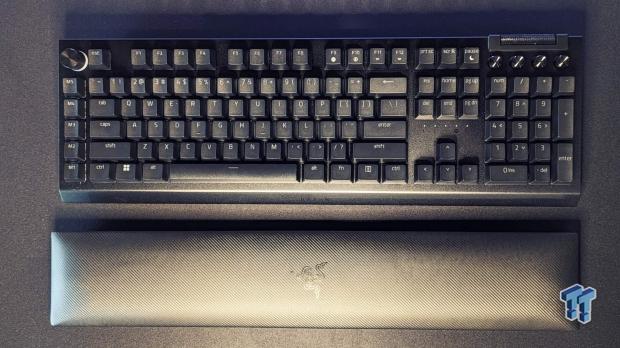 Product Name: Razer BlackWidow V4 Pro Mechanical Keyboard
Product Type: Wired Gaming Keyboard
Size (Full/TKL): Full
Switch: Razer Yellow Mechanical Switches (Linear)
Actuation Points/Force: 1.2mm/45g
Interface: Detachable USB Type-C Cable with optional USB 2.0 passthrough
Platforms: Windows (PC)
Lighting: Per-Key Razer Chroma RGB, Razer Chroma RGB underglow on wrist rest
Dimensions: 466mm x 152.5mm x 44mm (keyboard)
Weight: 1128.5 grams (keyboard)
What's in the Box: Razer BlackWidow V4 Pro Mechanical Keyboard, Magnetic plush leatherette wrist rest, 2 x USB-A to Type-C cables, Setup Guide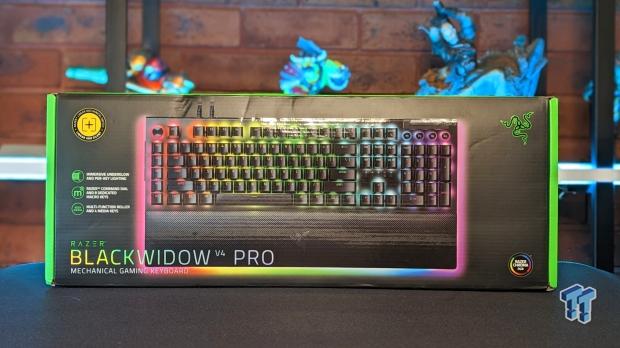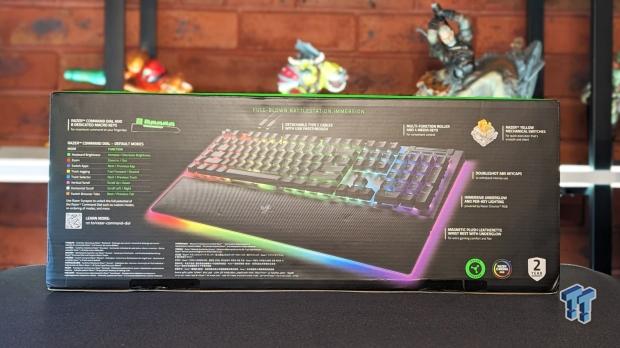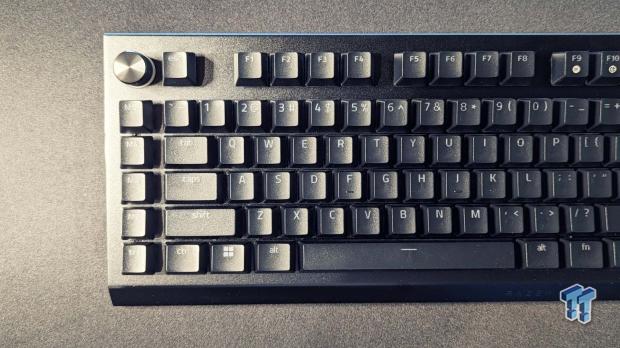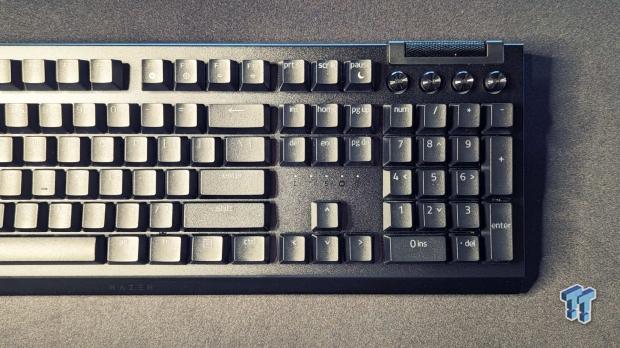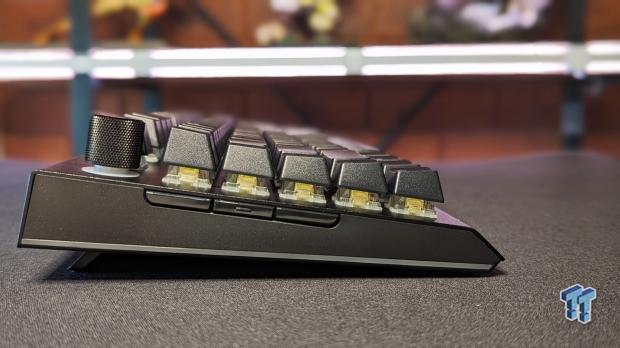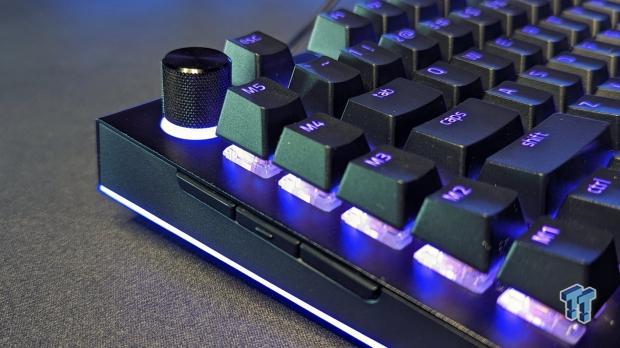 Kosta's Test System Specifications
Motherboard: MSI MPG X670E Carbon Wi-Fi
CPU: AMD Ryzen 9 7900X
GPU: NVIDIA GeForce RTX 4090 Founders Edition
Cooler: Corsair iCUE H100i RGB PRO XT Liquid CPU Cooler
RAM: 64GB (2x32GB) Corsair DOMINATOR PLATINUM RGB DDR5 DRAM 5200MHz
SSD: Kingston FURY Renegade PCIe 4.0 NVMe M.2 SSD 2TB
Power Supply: Thermaltake Toughpower GF1 850W
Case: Thermaltake Core P3 Tempered Glass Snow
OS: Microsoft Windows 11 Pro 64-bit
Design & Software
Design
As mentioned in the intro, the Razer BlackWidow V4 Pro is a wired keyboard and not wireless like the previous Razer BlackWidow V3 Pro model. Beyond this, you're also looking at a very different physical design and layout for both the keys, additional buttons and features, and even the plush and comfy wrist rest - which now features a vibrant RGB light strip that has multiple zones you can configure in the Razer Synapse software suite.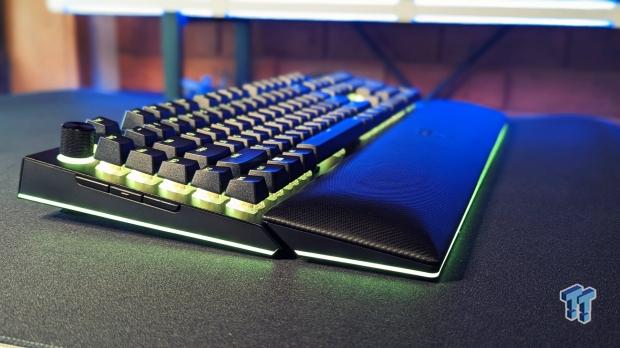 It's all still in the Razer style and looks like a BlackWidow, albeit with different-looking media controls and all of the new Macro action (eight Macro keys/buttons/dials in total) sitting on the left side of the keyboard. The prominent horizontal volume wheel is excellent, but the Play/Pause, Previous, Next, and Mute icons are barely visible.
There's a bit of a learning curve to using the new Razer BlackWidow V4 Pro because all of the customizable stuff on the left side shifts the keyboard across. For me, at least, those first few minutes involved accidentally hitting the Capslock key instead of 'A' numerous times because it's the second key from the left. But this was quickly overcome, which cannot be said for the somewhat cramped feel of the excellent Macro functionality.
Having all that functionality in a single region makes sense. Still, it does feel a little too close together - and it's surprisingly easy to hit the side buttons when moving the keyboard around or simply reaching for the Command Dial.
The Command Dial might sound gimmicky, but it's implemented exceptionally well, even though it's dependent on having Razer Synapse open. Even its default settings are plentiful, where you can press it to switch functionality represented by a new color. There's a mode that lets you adjust the RGB brightness or turn it off, one to enable Vertical Scrolling for documents and browsing, another for zooming in and out in Windows, and another for switching between the different apps/windows you've got open.
From a productivity perspective, this is all wonderful, and the best part is that you can enable/disable and customize or create any number of modes for the Command Dial.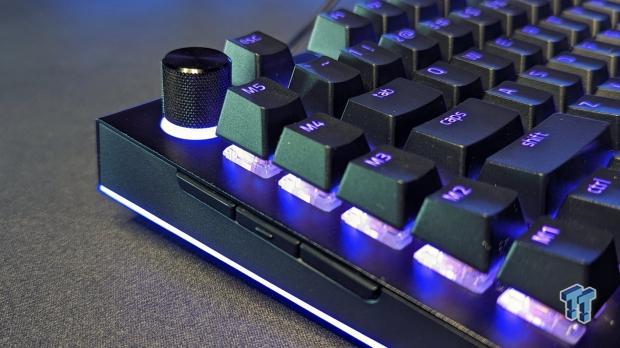 As expected with the Razer BlackWidow series, the overall build quality is uniformly excellent - and the keyboard makes great use of aluminum alloy to cover the entirety of the top. Weirdly though, Razer has opted for doubleshot ABS keycaps over the more premium PBT keycaps. ABS keycaps are usually made with thinner plastics.
They are more prone to fade over time; that said, even here, there is varying quality, so we can only assume Razer has a good reason for seemingly skimping out in the keycap department on a USD 229 mechanical keyboard. The keycaps are smooth and have a great feel that compliments our review unit's speedy linear Razer Yellow mechanical switches.
Software
Although it continues to improve, Razer's Synapse software is still relatively bloated regarding the system resources it uses up. It also needs you to restart your entire PC every time it makes an update. Regarding the Razer BlackWidow V4 Pro, it's necessary to get access to all of the customization tools related to the Command Dial and the five dedicated Macro keys (which are disabled by default).
The good news is that Razer Synapse is powerful, and outside of a few cases where my system momentarily lagged when making adjustments, the overall Synapse experience was smooth.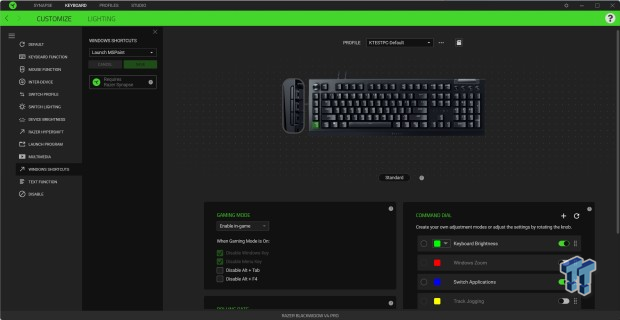 Adjusting the Command Dial is similar to setting up the Macro keys, changing keystroke functionality, or adding secondary keys to keys as part of the very nifty Razer HyperShift functionality. This adds another Shift-style mode, so keys and do two things. Razer splits things into easy-to-understand categories, making assigning simple Windows shortcuts or launching a specific program simple. This is great because there's a lot of customization potential here, and you can store five onboard memory profiles.
A simple example we set up and found helpful was a productivity profile that assigned the Macro keys to launch different productivity apps and a gaming profile that did the same for all the game launchers you need to be a PC gamer in 2023.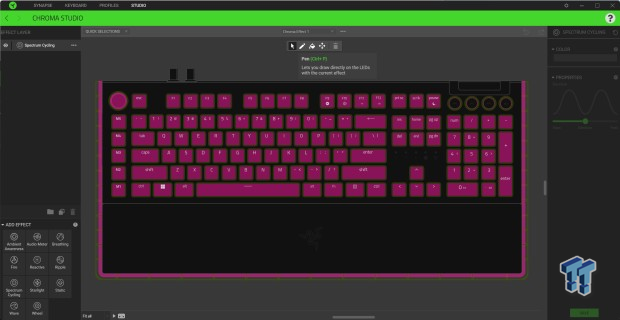 Adjusting the lighting is a simple preset affair, or you can dive a little deeper using the dedicated Chroma Studio add-on for Synapse. This is a very cool tool because the Razer BlackWidow V4 Pro features some of the best RGB lighting effects on a keyboard.
It extends around the keyboard's base, including the wrist rest, making it look like it's floating in space when sitting on a desk. To bring things back to being a "battle station," it's a formidable look. What's cool about Chroma Studio is that you're given Paint-like tools to draw the lighting directly onto all the keys and zones.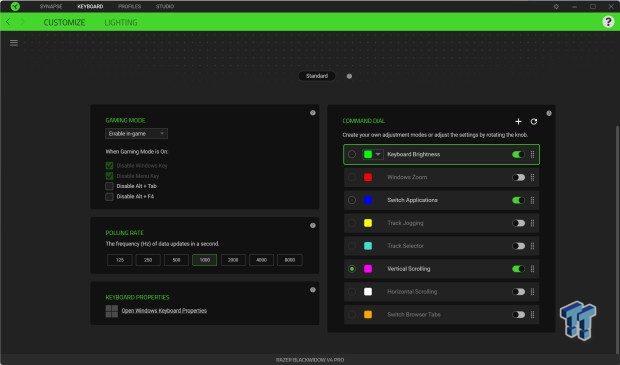 There are a few extra options related to the keyboard's functionality, including adjusting the polling rate to an impressive 8000 Hz, which might be a little overkill but will ensure flawless performance no matter the use.
Gaming Performance and Productivity
Gaming Performance
The Razer BlackWidow V4 Pro reviewed here features Razer Yellow Linear mechanical switches, which are smooth, fast, and relatively silent, with an actuation point of 1.2mm and a travel distance of 3.5mm. Throw in an actuation force of 45g, and you've got the sort of switch that's wonderful for fast-paced games like DOOM Eternal, Apex Legends, and Overwatch 2.
The linear style switch is slowly becoming the default or standard in mechanical gaming keyboards, and it's not hard to see why - the speed and responsiveness are something most gamers quickly become attached to.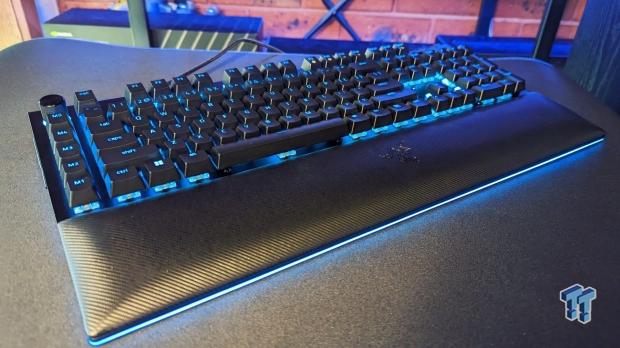 Razer offers a more traditionally clicky switch with the Razer Green option, but we prefer the Razer Yellow across all gaming genres, not just competitive or fast-paced shooters. During the review period, I played many hours of the new Company of Heroes 3 with the Razer BlackWidow V4 Pro. It was cool to set up the Macro keys to function as a grouping set of keys (Ctrl+1, Ctrl+2) as it was quick access from there to selecting groups for immediate management.
In addition to gaming modes that disable Windows keys, Razer also offers several RGB Chroma profiles for games which you can easily link from within Synapse with one or two clicks. All scanning is done in the background.
Productivity
As great as the Razer BlackWidow V4 Pro is for gaming, it excels as a productivity keyboard thanks to the sheer number of customization options you've got alongside things like making the Command Dial perform a specific function in an app like Adobe Photoshop.
From quickly switching between windows to the handy capture button and so many Windows and system function ready to select from the Synapse keyboard customization screen, it's hard not to be impressed. And, after a week of working with the Razer BlackWidow V4 Pro, you'll become attached to the Command Dial and other additional keys.
Another great touch is that Razer has made the USB passthrough optional with a separate cable, which is something we'd love to become the norm. Usually, keyboards with USB-passthrough take up two USB slots, which is annoying when you've got multiple devices to connect. The smooth and quiet Razer Yellow switches are also fantastic in keeping the clicky clack down to a minimum when you're in email mode.
Keyboard Click Sound Level
To test a keyboard's overall sound level, we use the Ozito Digital Sound Level Meter capturing the sentence "the quick brown fox jumps over the lazy dog" multiple times and recording the maximum dB level. This indicates how "loud" the switches used are for everyday usage. The following chart showcases where the Razer BlackWidow V4 Pro Mechanical Keyboard sits.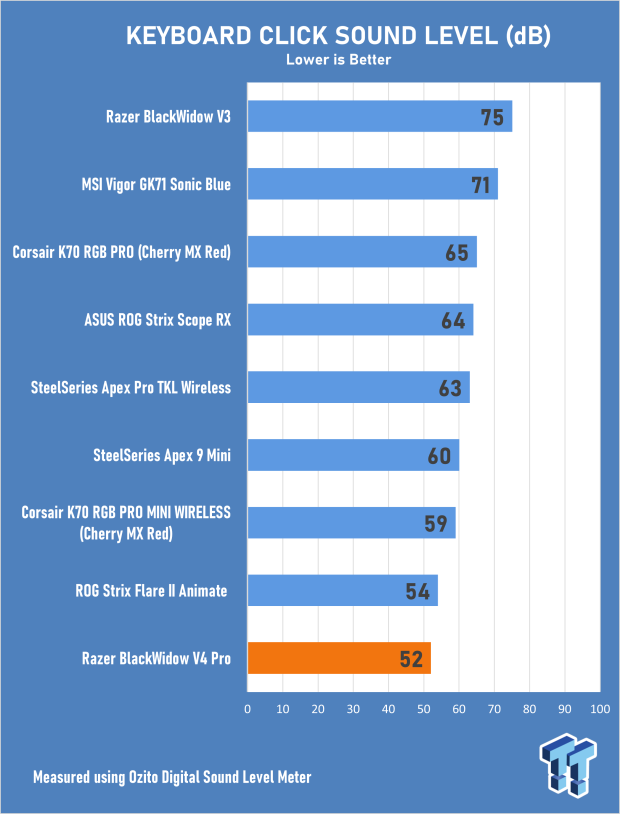 Final Thoughts
The Razer BlackWidow V4 Pro is a battle station of a mechanical keyboard that commands a high price. Still, its customization options are impressive - and the Command Dial is a lot more than a simple but inessential gimmick.
In fact, with all of the great features this keyboard delivers, it might just be the first Razer BlackWidow that's better suited to productivity and content creation tasks than straight-up gaming. The build quality is excellent, and the software support is robust, even if Razer Synapse is slightly bloated and clunky in its UI design.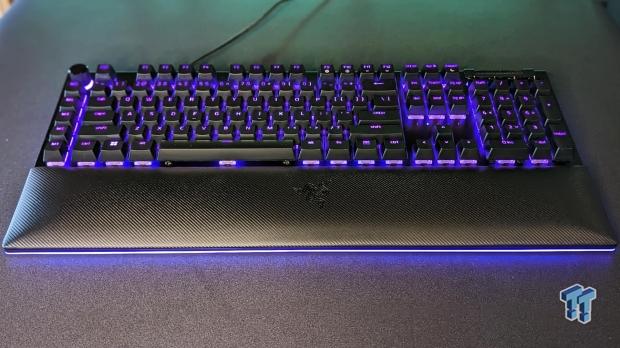 Also, the Razer Yellow Linear mechanical switches are impressive in their smooth and quiet performance. All in all, the Razer BlackWidow V4 Pro is a great mechanical keyboard, even with its minor flaws.
Still, if you're going to spend the money on what is currently one of the more expensive wired options out there, then you'd want to take advantage of its unique features. There's a bit of a learning curve, including on the customization side in Razer Synapse, but the results are worth it.