NVIDIA DLSS has evolved steadily over the years, and now the tech (alongside other upscaling methods) has become a major part of modern PC gaming - from DLSS 2 Super Resolution to the new DLSS 3 Frame Generation for GeForce RTX 40 Series owners. With DLSS 3, DLAA, and NVIDIA Reflex added to Bethesda's Starfield, we've got word from Team Green that RTX technologies are headed to a few more PC games this week.
For sci-fi, city-builder, and strategy game fans, the Early Access launch of Desynced is getting an update on November 16 that adds DLSS 3 support to the game. Based on NVIDIA's benchmarks using DLSS 'Performance' Mode in 4K, performance improvements are in the region of 2.2X. On the GeForce RTX 4070, the performance increases from 55.5 FPS to 129 FPS; on the GeForce RTX 4080, it increases from 93.7 FPS to 195.9 FPS; and on the GeForce RTX 4090, it increases from 130 FPS to a whopping 257.1 FPS.
With Early Access releases presenting incomplete versions of games, tech like DLSS can improve performance across a wide range of GeForce RTX hardware alongside regular optimizations and improvements.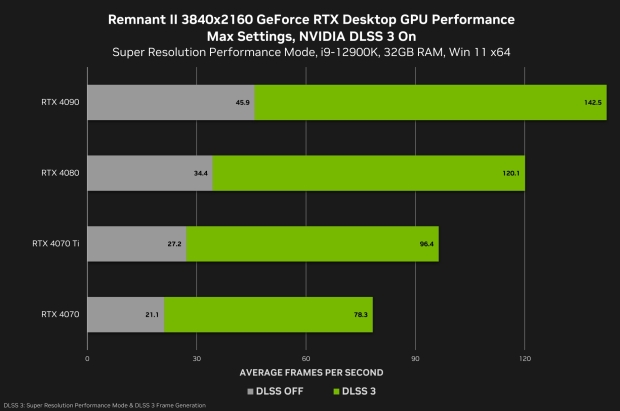 Another title with DLSS 2 Super Resolution and DLSS 3 support is the Remnant II: The Awakened King DLC, which greatly improves the game's performance when you enable NVIDIA's RTX technologies. As per above, with DLSS 2 enabled, you're looking at an increase of 3.5X on average when playing with max settings in 4K.
Next on the list is a new RTS game, Frontier Developments' Warhammer Age of Sigmar: Realms of Ruin. It's not often we get new RTS games, so regardless of this game implementing DLSS 2 Super Resolution tech to boost performance, the trailer above serves as a great reminder for fans of the genre to check this one out. And it looks like this one performs well across the entire GeForce RTX 40 Series lineup, with the mainstream GeForce RTX 4060 able to hit 72.2 FPS in 4K with DLSS in Performance Mode.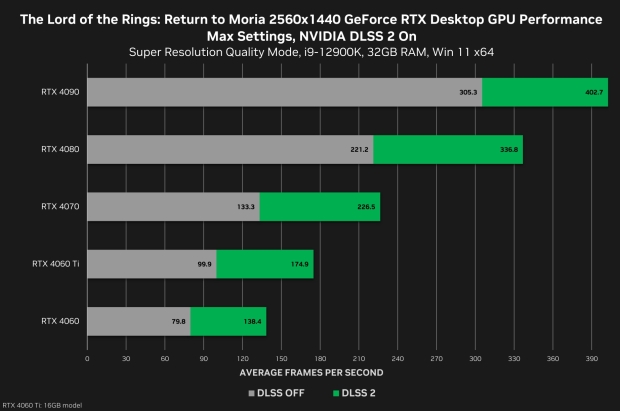 Finally, there's a game near and dear to our hearts, The Lord of the Rings: Return to Moria, which offers a procedurally generated Dwarven realm of Moria to explore, mine, craft, and adventure in. It arrives with DLSS 2 support, which in 4K increases performance by an average of 2.5X. Switching things to 1440p sees performance on the flagship GeForce RTX 4090 reach an incredible 400 FPS.