Lords of the Fallen is a highly anticipated Souls-like that is set to launch this weekend - with the game garnering plenty of attention due to its incredible Unreal Engine 5 visuals. It's a title set to push high-end PC hardware to its limit, with the god-tier GeForce RTX 4090 delivering an average frame rate of 69.2 FPS at 4K with max settings.
That performance figure comes via NVIDIA, with the company announcing a few days ago that Lords of the Fallen will ship with DLSS 3 support - pushing that 62.9 FPS figure up to an impressive 159.4 FPS. This figure includes DLSS Super Resolution using the 'Performance' mode with Frame Generation.
Until recently, NVIDIA DLSS 3's Frame Generation was the only, err, frame generation in town. That has changed in recent weeks thanks to AMD finally delivering the long-awaited FSR 3, including its brand-new frame-gen tech called AMD Fluid Motion Frame. Based on an early look at Lords of the Fallen, it will be the next game (after Immortals of Aveum) where DLSS 3 and FSR 3 will go head-to-head.
The game was streamed by LIRIK on Twitch (via Wccftech), where we get a look at the game's menu and display settings. Here, we see options for DLSS Super Resolution, DLSS Frame Generation, and an AMD FSR 3 toggle. As AMD's FSR 3 is platform agnostic and doesn't require AI hardware, it will work with all GeForce RTX GPUs, Radeon RX 6000, and the newer 7000 Series cards.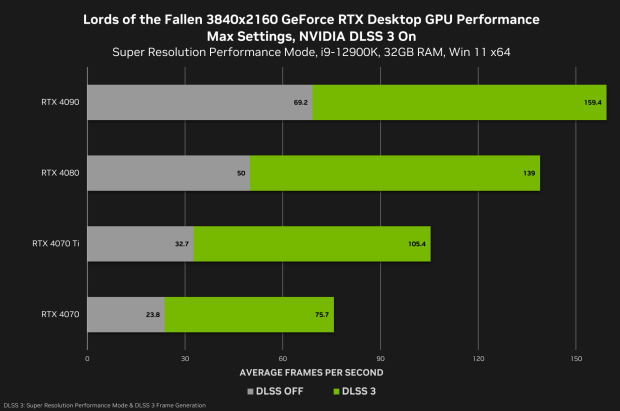 NVIDIA's DLSS 3 is limited to the new GeForce RTX 40 Series as it makes use of new AI hardware for Frame Generation - however, as we've found in testing, it does deliver great results on the GeForce RTX 4060 as well as the GeForce RTX 4090. We can take a GPU like the GeForce RTX 4070 for Lords of the Fallen and see how DLSS 3 compares to FSR 3 in the same game.
Based on deep dives into FSR 3 and DLSS 3, it's safe to assume the latter will look better overall, as FSR 3 requires AMD's FSR 2 to function, so the baseline image quality before frame generation kicks in will be inferior to DLSS 3 and the superior DLSS Super Resolution upscaling. Still, expect to see a bunch of FSR 3 versus DLSS 3 comparisons in the coming week.