They call it a flagship for a reason, something that sits on top of a lineup as the most premium edition or version. And with the launch of ASUS's most powerful GPU to date, the ROG Matrix GeForce RTX 4090 all-in-one with liquid metal cooling and a 360mm radiator, you're looking at a world-record-setting GPU setting a new record. For price.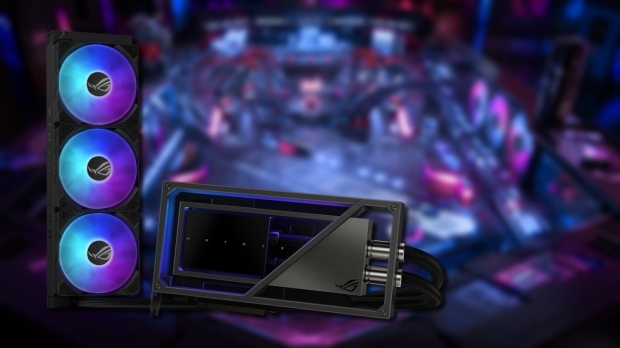 With the GeForce RTX 4090 carrying an MSRP of USD 1,599, the ROG Matrix GeForce RTX 4090 is currently being sold for almost double that, USD 3,199. An eyewatering figure that makes this more of a luxury item than a GPU you'd consider while browning a storefront. It's the most expensive GeForce RTX 4090 model available but also the most powerful.
Sporting the highest out-of-the-box GPU boost clock of any GeForce RTX 4090 GPU, an impressive 2670 MHz (which is a 6% increase over NVIDIA's reference specs), it also sees a power-limited increase to 600W to support overclocking. Plus, it's the first ASUS GPU to sport T1000-like liquid metal.
There's nothing about the ROG Matrix GeForce RTX 4090 that's practical; the GPU itself weighs in at over 2 kilograms due to the metal construction. And you'll need a pretty sizable case to fit in a triple-fan radiator. Still, it looks pretty amazing up close, and it's the first 'Matrix' GPU release since ASUS's flagship GeForce RTX 2080 Ti.
Naturally, there aren't many reviews of the ROG Matrix GeForce RTX 4090 online, but if you're interested to see how it performs (spoiler alert, it's the fastest GPU on the planet), check out the in-depth review by Hardware Unboxed below.