The race to achieve a boost clock frequency of 4 GHz on a GPU looks to be over, with American overclocker Allen "Splave" Golibersuch hitting this milestone moments ago, recording a GPUPI V3.3 - 32B result of 4005 MHz.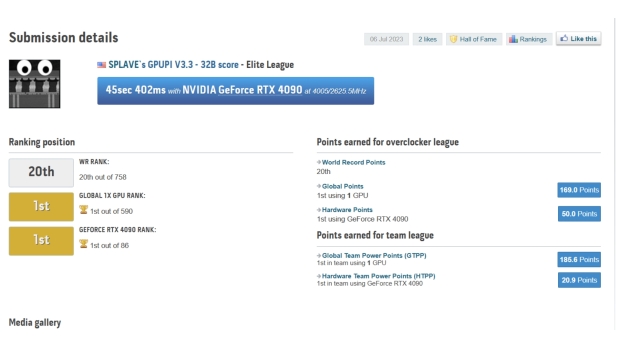 Bang on 4 GHz, and although the HWBOT submission outlines a 45sec 402ms run with an NVIDIA GeForce RTX 4090 at 4005 MHz - we assume this is the same flagship liquid-cooled ROG Matrix GeForce RTX 4090 all-in-one from ASUS he used to achieve a 3.94 GHz result just days ago.
The race to 4 GHz has been heating up recently, with overclocker Cens pushing a Colorful GeForce RTX 4090 iGame LAB to an incredible 3.975 GHz reclaiming the OC crown. We posted that achievement earlier today, so Splave hitting 4 GHz looks to have made that world record attempt somewhat short-lived.
Full details on Splave's impressive 4 GHz run are light at the moment (and we'll update this piece once more info becomes available), but we know that for Cens to hit 3.975 GHz with the Colorful GeForce RTX 4090 iGame LAB, it required a custom BIOS, LN2 cooling, and a power draw of up to 1100W.
And with that, we're not sure how much room is left to push the clock speeds on a GeForce RTX 4090 even higher - we doubt this new world record will stay on top for very long. Things move fast in the OC world, even with all of that LN2, and seeing a GeForce RTX 4090 hit 4 GHz opens the door to a new realm of OC potential regarding graphics cards.
Congrats to Allen "Splave" Golibersuch for this incredible result and to SoonHo Jeong for pointing it out on Facebook.