We've seen some pretty impressive overclocking action with the GeForce RTX 4090, with American overclocker Allen "Splave" Golibersuch being the first person to achieve a recorded 4 GHz boost clock speed with a ROG Matrix GeForce RTX 4090 from ASUS not that long ago. And now the OC master is back, smashing the 3DMark Fire Strike Extreme world record with the same GPU.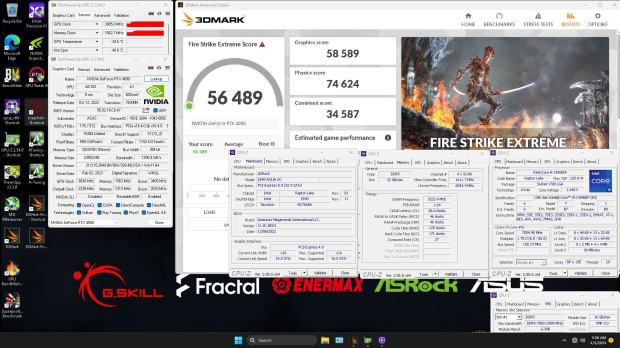 The ROG Matrix GeForce RTX 4090 was paired with an Intel Xeon w9 3495X 'Sapphire Rapids-WS' CPU, W790 motherboard, and G.Skill DDR5 memory. Alongside the GPU overclocked to 3885 MHz, the VRAM was overclocked to 1563 MHz to deliver 1.2 TB/s of memory bandwidth.
Of course, cooling all of that required liquid nitrogen. The result was a new world record 3DMark Fire Strike Extreme overall score of 56,489 and graphics score of 58,589. Per the HWBOT submission, it beats the record set by German overclocker CENS of 55,809 by 1.2%.
Now, a 1.2% increase might not sound like a lot, but this is new territory in the world of overclocking. It's a heady mix of across-the-board overclocking that requires each PC component to perform at peak capacity (or close to). The GPU boost clock speed of 3885 MHz represents a 73.83% increase over the reference spec, while the CPU overclock of 7557 MHz represents a whopping 297.74% increase.
What's crazy is that the image supplied by Splave shows that the GPU temperature (after completing the world record benchmark run) was sitting at -34.6 degrees Celsius with a hot spot of -40 degrees.