ASUS is bringing back the Matrix naming (last seen with the GeForce RTX 2080 Ti) for its new flagship liquid-cooled ROG Matrix GeForce RTX 4090 all-in-one.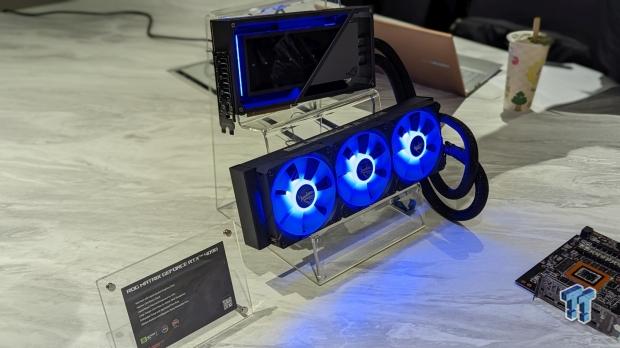 With a power rating of 600W and boost clock speeds that ASUS states is the highest for an off-the-shelf GeForce RTX 4090 to date, this is set to become one of the most powerful GPUs when it eventually releases.
The GPU features a liquid metal thermal compound, with the shroud featuring a large copper cold plate for heat dissipation. The embedded pump and 360mm radiator make it a formidable GPU in terms of physical size and look - with magnetic daisy chainable fans adding another dose of high-end quality to the build.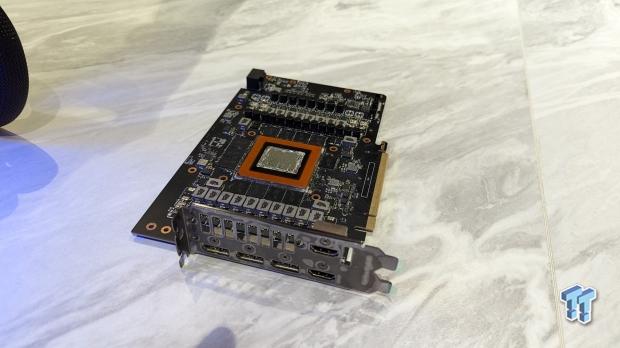 At Computex 2023, we got to see the new ROG Matrix GeForce RTX 4090 up close, and it's quite something, with the unit itself featuring a robust all-metal build that is both stylish with its reflective surface and quite heavy. As far as liquid-cooled GPUs are concerned, it's set to be one of the biggest in addition to the most powerful.
As far as the 600W power rating, ASUS noted that this is pretty much the limit for the GeForce RTX 4090 in terms of raw performance, where pushing things higher (up to 1000W is apparently possible and something ASUS engineers tested during the Matrix's prototyping and design phase) gives you very little in terms of extra frames.
We'll provide more info on the new ROG Matrix GeForce RTX 4090 as it breaks, including pricing and availability. As the new flagship GPU from ASUS, no doubt it won't come cheap.