The next installment in Ubisoft's Assassin's Creed franchise, due for release on October 5, will see the series return to its roots by focusing on stealth, investigations, and assassinations in a single detailed location - Baghdad in the year 861. And with the release right around the corner, Ubisoft has outlined what to expect with the PC version and what you'll need to run the game in 4K.
Compared to some of the recent high-profile PC releases, Assassin's Creed Mirage looks to be less intensive on hardware - with the NVIDIA GeForce RTX 2070, AMD Radeon RX 5700 XT, and Intel Arc A770 able to hit 1440p 60fps using the 'High' detail mode. All three of these cards only feature 8GB of VRAM, too, so it doesn't look all that taxing.
Ubisoft's announcement for the PC features, which includes support for uncapped frame rates, ultrawide and multi-monitor displays, and keyboard and mouse controls, also reinforces that it has partnered with Intel for the game's release. This means no DLSS or AMD FSR support, just Intel's XeSS Super Sampling.
Alongside optimizations for Intel Arc graphics cards and Intel CPUs, there's also MSI's Mystic Light integration and support for the OWO Haptic Gaming System vest announced a few months ago, which is a pretty fun-sounding peripheral that aims to put you into the game via a bodysuit that will offer haptic feedback. Limiting the upscaling to Intel XeSS is a first; we expected Mirage to be the first game to support NVIDIA DLSS.
The good news is that the game will play nicely on low-end and entry-level GPU hardware, from the GeForce GTX 1060 to the Intel Arc A750 - though you'll need a GeForce RTX 3080 to play in 4K. Here's the breakdown of the hardware requirements.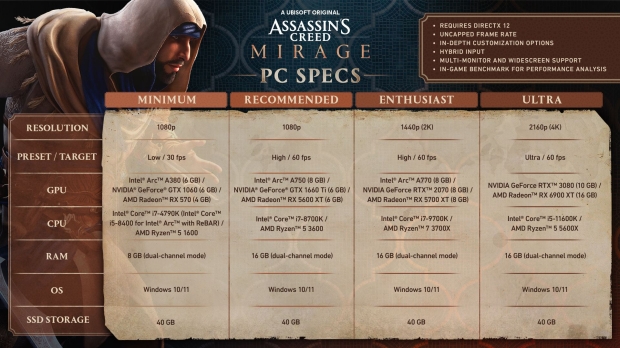 1080p, LOW PRESET, 30 FPS

CPU: Intel Core i7-4790K (Intel Core i5-8400 for Intel Arc with ReBAR)/AMD Ryzen 5 1600

GPU: Intel Arc A380 6GB/NVIDIA GeForce GTX 1060 6GB/AMD Radeon RX 570 4GB

RAM: 8GB (dual-channel mode)

OS: Windows 10/11

SSD Storage: 40 GB

1080p, HIGH PRESET, 60 FPS

CPU: Intel Core i7-8700K/AMD Ryzen 5 3600

GPU: Intel Arc A750 8GB/NVIDIA GeForce GTX 1660 Ti 6GB/AMD Radeon RX 5600 XT 6GB

RAM: 16GB (dual-channel mode)

OS: Windows 10/11

SSD Storage: 40 GB

1440p (2K), HIGH PRESET, 60 FPS

CPU: Intel Core i7-9700K/AMD Ryzen 7 3700X

GPU: Intel Arc A770 8GB/ NVIDIA GeForce RTX 2070 8GB/AMD Radeon RX 5700 XT 8GB

RAM: 16GB (dual-channel mode)

OS: Windows 10/11

SSD Storage: 40 GB

2160p (4K), ULTRA PRESET, 60 FPS

CPU: Intel Core i5-11600K/AMD Ryzen 5 5600X

GPU: NVIDIA GeForce 3080 10GB/AMD Radeon RX 6900 XT 16GB

RAM: 16GB (dual-channel mode)

OS: Windows 10/11

SSD Storage: 40 GB