You might have seen ASUS's new flagship liquid-cooled ROG Matrix GeForce RTX 4090 all-in-one pop up in a few headlines in recent months. American overclocker Allen "Splave" Golibersuch used the ROG Matrix GeForce RTX 4090 to smash through the 4 GHz boost clock barrier back in July and then followed this up by beating the 3DMark Fire Strike Extreme world record with the same GPU.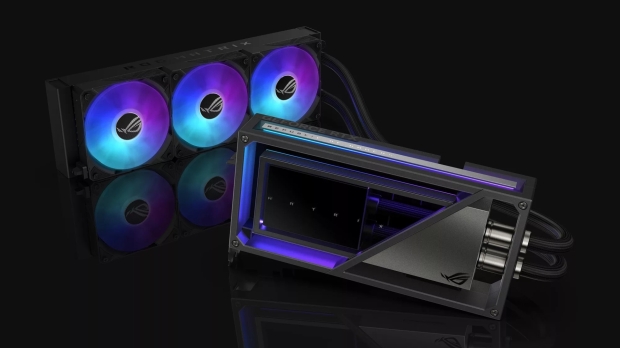 So even though it's common knowledge that the GeForce RTX 4090 is the most powerful graphics card available in 2023, there are key differences between models - and some RTX 4090s are just more capable than others - with or without the aid of LN2. Enhanced power delivery and the best of the best components make the ROG Matrix GeForce RTX 4090 the sort of card overclockers look for.
Announced in May of this year, and we got the chance to see an early version of the card up close at Computex 2023, ASUS is finally ready to launch the ROG Matrix GeForce RTX 4090 - with the card's release date set for September 19.
The ROG Matrix uses liquid metal to increase thermal conductivity, with the shroud featuring a large copper cold plate for heat dissipation. The embedded pump and large 360mm radiator make it a formidable GPU in terms of physical size - and the magnetic daisy chainable fans add another dose of high-end quality.
Throw in a 600W power rating (with ASUS noting that based on its testing after this point, it's diminishing returns for the RTX 4090). The out-of-the-box capabilities will be far more impressive than the air-cooled launch cards we tested last year. The only question remains is how much this will cost, but that's not yet available.
ASUS plans to conduct an RTX 4090 ROG Matrix unboxing and livestream at 9 a.m. September 19, New York time, via YouTube. We'll probably learn about the price then, which will undoubtedly be a lot.