Samsung flew me out to try out the 55-inch Odyssey Ark gaming monitor, and throughout the approximately 15 to 20-minute gaming session, I gathered some thoughts on one of Samsung's highest-end displays.
The 55-inch Odyssey Ark is a curved UHD gaming display that's designed to match the human eye for increased realism with its 1000R curvature, and before we get into my personal experience with the display, we should discuss the Ark's specifications. Samsung has pulled out all of the stops with the Ark, equipping the display with Quantum Matrix Technology, a 3840 x 2160 resolution VA panel at a 165Hz refresh rate, a 1,000,000:1 (Static) contrast ratio, a 1ms GTG response time, Quantum HDR 32x, a typical brightness of 600cd/㎡, and a 95% color gamut (DCI coverage).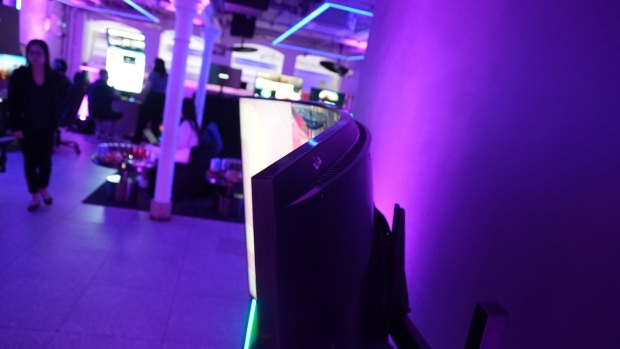 Full specifications for the Ark can be found below, but let's get into my experience with the gaming monitor. Samsung set up the Ark in two stations at its event. The first was in a driving simulator, where I was positioned below the monitor. I immediately noticed the severe curvature of the display, but after taking a seat in the cockpit, the curvature dissipated as I was looking directly at the Ark's center. This was impressive, and Samsung's choice of Gran Turismo 6 was fantastic, as the racing games really made the monitor shine.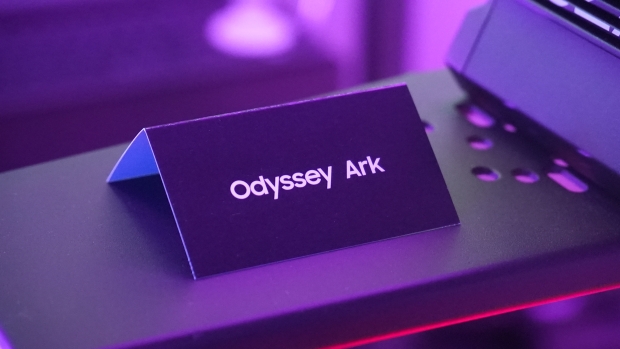 The 165Hz refresh rate made for buttery smooth gameplay that was paired with eye candy that can be attributed to the incredible colors and pixel density. The curvature of the monitor ushered in incredible immersion, and if you are a racing game fan, you would definitely enjoy the Ark. Other games I can imagine the Ark shining on are games like Age of Empires IV, DOOM Eternal, and most console games.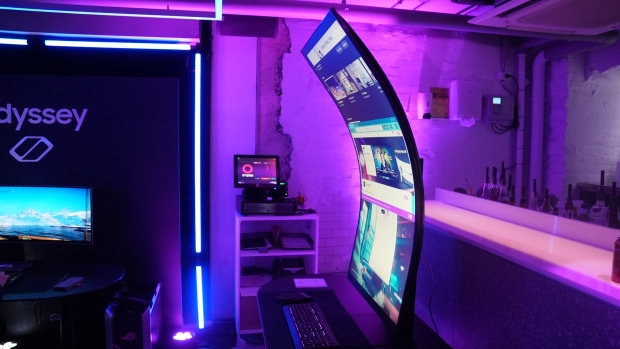 Samsung also had the Ark in portrait at another booth, and it was displaying three separate windows. I typically wouldn't put the Ark in portrait mode if I owned it, but Samsung was displaying the ease of the Ark's rotation. While I wouldn't use the Ark in this orientation, it was still very impressive, as the sheer size and curvature of the gaming monitor loomed above me. I can imagine using the Ark in portrait mode if I required several windows to be open simultaneously.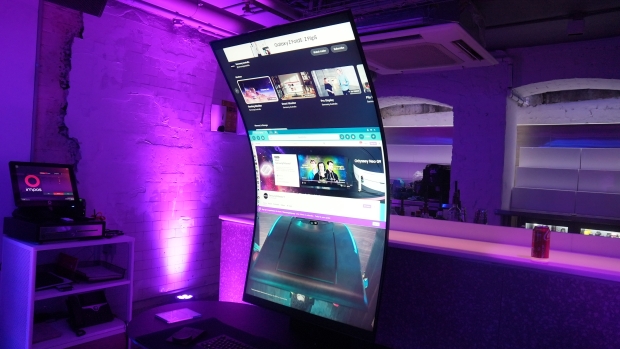 Console gamers who are currently using a flat-screen display for gaming may want to consider the Ark, especially if they aren't sitting very far away from their display, as the Ark's curvature is extreme and doesn't really hit the same from a distance.