Last week MSI announced its line-up of GeForce RTX 4060 graphics cards, with models set to launch this week in the company's well-known Ventux and Gaming product lines. Today, over at Newegg, we've got pricing for three models with retail pages live ahead of launch. These are currently listed as "Out of Stock," though that will change on June 29.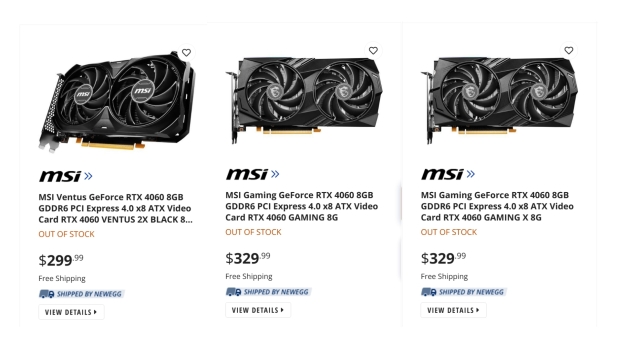 And with three models listed, we have confirmation that pricing for the GeForce RTX 4060 starts at USD 299, with the more premium variants costing USD 329. At least for MSI, we expect other brands to release higher-end variants to target the USD 329 price point.
For MSI, its MSRP model is the MSI GeForce RTX 4060 VENTUS 2X BLACK 8G for USD 299, and the specs listed detail that it features 3072 CUDA Cores and a Boost Clock of 2490 MHz. VENTUS cards from MSI represent the entry-level GPUs from the company and, as we've seen from previous releases, deliver great results with adequate cooling and silent performance. These cards are also smaller than more premium models, and the MSI GeForce RTX 4060 VENTUS 2X BLACK 8G's length of 199 mm is compact.
On the high-end, you've got the MSI GeForce RTX 4060 GAMING X 8G for USD 329, which makes use of MSI's superior cooling and a Boost Clock of 2595 MHz out-of-the-box (which can go up to 2610MHz via MSI Center). It's also a larger card, with a length of 247 mm, and is packed with premium features like a metal backplate (assuming it follows what we saw with the Gaming X RTX 4060 Ti).
Newegg also lists a non-X MSI GeForce RTX 4060 GAMING 8G for USD 329, which doesn't feature any out-of-the-box overclocking - and you can view all three via the following links.
With the GeForce RTX 4060 launch happening pretty quickly after the GeForce RTX 4060 Ti launch, it's worth noting that the MSI GeForce RTX 4060 Ti VENTUS 2X BLACK 8G is currently discounted from its original USD 399 price down to USD 379 at Newegg and Amazon (links below). So time will tell if the USD 299 price point for the new RTX 4060 holds.