NVIDIA's RTX 3070 has finally sunk below its MSRP in the US and Europe, and those waiting for a more affordable Lovelace GPU - with the RTX 4060 Ti supposedly now on the horizon - might just be tempted to instead pull the trigger on this older mid-range Ampere graphics card.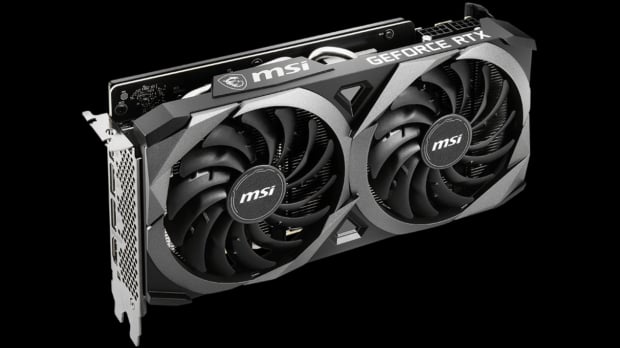 Would that be a wise decision? We'll come back to that, but first, let's look at the recent price drops NVIDIA's RTX 3070 has witnessed.
As German tech site 3DCenter reports (via VideoCardz), over in Germany at retailer Caseking, there's a Zotac RTX 3070 for €449, which is €50 under the recommended price of €499.
And in the US, over at Newegg, we can see at the time of writing that there's an MSI RTX 3070 at $465, which is a good deal lower than the $499 MSRP, and indeed the full asking price for that Ventus 2X card is $550, so it's actually 15% off right now.
Other RTX 3070 graphics cards from the likes of ASUS and GIGABYTE are at the MSRP over at Newegg, and might soon enough benefit from discounts too - particularly as the purported reveal of the RTX 4060 Ti comes nearer (it's supposed to be happening at the end of May).
With some previous rumors pegging the performance of said RTX 4060 Ti at the same level as an RTX 3070, if you can get the latter right now at a suitably low price, should you?
Muddy waters
Well, there are obvious problems with this particular conundrum, the first of which is we can't be sure where the RTX 4060 Ti's performance will end up. Although the weight of all the current rumors is that the spec is going to end up on the underpowered side.
Even if the RTX 4060 Ti does turn out to be the equivalent of the RTX 3070 performance-wise, we need to remember a few extra points here. Firstly, that DLSS 3 will at least help the RTX 4060 Ti's cause with some games (that support it), although even then, there's controversy around its frame generation tech.
We must also consider that the RTX 4060 Ti will be a good deal more power-efficient, achieving that performance at a lower wattage (maybe 20% less or thereabouts, if the rumor mill is right).
Finally, don't forget that there's an advantage for the 4060 Ti in terms of drivers. New GPUs get more attention with NVIDIA's driver releases, and what's more, Ampere will fall out of support before Lovelace in the future (if you're planning on keeping the graphics card for many years).
Most tellingly, we don't yet know the price of the RTX 4060 Ti. If the most recent rumor contending that NVIDIA is looking at a more reasonable $399 pans out, then that's going to seem solid enough compared to current RTX 3070 pricing. On the other hand, if NVIDIA goes higher - and for that matter, RTX 3070 price tags might just fall a bit further, too - well, the relative value proposition could look rather different.
For the time being, though, the best bet is to play a waiting game. After all, we should hopefully see the RTX 4060 Ti in not much more than three weeks (and we'll likely get some more concrete leaks before then, too). Still, the RTX 3070 is looking decently tempting at its new price points in the US and Europe, it has to be said - and for that matter, the RTX 3070 Ti is now down at $520 in the US in one case (at Amazon at the time of writing), so it's worth watching that GPU going forward, too.