According to a new report via MyDrivers, NVIDIA is considering releasing the upcoming GeForce RTX 4060 Ti at a price point that will appeal to PC gamers - USD 399.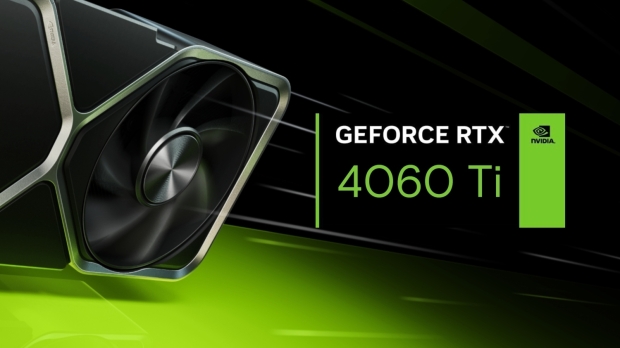 This would mean the GeForce RTX 4060 Ti would release with the same MSRP as the previous generation's GeForce RTX 3060 Ti.
And with that, it would be an unprecedented move from NVIDIA regarding new GeForce RTX 40 series launches, which have all seen price increases over the 30 Series. From the GeForce RTX 4090 to the recently released RTX 4070, each card in the line-up has launched with a price point higher than the previous generation.
Here's a quick rundown of the differences in USD (limited to entries with RTX 40 Series equivalents).
GeForce RTX 3090 ($1499 MSRP) - GeForce RTX 4090 ($1599 MSRP) 6.7% increase.
GeForce RTX 3080 ($699 MSRP) - GeForce RTX 4080 ($1199 MSRP) 71.5% increase.
GeForce RTX 3070 Ti ($599 MSRP) - GeForce RTX 4070 Ti ($799 MSRP) 33.4% increase.
GeForce RX 3070 ($499 MSRP) - GeForce RTX 4070 ($599 MSRP) 20% increase.
Of course, several factors affect GPU pricing - from inflation, the GPU mining boom and crash, performance, and new hardware features. The price increases for the RTX 40 Series have been all over the place, and based on the above, seeing the GeForce RTX 4060 Ti launch with a $499 price point would be out of the question - a 25% increase over the previous generation.
NVIDIA eyeing a $399 price point for the RTX 4060 Ti makes sense and would be viewed as a direct response to news and early feedback pointing to the RTX 4070 not selling as well as expected.
The GeForce RTX 4060 Ti is set to use the AD106-350-A1 GPU, which features 4352 CUDA Cores and 8GB of GDDR6 memory running at 18 Gbps on a 128-bit bus offering 288 GB/s of bandwidth. The addition of 32MB of L2 cache presents a massive increase over the GeForce RTX 3060 Ti, with the card's overall performance set to deliver RTX 3070 Ti-like numbers.
If the RTX 3070 Ti is the performance target for the RTX 4060 Ti, then the $399 price point would generally be seen as a win for consumers. Currently, most vendors' best-selling graphics cards are the GeForce RTX 3060 and RTX 3060 Ti - with pricing in the region of $350-$400. A $399 RTX 4060 Ti would be a true mainstream RTX 40 Series entry, though there is no doubt the fact the rumored 8GB of VRAM will still be a cause for concern for many.