Former PlayStation 5 exclusive Returnal made its PC debut in February this year with an excellent port that featured day-one support for DLSS 2 and real-time ray-tracing. The third-person sci-fi roguelike shooter from Sony and first-party studio Housemarque was a break from the norm regarding AAA cinematic blockbusters from PlayStation Studios, with the game finding both critical and commercial success.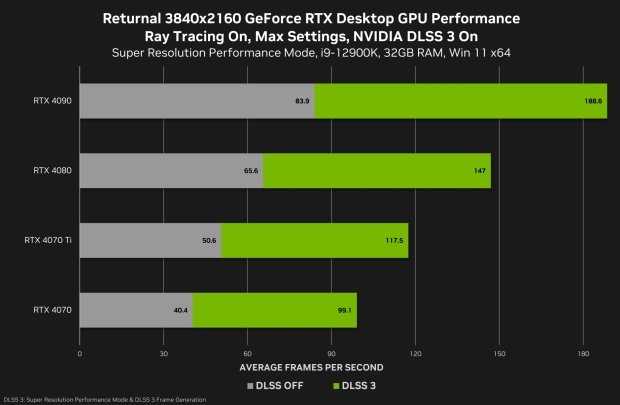 Today comes word that Returnal is adding support for DLSS 3, NVIDIA's new rendering tech exclusive to the GeForce RTX 40 Series of graphics cards that can boost performance via the new AI-based Frame Generation.
In Returnal, NVIDIA notes that with a GeForce RTX 4090, the performance increase compared to native 4K rendering is 2.2X, boosting the overall frame rate to over 180 fps. Even the recently released GeForce RTX 4070 sees a performance boost to under 100 fps in 4K with DLSS 3 enabled, and this is with all visual settings maxed out and ray-tracing enabled.
NVIDIA has also announced that DLSS 3, DLSS 2, and ray-traced reflections and shadows are coming to The Lord of the Rings: Gollum PC release on May 25. From developer Daedalic Entertainment it's a game that has been delayed several times, but it looks like it's finally ready to be released.
And with that, NVIDIA has released a The Lord of the Rings: Gollum RTX On trailer showcasing 4K gameplay.
This arrives alongside PC hardware requirements that outline the need for a GeForce RTX 4070 or RTX 4080 with DLSS to play with ray-tracing enabled in 1440p or 4K or a GeForce RTX 3070 with DLSS to play without ray-tracing using the game's Ultra quality settings in 4K.