Intel's Arc graphics cards might be in serious trouble, or at least that's what one well-known leaker has heard from sources on the grapevine.
That would be Moore's Law is Dead (MLID) on YouTube, who has spoken to various contacts purportedly in the know regarding all things Intel, and aired some rumors that are troubling, to say the least.
If MLID's sources are right, it's entirely possible that we won't see an Arc Alchemist refresh this year. Revamped Alchemist graphics cards were rumored to be set to debut late in 2023, but apparently, this is no longer happening. What we might still get, though, are some tweaked spins on Alchemist cards with maybe clocks bumped up a bit, but nothing like a full revamp.
MLID reckons that second-gen Arc Battlemage GPUs have been pushed to late 2024, and the top-end chip (largest die) has most likely been canceled, though the leaker notes he doesn't have 100% confirmation of that yet. (Note carefully that none of this is confirmed, of course - it's all just spinning from the rumor mill, and should be viewed very much through a skeptical lens).
The highest-end Battlemage offering will apparently be a 250mm2 die (on TSMC 4mm). In all likelihood, even given performance boosts and honed architecture with the next-gen - plus a 'special new technology' MLID won't say anything about (yet) - the theory advanced by the leaker is that this graphics card likely won't compare well to what AMD and NVIDIA have in store for the same timeframe of late 2024 (next-gen RDNA 4, and Blackwell or RTX 5000).
MLID is guessing at a boost in performance of maybe a third for this second-gen card compared to Alchemist, and calls it something that won't be all that exciting. Moreover, third-gen Celestial is rumored to be a single die only (180mm2), so MLID sums up that what Intel may end up doing will be pumping out a limited amount of lower-end cards to keep the driver team ticking along on "life support," biding time until the company can ramp GPU plans back up again.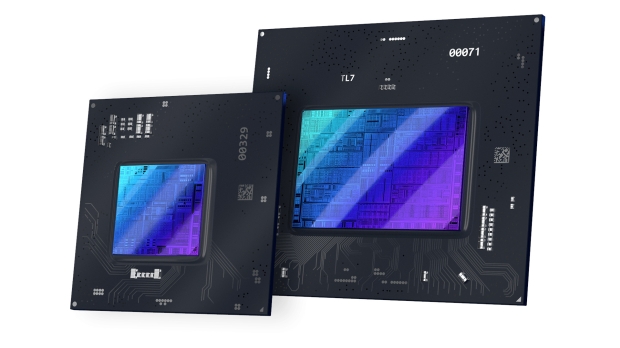 There's hope yet
Of course, MLID admits that there's potential for Intel, even given these rather dire-sounding rumors. If the company can indeed keep honing its graphics drivers and getting them into better and better shape - which it has been doing successfully in recent times - then even lower-end GPUs with good drivers could make a decent impact on the market.
Intel could snag meaningful adoption if Battlemage's launch timeframe doesn't slip, and if these future graphics cards are priced keenly to attack AMD and NVIDIA. And presumably, that's the course Intel would want to take (we've already seen pricing drop to much more tempting levels with Arc GPUs, after all).
Team Blue could then hope to stay relevant in the GPU world, arguably at the end where it's most important - the budget sector that NVIDIA appears to want to completely neglect (with AMD not doing that much better on this front, either). Hopefully meaning Intel can build towards something bigger, with more impact, when it comes to fourth-gen Druid.
Another of MLID's sources believes that while Intel Graphics might be an 'uncompetitive zombie' for the next three years, the following year - 2027 - could witness the Druid launch, and currently, three full dies are still planned for that generation. In other words, this could be the comeback: a Druid resurrection (rather appropriately) with a big push and many more GPU offerings.
The broad idea is that Intel may have a long-term 'bide time and then reattack' plan underway, but again, this is all speculation. And even the trusted source who advances the 'zombie' theory notes that if Battlemage goes sideways, it's certainly possible Intel could throw in all its cards, so to speak, and Druid could end up canceled.
It's worth underlining that this is all a lot of ifs, buts, and maybes, but the overarching theme is that Intel appears to have narrowed its ambitions for Arc graphics cards considerably, at least away from the long-term.
The timing of this rumor spillage as well - just as Raja Koduri, who was chief architect of Intel's graphics division, leaves the firm - clearly gives us a strong enough sense that Team Blue is currently in choppy GPU waters.