Intel's Arc Alchemist desktop graphics cards are getting cheaper and cheaper across the globe, with one model now hitting US$120 at a major US retailer.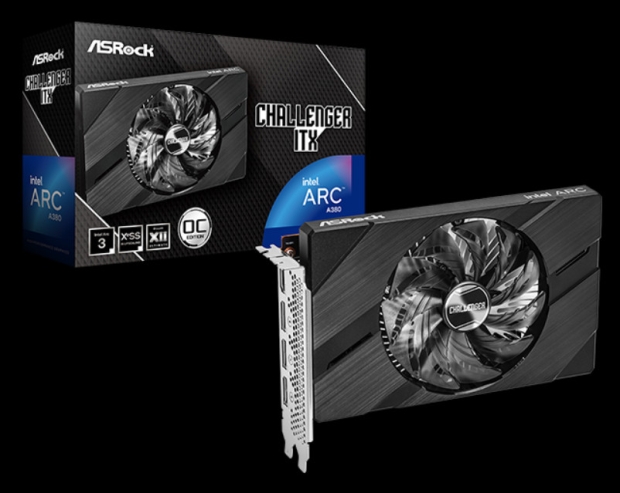 That would be the ASRock Challenger Arc A380 (6GB) graphics card, a lower-end (A3 series) model. As mentioned, this card has now gone as low as US$120 at Newegg, compared to the recommended price of US$140.
That represents a price drop of almost 15%, and at the budget end of the GPU market, savings are always welcome. An extra US$20 can mean a nice upgrade for another component elsewhere in a cheap PC build.
It's not just with ASRock in the US that downward price movements are in evidence with Intel's discrete GPUs. Also in China, Gunnir (a major Asian card maker) is selling its take on the A380 for 799 RMB, which converts to around US$115, an even more affordable price tag. And way lower than the initial 1149 RMB, which was the price of the A380 when the product first hit the shelves.
As VideoCardz, which highlighted all these price drops, points out, higher-end Intel graphics cards also benefit from discounts, such as the ASRock Challenger A770 at US$270, and the A750 from the same manufacturer hitting US$240. Previously, the asking price for these cards was over the US$300 mark, so again, that's some very welcome price cutting.
What makes Intel's Arc Alchemist GPUs even more tempting these days is that slowly but surely, Team Blue is honing the graphics drivers to improve them substantially. In recent times, we've seen a whole load of big upticks in performance with certain games, and better overall stability from the Arc drivers too.
When Alchemist graphics cards first arrived, the Intel driver was a seriously shaky weak point, but that situation has changed - and coupled with falling prices, Team Blue's desktop GPUs are slowly becoming a more tempting proposition.
With AMD and NVIDIA's pricing causing some misery among gamers, particularly for cutting-edge RTX 4000 and RDNA 3 graphics cards, Intel is starting to ease price pressures in the way we hoped might happen when we first heard about Team Blue's entry into the discrete GPU world.
And okay, Intel may not be up there with AMD in the desktop graphics card arena just yet - despite some recent stats from an analyst firm that suggested otherwise, which turned out to be wrong - but it's catching Team Red with some speed, and could soon be making even faster progress.
Let's hope so, because that'd be good news for overall competitivity in the GPU space, and the consumer in the end.