ASRock poses an interesting question, if you could have one fast high-speed PCIe 5.0 M.2 SSD, why not four? That's precisely what the Blazing Quad M.2 Card delivers over a PCI Express 5.0x16 interface, the option to install, manage and cool four PCIe 5.0 M.2 SSDs.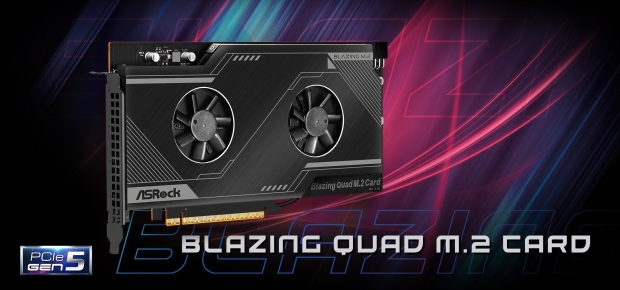 The Blazing Quad M.2 Card features a single-slot design with dual fans, an XXL aluminum cooling fin (heatsink), and thermal pads. A single 6-pin connector also powers it. That cooling might sound overkill, but due to their impressive read/write speeds, PCIe 5.0 M.2 SSDs tend to run hot. Some of the first standalone models we've seen come with little fans and heatsinks, which is a new thing for storage.
Under the hood, the Blazing Quad M.2 Card houses up to four drives in a diagonal configuration, which allows ASRock to support multiple sizes and "keep the signal traces as short as possible, giving better signal integrity for high-speed data transferring." Four status LEDs are on the unit, too, so you can get visual feedback on the activity.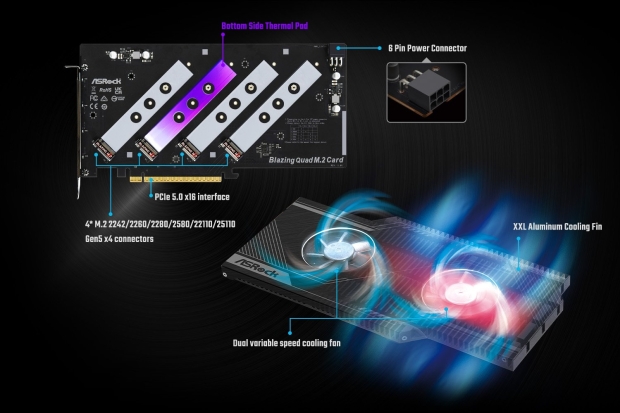 There is no pricing or availability for the ASRock Blazing Quad M.2 Card, and the official product page says you'll need to check in with your local dealer for availability. ASRock lists the Blazing Quad M.2 Card as compatible with its latest W790 WS motherboard for Intel Xeon W Sapphire Rapids processors - pointing to this being more for high-performance workstations than gaming PCs. That said, we'd still love to see this in action with a chunky Steam library.