Nintendo has broken records with the Switch, which has become the third best-selling gaming hardware of all time. But how does the Switch stack up against Nintendo's other hardware, and PlayStation hardware for that matter?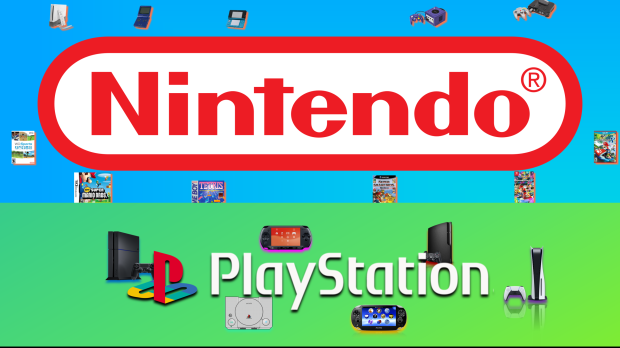 Nintendo recently made history by achieving 122.55 million Switch shipments. As we predicted, the Switch had beaten the PS4 and the Game Boy by the end of 2022. This puts the Switch handheld-console family firmly in third place behind the Nintendo DS (154.02 million) and the PlayStation 2 (155 million). Although the Switch is currently in its seventh year, Nintendo is reportedly raising its hardware production target for the 2023-2024 period.
To really underline this sales achievement, we've combined historical Nintendo and PlayStation shipments in a single chart. The results speak for themselves and give consumers a better look at how specific handhelds and consoles performed during their respective eras.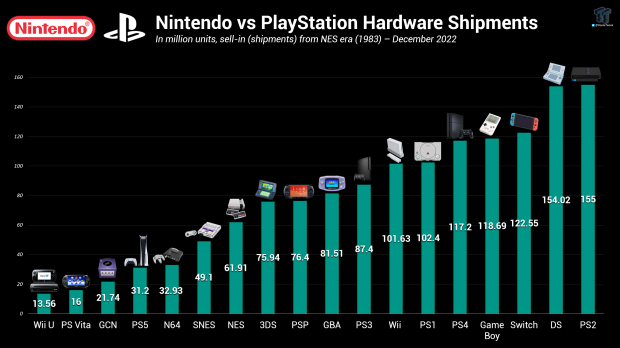 The data has been compiled based on figures provided by Sony and Nintendo. The shipment breakdown looks like this:
(Shipments in million units as of December 31, 2022)
Wii U - 13.56

PS Vita - 16

GameCube - 21.74

PS5 - 31.2

Nintendo 64 - 32.93

Super Nintendo - 49.1

NES - 61.91

3DS - 75.94

PSP - 76.4

Game Boy Advance - 81.51

PS3 - 87.4

Wii - 101.63

PS1 - 102.4

PS4 - 117.2

Game Boy - 118.69

Switch - 122.55

DS - 154.02

PS2 - 155
There's just one question: Where are the Xbox numbers?
As much as we'd like to add Xbox console sales in this chart, we don't exactly know full sales of specific Xbox platforms. For instance, Microsoft has submitted that Xbox console installed base was about 63.7 million.
It's unclear what the numbers are for each specific generation of Xbox hardware, including the original Xbox from the 2000's era, the Xbox 360 released in the mid-2000's era, the Xbox One that launched in 2013, and finally the Xbox Series X/S duo that launched in 2020.