AMD has confirmed the launch dates and pricing for its highly anticipated Ryzen 7000 X3D lineup, which includes three models.
Ryzen 9 7950X3D - USD 699 (February 28)

Ryzen 9 7900X3D - USD 599 (February 28)

Ryzen 7 7800X3D - USD 449 (April 6)
These CPUs are the successor to the popular Ryzen 7 5800X3D with increased 3D V-Cache, which is said to deliver improved gaming performance across the entire line-up. On that front, AMD has showcased some of its internal 1080p benchmarks for the Ryzen 7 7800X3D, compared to the Ryzen 7 5800X3D. Covering popular titles like Rainbow Six Siege, CS:GO, and DOTA 2, you're looking at a 20-30% increase.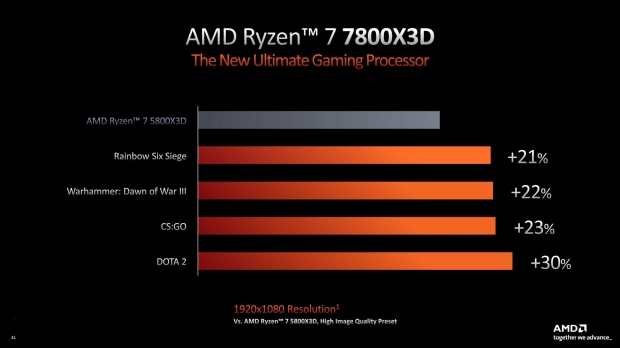 Naturally, companies like to cherry-pick their results, so we'll have to wait until reviews start showing up to see if it's the same story across most games.
Considering the Ryzen 7 5800X3D is still one of the best gaming CPUs in 2023, the Ryzen 7000 X3D line-up should become a popular option for new builds this year. The flagship 7950X3D model is also said to deliver better gaming performance than Intel's Core i9-13900K, using less power. Impressive stuff.
Here's a look at the specs.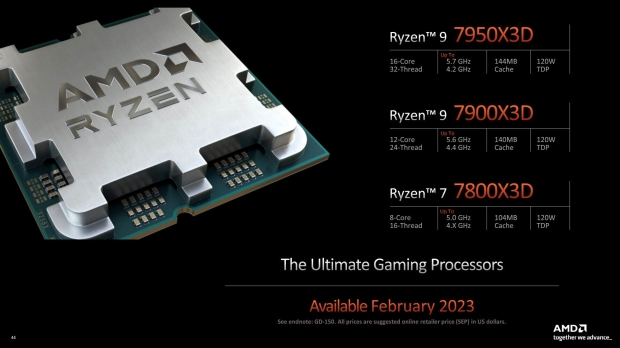 Ryzen 9 7950X3D - 16-Core/32-Thread, 4.2 GHz/5.7 GHz, 144MB Cache, 120W TDP

Ryzen 9 7900X3D - 16-Core/24-Thread, 4.4 GHz/5.6 GHz, 140MB Cache, 120W TDP

Ryzen 7 7800X3D - 8-Core/16-Thread, 4.x GHz/5.0 GHz, 104MB Cache, 120W TDP
This is the first time 3D V-Cache technology has been included in the Ryzen 9 16-core CPU range, and with all CPUs compatible with the current AM5 board standard - it'll be a similar installation process to the Ryzen 7000 series. However, AMD notes that a chipset driver and BIOS update will be required.
Interestingly the TDP of the new CPU range is lower than the non-3D models, with the flagship AMD Ryzen 9 7950X3D's being 50W lower than the 7950X even though the boost clock speed of "up to 5.7 GHz" remains the same.