With the recent release of the GeForce RTX 4070 Ti, the desktop line-up of new GeForce RTX 40 Series cards built on NVIDIA's new Ada Lovelace architecture expanded with its third entry. And as is the case with GPU line-ups, each variant uses a different chip.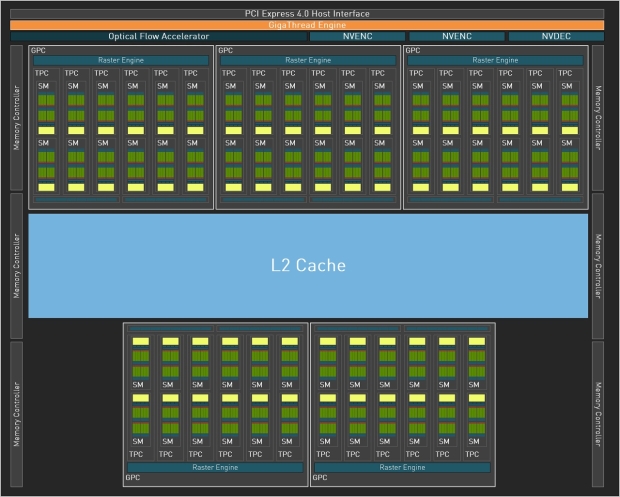 In terms of the Ada dies used so far, the GeForce RTX 4090 utilizes the cut-down AD102-300, the RTX 4080 AD103-300, with the RTX 4070 Ti using AD104-400. The latter is the fully unlocked and enabled AD104 chip, with Wccftech reporting that NVIDIA is preparing to mass-produce two more AD104-based GPUs. Which, yeah, would potentially be the GeForce RTX 4070 and the GeForce RTX 3060 Ti respectively.
The two new chips will be AD104-251 and AD104-250, with the report noting that both cards will feature a 200W TGP. Compared to the RTX 4070 Ti's 7680 CUDA Cores, the baseline RTX 4070 will potentially feature 5888 CUDA Cores and the RTX 4060 Ti 4352. From there the GeForce RTX 4060 will switch chips to the AD106-300 die.
As much as we love the RTX 4090, it's these lower-end variants that end up being the biggest sellers, and with Ada cards showcasing exceptional power efficiency and performance it's exciting to see just what a 200W card in the desktop RTX 40 Series can do. The report notes that production on the AD104-250 GPU (the RTX 4060 Ti) will begin in the second half of February with AD104-252 (the RTX 4070) to follow in the second half of March. This would put the eventual release of off-the-shelf GPUs at some point in the second half of 2023.
All of the above is of course rumor for now, and plans and specs might change ahead of production and/or release.