Even as the project enters its final stage of development, CD Projekt RED is still spending big bucks on Cyberpunk 2077.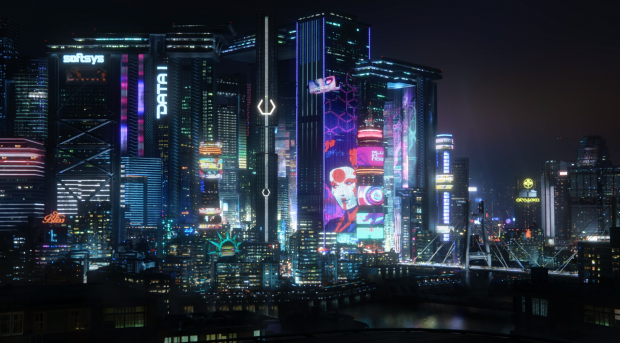 Cyberpunk 2077 is an immensely expensive game, and CDPR has sunk lots of money, manpower, and future-proofed tech development into the project over the last six years or so. Even though the game is almost finished, the company isn't taking any chances and has injected a ton of cash into Cyberpunk 2077's last phase of dev to ensure it lives up to our expectations.
In its recent Fiscal Q3'19 earnings report, CDPR confirmed it spent a record-breaking 43 million PLN (roughly $10.7 million) on games development, up a mighty 14% year-over-year.
"The third quarter of the year was dominated by further intensive development and promotion of Cyberpunk 2077, which has now entered its final, most crucial stage of development,"CD Projekt RED CFO Piotr Nielubowicz said in the recent earnings report.
"Between the end of July and September, the group spent a record-breaking 43 million PLN ($10.70 million) on development of new games and technologies.
"The visible increase in expenditures in the quarter mainly comes from the development of Cyberpunk 2077, which has now entered its final, most intensive stage. More specifically, the main reason behind the increase involves expenses related to the localization of Cyberpunk, especially the recording of multiple languages, as well as expenses for adapting The Witcher 3 on Nintendo Switch."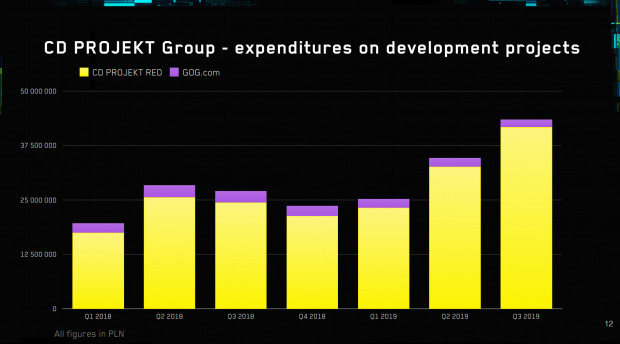 Read Also: Tons of new Cyberpunk 2077 details revealed
All-told, CD Projekt RED has spent more than 333 million PLN ($82.91 million) on Cyberpunk 2077's development, including creation of a new next-gen engine, motion-capture technology, paying for lots of manhours, and other expansive in-game features like real-time AI, flying cars, and next-gen RPG mechanics.
"We have begun internal and external testing of the game and have started to localize the content into each supported language. We are acutely aware of the tall expectations surrounding the game, expectations which spur us to carry on with our hard work."
This investment might not be just for Cyberpunk 2077, though. CD Projekt RED plans to release a new unannounced RPG by 2021, which could be another Witcher spin-off title. It could also be the now-confirmed Cyberpunk 2077 multiplayer.
The company also just bought the Warsaw-based office complex its been in for the last 20 years, securing some 193,750 square feet of office space to make games with.
Cyberpunk 2077 releases on April 16, 2020 for PlayStation 4, Xbox One, and PC. It's also coming to Google Stadia at a later date.