Activision has pivoted hard away from lootboxes, confirming Modern Warfare won't have randomized microtransactions.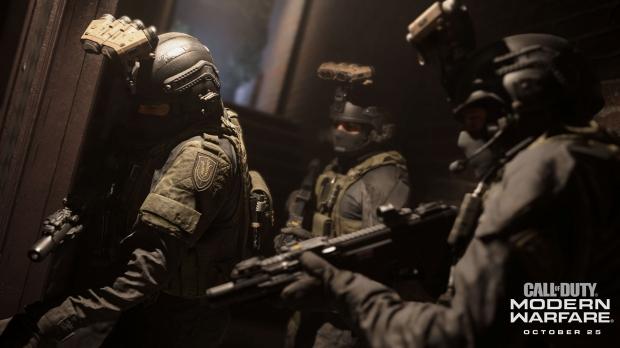 Activision is turning a new leaf. Today it promised the new Call of Duty: Modern Warfare reboot won't ever be monetized with lootboxes or supply drops. Instead, Infinity Ward is rolling out cosmetic skins on an in-game store as well as a new battle pass scheme borrowed from games like Fortnite.
Modern Warfare will have multiple battle passes that span seasonal content updates and playlists. There's two battle passes: A free version available to everyone, and a premium version that rewards you for COD Points as you play and lets you unlock special themed skins. All weapons and attachments can be unlocked for free by playing the game, even if you don't buy the battle pass.
This is a bold promise. Most publishers don't promise things like this because they never know how well the game will do. If a live game fails, publishers use back-up plans that often include lootboxes or non-cosmetic mTX (just look at Fallout 76, for example). And sometimes they add in extra microtransactions if a game does well.
Activision snuck in lootboxes in Black Ops 4 post-launch even after the game generated hundreds of millions at launch.
But Activision is apparently done with those tricks.
This plan has been in place for a while now. The new Modern Warfare will have an absolute ton of post-release content, and Activision says the game has the most DLC out of any Call of Duty in history, and all of it will be 100% free for all players (except of course for the Spec Ops Survival mode that's exclusive to PS4).
This new system is a great idea and meshes perfectly with the new cross-play initiative, which is part of the big business restructuring that saw 800 non-game dev employees fired.
Activision has been investing heavily into new engagement models and cross-play is the biggest one. By letting gamers play with their friends on console and PC, Activision stands to tremendously boost its consistent player count across the board. It's important that this new engagement is properly monetized with something that's not too invasive. This mix of cosmetic mTX and battle passes is the answer.
Call of Duty: Modern Warfare will release next week on October 25, 2019 on PS4, Xbox One and PC.
We are introducing a new Battle Pass system, not a loot box system.

All functional content that has an impact on game balance, such as base weapons and attachments, can be unlocked simply by playing the game.

The new Battle Pass system will allow players to see the content that they are earning or buying. Battle Passes will launch timed to new, post-launch live seasons, so you can unlock cool new Modern Warfare-themed content that matches each season.

With the new Battle Pass system, players will be able to earn COD Points by playing the game.

There will be both a Free Stream and a Premium Stream of content in the Battle Pass System in Modern Warfare. New base weapons will be earned through gameplay, simply by playing Modern Warfare. Functional attachments for base weapons can be unlocked through gameplay as well just like in the game's Beta.

The Battle Pass and the In-Game Store will feature a variety of cosmetic content that does not impact game balance.

The Battle Pass System for Modern Warfare will not launch when the game releases on October 25th. Here's why: First and foremost, we are all focused on making the Day One experience awesome. Second, it's important to us that everyone who is playing Modern Warfare has the chance to work their way through the new game and unlock all the rewards that are waiting for you. We expect to launch this system for Modern Warfare later this year.