Jedi: Fallen Order has huge boss fights right out of Dark Souls
Respawn's big new Star Wars game will have even bigger boss battles.

Published Fri, Sep 27 2019 10:11 AM CDT
|
Updated Tue, Nov 3 2020 11:47 AM CST
Respawn's new action-adventure Star Wars game is punctuated with huge boss fights straight out of Dark Souls.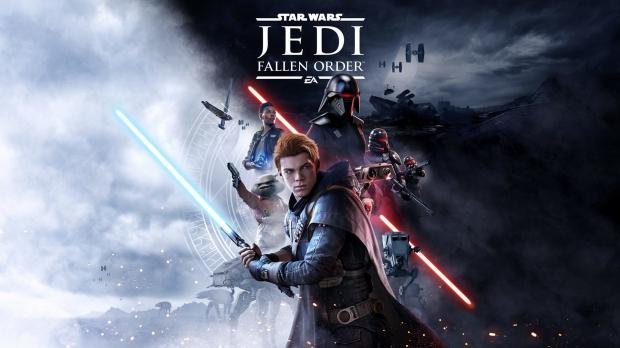 Back in 2016, Respawn said their third-person action Star Wars game would deliver "larger than life action," and the latest game trailer made good on this promise.
Jedi: Fallen Order will put players through all sorts of trials, including facing off against titanic hulking beasts and rushing through cinematic chaos right out of a Star Wars movie. Perhaps the most captivating part is we won't just be fighting Sith and stormtroopers; the very flora and fauna are out to get you. The game is built around exploration and Uncharted-like traversal with slight Metroidvania elements, with varying planets that feature some giant monsters to battle.
We've seen some smaller bosses in the first Jedi: Fallen Order preview, but now there's a glimpse at a hulking rancor-meets-a-bat monstrosity that Cal has to fight somewhere along the line. It looks like a pretty intense boss battle that could get out of hand real fast, and something right out of a FromSoftware game, complete with unique combat strategies.
Respawn says Jedi: Fallen Order has "meaningful combat" that's easy to play but hard to master. It's all about timing, tactics, and skill development, complete with parries, blocks, and dodges. Battles are centered around lightsaber finesse and grace rather than brute force, but interestingly Respawn eliminated any sort of stamina bar to keep combat momentum going (there's a bar for force powers, though).
Luckily Jedi padawan Cal Kestis has some serious power at his disposal. All of the beloved Force powers are intact--force jump, pull, push, speed, Jedi mind tricks--but Respawn also invented a new power that slows down time.
Players can use it to dodge enemy fire, or even pull enemies into laser trajectories for creative lethality. You can also force throw your lightsaber, use the slow-down power, and then force pull an enemy through your slowed down lightsaber.
Everything we've seen on Jedi: Fallen Order makes it look quite unique and interesting, and luckily it's a fully singleplayer-only experience that'll compliment the live roadmap of Battlefront II.
Jedi: Fallen Order releases on November 15, 2019 on PlayStation 4, Xbox One, and PC.
Related Tags