Jedi: Fallen Order's new Force power slows down time
Respawn's new action-driven Star Wars game adds some nifty Force powers.

Published Sat, Jun 8 2019 12:16 PM CDT
|
Updated Tue, Nov 3 2020 11:48 AM CST
Respawn's new singleplayer Star Wars game looks a lot like Uncharted meets Jedi Knight, and takes some liberties with Force powers.
Today EA revealed Jedi: Fallen Order's first gameplay footage and showed off Respawn's thoughtful combat in action. The third-person action game sort of feels like Dark Souls meets Star Wars with a third-person view, with emphasis on timing and dodging and semi-clunky animations and attacks. Lightsaber strikes are stylish, meaningful and impactful, and Jedi knight Cal Kestis has some nifty tricks up his sleeve like throwing his saber, parrying, and dishing out finishing moves.
No Star Wars game would be complete with Force powers. Jedi: Fallen Order has the major staples like Force push, pull, and an acrobatic jump for agile exploration and mobility. But Respawn adds in a new ability that changes everything: a time-freezing power called Force slow. Gamers can use the time-slowing power on the environment to solve puzzles, traverse dangerous obstacles, or even just unleash it on an enemy to slow them down and dodge their blaster fire.
"We're going to have the classic Force abilities. We've got push, pull, Force flip which is essentially double jump, which is nice because that's something that makes sense in Star Wars," said Game Director Stig Asmussen.
"But we have one unique expression with the Force that you saw in there. It's called slow and it's a little bit of the glue in between Force push and pull."
Force slow has so many applications that can be used in tandem with other abilities. I'm reminded of the awesome push and pull combos in Mass Effect: Andromeda, and that's something you can absolutely do in Jedi: Fallen Order. In the gameplay footage we saw multiple stormtroopers who were slowed so they could be used as human walls for Force throw collisions.
Mixing and matching the powers on-the-fly is just part of the thoughtful combat system found in the game.
Another little tidbit Respawn mentioned is that Jedi: Fallen Order is purely a good guy story. Players won't be able to choose between the Light and Dark sides like in Jedi Knight. Cal Kestis is exclusively a wholesome hero and Respawn affirms "this is a Jedi story."
Jedi: Fallen Order releases on November 15, 2019 for PS4, Xbox One, and PC.
Check below for more details:
A galaxy-spanning adventure awaits in Star Wars Jedi: Fallen Order, a new 3rd person action-adventure title from Respawn Entertainment. This narratively-driven single player game puts you in the role of a Jedi Padawan who narrowly escaped the purge of Order 66 following the events of Episode 3: Revenge of the Sith.

On a quest to rebuild the Jedi Order, you must pick up the pieces of your shattered past to complete your training, develop new powerful Force abilities, and master the art of the iconic lightsaber - all while staying one step ahead of the Empire and its deadly Inquisitors. While mastering your abilities, players will engage in cinematically-charged lightsaber and Force combat designed to deliver the kind of intense Star Wars lightsaber battles as seen in the films.

Players will need to approach enemies strategically, sizing up strengths and weaknesses while cleverly utilizing your Jedi training to overcome your opponents and solve the mysteries that lay in your path.

Star Wars fans will recognize iconic locations, weapons, gear, and enemies while also meeting a roster of fresh characters, locations, creatures, droids and adversaries new to Star Wars. As part of this authentic Star Wars story, fans will delve into a galaxy recently seized by the Empire. As a Jedi hero-turned-fugitive, players will need to fight for survival while exploring the mysteries of a long-extinct civilization all in an effort to rebuild the remnants of the Jedi Order as the Empire seeks to erase the Jedi completely.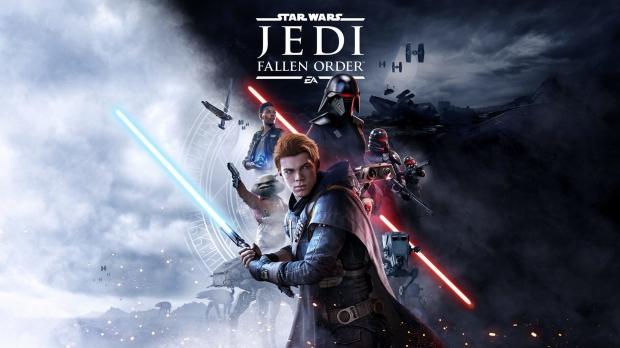 Related Tags