Jedi: Fallen Order won't have a stamina bar, mirrors Sekiro
Respawn likens combat in their new Star Wars game to Sekiro: Shadows Die Twice.

Published Wed, Jul 24 2019 5:29 PM CDT
|
Updated Tue, Nov 3 2020 11:47 AM CST
Respawn Entertainment took many of the best elements from Dark Souls and Sekiro and jammed them into their new Jedi power fantasy.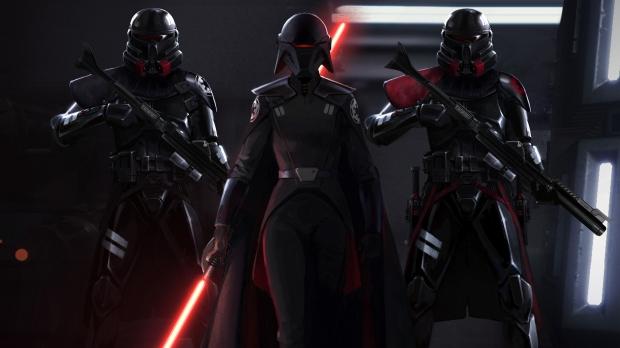 Right away Jedi: Fallen Order brings Dark Souls to mind. Instead of using a medieval weapon, you're using a lightsaber, and instead of eldritch magics, you wield Force powers. But the core combat framework is quite similar--there's rolling, dodging queues, and striking combos. But one critical feature makes Jedi: Fallen Order more like Sekiro: the lack of a stamina bar. This freedom was extremely important for Respawn at the start.
"I thought it was pretty badass, and a little comforting to know that you could make this type of game without a stamina bar. [Sekiro] lets you attack, it lets you roll, it does all this for free - and then the AI will tell you if you're doing the correct thing," game director Stig Asmussen said in a recent interview with EDGE Magazine.
This healthy attitude won't restrict players and force them to carefully micro-manage each attack. It should afford a more fluid and natural system built around intuition rather than careful planning.
"It just confirmed to us that you don't have to limit everything the player does. Let them have a little more agency, and then let the AI give them a slap on the wrist or a punch in the face. It was a positive thing for us to know there was a game that was similar to ours. Very similar."
Even without a stamina bar, the game's self-described "thoughtful combat" system will be challenging and has lots of depth. It's build around identifying and exploiting weaknesses. Asmussen says Jedi: Fallen Order's combat will be easy to pick up but hard to master.
Jedi: Fallen Order also borrows heavily from third-person adventure games like Uncharted. There's exploration, wall-running, searching areas for clues, and overall Indiana Jones-esque traversal. In many ways, it's a fusion of Uncharted, Sekiro, and The Force Unleashed, all wrapped with force powers, lightsaber battles, and a Metroidvania style.
Star Wars Jedi: Fallen Order is due out on November 15, 2019 on PS4, Xbox One, and PC.
Check below for more information:
A galaxy-spanning adventure awaits in Star Wars Jedi: Fallen Order™, a new third-person action-adventure title from Respawn Entertainment. This narratively driven, single-player game puts you in the role of a Jedi Padawan who narrowly escaped the purge of Order 66 following the events of Episode 3: Revenge of the Sith. On a quest to rebuild the Jedi Order, you must pick up the pieces of your shattered past to complete your training, develop new powerful Force abilities and master the art of the iconic lightsaber - all while staying one step ahead of the Empire and its deadly Inquisitors.

While mastering your abilities, players will engage in cinematically charged lightsaber and Force combat designed to deliver the kind of intense Star Wars lightsaber battles as seen in the films. Players will need to approach enemies strategically, sizing up strengths and weaknesses while cleverly utilizing your Jedi training to overcome your opponents and solve the mysteries that lay in your path.

Star Wars fans will recognize iconic locations, weapons, gear and enemies while also meeting a roster of fresh characters, locations, creatures, droids and adversaries new to Star Wars. As part of this authentic Star Wars story, fans will delve into a galaxy recently seized by the Empire. As a Jedi hero-turned-fugitive, players will need to fight for survival while exploring the mysteries of a long-extinct civilization all in an effort to rebuild the remnants of the Jedi Order as the Empire seeks to erase the Jedi completely.

KEY FEATURES

Cinematic, Immersive Combat - Jedi: Fallen Order delivers the fantasy of becoming a Jedi through its innovative lightsaber combat system-striking, parrying, dodging-partnered with a suite of powerful Force abilities you'll need to leverage to overcome obstacles that stand in your way. This combat system is intuitive but takes training and practice to fully master its nuances as you gain new powers and abilities along your adventure.
A New Jedi Story Begins - As a former Padawan on the run from the Empire, you must complete your training before Imperial Inquisitors discover your plan to revive the Jedi Order. Aided by a former Jedi Knight, a cantankerous pilot and a fearless droid, you must escape the evil machinations of the Empire in a story-driven adventure. Explore and overcome a wide range of challenges focused on combat, exploration and puzzle-solving.
The Galaxy Awaits - Ancient forests, windswept rock faces and haunted jungles are all unique biomes you'll explore in Jedi: Fallen Order, with the freedom to decide when and where you go next. As you unlock new powers and abilities, opportunities open up to re-traverse maps in new ways; leveraging the Force to augment the way you explore. Move quickly, however, as the Empire is actively hunting your every step in their effort to exterminate all remnants of the Jedi Order.
Related Tags