Respawn's huge new action-adventure Jedi: Fallen Order game treads old ground while innovating the Star Wars formula.
As exposed in today's new gameplay reveal, Jedi: Fallen Order has all the major ingredients for a delicious Star Wars dish. There's sprawling worlds complete with unique flora and fauna that bring new life to the Star Wars universe, massive Imperial setpieces like hulking AT-ATs and nefarious refineries sucking the natural resources from planets, a new "thoughtful combat" system with tactical Force power action, and a story-driven adventure through the heart of rebuilding the Jedi Order. But the game also borrows from other familiar franchises too, namely the adventure-fueled exploration of Uncharted.
At it's core, Respawn says Jedi: Fallen Order is a "Jedi fantasy game." This fantasy is grounded by two major themes: Uncharted-esque adventure and Jedi Knight-like combat.
Players will do lots of exploring across the game's various planets, wall-running across cliffs and Imperial fortresses, swinging on vines, and using force powers to unlock secret paths and shortcuts. Many of the environment setpieces can be interacted with Force powers or via BD-1's hacking skills. There's a strong emphasis on Uncharted-like traversal and mystery throughout the gameplay, as if secrets lay in wait behind a corner--perhaps an old dusty Jedi tome full of knowledge or a skill power up. Like Nathan Drake, Cal will jump from ledge to ledge in death-defying feats of agility, climb steep areas, and wall-hop to access areas.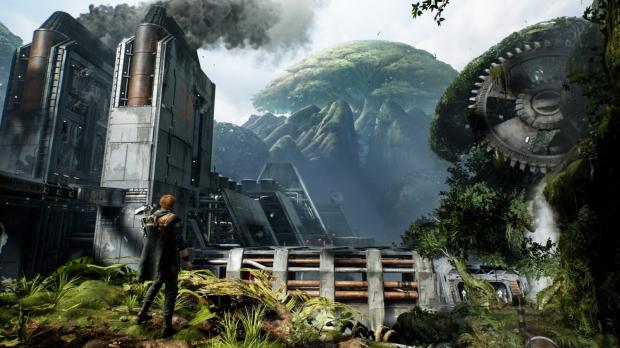 Jedi: Fallen Order will take players to many exotic planets like the Wookie homeworld of Kashyyk.
This all reminds us of a particular cancelled Star Wars game that was in development for years. Visceral's cancelled Project Ragtag game was described as Uncharted meets Star Wars by Amy Hennig, who directed the game, and Rogue One writer Gary Whitta. We're curious how much of Ragtag was recycled into Respawn's Jedi: Fallen Order.
When it comes to combat, Fallen Order reminds me of a mixture of many games. Jedi Knight's third-person lightsaber combat is the first that comes to mind, and there's also a mixture of Dark Souls and a little bit of Sekiro thrown in there too. Cal can roll-dodge and jump out of attacks but the animations aren't that smooth, bringing a very lumbered Dark Souls-y feel.
Respawn says combat will be "easy to pick up but hard to master," and admittedly lightsaber battles look a bit clunky if not interesting.
The best part of Jedi: Fallen Order is how players can thrown Force powers into the mix for maximum carnage.
In the gameplay demo we routinely see the player force pull enemies and strike them down with a brutal lightsaber blow. The new time-freezing Force slow power affords some awesome opportunities for chaos; you can freeze an enemy in place, force grab another Stormtrooper, and toss him into his friend like a human bowling ball. Or even freeze a nearby hazard area, pick up an enemy with force pull, and then throw him into harm's way.
Combat looks fluid as much as it does clunky and should force players to think carefully about their actions. No info on skill-ups was confirmed, but we do know the major Force powers will include push, pull, a double-jump ability, and the new time-slowing power.
Of course agility and grace are part of combat too, albeit more-so in environment traversal. Gamers can still double-jump and run on nearby walls to evade enemies, jump and then fly down in a killing blow strike, parry attacks, and even throw their lightsaber at foes.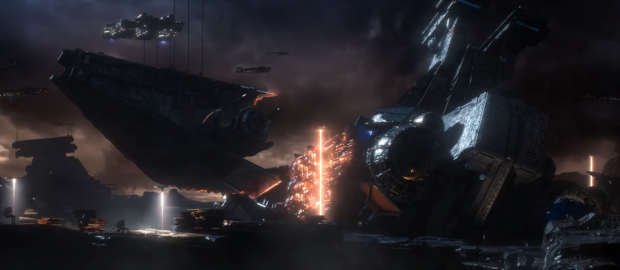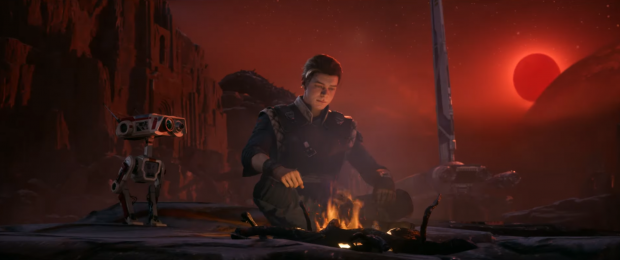 No Star Wars game would be complete without a good story, and Jedi: Fallen Order paints an interesting picture.
Centered around Force padawan Cal Kestis, the game takes place during the dark period when the Jedi were hunted down and massacred after Order 66. It's kind of like The Empire Strikes back, only much more daunting. Faced with impossible odds, Cal must scrounge up a resistance force and unlock the mysteries of the Jedi to ensure the Galactic Empire remains in check.
Sadly Respawn confirmed Jedi: Fallen Order is exclusively a good guy story. Gamers won't be able to switch over to the Dark Side at any point.
Star Wars Jedi: Fallen Order is due out on November 15, 2019 on PS4, Xbox One, and PC.
Check below for more information:
A galaxy-spanning adventure awaits in Star Wars Jedi: Fallen Order™, a new third-person action-adventure title from Respawn Entertainment. This narratively driven, single-player game puts you in the role of a Jedi Padawan who narrowly escaped the purge of Order 66 following the events of Episode 3: Revenge of the Sith. On a quest to rebuild the Jedi Order, you must pick up the pieces of your shattered past to complete your training, develop new powerful Force abilities and master the art of the iconic lightsaber - all while staying one step ahead of the Empire and its deadly Inquisitors.

While mastering your abilities, players will engage in cinematically charged lightsaber and Force combat designed to deliver the kind of intense Star Wars lightsaber battles as seen in the films. Players will need to approach enemies strategically, sizing up strengths and weaknesses while cleverly utilizing your Jedi training to overcome your opponents and solve the mysteries that lay in your path.

Star Wars fans will recognize iconic locations, weapons, gear and enemies while also meeting a roster of fresh characters, locations, creatures, droids and adversaries new to Star Wars. As part of this authentic Star Wars story, fans will delve into a galaxy recently seized by the Empire. As a Jedi hero-turned-fugitive, players will need to fight for survival while exploring the mysteries of a long-extinct civilization all in an effort to rebuild the remnants of the Jedi Order as the Empire seeks to erase the Jedi completely.

KEY FEATURES

Cinematic, Immersive Combat - Jedi: Fallen Order delivers the fantasy of becoming a Jedi through its innovative lightsaber combat system-striking, parrying, dodging-partnered with a suite of powerful Force abilities you'll need to leverage to overcome obstacles that stand in your way. This combat system is intuitive but takes training and practice to fully master its nuances as you gain new powers and abilities along your adventure.
A New Jedi Story Begins - As a former Padawan on the run from the Empire, you must complete your training before Imperial Inquisitors discover your plan to revive the Jedi Order. Aided by a former Jedi Knight, a cantankerous pilot and a fearless droid, you must escape the evil machinations of the Empire in a story-driven adventure. Explore and overcome a wide range of challenges focused on combat, exploration and puzzle-solving.
The Galaxy Awaits - Ancient forests, windswept rock faces and haunted jungles are all unique biomes you'll explore in Jedi: Fallen Order, with the freedom to decide when and where you go next. As you unlock new powers and abilities, opportunities open up to re-traverse maps in new ways; leveraging the Force to augment the way you explore. Move quickly, however, as the Empire is actively hunting your every step in their effort to exterminate all remnants of the Jedi Order.