Blizzard's been on a classic kick lately. First we got remasters of the original Warcraft and Starcraft games, and now they're doubling-down with World of Warcraft classic. But we shouldn't hold out hope for Diablo II remastered.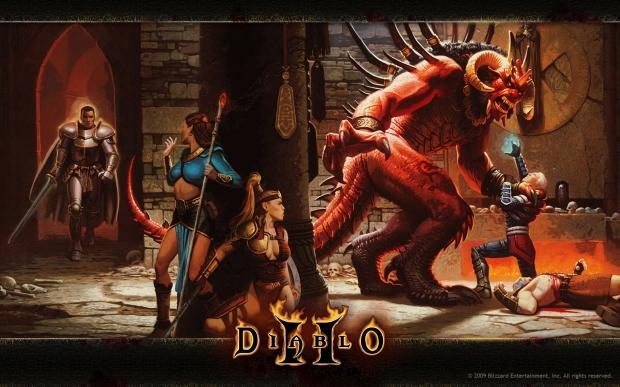 In its recent earnings call, Activision-Blizzard pledged to make more remasters of key franchises. It's a way of re-engaging players and making money with sales, and also baking in microtransaction hooks in older games. Company CEO Robert Kotick pretty much says more classic re-releases are on the way.
"At Activision we have seen great results from remastering some of these beloved games over the last couple of years. They are obviously having a big impact on our bottom line and a real impact there, but I'd say what's really important is that it's reaffirming the enduring nature of these franchises for us. We think there's a lot of IP in there the fans are going to want to experience again. So now what I'd say stay tuned for some future announcements."
Some games are harder to re-initialize than others, though, especially Diablo II. Much to my dismay, there's a few reasons why Blizzard probably won't announce a D2 remaster. First off, it'd take eyes off of Diablo IV, which has been in development for quite a while. Blizzard knows how fans feel about Diablo II--that it's the best Diablo ever made--and they of course want Diablo IV to be the star of the show.
In fact, there's reports Diablo IV will be more grim and dark like Diablo II, which illustrates the power of the original aRPG.
Blizzard currently has five development teams, and a portion of them are working hard on Diablo IV. The fourth chapter has been rebooted several times and has been in known development since 2016, when the first job listings were posted.
Secondly, Diablo II can't be monetized and works against the basic frameworks of Battle.net 2.0. The game only really works because of its lobby-based chats and game-searching, which allows users to create named and passworded games at will. Diablo III conversely uses Battle.net 2.0, which doesn't have these features, and tried to heavily monetize gamers with the disastrous Real Money Auction House at launch.
So essentially Blizzard would be remastering a game that's only pushing sales, not the recurring microtransactions that Blizzard oh-so-loves.
The older Battle.net 1.0 framework allows for easy trading, which is absolutely integral to Diablo II, and quick and easy game joining. The entire game is built around a social-driven grind of up to 8 players, which Diablo III also pared back.
Also, porting Diablo II to modern systems would be a herculean task. Original Diablo dev David Brevik said it would be extremely difficult, and since Diablo II can't be monetized the same way as current Blizzard games, it simply might not be worth the effort.
"I can say from a technical standpoint that it's going to be extremely difficult. That you will not be able to capture it exactly the way it was," original Diablo creator David Brevik said in a 2018 IGN interview. "The number one reason is because of the shape of the screen. Because the screens back then were 800x600 and largely square, and now they're not, they're 16:9 and 16:10, we did a lot of tricks."
It's also worth mentioning that Blizzard is still supporting Diablo II and LoD, and it still has an active playerbase. Some things just don't need to be fixed because they're not broken--and fixing them would make other future projects look bad. If Diablo II got a remaster even 1-2 years before Diablo IV, I daresay it'd eclipse the fourth installment's playerbase, especially if it was as bad as DIII at launch.
With all of this in mind, we shouldn't expect a Diablo II remaster. But trust me, I hope I'm wrong here. No one wants to replay Diablo II more than me. All that's missing is the playerbase, and a remaster would lead to tons of gamers returning to the old, demon-slaying experience I know and love.
Diablo IV should be revealed at this year's Blizzcon in November. I hope it's good...Diablo really needs another win.