Ubisoft's new uPlay+ subscription is a tactical move that fits perfectly with its service-oriented business. Here's how uPlay+ will help transform and solidify Ubisoft as a digital-focused publisher.
Ubisoft has made a radical transformation over the last few years. All of its games are now sprawling, evolving experiences focused around engagement, live content, and microtransactions, creating a business that continually makes money long after its games are sold. Last fiscal year, Ubisoft raked in $1.56 billion from digital, or about 68.8% of its total yearly earnings, and $721 million from microtransactions.
Infusing live services into all of its biggest games (even singleplayer titles like Assassin's Creed are now hybridized into live games) was just the beginning. Now with uPlay+, we're seeing the real fruits of Ubisoft's plans.
I long suspected Ubisoft would make a subscription service like Microsoft's Xbox Game Pass or even EA Access. It's just the natural evolution for any big games-maker these days; first comes the storefront, then comes the focus on digital-based live gaming with microtransactions, and finally we have the subscription service that wraps it all together. That's essentially what uPlay+ is: a wrapper that neatly folds all of these aspects together in a bundle of billion-dollar potential.
Subscriptions like Game Pass are just way too lucrative not to emulate and Ubisoft is doing just this with its $14.99 all-you-can-download uPlay+ service on PC. It's even promising to release new games like Watch Dogs Legion onto uPlay+. This is an extremely important part of the plan and will ensure gamers are hooked for longer (more on that later).
We've seen gaming's giants follow this path; EA and Ubisoft now have the launcher-subscription combo, whereas Activision-Blizzard and Bethesda are more on the launcher path. The motivations for this plan are obvious: selling games on a wholly-owned storefront means publishers pocket all the cash and don't have to give Steam a cut. This is only possible on PC though--there's no way AAA pubs can get around paying Microsoft, Sony, and Nintendo their 30% cut on consoles.
This kind of subscription folds perfectly into any live gaming business. Much like service games, uPlay+, Xbox Game Pass, EA Access, and even PlayStation Now are designed to hook gamers in a very multi-faceted way to ensure they stay stuck and help churn the money-making machine that is engagement.
Now let's talk about why uPlay+ is such an integral part to Ubisoft's plan and how it hooks gamers.
Since all of Ubisoft's games are specifically built around engagement, that is keeping gamers playing--and by successful implementation of the engagement-driven business model, paying--online, anyone who buys into uPlay+ and invests time is more likely to simply keep their subscription active.
Once you've played, say, The Division 2 for a few weeks, investing time, effort, and building a rapport with the community, you're more likely to keep playing. Not only that, but once you reach a certain threshold, you're more likely to buy some extras that you don't really need. After all, it's a game you like, right? Why not splurge a bit and get that special beanie or weapon skin.
And once you start buying, you're more likely to keep buying. Publishers literally have metrics and data on these trends that help shape and affect how they make live games.
The service is a clear value proposition (this is the bait). You get access to more than 100 games across Ubisoft's previous and current library of titles all for a monthly low price. You pay less up front than you would for a new AAA game, but the trade-off is that you don't actually get to keep the game. You only really rent it. Once your subscription lapses and you stop paying, you lose access.
This is a hook in the bait.
(Continued below)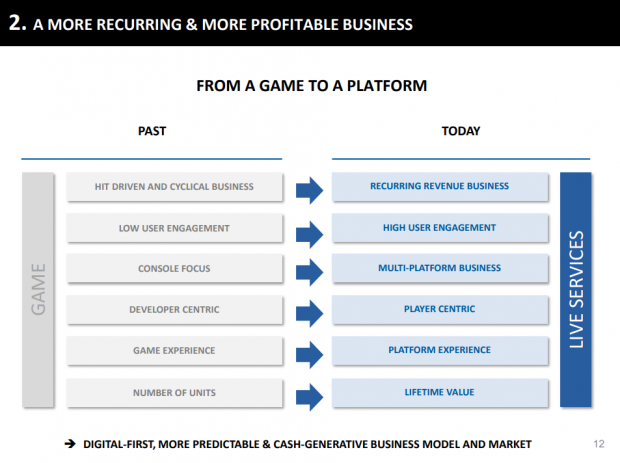 Read Also: Ubisoft explains why its focusing on live services
There's many hooks in the uPlay+ bait, though. All of them are designed to keep you right in that sweet spot of recurring subscription revenues, and by virtue of the rather psychological live service model, publishers also expect you to dole out extra cash for ancillary extras like microtransactions, cosmetics, and other in-game items.
So essentially Ubisoft is counting on you keeping your sub active so you can play your favorite games. After all, you don't want to feel like the time invested was totally wasted once your sub runs out. The more time you spend in these live games, the more likely you are to keep your subscription active and give Ubisoft direct revenue it gets to keep in full.
This is all by careful design.
It also counts on those small purchases to customize your higher level character with mechanisms like timed sales, inadvertent community peer pressure (seeing other players with fancy skins makes you want them, too), and a rewards system that unlocks certain content for completing tasks.
Convenience is a huge part of this too. The convenience of being able to just keep paying digitally without higher upfront costs is alluring, as is the huge back catalog of games you can jump to (but you only have so much free time, right? That catalog soon becomes part of that mystical Back Catalog that we always mean to get to but don't really have the time to play).
Another big hook is the promise of playing new games as they're released.
(Continued below)
Xbox Game Pass and EA Access has taught competitors quite well. Ubisoft is an extremely apt pupil and is quick to adapt to the market and follow key trends like live gaming, microtransactions, and more community-driven experiences (look at how they've transformed into such a potent digital force in the last few years).
Just like Xbox Game Pass, Ubisoft will add in future first-party games to uPlay+ for no extra charge. This includes titles like Ghost Recon Breakpoint and Watch Dogs Legion, both of which are specifically designed to be extremely time-consuming affairs with built-in microtransactions and live service hooks.
If you're a Ubisoft fan who plays a bunch of the publisher's games, then uPlay+ is tailor-made for you. Why not just buy into it to get access to all these games you couldn't ever possibly play? The value proposition is kind of like that of a buffet; there's so much to choose from, but your stomach is only so big. Your free time is also as limited.
I honestly see uPlay+ as a net positive for both gamers and Ubisoft, but it's also important to be aware of how these subscriptions work and all the hooks they contain. Remember it's all about making money, and publishers don't shy away from psychological tactics tantamount to addicting and exploiting vulnerable consumers.
Subscriptions are and always have been a big part of this kind of strategy. So before you buy into uPlay+, EA Access, Xbox Game Pass, or even PlayStation Now, be aware of the trade-offs you make along the way (leasing vs owning, buying into psychological tactics for the sake of convenience, etc).