Ubisoft's latest trajectory shows it'll soon join the likes of EA in making more money from live services than full game sales.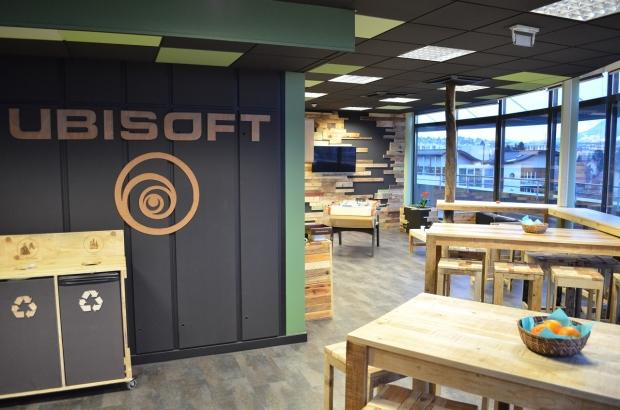 Today Ubisoft announced its earnings for Fiscal Year 2019, proving its pivot towards digital is paying off. Some years ago Ubisoft made the decision to chase online-driven digital content and infuse live services into all of its games, including singleplayer-only titles like Assassin's Creed. The result is the massive empire of monetized, long-lived games that generate lots of cash years after their initial release. Ubisoft's tremendous success with this plan cements live services into its future.
Its FY2019 revenues show just how well this strategy is working. In the fiscal year ended March 31, 2019, Ubisoft made the lion's share of its money from digital thanks to the added bonus of microtransactions. The publisher earned $1.56 billion from digital sales, representing a huge 68% of total sales, up a mighty 39% year-over-year. Recurring player investment, Ubisoft's term for microtransactions, season passes, and DLC, was up a whopping 33% year-over-year to $721.76 million.
What's most interesting about Ubisoft's aggressive digital-first strategy is how live services could overtake actual game sales. Soon Ubisoft will make more digital revenue from microtransactions than it does its games.
Ubisoft FY2019 financials at-a-glance
Net bookings - 2.02 billion Euros ($2.62 billion), up 17% YoY
Digital net bookings - 1.396 billion Euros ($1.56 billion), representing 68.8% total netbookings, up 39% YoY.
Player recurring investment - 644 million Euros ($721.76 million) up 33.4% YoY, representing 31.7% of total net bookings
Operating income - 446 million Euros ($499.85 million), up 48.6% YoY
Profit - 99.985 million euros ($111.98 million), down 28.3% YoY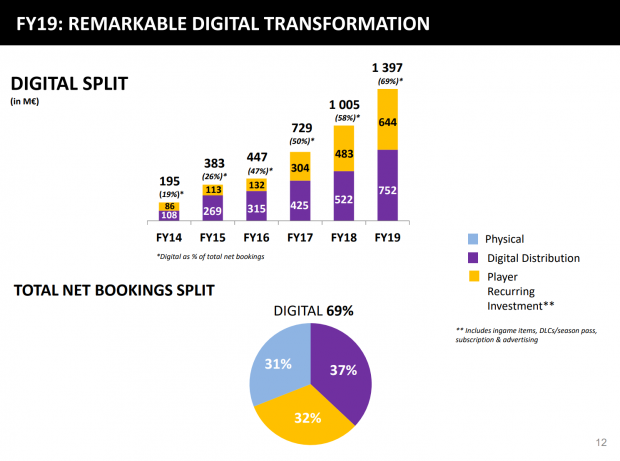 Monetization made up 46.2% of total digital revenues during the year, whereas digital game sales made up 53.8%. That disparity is expected to shrink and shrink as Ubisoft's live-driven foundation keeps amassing new games and more content.
We've seen this trend from other titans like Activision-Blizzard and EA, who regularly make billions every year from optional in-game purchases, DLC, and subscriptions. This is totally by design and is quite favorable for big-name publishers, who control the sale of their wholly-owned IPs on their own digital distribution platforms and create games specifically designed to engage players for longer periods of time. The only exception here is consoles that require publishers to pay out a revenue split for games sold on specific platforms, especially Sony's PlayStation 4, which is often the best-earning platform thanks to its 98.6 million install base.
Ubisoft's bedrock of live services has also helped ensure its older games not only carry on for years, but continue making money.
The publisher made 1.14 billion Euros ($1.28 billion) from its back catalog of games that range from classics like For Honor and The Division 1 to newer titles like Far Cry 5.
As we mentioned above, these games should keep on churning revenue and content even as sequels roll out--The Division 1 is still being played and supported by Ubisoft despite the release of its sequel--and specific titles like Rainbow Six: Siege may never actually get new releases. These games will simply evolve over time, MMO-style.
Ubisoft might be making a killing from digital, but overall profits are down for FY2019.
The company earned $111.98 million during the year, down a big 28.3% year-over-year. This decrease was due to spikes in research and development (rose 7.2% to roughly $828.8 million), marketing costs (rose 17.2% to $459.27 million), and costs of goods sold (rose 10.83% to $368.44 million).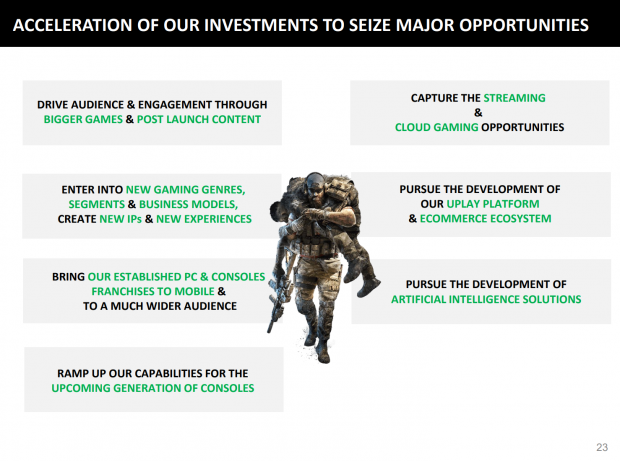 For its long-term future, Ubisoft will double-down on digital and explore new avenues like game streaming on Google's Stadia platform. We'll also see more mobile games adapted from its biggest franchises. And while there's no mention of it, Ubisoft is also exploring blockchain as a new way to monetize its games.
The publisher is also investing in new tech, engines, and teams to ensure its games play best on the next-generation of consoles.
For the more immediate future, Ubisoft still expects to ship 4 major AAA games in the current fiscal year (FY2020).
Only one of these games has been announced (Ghost Recon: Breakpoint), and the other three should be unveiled at E3 2019. One of these unannounced projects should be Watch Dogs 3.
Next year will be even bigger for Ubisoft's strengthening digital empire.
For FY2020, which ends on March 31, 2021, the company predicts some impressive numbers. It forecasts $2.44 billion in net bookings, of which 70%, or $1.41 billion, will be from digital. No hard numbers for player recurring investment were noted, but Ubi does see total earnings rising next fiscal year. Which makes sense given all of its new games will be monetized in some way, and its old titles will continue making cashflows over time.