E3 2019 - Watch Dogs Legion is taking on Grand Theft Auto levels of open-world dynamism, with characters and an entire city that consistently react to your decisions and deeds.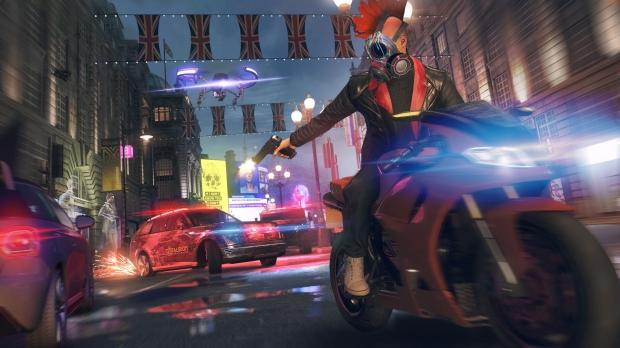 I keep thinking I'm done with Watch Dogs Legion coverage, but then I always hear something more amazing. Ubisoft isn't messing around with Legion and is creating a world full of next-gen AI that rivals even GTA and Red Dead Redemption 2. We already know Legion is a fully-fledged RPG where you can recruit literally anyone in the entire game to your party, and that it'll have lots of progression systems to customize your ragtag sci-punk rebellion. But now Ubisoft underlines how its futuristic London is a living, breathing city.
Ubisoft's latest E3 Coliseum interview is jam-packed full of interesting tidbits about its characters and world. For example, your recruits will go on living their everyday lives when you're not playing as them, doing their jobs like tending bar, programming, and even training in the gym. You can even come across members of your team out in the city and interact with them. In true Mass Effect fashion, there's a loyalty system in Legion called a support level that you have to build up.
The higher someone's support level is, the more they approve of DedSec and the more likely they are to join your team and help you when you're in danger while playing as someone else.
You can't just recruit anyone in Watch Dogs Legion right off the bat. Some people absolutely hate DedSec. The only way to recruit them is to win them over and raise their support rating, and that means investigating their lives and spending time watching their habits, learning their story, and helping them out to change their mind.
Maybe the person is being harassed by a gang, or being extorted somehow. If you go and beat up their harassers or solve their problems, you'll win them over and persuade them to join your cause.
(Continued below)
Read Also: Watch Dogs Legion has in-depth RPG elements
This is a lot more layered than I thought it'd be...and it legitimately sounds like Witcher 3 levels of reactive side-questing.
Once someone's loyal to your cause they'll help you out when you're in jam.
For example, a hacker teammate could assist you while you're being chased by gun drones and disable them for you and buy you some time. Members of your team can perform mass-hacks that have a wider scale of mayhem-inducing disruption. All of it's remote from the AI-controlled characters who are part of your DedSec squad.
"We've moved a lot of the mass-hacks to your team. So hackers on your team have the ability to do these really spectacular hacks. If you're being pursued by the private military contractors, one of your operatives will actually pop up and say 'hey, you look like you could use some help' and you say 'please please!' and you'll actually see the cars that're chasing you get hacked and veer off and start crashing off the road. A drone comes in and it's getting ready to shoot your car and it just falls out of the sky," said Kent Hudson, game design director on Watch Dogs Legion.
"You get that sense that you're playing as a team, that the people you've recruited from the world are helping you. You picked that on operative because of his ability, because of his backstory, maybe he's an IT specialist.
"Now he's on my team, now he's helping me, so the more you recruit to the team and the bigger team you build with those specializations, the more you feel like the hacks are coming from the people you want."
It's not just about hacking though. If you get into a fist fight with a bunch of hooligans and you have a boxer or a melee specialist in your party, they'll come in and help you.
(Continued below)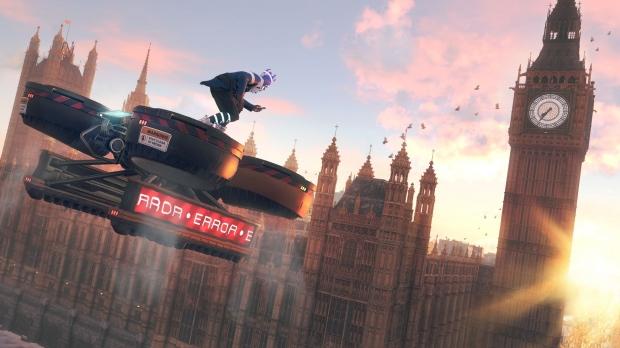 Read Also: Watch Dogs Legion classes, recruits, and progression explained
As the hacker class, you can even hack gun drones and fly across London while blasting baddies to smithereens.
"The private military contractors also have some very fierce combat drones, they have controlled layouts, they're called on you if you alert the guards. So you can actually hack these with the hacker class and take them over to turn them against the enemy.
"So you can actually see the big cT drone coming out from the sky with the machine guns, and all of a sudden your viewpoint shifts up to here and you're flying the thing and you're behind enemy lines and you take the guys out that way."
Everything you choose to do has a cascading effect on other characters, and they're not apt to forget what you did. You can recruit military guards, for example, but they're far less likely to join up if you've frequently blasted their teammates or hacked their zones.
And the more nefarious deeds you do will stain DedSec's name, making it harder for you to recruit people you want to fold into your squad.
Watch Dogs Legion sounds incredibly ambitious and I hope it actually works out the way Ubisoft intends. London will become a huge playground for our delight on March 6, 2020 on PS4, Xbox One and PC.
Check below for a ton of info about the game:
In the near future, London is facing its downfall: the people are being oppressed by an all-seeing surveillance state, private militaries control the streets, and a powerful crime syndicate is preying on the vulnerable. The fate of London lies with you, and your ability to recruit a resistance and fight back."

TAKE BACK LONDON

SHOW THE CITY WHAT YOU'VE GOT.

Explore a massive urban open world and visit London's many famous landmarks - including Trafalgar Square, Big Ben, Tower Bridge, Camden, Piccadilly Circus, or the London Eye.

PLAY YOUR WAY

FIGHT FOR THE FUTURE.

A brand-new melee system and a wide range of weapons and abilities means that the way you approach combat has real consequences. If you use non-lethal force, the enemy will attempt to subdue and arrest you. If you shoot to kill, you risk having your characters permanently killed.

GET THE GANG TOGETHER

BRING YOUR FRIENDS INTO THE MESS.

Giving London back to the people doesn't have to be some heroic solo jaunt, ya know. Bring the fight online to join forces with up to three friends as you take on entirely new co-op missions and challenging end-game content.

PLAY AS ANYONE

RECRUIT YOUR RESISTANCE FROM LONDON'S POPULATION.

Every Londoner has a unique backstory with a special skillset and a distinctive personality. Recruit anyone from an MI6 agent to an illegal street-racer and customize them with killer outfits and iconic masks.

RECRUIT ANY CHARACTER

FIGHT BACK WITH ALL OF LONDON.

Anyone you see on the street can become a resistance fighter by your side. Each person you encounter - whether a brawler, a fashionista, or even a DJ - has their own story with their own set of skills and perks. Choose wisely. You only get one shot at rebellion.

PLAY YOUR WAY

YOUR RECRUITS. YOUR RULES.

Everything is up to you - who joins your resistance, what missions you take on, where you pick fights; all of it - as long as it gets London back in the hands of the people. Make critical decisions and ultimately hack, infiltrate, and detonate your way to a liberated London.

CUSTOMIZE YOUR RECRUITS

MAKE YOUR HEROES YOUR OWN.

Personalize each member of your resistance and level them up by building out different skill sets, from hacking to stealth moves to all-out assault training. Customize further with unique outfits and iconic masks. Take back the city and look sharp doing it.

HACK INTO LONDON'S TECH

CONTROL DRONES. DEPLOY BOTS. BLOW IT ALL UP.

Hack your way to victory by weaponizing London's tech infrastructure. Hijack armed combat drones, deploy stealthy spider-bots, or use your techie know-how to rig the system with explosions. It's up to you how to use the tech dystopia against itself.

GO IN GUNS BLAZING

LONDONERS HAVE BEEN WEAPONIZED.

Your plan of attack is up to you. Crash the party with a brand-new melee system and a wide range of weapons and abilities. Go non-lethal if you'd like, or kick open the doors and blast away. Just remember, your assault style brings different consequences.

THEY CAN'T ARREST WHAT THEY CAN'T SEE

USE AR TO GO INVISIBLE.

As fun as it is to crash through a skylight, there's not always a need to be noticed. Use the resistance's most secretive hack - an "invisibility" cloak. Thanks to the advances of augmented reality, you can sneak around without detection and covertly take down your enemies.[/quote]