As more and more publishers embrace live services, French games-maker Ubisoft explains why it's following this trend.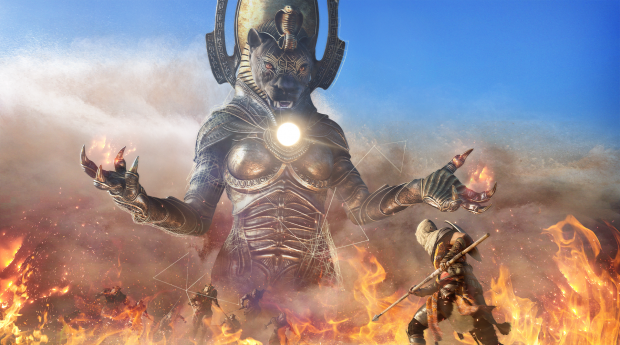 If you've seen our previous coverage on Ubisoft's quarterly earnings, you already know that they've made a tremendous transformation to a digital-first company. Like most video game publishers (Activision, EA, Take-Two Interactive and even Capcom and Square Enix), Ubisoft is interested in tapping the rich vein that is live services, which allows for a more long-term, lucrative and recurring business model. Instead of selling a game once and taking in the sales revenue, developers and publishers can now keep making money over time by selling in-game items in their online-oriented games. This is the engagement model and it's something that just about every big name in gaming is embracing.
But few publishers go out of their way to explicitly highlight why they're doing this, leaving it up to analysts, journalists, and financial advisers to explain. Ubisoft, however, has exposed its thinking behind the live service model it's planned out and successfully implemented. What it really comes down to is money: by selling its games digitally, Ubisoft retains about 70% of every game sold. Retail sales, however, only net Ubisoft about 55% after distribution costs--digital games don't require manuals, discs, etc, and Ubisoft only has to pay Microsoft and Sony for consoles, while keeping everything from games sold on uPlay.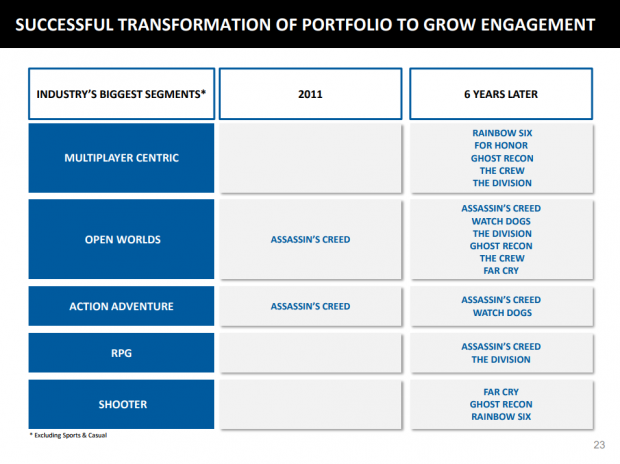 Read Also: Ubisoft wins big from digital earnings and microtransactions
Add-on content in the form of microtransactions and DLC also requires dramatically less R&D spending and development time, Ubisoft says, which is a plus. This offsets the longer dev period that Ubi's IPs now enjoy (AC Origins was the first game to skip its annual release cycle, for instance) and the higher cost of developing service games with their online-based features.
While making money is the name of the game here for Ubisoft, the engagement cycle isn't just straightforward: it's more of a cycle. First Ubisoft makes a game with a live service component, ie Rainbow Six Siege, and fosters an engaging atmosphere with multiplayer content, a sustainable economy/in-game rewards system to keep players hooked, and some means of introducing new content over time, whether it's events or DLC.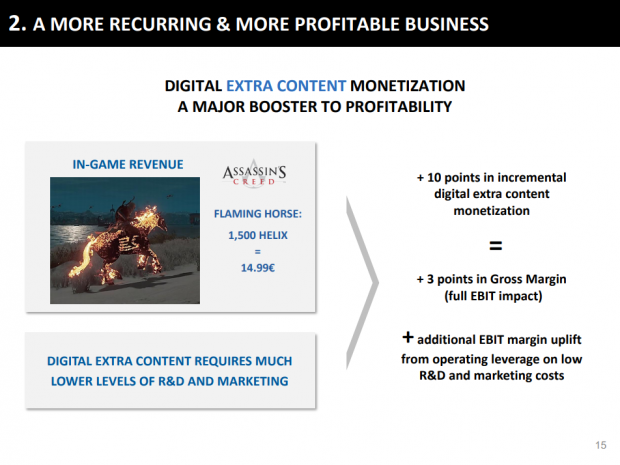 Once that's achieved, Ubisoft has to find a way to monetize this engagement. That's the real breadwinner here. Once Ubisoft has the strong numbers--MAUs, DAUs, etc--they can start charging for more DLC packs or even in-game microtransactions, which are entirely optional and must be entirely balanced.
All of this is actually a finely-tuned balancing act, and Ubisoft has had great success over the past few years. In Q3'18 alone, Ubisoft's PRI (microtransactions, DLC, etc) was boosted 87.4% year-over-year to €318.5 million.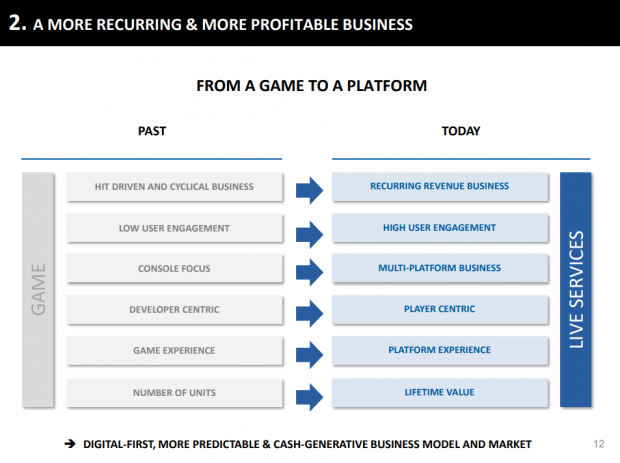 What's more interesting is how the publisher bakes in microtransactions into its singleplayer-oriented games. Assassin's Creed: Origins, for instance, is a singleplayer-only game that features optional packs to enhance the game (we actually predicted this months before it was confirmed). Far Cry 5 will likely have some sort of live service bent, and we know it'll have a season pass as well.
All in all this is just a smidgen of Ubisoft's business strategy. The reality is much more in-depth and calls for careful curation lest a big Battlefront II-style controversy hit the publisher, but so far they've done well in their pursuits, despite a few hiccups with The Division and For Honor.