E3 2019 - Watch Dogs Legion is an RPG at heart built around one singular concept: the entire world can join your party. Now Ubisoft shares more details on classes, perks, and character traits.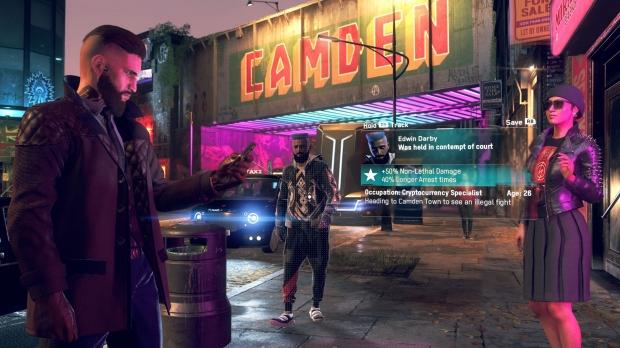 Watch Dogs Legion is perhaps Ubisoft's most ambitious game to date. Set in a high-tech post-Brexit London overrun by cyberpunk-style crime and private military corporations, the game lets you recruit and play as anyone in the entire city. Anyone and everyone you see in the game can join your hacktivist DedSec rebellion and dish out havoc to overthrow The Man. The real beauty is how Ubisoft executes this system with a layered and quite dynamic RPG structure.
Every time you fold someone new into your operation you can assign them a class. Every person has their own traits, and its best to choose a close that aligns with their backstory. For example, a character who boxes could do well as Infiltrators that use melee and stealth. You're creating a dynamic tag-team of ruffians, hackers, old librarians and other citizens to form the ultimate rebel alliance.
"When you recruit a new operative you have the opportunity to select their class. This gives you a little bit more customization to not only play the characters you want, but play them how you want as well," Ubisoft said in a recent Watch Dogs Legion stream.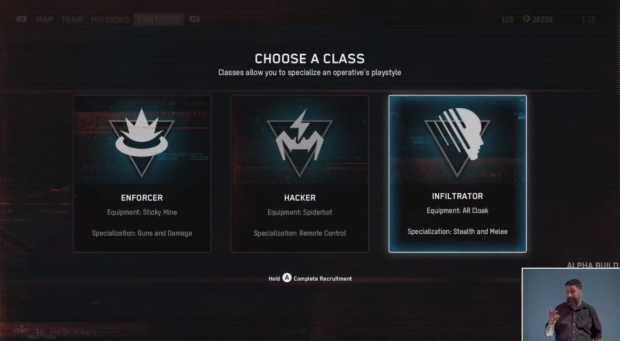 There are three different classes, each with their own unique special abilities:
Hacker - Remote hacking class with a spider bot that can take down enemies, hack nearby objects, and disrupt tech
Enforcer - More of a run-and-gun heavy weapons specialist with a sticky mine special ability
Infiltrator - Stealth and melee focused, has an AR cloaking ability that turns you invisible and even shroud bodies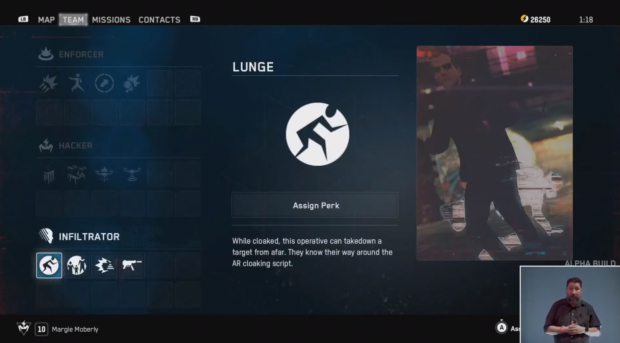 Every class has an upgrade path via perks, or passive bonuses that boost various things including the range, duration, and power of special abilities. Your team levels up over time as they complete objectives and do missions.
"Even beyond the class system, further customizing your characters the way you'd like to play, we have perks. So perks are different abilities that you can assign to that player for further customization. We have four available in the E3 demo today, but we'll obviously have a lot more in the full version of the game."
Everyone has their own traits or unique boosts and debuffs straight out of a Fallout game. How these traits work depend on the person's backstory.
"That's not accidental. Their traits and their stories are connected. That's derived from their backstories to make the simulation more robust."
Examples of how traits tie into a character's backstory:
Lyle Bigelow, likes to pick fights at pubs, +75% melee damage when drunk

Peter Cox, won award for pyrotechnics, +10 explosion damage, +10 explosion range

Ian Robeshaw, bareknuckle boxer, +30% melee damage, will never surrender
Some characters even have passive bonuses that help your entire team.
Ivanka Stefanov, who attended physiotherapy classes, gets a blanket +25% injury recovery speed bonus for all of your DedSec operatives.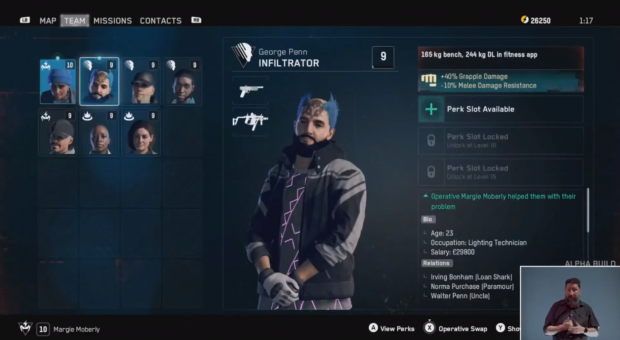 All of this sounds incredibly engaging and ambitious, and perhaps the most punishing but alluring part of Watch Dogs Legion is its permadeath system. The game is a lot like playing Diablo in Hardcore mode. When an operative dies, they're dead for good and you have to go out and find someone new. Ubisoft hasn't revealed what exactly happens when a teammate dies, ie if everything you put into that character is gone for good, but it definitely adds a sense of danger to the experience.
Watch Dogs Legion sounds incredibly ambitious and I hope it actually works out the way Ubisoft intends. London will become a huge playground for our delight on March 6, 2020 on PS4, Xbox One and PC.
Check below for a ton of info about the game:
In the near future, London is facing its downfall: the people are being oppressed by an all-seeing surveillance state, private militaries control the streets, and a powerful crime syndicate is preying on the vulnerable. The fate of London lies with you, and your ability to recruit a resistance and fight back."

TAKE BACK LONDON

SHOW THE CITY WHAT YOU'VE GOT.

Explore a massive urban open world and visit London's many famous landmarks - including Trafalgar Square, Big Ben, Tower Bridge, Camden, Piccadilly Circus, or the London Eye.

PLAY YOUR WAY

FIGHT FOR THE FUTURE.

A brand-new melee system and a wide range of weapons and abilities means that the way you approach combat has real consequences. If you use non-lethal force, the enemy will attempt to subdue and arrest you. If you shoot to kill, you risk having your characters permanently killed.

GET THE GANG TOGETHER

BRING YOUR FRIENDS INTO THE MESS.

Giving London back to the people doesn't have to be some heroic solo jaunt, ya know. Bring the fight online to join forces with up to three friends as you take on entirely new co-op missions and challenging end-game content.

PLAY AS ANYONE

RECRUIT YOUR RESISTANCE FROM LONDON'S POPULATION.

Every Londoner has a unique backstory with a special skillset and a distinctive personality. Recruit anyone from an MI6 agent to an illegal street-racer and customize them with killer outfits and iconic masks.

RECRUIT ANY CHARACTER

FIGHT BACK WITH ALL OF LONDON.

Anyone you see on the street can become a resistance fighter by your side. Each person you encounter - whether a brawler, a fashionista, or even a DJ - has their own story with their own set of skills and perks. Choose wisely. You only get one shot at rebellion.

PLAY YOUR WAY

YOUR RECRUITS. YOUR RULES.

Everything is up to you - who joins your resistance, what missions you take on, where you pick fights; all of it - as long as it gets London back in the hands of the people. Make critical decisions and ultimately hack, infiltrate, and detonate your way to a liberated London.

CUSTOMIZE YOUR RECRUITS

MAKE YOUR HEROES YOUR OWN.

Personalize each member of your resistance and level them up by building out different skill sets, from hacking to stealth moves to all-out assault training. Customize further with unique outfits and iconic masks. Take back the city and look sharp doing it.

HACK INTO LONDON'S TECH

CONTROL DRONES. DEPLOY BOTS. BLOW IT ALL UP.

Hack your way to victory by weaponizing London's tech infrastructure. Hijack armed combat drones, deploy stealthy spider-bots, or use your techie know-how to rig the system with explosions. It's up to you how to use the tech dystopia against itself.

GO IN GUNS BLAZING

LONDONERS HAVE BEEN WEAPONIZED.

Your plan of attack is up to you. Crash the party with a brand-new melee system and a wide range of weapons and abilities. Go non-lethal if you'd like, or kick open the doors and blast away. Just remember, your assault style brings different consequences.

THEY CAN'T ARREST WHAT THEY CAN'T SEE

USE AR TO GO INVISIBLE.

As fun as it is to crash through a skylight, there's not always a need to be noticed. Use the resistance's most secretive hack - an "invisibility" cloak. Thanks to the advances of augmented reality, you can sneak around without detection and covertly take down your enemies.[/quote]