Square Enix is embracing Google's new Stadia game-streaming service as another way to sell--and rent out--its digital wares.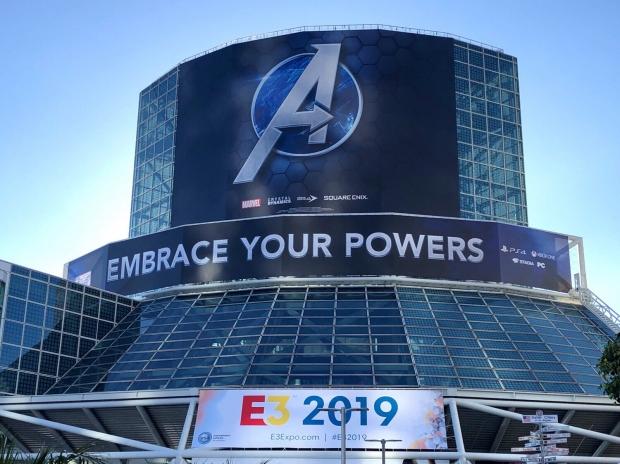 Crystal Dynamics' big new Avengers game will be the latest Square Enix title coming to Stadia, following other marquee games like Final Fantasy XV and the full Tomb Raider reboot trilogy. The news was confirmed in a huge banner on the Los Angeles Convention Center. No exact details about the Avengers project have been revealed, but Square Enix will showcase the game at its E3 2019 presser on Monday, June 10 at 9PM. Announcements from 2017 say Avengers will have an all-original story, and the teaser hints at a more gritty and adult-themed focus.
"The Avengers project is being designed for gamers worldwide and will be packed with all the characters, environments, and iconic moments that have thrilled longtime fans of the franchise. Featuring a completely original story, it will introduce a universe gamers can play in for years to come," reads the original 2017 announcement.
Square Enix has always put digital gaming at the forefront of its business model, so it's no surprise the publisher is bringing its games to Google's Stadia platform.
Stadia, a subscription service which beams games digitally via the cloud for a set monthly fee, is another potential market to sell games. Square Enix's recent financial dips are a strong motivator to pursue all options for its games.
Stadia's forked storefront is probably attractive to publishers and developers. Taking queues from Xbox Game Pass, Google will both sell games a la carte and include them in a monthly subscription called Stadia Pro.
This effectively gives companies a way to make money without having to actually sell their games while fostering an environment that promotes accessibility and incentivizes ownership of content. The idea is that gamers will effectively use Stadia as a kind of rental service to try out games, and then buy the ones they like and want to keep.
Exact stipulations on which games are sale-only or included in Stadia Pro aren't yet known, but publishers will likely embrace both business models to make revenues from their games.
We could even see the Final Fantasy VII: Remake cross-over to the digital streaming platform, too.
Square Enix's E3 2019 showcase begins on Monday, June 10 at 9PM.