Respawn's new Jedi: Fallen Order Star Wars game is breaking EA's emphasis on long-winded online games, and breaks the cycle of time sinks found in today's biggest games.
Today Respawn unleashed a volley of new details on its ambitious Star Wars-meets-Uncharted adventure game, showing just how far EA is willing to go to adapt. We already knew Jedi: Fallen Order is a purely singleplayer action-adventure game without any online multiplayer or microtransactions, but now the studio confirms crafting won't be included either. This is huge news that solidifies Jedi: Fallen Order as a game with an actual ending. Way too many games these days make players hunt down materials in monotonous, time-wasting collect-a-thons to artificially elongate playtime...but Respawn's project won't be one of them.
In a recent rapid-fire interview with Game Informer, Jedi: Fallen Order director Stig Asmussen revealed some tidbits on the new self-described Jedi power fantasy. We learned that crafting isn't included--you won't be constantly searching for materials to upgrade Cal's armaments, hinting RPG isn't a focus--and how the Force bar refills as you attack enemies. Sadly the game won't feature NewGame+.
This is pretty interesting considering Jedi: Fallen Order is set up to embrace crafting. It's singleplayer-only, meaning once players beat it the experience is over, and it also has a theater of biomes to uncover.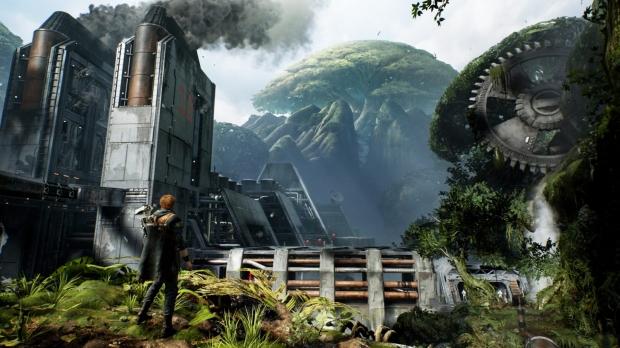 It takes players across various exotic worlds and planets across the Star Wars universe, including the Wookie forest homeworld of Kashyyk, and puts emphasis on exploration, discovery, and traversal. Players will use their Force powers to manipulate parts of the world, from unlocking paths to solving puzzles. Asmussen's comments corroborate gameplay hints that Jedi: Fallen Order is a more linear-based experience and won't have expansive open-ended environments.
That isn't to say secrets aren't peppered throughout the worlds, and you actually can upgrade Cal's arsenal in a more light fashion. Lightsabers can be customized and BD-1 can also get various upgrades.
Combat is all about timing, skill, and customization. You'll be able to pull off all sorts of combos with Cal's lightsaber and use Force powers to wreak total havoc. New powers include a Force slow ability that temporarily freezes time.
"It's an action melee game. You play as a Jedi on the run in training with a lightsaber and Force powers. We made sure the combat is something easy to pick up, but if you put the time in you can master it. It has a lot of depth. This is Star Wars. Combat is key to us--we call it thoughtful combat, and you identify and exploit the weaknesses," Asmussen said earlier this year.
Check below for more tidbits from the interview:
The ship is called the Stinger Mantis, can't be flown, but can be customized

Isn't an incredibly long game

Combos are included

On-screen parry indicators may not be included

Force powers include push, pull, jump, and slow

No crafting

Force powers use a stamina bar that refills when you land attacks on enemies

No checkpoints, save points only

Players could fight big bosses (likely AT-STs/Imperial vehicles as well as planet-specific monsters)

No new game+ mode

No Light and Dark powers--exclusively a Jedi story

BD-1 disseminates health canisters to refill HP

No blasters in the game, lightsaber only

BD-1 can be upgraded

Lightsabers can be customized via cosmetic upgrades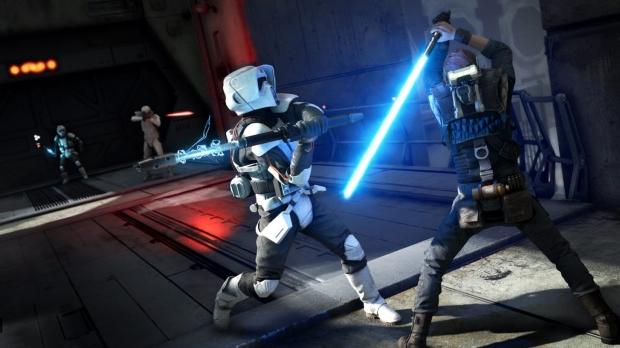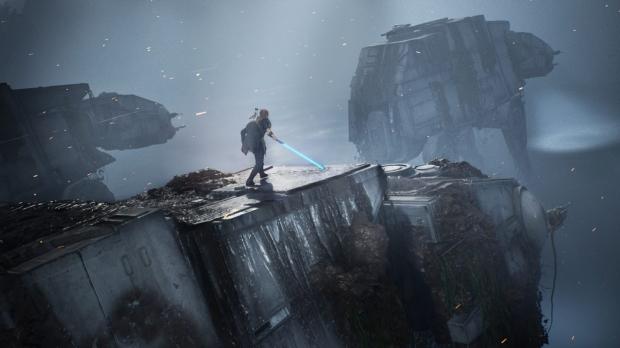 Star Wars Jedi: Fallen Order releases on November 15, 2019 on PS4, Xbox One and PC.
Check below for more information:
A galaxy-spanning adventure awaits in Star Wars Jedi: Fallen Order™, a new third-person action-adventure title from Respawn Entertainment. This narratively driven, single-player game puts you in the role of a Jedi Padawan who narrowly escaped the purge of Order 66 following the events of Episode 3: Revenge of the Sith. On a quest to rebuild the Jedi Order, you must pick up the pieces of your shattered past to complete your training, develop new powerful Force abilities and master the art of the iconic lightsaber - all while staying one step ahead of the Empire and its deadly Inquisitors.

While mastering your abilities, players will engage in cinematically charged lightsaber and Force combat designed to deliver the kind of intense Star Wars lightsaber battles as seen in the films. Players will need to approach enemies strategically, sizing up strengths and weaknesses while cleverly utilizing your Jedi training to overcome your opponents and solve the mysteries that lay in your path.

Star Wars fans will recognize iconic locations, weapons, gear and enemies while also meeting a roster of fresh characters, locations, creatures, droids and adversaries new to Star Wars. As part of this authentic Star Wars story, fans will delve into a galaxy recently seized by the Empire. As a Jedi hero-turned-fugitive, players will need to fight for survival while exploring the mysteries of a long-extinct civilization all in an effort to rebuild the remnants of the Jedi Order as the Empire seeks to erase the Jedi completely.

KEY FEATURES

Cinematic, Immersive Combat - Jedi: Fallen Order delivers the fantasy of becoming a Jedi through its innovative lightsaber combat system-striking, parrying, dodging-partnered with a suite of powerful Force abilities you'll need to leverage to overcome obstacles that stand in your way. This combat system is intuitive but takes training and practice to fully master its nuances as you gain new powers and abilities along your adventure.
A New Jedi Story Begins - As a former Padawan on the run from the Empire, you must complete your training before Imperial Inquisitors discover your plan to revive the Jedi Order. Aided by a former Jedi Knight, a cantankerous pilot and a fearless droid, you must escape the evil machinations of the Empire in a story-driven adventure. Explore and overcome a wide range of challenges focused on combat, exploration and puzzle-solving.
The Galaxy Awaits - Ancient forests, windswept rock faces and haunted jungles are all unique biomes you'll explore in Jedi: Fallen Order, with the freedom to decide when and where you go next. As you unlock new powers and abilities, opportunities open up to re-traverse maps in new ways; leveraging the Force to augment the way you explore. Move quickly, however, as the Empire is actively hunting your every step in their effort to exterminate all remnants of the Jedi Order.