GOG.com is barely making any profit
CD Projekt RED's digital storefront isn't that profitable, but revenues are strong.

Published Wed, Mar 27 2019 12:55 PM CDT
|
Updated Tue, Nov 3 2020 11:49 AM CST
CD Projekt RED's GOG.com barely broke even in 2018, showing the costs of running a big international digital storefront.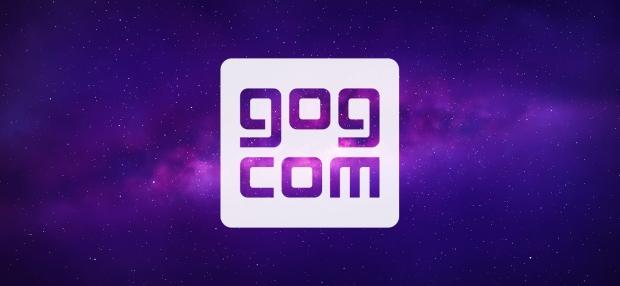 Today CDPR announced its annual report for 2018, confirming some alarming financial trends for its DRM-free games store. Due to higher promotional costs for its new game Thronebreaker and increased operational spending, GOG only made around 30,000 PLN of profit in 2018, or about $7,800 in current USD conversion rates. This development underlines GOG's recent layoffs due to underwhelming earnings.
But GOG is still making pretty good revenues from PC game sales. In 2018, GOG generated 131.5 million PLN, or about $34 million, from games sold across the store."GOG has been growing successively year-on-year and selling more and more," said CD Projekt RED CFO Piotr Nielubowicz.
The issue is how much it costs to keep GOG up and running across multiple territories: it spent 73% of the revenues it made during the year to deliver those games to consumers, or about 95.8 million PLN ($25 million). After operating costs are factored in (another 46 million PLN or $12 million) and taxes, GOG profits sat at a rather small 30,000 PLN.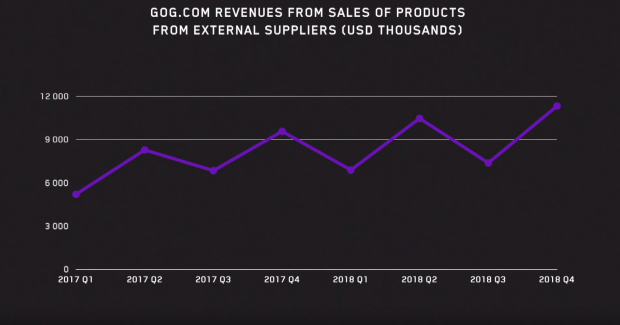 Read Also: Cyberpunk 2077 commands 65% of CD Projekt RED's workforce
CD Projekt RED has also been considerably ramping up development of its new projects, which include Cyberpunk 2077 and an unannounced AAA RPG (likely Witcher-related).
Nielubowicz says costs have increased across the board as CDPR hires new developers--it's expanded headcount by 19% across the board--and readies its services, storefront, and internal frameworks for big new projects.
All-in-all CD Projekt RED is in healthy shape and GOG is just ancillary to its total earnings. The company is quite diverse and has multiple moving parts, but its biggest money-maker is AAA games like The Witcher 3 (which is in fact still selling quite well). It's likely profits will stabilize somewhat when Cyberpunk 2077 is released on the platform sometime before 2021.
Total profits sit at $109.3 million PLN ($28.6 million), down a whopping 45% year-over-year, and make a profit margin of 30%.
The company also enjoyed a tax break thanks to a big R&D discount.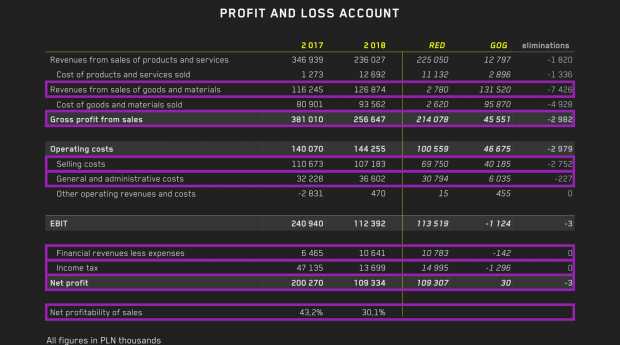 Related Tags