Game of Thrones Season 8 official trailer - Its almost here
The official trailer for the final season of Game of Thrones has been released, only a month of away from the beginning of the end.

Published Wed, Mar 6 2019 3:00 AM CST
|
Updated Tue, Nov 3 2020 11:49 AM CST
The day is almost here folks, the final season to Game of Thrones is almost upon us, and today we have been blessed with its official trailer.
The trailer is red hot right now viewer-ship wise, it has made it to YouTube's #5 spot on trending and passing an already a staggering 10 million views just within the last 12 hours of release. The trailer begins with a panicked Ayra that is running from an unknown something or someone. We then see the Golden Company arriving at Kings Landing, then the trailer skips to the unsullied marching towards Winterfell with Jon Snow and Daenerys Targaryen.
The latter half of the trailer we see what appears to be the battle for Winterfell with Jamie Lanister yelling on a fire coated battlefield and then a snap to Jon Snow and some other soldiers making a retreat somewhere. It is likely that the battle of Winterfell will be within the first couple of episodes of Game of Thrones' season 8, so many of the mysteries surrounding the trailer will be uncovered very soon. The final season for Game of Thrones begins on April 14th.
In other news about Game of Thrones' season 8, we have the Game of Thrones writer, George R.R Martin declining a cameo role for the T.V series. We also have confirmation that each episode within season 8 will be longer than 60 minutes each, more on that here. Finally, the HBO CEO said that the final episodes of season 8 are like a movie, check that story out here.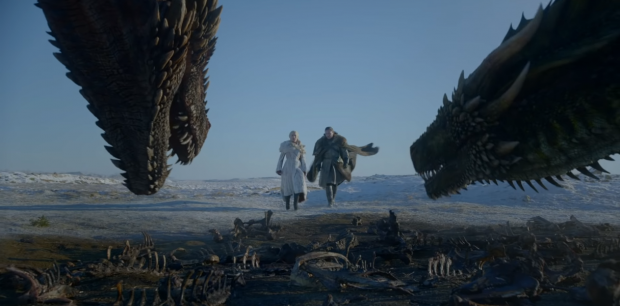 Related Tags