EA made a chart to explain who gets access to Anthem's demos, trials, and the full game. This trend isn't anything new, and it's probably not going to change any time soon.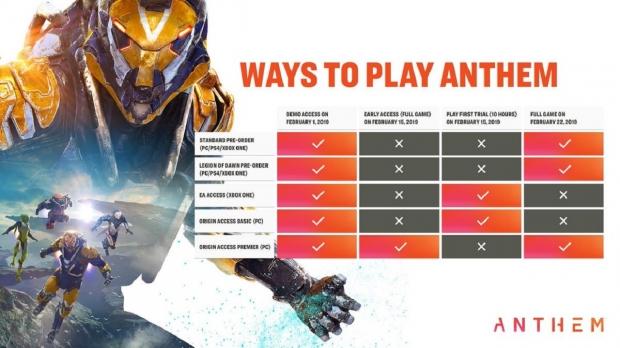 EA's confusing and awkward Anthem chart went viral a bit ago, but it's actually not new information. We knew about the paygated demos and trials way back in September of last year. These kinds of staggered releases aren't anything new to the industry. EA did the same thing with Battlefield V (a move that actually backfired), and both Ubisoft and Microsoft do it with uPlay and Xbox Game Pass. So why do it at all then?
The short answer is EA is trying to add more value to its new $15 a month Origin Access Premiere subscription. The service sees all of EA's biggest new games roll out onto the on-demand subscription for no additional charge, similar to how all first-party Xbox games now also come to Game Pass upon release. But that's not enough. EA locks exclusive early access to its biggest games to Origin Access Premiere members, which of course adds another tier to its EA Play First trials available to cheaper EA Access/Origin Access subscription.
The long answer is that it wants to emulate Microsoft's unique forked revenue model with Game Pass. The idea is having gamers either buy the game, which gives revenues upfront and potentially long-term earnings via microtransactions and live services found in the game, or having users buy into a subscription plan, which is smaller revenue upfront in exchange for potential earnings over time.
Microsoft says Game Pass actually sparks full game sales, so EA is trying to have its subscription cake and eat its full game sales earnings at the same time. This way EA could earn more money via subscriptions and full game sales, and the hope is subscribers will eventually buy the game at full price anyway after paying for Origin Access Premiere.
This trend probably won't stop any time soon, at least for EA games. The publisher has been widely panned and criticized for the chart (which again isn't actually new), but it's already invested heavily into the premium subscription model and has likely tied all of its future games over to the service itself.
The only thing that could cause EA to change the current model is massive failure. If no one buys into Origin Access Premiere, the company will find new incentives to pull users in. This could even mean starter packs, extra in-game currency to spend on goods, and maybe even exclusive DLC access. What I'm saying is that if this doesn't work, EA will try something else, and it could be potentially worse (or better).
After all, EA says it's a learning company and is taking big measures to counter its recent revenue miss.
The publisher has tightened its belt and wants to streamline its business even further, which could lead to more games being changed or maybe even cancelled. The company formed a new "Creative Council" which helps determine the value of specific decisions, whether it be game development, marketing, or deeper business strategies.
"We are experiencing a difficult second half of FY19. We're disappointed with our underperformance. We are confident in our overall strategy, but we are making deliberate changes to our organization, our operational processes, and our creative focus to address our challenges," EA CEO Andrew Wilson said in the company's recent Fiscal Q3'19 earnings call.
"We are a learning organization. Over the last six months, we've made organizational changes to shape our teams against our priorities for the future.
"We've made operational changes to better position ourselves to effectively drive live services and serve our player communities. We've made creative changes, including the formation of a Creative Council to strengthen our creative decision-making. And we will continue to make refinements in each of these dimensions as we focus sharply on execution across the company. The future of this industry is strong, and so is the future of Electronic Arts."