If you want to play an optimized version Anthem before release then you'll need to pay up some cash.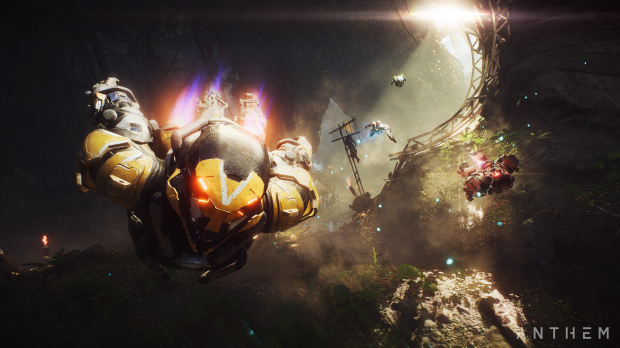 EA is somewhat confusing gamers with Anthem's early pre-release access. Now the publisher clarifies there are three ways to play Anthem before it's launch in late February, and all of them cost money. Essentially you'll get in if you've pre-ordered the game or are subscribed to Origin/EA Access (basic or Premiere). But how you spend your money and on which platform determines how and when you get in.
Anthem's three pre-release avenues are a VIP demo, early access, and the Play First Trial (which used to be open to all Origin users). Premiere members who bought into EA's new PC-only subscription tier can play all three and get overlapping access to the full game a week early. But pre-orders only get you access to one of the three early play opportunities.
Here's how it works:
VIP Demo
Begins February 1, 2019
Who gets in:
EA Access & Origin Access subscribers (basic and premiere)
Pre-orders (Standard and Legion of Dawn Editions)
First up is the VIP demo on Feb. 1, which is a polished slice of the game rather than a beta test. This is the only phase pre-orders will get access to, but Origin Access Basic and Premiere users get in. Exact demo length has yet to be announced.
[UPDATE]: Demo progress on PS4, Xbox One, and PC won't carry over to the final game, BioWare's Mark Darrah confirmed.
"The demo is a demo. It's not a tech test, it's not a beta that comes out three weeks before the game where 'your feedback' - like, no, it's 'this is the game and we hope you love it,' and at that point that's really what we're showing," BioWare's Mike Gamble said in a PAX West 2018 panel.
Early Access
Begins February 15, 2019
Who gets in:
Origin Access Premiere members (PC only)
Next we have early access, which gives Premiere subscribers a week head start in Anthem. Premiere users get to play the finalized game instead of a demo, and the sub is only available on PC right now so console users will be locked out for a bit.
Play First Trial
Begins February 15, 2019
Who gets in:
EA Access & Origin Access Basic subscribers
If you're an Origin Access subscriber and not keen on paying extra for Premiere, this is how you'll try Anthem. The trial is limited to just 10 hours of play and your progress will apparently only carry over if you remain an Access member when you purchase the full game.
Note that this doesn't include the planned alpha and beta tests for Anthem. No information on these tests has been announced.
I'm curious to see if Anthem's cosmetic-only monetization will be live in all three early phases. It's likely only users who have guaranteed access to the full game will be able to buy in-game skins and the like...but I'm wondering if EA is counting on any overlap in that regard.
Anthem is out February 22, 2019 on PS4, Xbox One and PC.